Digital Marketing
How to Use Up-sell Your VOD to Your Customers (and Make More Money)
"Would you like to supersize that?"
That question helped bring mainstream popularity to the sales technique known as the "up-sell." McDonald's leveraged the power of that one simple sales tactic to rake in millions of extra dollars.
Enter the cross-sell: "Would you like fries with that?"
And the down-sell: "If that's more than you want to spend, you can get something off the value menu."
If up-sells, cross-sells, and down-sells aren't part of your sales strategy, you're not just leaving money on the table – you're trying to serve up dinner without providing the chairs.
In this section, we'll talk about when to use and how to use these powerful sales tactics in your VOD business. The "Why" part is evident: you'll make more sales.
Click here to watch the video -> youtube.com/watch?v=xxZoNJjb0wg
Some people hate "being in sales"
Up-selling isn't only a way to boost sales, it's a way to provide more value to your customers.
For many of us, it's difficult to get into the sales mentality. Like Miss America, we'd all prefer world peace. A universe where buying was fine, but selling was outlawed, would suit us just fine.
We've heard otherwise brilliant entrepreneurs declare they're "really not into sales." There's no gentle way to say this: Everyone is "into sales." Selling doesn't just grease the wheels of commerce – without sales, there would be no commerce.
Smart selling means finding people who can benefit from your valuable goods and services, then making it easy for them to get those goods and services. The sales strategy you want to develop has nothing to do with talking people into buying things they don't need.
Zig Ziglar preached it from the speaker's platform for years: "The way to get what you want is to help enough people get what they want." That is the essence of ethical selling.
So, wash the bad taste out of your mouth, strap on your integrity, and let's talk about ways you can help your prospects become customers and your customers buy even more from you.
The difference between up-sell, cross-sell, and down-sell
If you don't offer it, they can't buy it.
To avoid confusion, we'll define what we mean by each of these terms. In reality, though, it doesn't really matter that you know which is which. You'll gain the benefits from these sales tactics by using them, not by being able to name them.
Up-sell: Up-selling suggests bumping up to a higher-priced version or taking advantage of multiple product configurations. Up-selling is aimed at increasing your average order value (AOV). "Save 20% when you purchase the annual subscription" is an up-sell offer.
Cross-sell: Cross-selling recommends complimentary items. When you buy a new electronic device and the clerk asks whether you want to add insurance – that's cross-selling. As with the up-sell, it can boost your AOV significantly. "Get one hour of one-on-one consulting with your subscription each month" is a cross-sell often used successfully with membership sites.
Down-sell: If the prospect is balking at the offered price, you can suggest a streamlined version at a more affordable price point. Many times, giving people an option is all it takes to move the sale forward. You'll be surprised at how often the buyer will decide to keep the extra benefits and stick with the higher price. "If you don't need the one-on-one help, you can get the video training only at a reduced price" is a down-sell offer.
Up-selling and down-selling bring in more money per order. Down-selling can save the sell. It's better to get a new customer on board at a lower price than to lose the customer altogether.
Research consistently shows it's easier and less costly to sell more to an existing customer than to obtain a new customer. Your sales strategy should include tactics for both.
When and how to use up-sells, cross-sells, and down-sells
Always be selling.
Prior to check-out: Your path to sales should be easy to navigate and understand. Educate your prospects. Spell out the benefits. Allow them to feel in control, but never stop guiding them towards a purchase decision.  
Note how Birds and Bees (see the screenshot below) handles up-selling on their Uscreen channel. They offer three potential packages: Individual, In-Home Gathering, and Organizations. Each comes in a different configuration and at a different price. If they offered just one package, they'd be limited to just one price.

During checkout: The prospect is ready to buy. You can leverage that motivation and ask for an up-sell. Magic Stream provides a subscription offer on their Uscreen channel (see the screenshot below). The order will increase by $107, but the prospect gets 12 months instead of one and saves $36 in the long run. Just before final checkout is the perfect place for this particular offer.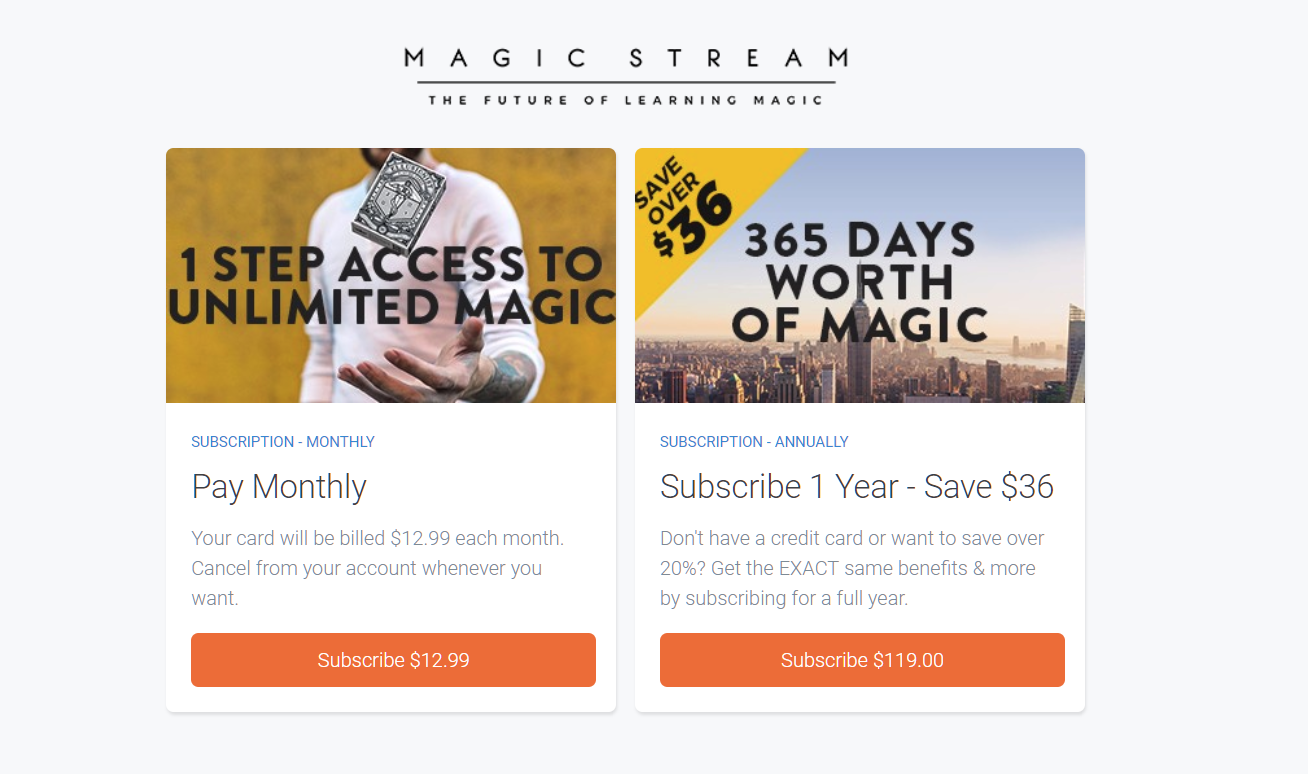 After checkout: Sales confirmations and other transactional emails enjoy higher open rates than any other email marketing campaign. Don't just send a bare, ugly receipt to your new customers – offer them something special.
Can you think of an up-sell or cross-sell option to present after the initial sale? Not only are customers likely to open the email, but they've already purchased from you, and may be willing to buy more. All you need to do is present the offer and ask.
Hot Tip:
Cart abandonment is an issue for every e-commerce website. According to
statista.com
, 77.3 percent of online retail orders were abandoned before final checkout. Sending an abandoned cart email to remind prospects to come back and complete the order can bring some of those shoppers back to the table.
Note how this abandoned cart reminder from 123rf.com (see the screenshot below) reminds the prospect to finish the purchase, offers, and up-sell, and includes a customer service message – all in one non-intrusive, helpful message.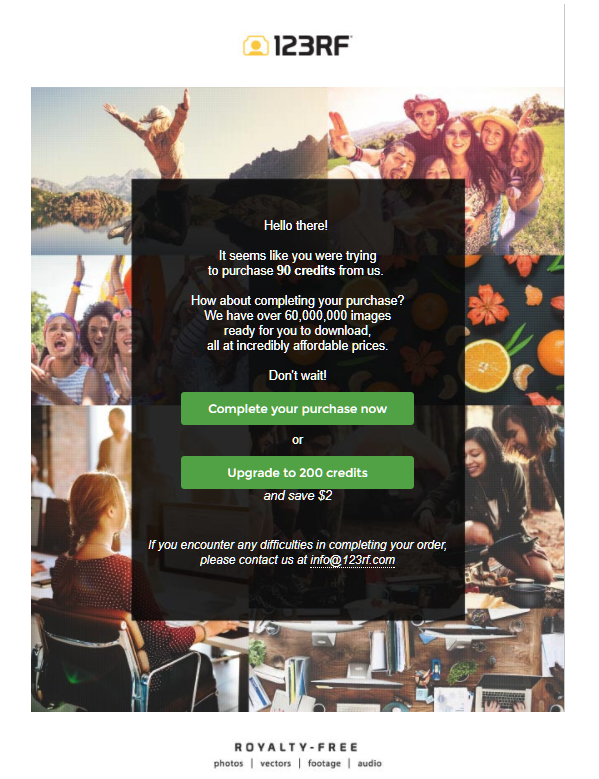 The graphic above is from an actual abandoned cart email.
When should you employ up-selling, cross-selling, and down-selling tactics? Here's the answer: every time it's appropriate. Don't overwhelm your prospects with options, but definitely provide options.
The sales strategy that best fits your VOD or SVOD business will depend on several factors: your branding, how many other products and services you've developed, partners you've acquired, and such. We can't tell you exactly what's best, but we can list some best-practice suggestions to get you started.
How to employ up-selling, cross-selling, and down-selling tactics
This is by no means an exhaustive list of tips. Use it as a fire-starter to brainstorm ideas suited to your VOD business.
Bundle several products or services into one package

Develop additional products with up-selling in mind

Provide more than one level of service (basic, pro, luxury)

Use the down-sell offer (basic version) to make the up-sell offers more appealing

Add complimentary products (cross-sells) at checkout

Use an automated system for upsells (Uscreen offers this feature)

Use testimonials from customers already using the up-sell or cross-sell offers to show others how they can benefit too

Begin by considering your audience – give them the products, services, and packages that will help them most

Research shows up-selling outperforms cross-selling on product pages, but cross-selling is more effective at checkout

Focus on customer experience, not on making more sales – remember Zig Ziglar's advice on how to get what you want

Make sure your up-sell, cross-sell, and down-sell offers are directly related to your primary offer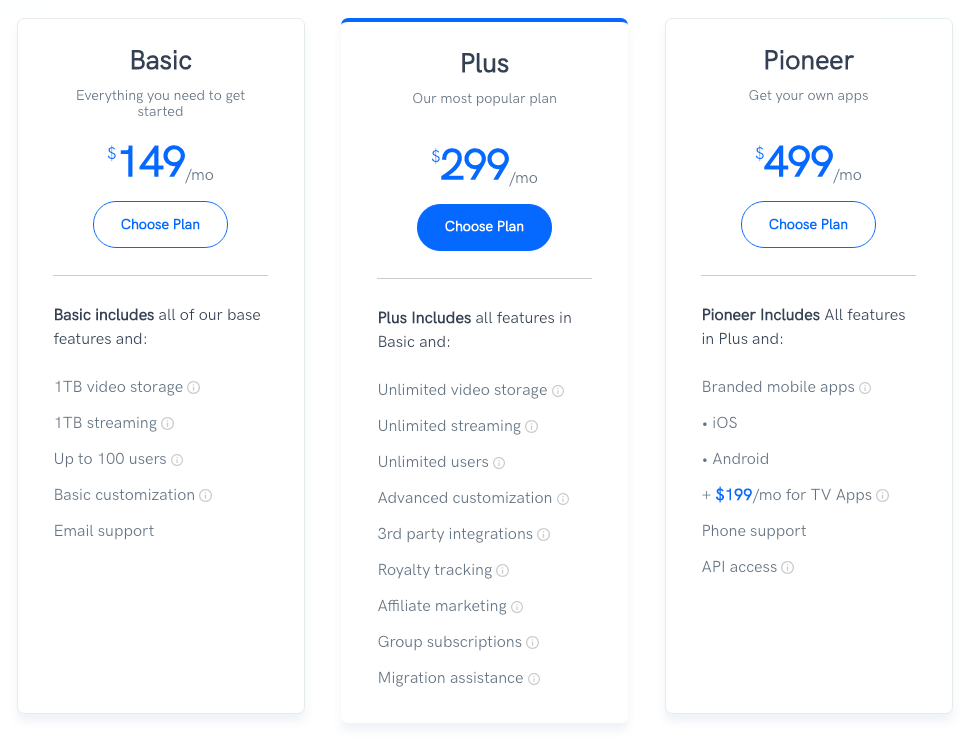 At Uscreen.tv (see the screenshot above), we offer basic, plus, and pioneer plans. Customers appreciate being able to choose the package that best suits their particular needs.
The simplest, most effective way to lay out your up-sell tactics is to look at the transaction from your customers' point of view. The more you know about who they are and the problems they have, the better able you'll be to serve them.
Cultivate the mindset that selling isn't about taking money from people, it's about coming up with better ways to be of service to them. When your prospects can see and feel that your offers and options are designed to help them – that you truly want to provide additional value – that's when you'll begin to see sales revenue soar.