Digital Marketing
Building Brand Awareness for Your VOD
Imagine this: Your video business is growing steadily. Your subscribers love your videos and can't wait for more. They're interacting with you daily and spreading the word to their friends.
You're getting invitations to appear on radio and television to talk about your topic. Reporters and bloggers are calling to request interviews. If you were to randomly choose people in a mall and ask them where they would go to find out about your niche, the first brand name they came up with would be you.
Are you there yet?
You can be.
There's an all-inclusive term for how marketplace popularity comes about: brand awareness. In this section we'll briefly cover the components of brand awareness, then we'll provide ideas you can leverage to make your brand famous.
Ready?
Let's get going.
Why brand awareness matters
"Build it and they'll come" sounds marvelous, but it isn't true.
We covered the fundamentals of what a brand is, why it's important, and how it's constructed in the Branding unit of Video Business School.
In that section, we said branding is built around a central question: "Who are you?" Your brand identifies your business. It is the embodiment of your vision, your values, and your voice.
You can build the most attractive brand on Earth, though, but you won't earn a dime from it without cultivating brand awareness. Once you've developed a sellable product or service there are five phases of customer development to address.
Here are the steps along the path from prospect, to customer, to brand evangelist:
HEAR about you

LISTEN to your messaging

BELIEVE in your abilities

BUY from you (moves from prospect to customer)

TELL others about you (becomes a brand evangelist)
The aim, in classical branding and customer behavior terminology, there are two primary indicators of brand awareness: recall and recognition. The first is a measure of how easily those who have heard about you before can remember your brand when prompted by a question about your niche. The second is concerned with how differentiated your brand is from others in the same category.
The golden ring for brand building is to reach "top of the mind awareness" (TOMA). That's where your business is the first brand prospects thing of when asked a question relating to your niche.
Now you know your goal.
Let's talk about how you can get to first base.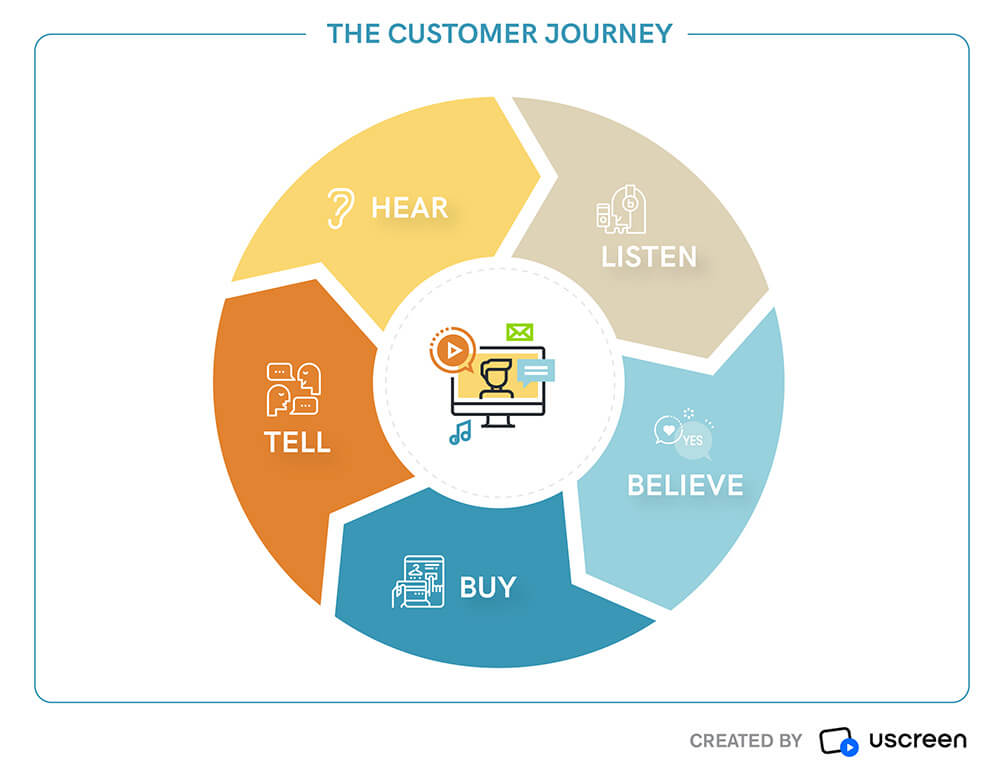 Getting started with brand awareness
If they don't hear about you, they can't buy from you.
In the section on community building, we stressed the importance of singling out your most likely prospects to identify your own 'hungry crowd.'
Some marketing methods recommend the same approach to building brand awareness – why waste your time and effort on people who aren't prospective customers? We tend to disagree. You want people to hear about you – the more, the better. After all, I might not need what you offer, but I may know someone who does, and we all love to pass good advice on to others!
We won't belabor the concept. To get customers, you must get known. Let's get right into talking about ways you can do that. In the list below, you're going to recognize tactics that fall in the realm of public relations, advertising, and marketing in general. Brand awareness touches every customer-facing aspect of your business. It's an on-going job that should always be part of your strategic marketing plan.
During World War II, the Wrigley company sent every package of its Spearmint, Doublemint, a Juicy Fruit gum to the troops. Wrigley didn't stop advertising at home, though. Company management realized the importance of maintaining brand awareness. Their "Remember this Package" campaign, endeared Wrigley to its customers and had them waiting in line to buy the gum when it was once again available in stores.

Tactics for Building Brand Awareness
Do some guest blogging: Let's say your niche is helping small business owners build employee engagement. Would it be helpful for you to write a feature article on the topic for Inc. Magazine online? That's how guest blogging works. You provide excellent content, and the publisher provides access to their viewers. That can provide an overnight boost in people wanting to find out more about you. It's important to choose sites that are relative to your topic and popular with your preferred audience.
RESOURCE: Jon Morrow provides plenty of information on both blogging and guest blogging.
A perfect example of guest posting for a VOD is this guest post we found on Medium called 21 Days to Be a Better Artist. It was written by Noah Bradly, the founder of an online educational art VOD called Art Camp. The blog post gives readers a high-level framework for becoming a better artist in 21 days, which Art Camp is actually all about.
This is a great way to get people to discover art camp: someone searches "how to be a better artist"; they come across this blog post; they like it; they look into Art Camp, and the brand awareness journey begins!
Build content on your own blog or website: You may have heard that blogging is dead. That's not true. Your high-quality, informative content will draw interested visitors (prospects) to your website. Your aim is to show up on the first page of the search engine results page (SERP) for terms related to your topic (keywords). By posting pertinent, helpful content, you can content for those coveted search positions. Those 'organic search' rankings are like money in the bank. They bring traffic to your site, but you don't have to pay for those clicks. At the very least, you should offer pages of valuable information on your website – whether you start a true blog or not (pages are updated as needed, but blogs are updated regularly).
If you haven't already, take a look at the blogging section to learn how to get started.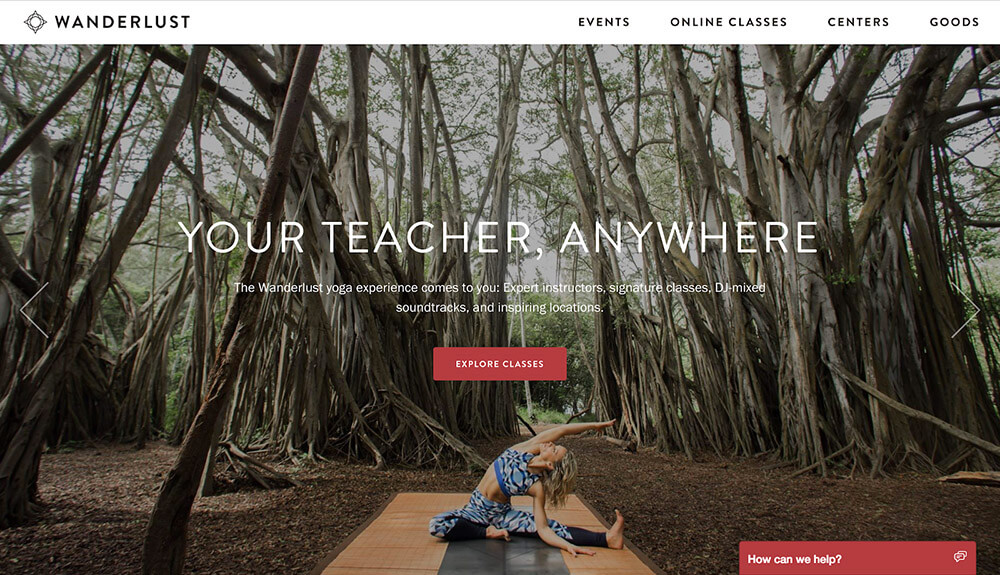 Take Wanderlust TV for instance. Aside from its main VOD website, it also has linked website where the Wanderlust team published valuable written content around yoga, meditation, and adventure. Then it grabs the attention of potential VOD customers through effective CTA buttons prompting visitors to explore online classes.  
Hold contests and giveaways: It's possible to bring in more leads in one day with a contest or giveaway than it is in a month of collecting leads on your website. People love to get free stuff, and the more valuable and relative the prize is to their desires, the more they want to participate. Make sure your giveaway is something that qualifies your prospects, not something anyone would love to have. If your SVOD channel is about fishing techniques, for instance, use a Penn fishing reel as the prize instead of giving away an iPad. The first will draw fewer sign-ups, but there's a high possibility they'll be genuine prospects. The iPad will draw a ton of interest, but it's probable that a low percentage will care for learning more about fishing.
RESOURCE: Travis Ketchum is a contest genius. Check his Contest Domination blog and sign up for free tutorials.
Attend industry events: Get to every trade show or industry gathering you can that relates to your niche. On the high end, rent a booth or table and be an exhibitor. If you don't want to invest that deeply, get there yourself and build your network of contacts.
Have you tried events before, but didn't get much relationship traction? Check Chris Brogan's article on how to do it right. Chris says there are two main things to keep in mind: serving others and building your business.
Partner with other brands: Not everyone in your niche is a direct competitor. Thrive Real Estate Education (see the screenshot below) shows a Cherry Creek Mortgage Company banner on their website. Whether that's a paid ad or a mutual promotion, mortgages and real estate education are two niches with common ground that can help one another grow. Look for symbiotic relationships to create win/win situations for your business and others.

Have fun with a publicity stunt: The saying is that "any news is good news" when it comes to publicity, but you want to keep the news you build in line with the brand image you're working to develop. Epson's "Swimming in Ink" stunt (see below) not only grabbed plenty of attention (who wouldn't want to see the USA Synchronized Swimming Team jump into a pool of ink?) but brought in Triflare – a sportswear manufacturer and an official sponsor of the team – as a partner. As it turned out, there really was no pool of ink, but there were plenty of onlookers and news cameras. 
Click here to watch the video -> youtube.com/watch?v=CxaRgToeUq4
We could go on and on with examples of ways you can boost awareness for your brand, but to start, these are the first few you can focus on to get the ball rolling. Most of us don't like to "toot our own horn," but where brand promotion is concerned, drop the shyness and let people know you have something of real value to offer.
Ask for help from others, provide incentives to those who share your content, use your social media channels as awareness builders, hold webinars, write ebooks, provide educational content – give your prospects what they most want.
Once you get a feel for this work, you'll see opportunities everywhere.
Go forth and build!
Don't wait for people to find you. Go find the people.
Millions of websites are launched every year. Most of them fail. There's a popular belief that all you need to do is get your business online – build it and they will come.
Developing an excellent product or service isn't enough, though. You need to get seen and heard. You need people who will believe in you, buy from you, and tell others about you. Brand awareness is an unseen force behind it all.
Use the ideas we've listed to brainstorm your brand awareness building strategy. You'll be amazed at the results. And don't worry about sending too much traffic to your Uscreen channel. We've got that covered for you.