Remember Vine?
Unless you were living under a rock in the early 2010s, you most likely had a couple of run-ins with the meme haven of the decade.
Vine's format of 6-second clips allowed for much creativity on the platform.
At its prime, Vine was home to many fun clips of pranks, skits, and experimental micro-films of all sorts.
My personal favorite? The flying lawnmower, of course.
Yet – despite its huge popularity online, Vine was put to rest in 2017.
The tiny-video giant struggled to get ahold of advertiser interest and also could no longer compete with Instagram – who in 2015 launched their own short video feature in response to Vine's growing success.
After it fell apart, many of its enthusiasts demanded its return, to no avail.
Luckily for fans, Vine is finally making a comeback through Byte, which just launched this January.
The platform is boasting a neat new partner program that will share 100 % of ad-revenue with select partners during its initial pilot period.
Partners will be selected by invitation and also encouraged to apply to the program through this form.
But what exactly does this mean? And how will this be different from the Vine we knew and loved?
Vine 2.0? – Or Something New Entirely?
Byte, which was spearheaded by Vine co-founder, Dom Hoffman, is based around the former platform's ethos of quick 6-second clips.
The main difference this time around, besides its shiny new interface, is that its videos will now cover your entire phone screen (à la TikTok), as opposed to its former square layout.
And so far, it's been gathering a lot of buzz. In its first week, Byte gathered a nice 780,000 downloads.
Byte: A place to monetize Your Short-Form Videos
Not only has the news of Vine resurrecting brought the platform plenty of attention – but its shiny new partner program, which will allow creators to monetize their content, is setting a new precedent in social video.
Creators will be invited for the partner program throughout the next two to three months and partner pool money will be funded by ads.
The app will be sharing 100 % of ad revenue with creators during its initial pilot period.
Byte says it is exploring various ways to help creators make money on the platform, this partner program being "only the first" of those.
Its long-term plans are to have most of its revenue go to creators and only a small share for its operations.
"We believe that more evenly compensating a greater number of creators will contribute to a healthier, more creative community," said the company in a statement.
Byte is also approaching ads in a non-intrusive way, which includes:
no pre-roll ads in front of bytes

no ads in your following feed

no ads based on retargeting
And the reactions to this news have been very positive across both former Viners and Byte skeptics.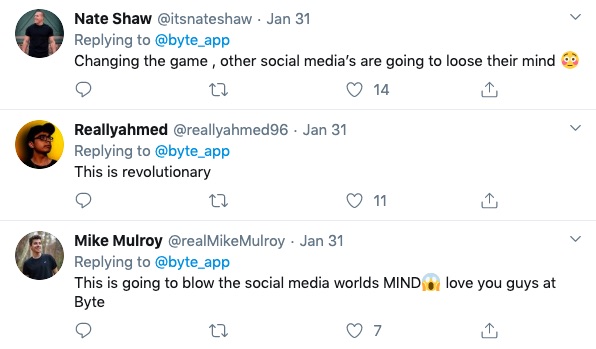 This partner program is a powerful way to not only support creators but to also boost Byte's brand with amazing content that users feel even more encouraged to put their all into.
After all, creators have already started creating some great content on the platform.
This will allow short-form video creators the chance to monetize their content, just like YouTubers do.
The biggest difference though is Byte is planning to let partners keep 100 % of their ad revenue.
This time around, Vine's creators are not taking any chances.
After all, there is a reason this new platform has a completely new name. This is not the Vine you grew up with.
Vine vs. TikTok
Vine proved itself as a legitimate artistic outlet for video and film enthusiasts, making stars out of now director Josh Ovalle, YouTubers like Cody Ko, and boosting the careers of actors Josh Peck and Arielle Vandenberg.
During an interview with TubeFilter, many former Viners have expressed their optimism for the platform's success this time around.
Josh Nash, who also claims a nice 2.6 subscribers on YouTube, said Byte's interface and content have impressed him.
Nash also said it felt much more casual, and less flashy than its rival TikTok.
"It's way more advanced but it's also under a lot more pressure. The bar is so high with TikTok," said the former Viner.
Fellow YouTuber/former Viner Eric Dunn was also impressed, saying "I love it. [It] has the same supportive, tight community that Vine had in its early stages."
Dunn is especially interested in seeing how this new partner program unfolds within the next couple of months.
"One thing Vine never had was a way to pay creators without a third party, so I look forward to seeing how that develops," he said.
"It's never been done, we are truly in the best times."
Since the death of Vine in 2017, TikTok has taken over as the new leader in the social video and meme world.
In 2019, the musical video app became an internet sensation, amassing more downloads than Instagram.
Byte's new partner program is sure to lure in TikTok users for the chance at earning money for their creative short videos.
Currently, TikTok users' only monetization options are through branded or sponsored content.
With 1.5 billion all-time downloads, it's tough to see how Byte will stand the test of time against the video giant, which allows users to make snippets up to a minute long in comparison to Byte's 6 seconds.
However, both Vine and TikTok aside, Byte's new partner program is promising to entirely reinvent short-form video.
What This Means for Creators:
Even if you weren't a Viner back in its golden days, it doesn't mean Byte is off-limits for you.
Video is an extremely effective marketing tool that can boost your brand like nothing else.
In the past, brands like Sony, MTV, and Target have used Vine as a unique marketing tool to leverage their online reach, creating fun clips to promote their products.
Just like you can use YouTube to market your own streaming platform, you can have fun creating short clips for Byte to establish an online presence and funnel in your viewers to your VOD membership site.
Why We're Rooting for Byte:
We never thought we'd see the day when Vine would be making its grand return.
Things have definitely changed since 2017, though.
This time around, through Byte, the fan-favorite app is reinventing itself to stay in the social video world for the long run.
Byte is aiming to not only reassert Vine's special role in meme and internet culture, but also its necessity as a fuss-free, unpretentious creative platform.
Users will be able to once again experiment with video without the pressure of filters and effects, and potentially get paid for their unparalleled content.
With its plans to give people more monetization options for their content, and businesses more avenues to market their streaming services, Byte's arrival makes it clear: this is the new age of short-form video.
Why YouTubers' Ad Revenue is Down During the Current Streaming Boom