Picture this:
You walk into your local supplement store and pick up all whey protein you can carry.
You take it to the counter, put it down, smile at the cashier, and pull out your credit card.
You see the price flash up on the screen…
Then you turn around and walk out.
It's something you'd never do in person, right?
But…
It's something 7 out of 10 customers do on your fitness business website every day. They pick a product, add it to their cart, and then leave before buying!
These abandoned carts could be costing you a lot of money each year. So, what can you do about it?
Simple: create an abandoned cart email campaign.
In this article I'm going to show you exactly why your customers abandon their carts, and how you can build an automatic system to recoup your lost earnings.
Let's go…
What Are Abandoned Carts (And Why Are They Important)?
Abandoned carts are when a customer adds your product to their online shopping cart, only to leave your website before completing their payment.
It's an annoying part of online shopping, but it's also totally normal. Data shows 7 out of 10 people abandon their carts before making payment.
I know I'm really guilty of doing this.
I've lost count of how many times I've visited supplement websites and filled my cart, only to see the final price and think, "do I really need this right now?"
Though this is a common part of shopping for a customer, it can feel like a punch in the gut as an online fitness business owner. It means only 3 in 10 people are completing their purchases.
Worse still…
Experts estimate around $18 billion in revenue is lost each year through abandoned carts. That's a lot of money that should be going to online businesses like yours.
But there is good news.
Abandoned cart email campaigns can help you to recoup a lot of this lost income. In fact, studies show they could help you boost your sales by up to 40%!
There's also the added bonus that abandoned cart campaigns are a set-it-and-forget-it system. Write the emails once, send them for years. It's a big gain for a small workload.
In the rest of this guide I'm going to show you why your customers abandon their carts and how to create an abandoned cart email strategy.
The 5 Reasons Your Fitness Customers Abandon Their Carts
The first thing we need to understand is why your customers abandon their carts.
It's important to remember the reasons are not personal. They're not a reflection of your fitness brand. Rather, how customers approach online shopping.
There are 5 reasons customers leave before buying:
Browsing: research shows up to 56% of customers abandoned their carts because they were "just browsing".
Comparison: they left to see if they could get a product cheaper elsewhere.
Payment options: they left because they couldn't use their preferred payment method.
Unexpected costs: they left because the checkout price was more than on the product page (due to taxes, shipping, etc.).
Distractions: they left because of an external distraction.
From that list, there are several you're okay to discard like browsing and payment options. These are beyond your control, and you likely can't fix them right now.
Your abandoned cart emails, then, will target people who were:
Comparing your product.

Worried about the price.

Distracted during the process.
Let's look at how they'll do that.
Abandoned Cart Emails: The Easiest Way To Capture Lost Customers
Abandoned carts email are pre-written, automatic email campaigns. They're sent to the email address entered by a customer when they enter the sales process on your website.
For example…
Let's say a tall, dark-haired, (attainably) handsome writer call James comes to your fitness membership website and enters his details: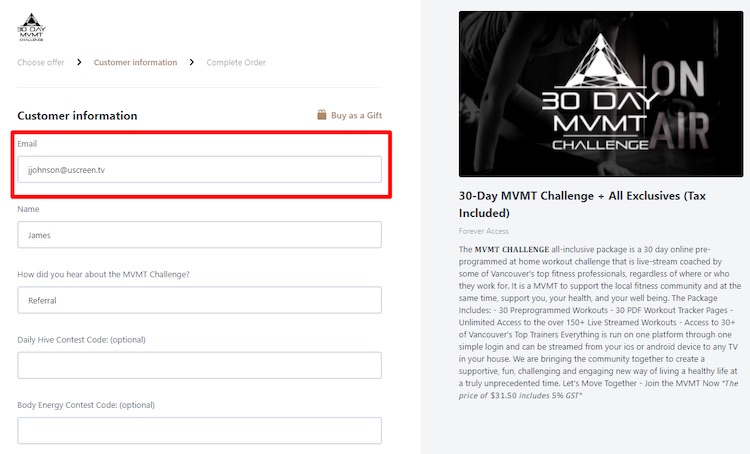 These details will be temporarily saved to the website's email database.
But then James' phone rings and he sees it's his Mum (who he honestly should call more often), he closes his browser before entering his information on this page: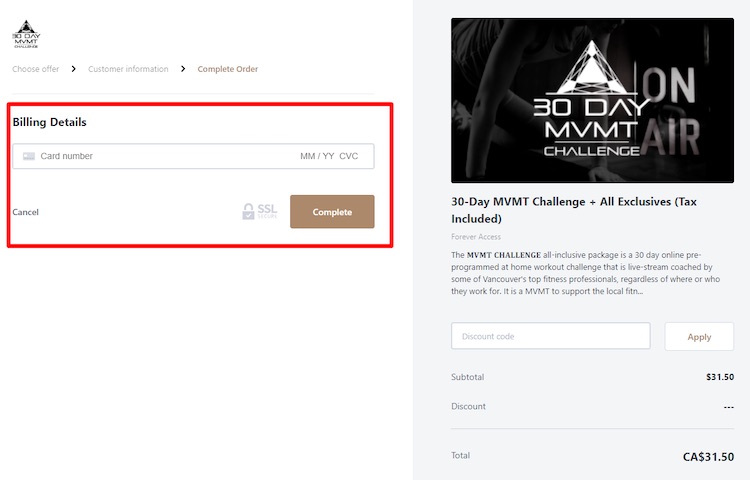 Well, around 15 minutes later, James would find himself with an email in his inbox like this: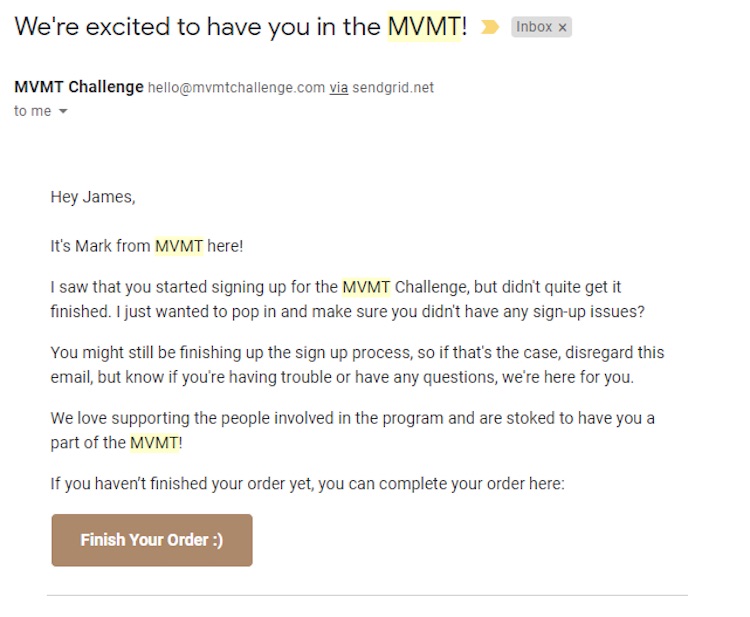 This would remind James to go back and complete the purchase. If he doesn't see this email, he will receive 2 more as part of the entire campaign. (More on that in the next section.)
Data shows sending an abandoned cart email within the first hour of abandonment has a conversion rate of 20.3%, and it can still be as much as 18.2% a few days later!
There are 3 types of abandoned cart emails you can use:
Simple: where you remind them to finish their purchase.
Benefit-driven: where you reiterate the benefits of signing up.
Incentivised: where you offer a small discount or extended free trial.
Each of these can be used at different points in your strategy to get great results.
Let's take a look at how you can put these all together to create an abandoned cart email strategy that works.
How To Create An Abandoned Cart Email Strategy
When creating your campaign you'll need to consider:
Volume: how many emails you send.
Timing: when you send your emails.
Incentives: how you'll convince the customer to buy.
We find it's best practice to send 3 emails to your customers. Any more than that and it all comes across a little hard-sell! You should stagger your emails like this:
Email #1: after 15 minutes.
Email #2: after 6 hours.
Email #3: after 24 hours.
This ensures you're reminding your customers at regular intervals throughout the day. And, it increases your chances of catching them at a time where they can return to your site and buy.
But…
You start to unlock the true power of abandoned cart emails when you combine them with incentives. This is where you give them a strong enough reason to come back!
At Uscreen, we've seen great results when our video on demand customers offer 10% to 15% discount on the first month of their service. Like MVMT Challenge does here: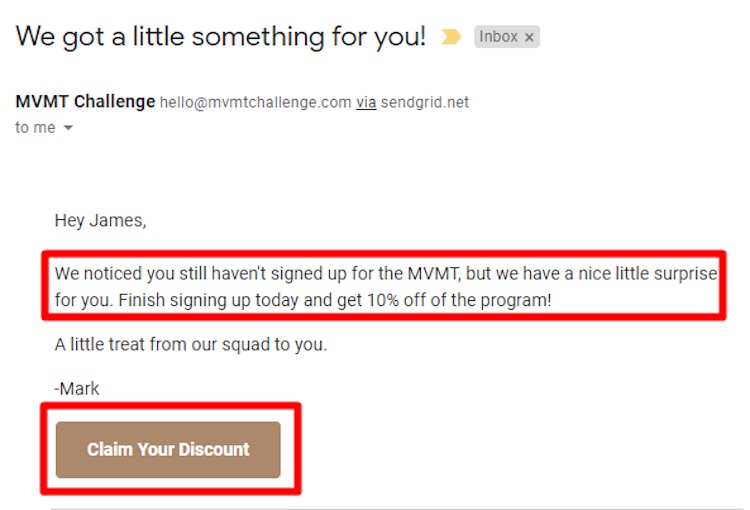 Let's say you offer an online training platform for your clients that usually costs $12 a month. You'd offer the potential customer the opportunity to try your platform at roughly $10 a month.
This gives any customer who was worried about price or comparing your product a compelling reason to come back and buy from you.
Here's how that campaign would look with discounts:
Email #1: after 15 minutes. No discount offer.
Email #2: after 6 hours with a 10-15% discount offer.
Email #3: after 24 hours reminding them of the same discount offer.
Now, this is where many fitness business owners get a little red-faced and scream, "but I'm going to make less money doing that!"
But, that's not the case. Look at it this way…
customer X leaves your website

customer X is currently worth $0

you send them an abandoned cart email

you offer them a 15% discount on your $12 a month product

customer X purchases for $10

customer X now has a worth of $10
…and, after a month their payment returns to $12 a month. So, you've generated $10 plus every $12 payment they make. You've turned $0 into potentially $142 a year!
It's also virtually impossible for your customers to abuse this system because only one abandoned cart email can be triggered per customer. It's either use it or lose it.
And let's face it…
Anyone who is trying to scam you out of $2 a month probably wasn't a worthwhile, long-term customer you want in your fitness community anyway.
Here's a video from our YouTube channel to explain this more in-depth:
If you're a Uscreen customer, this feature comes as standard. We've even pre-written the emails, so all you have to do is turn our abandoned cart feature on!

If you want to learn more about how to write an effective abandoned care email in 4 easy steps, you can check this out:
How To Use Abandoned Cart
Emails To Increase Conversions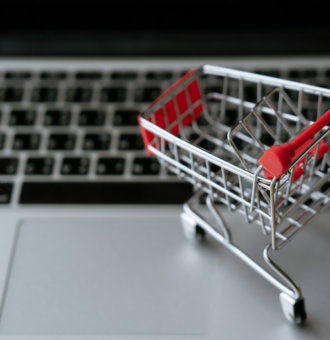 Wrapping This Up…
Abandoned carts are a normal part of online shopping, but they cost your business real money. You can recoup up to 40% of these earnings by creating an abandoned cart email campaign.
Your customers abandon their carts for 5 reasons:
Browsing.
Comparison.
Payment options.
Unexpected costs.
Distractions.
It's best practice to send 3 emails to your customers:
Email #1: after 15 minutes.
Email #2: after 6 hours with a 10-15% discount offer.
Email #3: after 24 hours reminding them of the discount offer.
Uscreen offers these email sequences as standard. So, if you have a video-based fitness business, I recommend you look at all the ways Uscreen can help you right here:
How To Sell Fitness Programs
Online – The Ultimate 2020 Guide