Branding
Figuring Out Your Video Business' Visual Brand
In case you haven't noticed by now, we're constructing your brand from the inside out.
Now that you know what your brand stands for, its purpose, and the way it talks and sounds, it's time to figure out what it looks like based on all of the above.
This is the super fun part – here are 4 visual brand elements that will each play a significant role in the overall identity of your video business.
With your brand voice map in one hand, outline the following:
Brand Colors
Generally speaking, a solid brand color palette will have 2 main colors, and 2-3 accent colors (black and white do count).
But with VOD websites, we've found that the simpler the better. The main reason for this is that VODs already include so many visuals of the videos being sold, that it would be an eyesore if you had to deal with 2 or 4 other colors.
93% of Uscreen websites only use three colors:
Primary color – this is the main color your brand will be known for. You can choose to include this color in your logo. But if you choose to not include it in your logo, your logo needs to be black or white. This is the color you'll use for call-to-action buttons, links

Secondary color – this is usually a neutral color, often black, white or grey.

Background color – often white, sometimes black, rarely ever anything else.
Here are a few examples: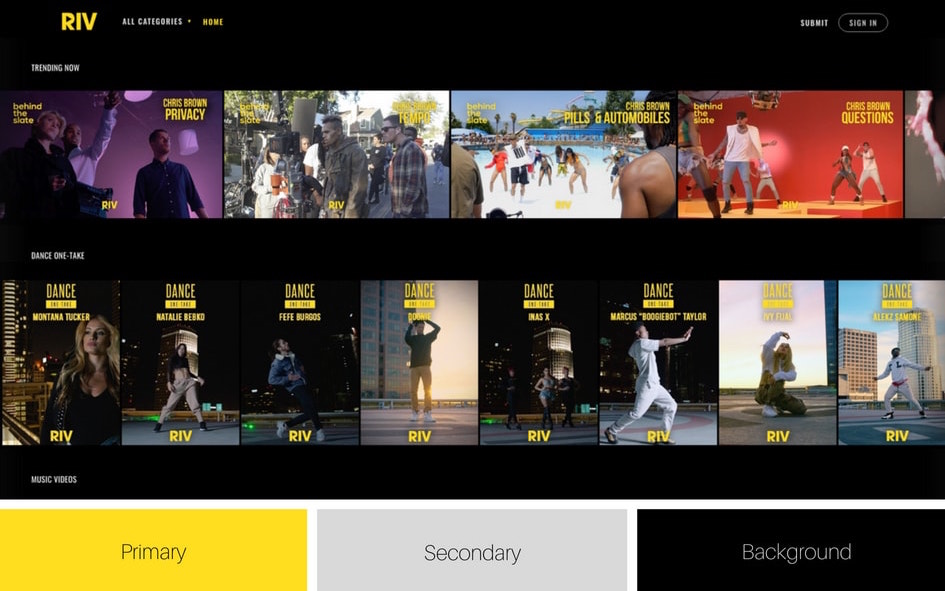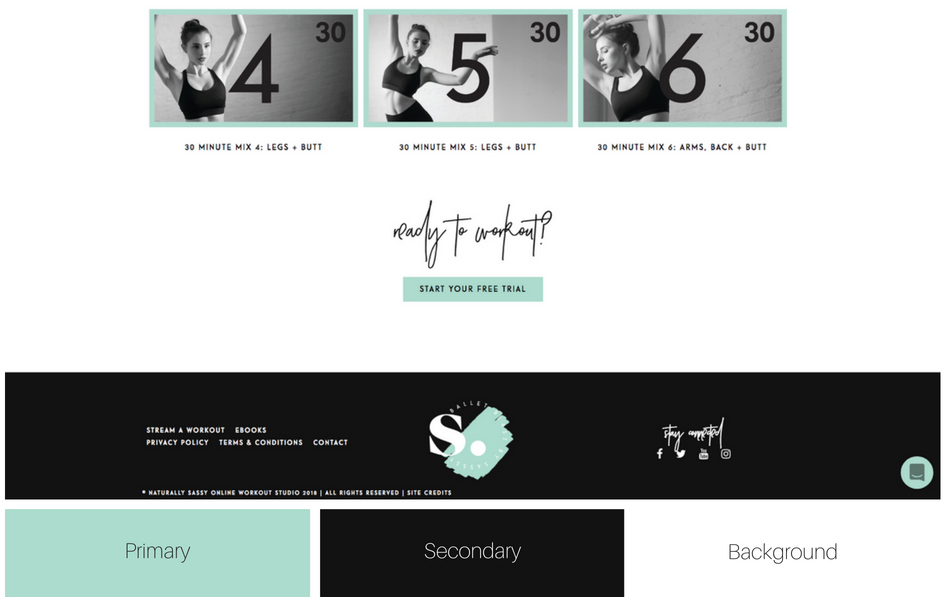 A logo
Your logo may include your main color if you want to, but it's not a must. Your logo can be black or white, depending on the background you choose, and you can save your main color for CTAs and other design aspects on your website.
Think of Instagram – pink right? Instagram hasn't actually had pink in its logo on its platform for a few years now. But it's still their primary brand color.
Plenty of brands are opting for black or white logos, which can be easier to deal with and add to your content. NaturallySally is actually a great example of a VOD that uses its main color for design and CTAs and uses black for their logo. Scroll through the website to see what we mean.
Fonts
Take it from us – don't go crazy with this one. Keep it simple. Basic Helvetica always works fine. You can shake it up with fonts overlaying images, but whatever you do, always stay consistent.
Image guidelines
Your color palette is half of your visual brand. The other half is the images you decide to use and how you decide to use them.
For some brands, that sometimes includes deciding if they'll be using photography or illustrations or a combination of both. But since your products are videos, stills from your videos will always work best. We've taken a look at what our customers do with images on their websites and social media, and found that none of them use illustrations. This is a huge cost saver!
The image guidelines are so important because these images will convey the vibe you picture your brand having.
Are you conveying action and motion?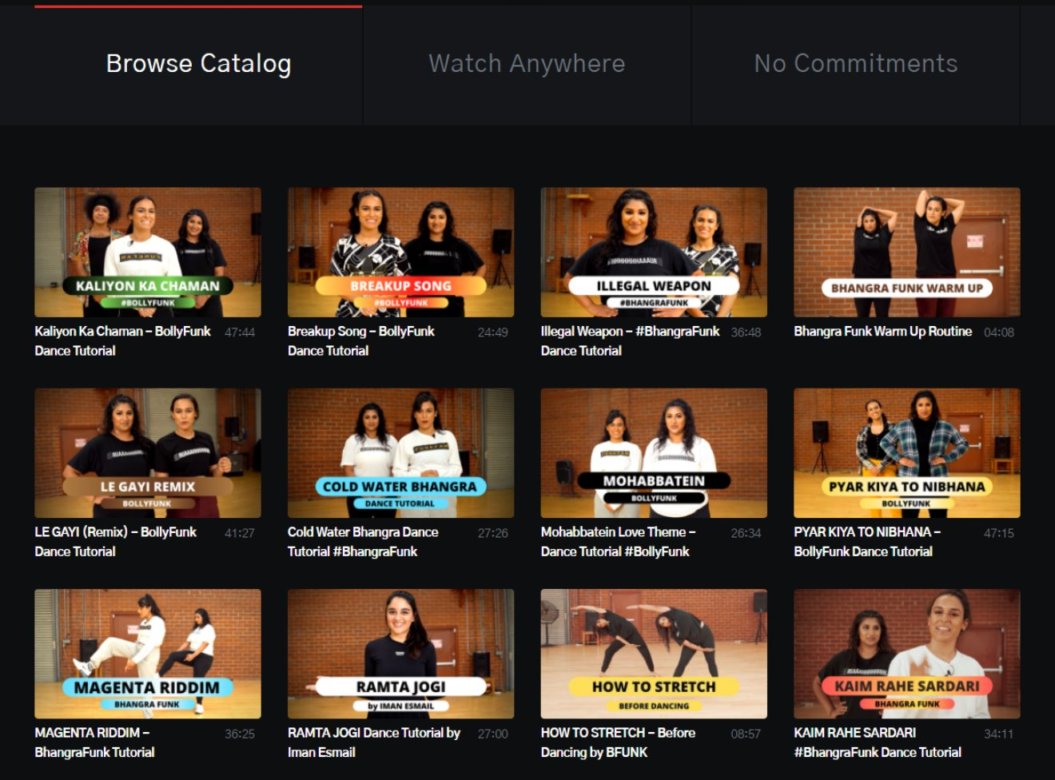 Zen and solitude?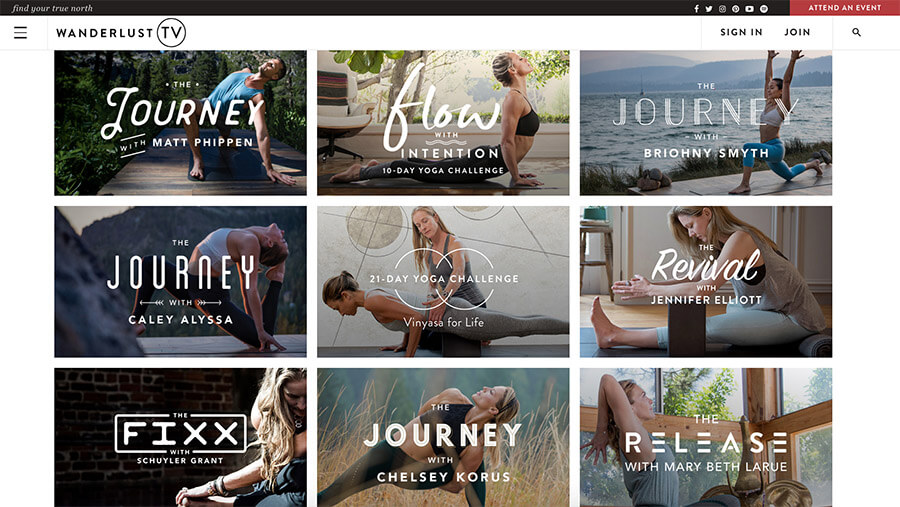 Mystery and darkness?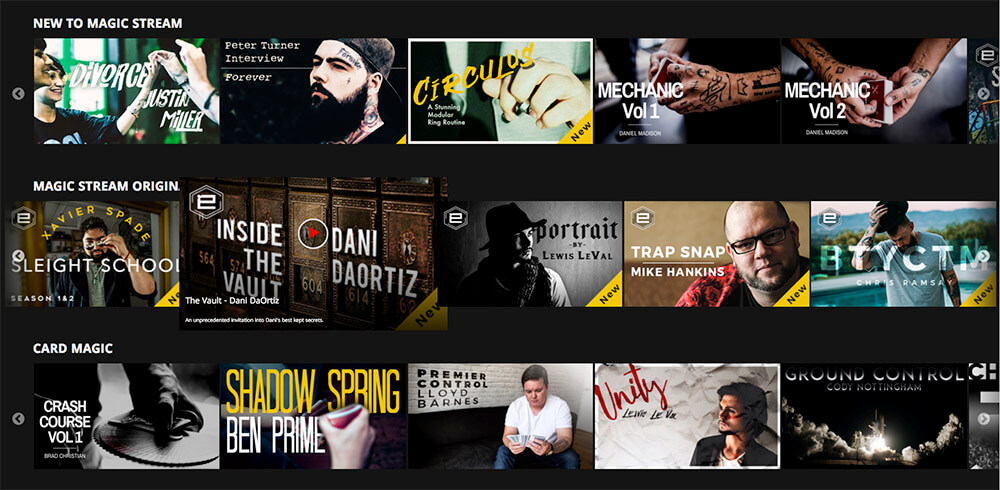 Notice that all three examples above were only able to convey the vibes they wanted through the images they chose to include. Picking a visual vibe and being consistent with it will help you get there. The best way to do this is:
Pick a visual vibe (dark, light, mysterious, zen, fun, etc.)

Execute it in your videos

Take stills from your videos

Follow that visual vibe when it comes to photoshoots
To wrap up visual branding…
Decide on a palette of three colors

Decide on what your logo will look like, include its color

Pick one consistent and easy font

Outline the exact kinds of images you will be using for your brand
There. You're all set. Your brand guidelines should now be complete, and you're now ready to share them with your team. You can use this now, and always, to put together your website and start producing your videos. Be sure to also communicate your new brand to everything else you produce on under your brand name.
Consistency is key!
Branding tips:
Apply your brand identity strictly and consistently – this is not to be confused with having a strict image. If you decide your brand is all jokes and fun, do it consistently. This equals professionalism.

Make sure the brand guidelines are understood and enforced by everyone on your team.

Ensure your guideline covers all the areas your brand appears in – including email marketing and social media.