Pricing
SVOD, AVOD, TVOD - How to Pick a Monetization Model for Your VOD
Choosing the right monetization model is especially crucial when it comes to a VOD business – and it's not an easy task.
It's actually one of the most common questions we get from our clients:
"What's the best way to charge people for access to my VOD? And how much should I charge them?"
The reason why it's so hard to decide this is because, unlike with any physical product, the "cost-plus pricing model" doesn't apply to an online video business.
So in this lesson, we're going to break down each VOD pricing model and which one you should choose for your business.
Let's get started!
Breaking down the VOD Business Models
First, VOD stands for video on demand, and it's a way of accessing videos from a large online library whenever you want to watch them. Where TV channels and movie theatres force you to watch on their schedule, VOD services allow you to access videos at your own leisure, from any device.
There are three main types of VOD models you can adapt: SVOD, TVOD, and AVOD.
Although just a heads up, we recommend SVOD the most – we'll explain why.
Let's go through the three main types:
SVOD: Subscription Video on Demand
SVOD stands for subscription video on demand, and is also sometimes referred to as subscription VOD.
SVOD is a video on demand service that allows users to access an entire library of videos for a small recurring fee. This fee may be charged daily, weekly, monthly or annually, depending on the service. Once the user has paid for access to the service, they can watch as many videos as they want on any device with internet access.
SVOD examples you may know of include Netflix, Hulu, and HBO.
TVOD: Transactional Video on Demand
TVOD stands for transactional video on demand.
TVOD is a VOD service that allows you to buy content on a pay-per-view basis. It's basically the opposite of SVOD, in the sense that you are charged per video or video package rather than gain access to the entire catalog.
TVOD examples you may know of include Google Play and iTunes
AVOD: Ad-based Video-on-demand
AVOD stands for ad-based video on demand.
This type of service refers to ad-based video on demand that is free to its consumers. Here, ad revenue is used to offset production and hosting costs.
AVOD generally generates lower amounts of revenue than SVOD and TVOD.
AVOD examples you may know of include YouTube and 4OD
Why SVOD is the moneymaking VOD model
SVOD is the most common type of VOD services offered by media companies at the moment. According to Business Insider, 55% of Americans use Netflix, where 1 billion hours of video is streamed per week, and 31% use Amazon's Prime Video service.
And these services are projected to become more and more popular as time goes on, with an estimated 568.4 million people watching videos on these platforms by 2022.
But SVOD isn't just the realm of giant media companies like Amazon, Netflix or Hulu. Small online VOD business owners are using these subscription models to grow their income, and their audience, every single day.
Over 70% of Uscreen clients have adapted an SVOD model to their video business, each of whom generates an average of $5,800 a month.
Why does SVOD work so well? Because of something called The Membership Economy.
The Membership Economy
The Membership Economy is a book by Robbie Kellman Baxter, who was a Silicon Valley product marketer and later a consultant to companies ranging from venture-backed startups to SurveyMonkey, Netflix, and Yahoo!.
The membership economy, she explains, is all about finding your super-users, establishing and growing the 'forever' transaction, and building recurring revenue off of something you created once – the possibilities are infinite!
So: would you rather have a subscriber pay $10 for one video once, or $10 a month for unlimited access to your entire library for years?
While we at Uscreen still do give our clients the freedom to set up either an SVOD or a TVOD (or a combination of both), we've seen over and over again that subscription is the most profitable way to go.
The really cool part is that this type of SVOD service doesn't just benefit the VOD business owner – it also comes with massive benefits to paying audience.
SVOD viewers are able to watch premium content at a time of their choosing. They're no longer bound to programing schedules or waiting for a show to record to their smart box.
Instead, they can view across multiple devices for no extra fees. And a yearly subscription comes in, on average, much cheaper than a cable or satellite TV package.
Figuring out your SVOD pricing model
If you decide to go with an SVOD monetization model for your video streaming business, the next thing you'll have to think of is the pricing model you will adapt.
There are a few options for SVOD pricing models out there. Our customers have experimented with all of them and eventually stuck to one of three of the following:
Free Trial
Free trials refer to a limited offering (typically 14-30 days) in which a user can access your entire video library for free. After trying out your VOD and seeing for themselves how great it is, a good percentage of users will decide to sign up.
Like, once again, Netflix's.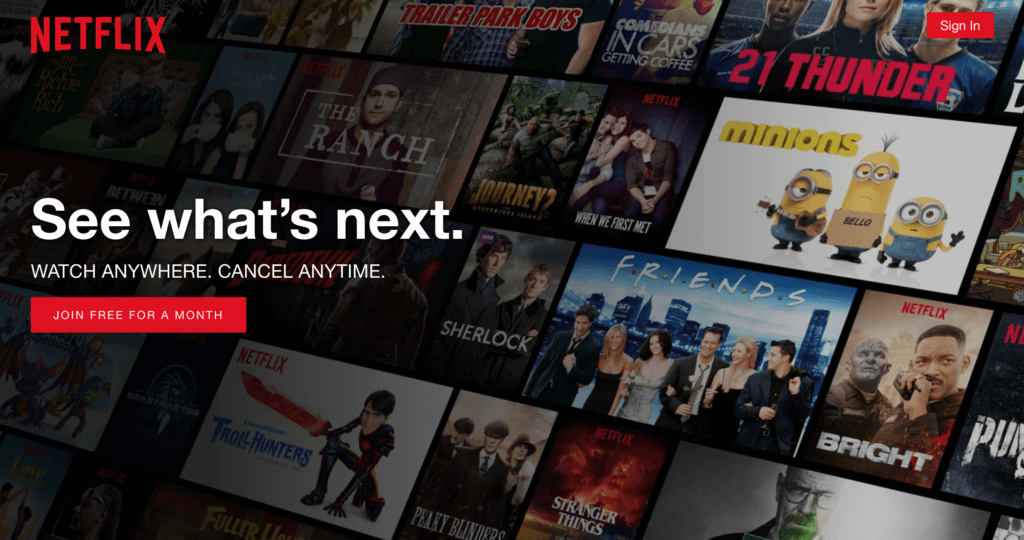 This is actually a very common pricing model for all types of subscription businesses, and we believe it to be the most lucrative one.
In analyzing our SVOD clients, we've found that 52% of people who sign up for a free trial on a video streaming service end up converting into paying monthly subscribers after the trial was over.
We also found that our SVOD clients that offer free trials on their platform make on average 195% more a month than SVOD stores that offer no free trials at all.
Suggested read: How offering free video content can double your paying monthly subscribers
Freemium
Freemium, on the other hand, refers to a basic, stripped-down version of your VOD which users can access for free for as long as they want.
Like Spotify.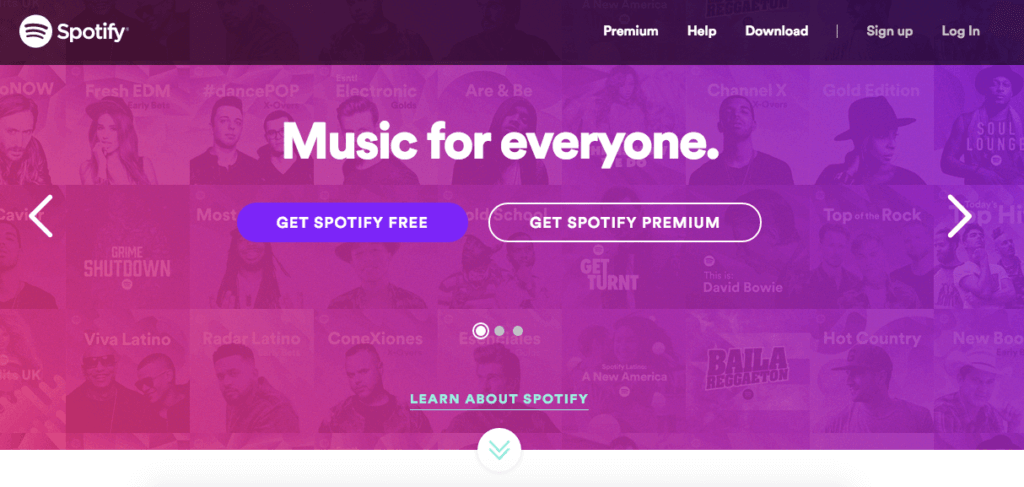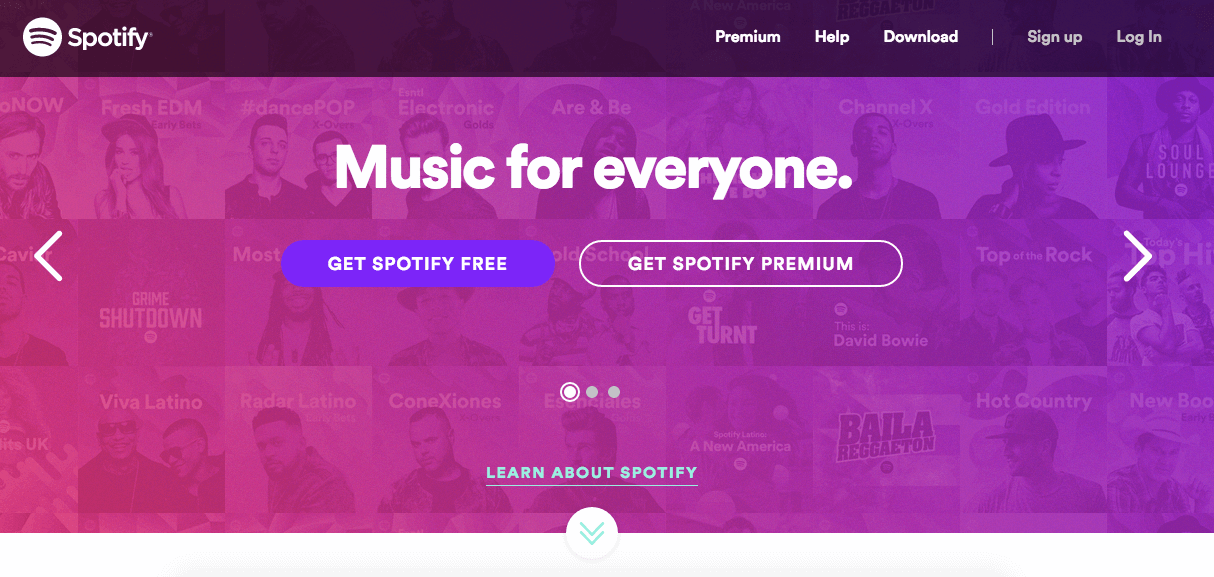 Since the consumer never has to make any commitments to buy anything from you, this usually drives large numbers of users but conversion rates tend to be much lower than the free trial strategy–around 3 to 5%.
The problem with Freemium, however, is that you have to focus your efforts on convincing the user to upgrade by constantly highlighting the value of premium products and making sure they're aware of them.
The Varied Access Model
This model is the least used of all three in VODs, but we will walk you through it briefly anyway.
The varied access model is based on the idea of providing different levels of content access for subscribers based on their subscription plan.
Once again, like Netflix (we're telling you, they're doing it so right).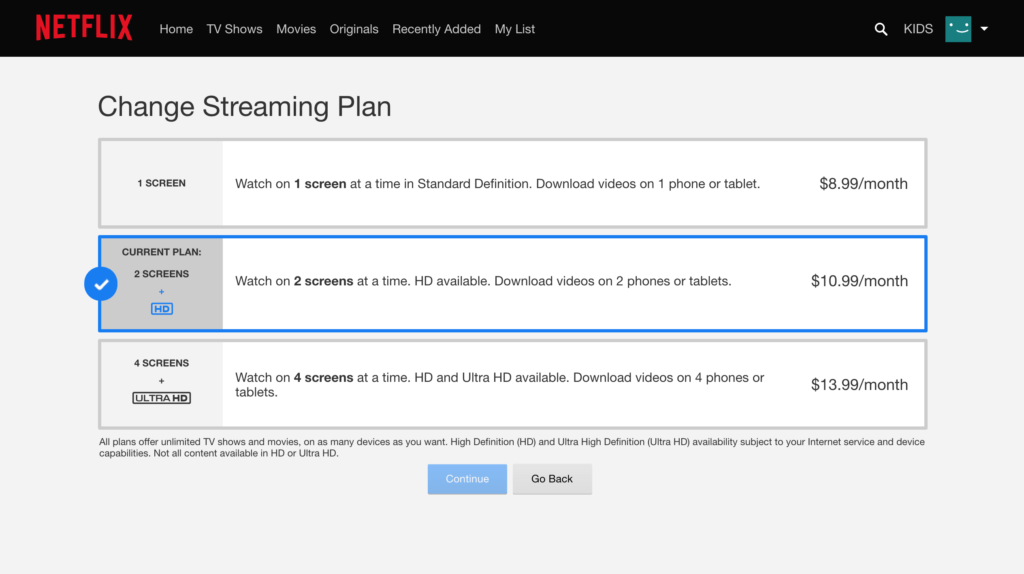 Users can sign up for the 1 SCREEN plan for their infamous $8.99/month fee, or they can upgrade to add screens to their plan and increase their video quality.
This could be applied in any way you want – offer a particular number of views or downloads each month, access to a particular number of books or television episodes, or limit the data associated with a user based on their subscription plan.
We don't recommend the varied access model when you're first starting your VOD, but as you grow and have more room to play, the varied access model is definitely something to look into. But for now, keep it simple.
Now that you have your VOD pricing model in place, it's time to look at price points.