Website and SEO
Blogging: Drive Traffic and Sell More Videos with Content Marketing
Blogging has become a nearly ubiquitous strategy for digital marketers. Many small business owners claim blogging is their most important tactic.
While your video business may benefit from blogging in many ways, gaining visibly through search may top the list. The reality is, for most searches, homepages or product pages don't perform as well as blog posts.
You can test this notion by doing a long tail search for specific information. For instance, do a search for "landscape photography tips for beginners."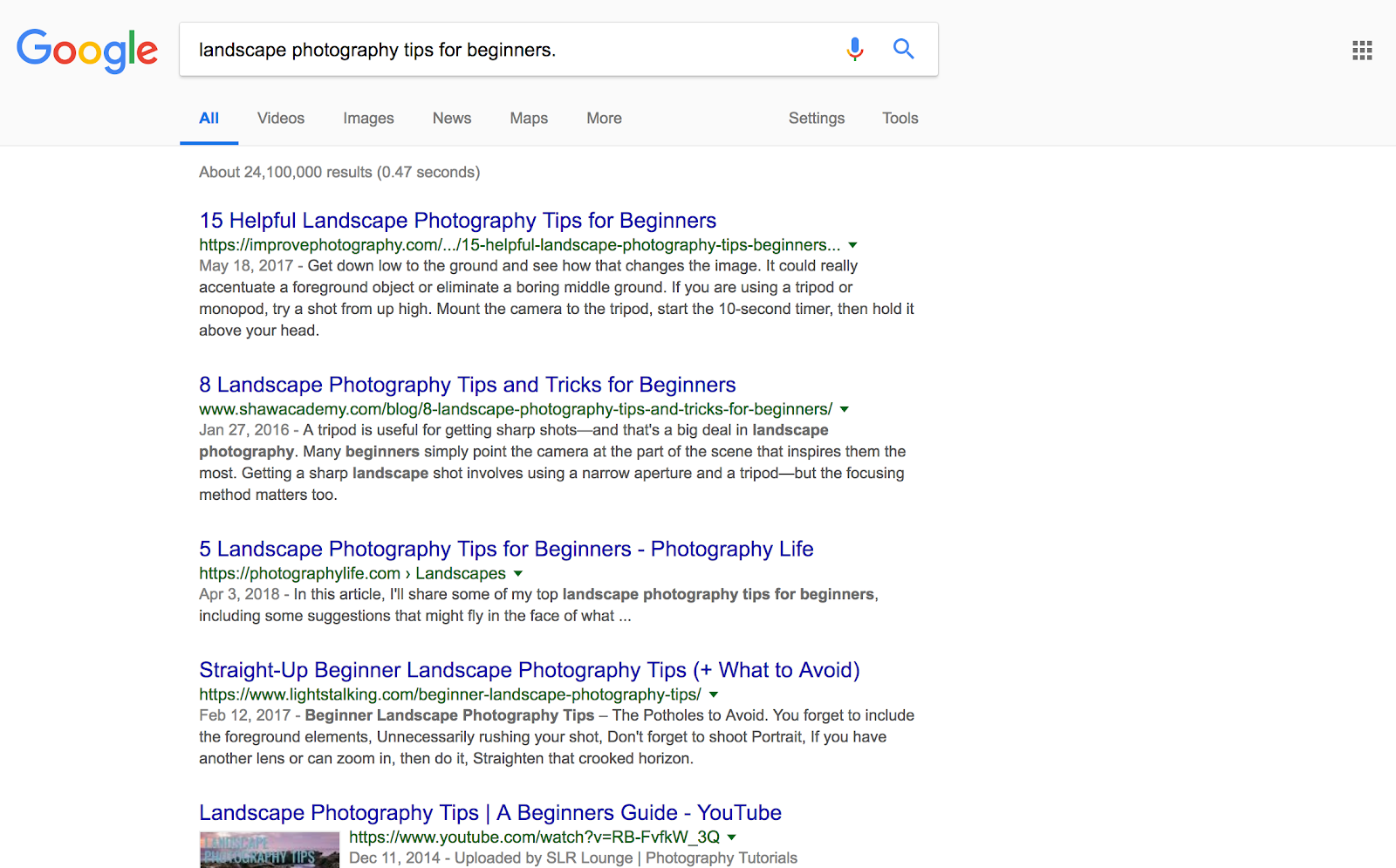 9 of 10 listings on page one of the search results are blog posts

1 is a YouTube video (another valid content marketing strategy)

Branded homepages that appear = 0
We decided to create this lesson on selling videos with content marketing because blogging has proven to be one of the most effective ways to earn traffic from potential buyers seeking a solution in your niche.
We'll focus on generating traffic to your website and building authority in your area of expertise with content marketing.
For decades, marketers have pursued these goals by creating and building blogs. Variations of a blog include:
     

Content hub

—A content hub includes written articles (blog posts), but also offer additional mixed-media assets such as videos, courses, ebooks, cheat sheets, infographics, etc.

     

Vlog

—A vlog is a video-based blog.
The word "blog" is a contraction of "weblog." It can easily accommodate a mix of media types, so for the purposes of this lesson, we'll refer to all content platforms specifically as a blog.
Get started with a content management system (CMS)
Your blog will be built on a content management system (CMS). We recommend choosing WordPress. Though a variety of choices are available, WordPress is the world's most prominent CMS.

WordPress is a free and robust platform that will make it easy for you to manage and grow your blog. Publish your blog on your existing domain as a subfolder. For example:
http://YourDomainName .com/blog or http://blog.yourdomainname .com
You can easily link your blog site to your video site. Your video site can be at http://yourvideosite .com and your blog can be at http://blog.yourvideosite .com, you can put a link to your blog at the top of your page to link users to the blog from your video website, and vice versa from the blog back to the video website.  You can then match the navigation/top header of both the blog and video site to look the same, this way the transition from one site to the other is consistent.
Take Naturally Sassy for instance, and how the VOD links to the founder's blog about healthy living: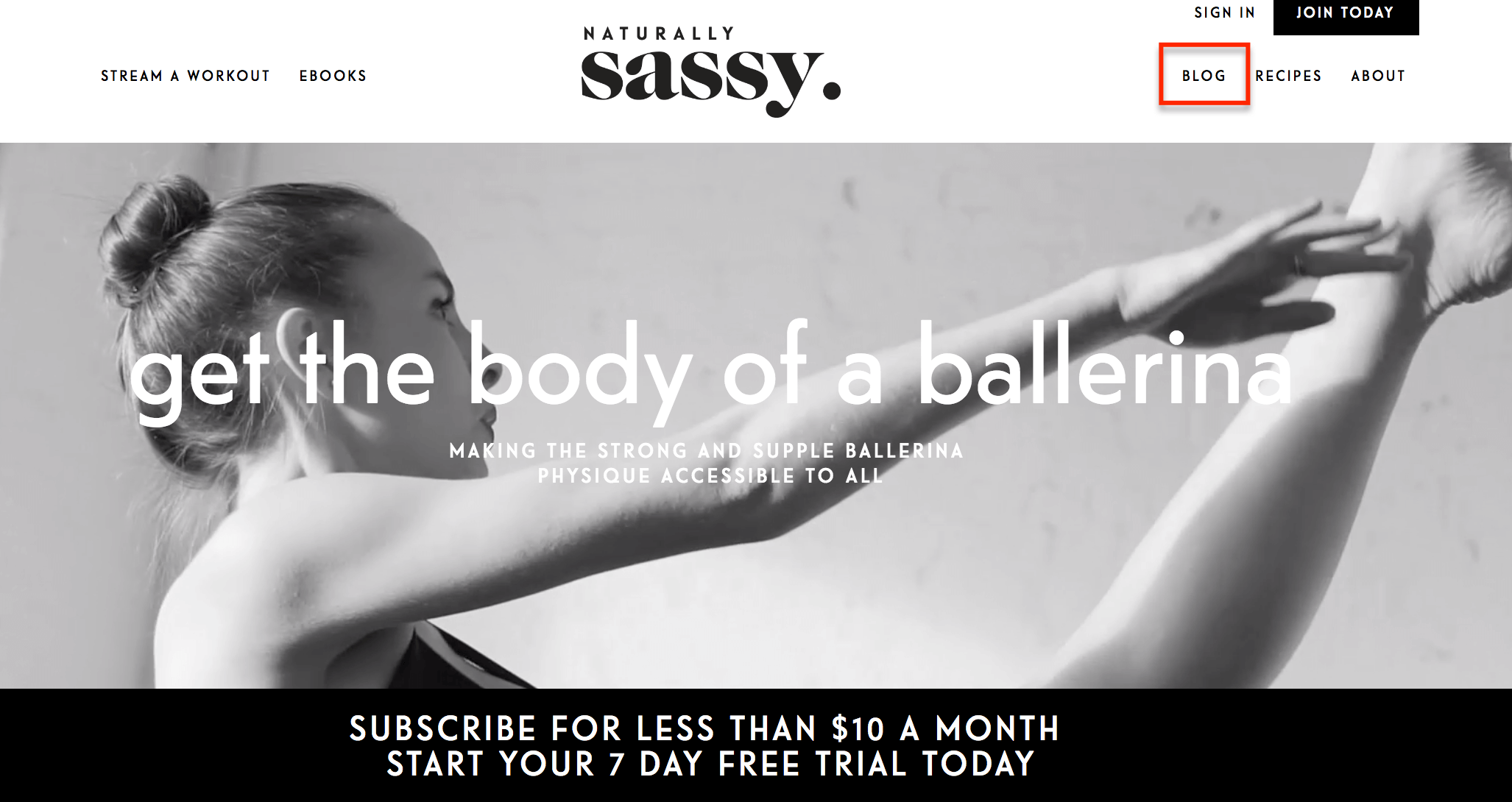 Create a blogging strategy
Becoming a successful blogger calls for forging strategies and abiding by them. Your blog must be a platform that serves the objectives of your video-on-demand business to accomplish specific goals.
Being that you sell video, your goal won't be to profit directly from what you publish on your blog, but instead to:
Establish expertise in your niche, and

Generate interest in your video-on-demand offerings
Forge your blogging strategy based on:
Mission statement

—Document a mission statement to clearly and concisely define what you will publish, for whom, and the specific value of the content.

Reader persona

—Revisit the personas you've developed to describe a prototype reader. Your goal is to know what pushes your reader's buttons, intellectually and emotionally.

Schedule

—While it's not imperative you publish with a predetermined schedule; doing so does help set expectations with your audience. Many bloggers create an editorial calendar. At the very least, aim to create a minimum cadence (e.g. 2 posts per month).



Collect ideas
Interesting and relevant ideas are the bloodstream of your blog. Identifying ideas for your posts may seem daunting at first, however effective bloggers seldom struggle to find useful subject matter. Following are some techniques you'll want to try:

Find questions

—Listen closely for the questions your audience seeks answers to. Spend time on the media channels they do. Create a list of these questions and answer them on your blog.

Mindmap

—Your big ideas need not be singular ideas. Use mind mapping tools and processes to brainstorm subtopics and related ideas that relate to the core idea and build a bigger story.

Steal ideas

— Create a "swipe file" of ideas based on blogs, books, and courses in your niche. You may be able to expand on an idea you've discovered or give it a twist.



News

—Stay plugged into what's going on in your field and bring your perspective to bear in your posts.   



Monitor—Setup alerts, feeds and media monitoring tools to keep tabs on content being produced on your subject matter.

Survey readers

—Ask your audience how you can publish content they'll find helpful. You can do this via surveys, through groups and forums, and in conversation.  

Organize your ideas

—Create a calendar or spreadsheet to serve as running log of what will be—and has been—published.  
Deliver some variety
Blogs that predictably deliver an endless stream of the same thing (such as only how-to articles) run the risk of boring readers. Try to mix up your approach with:

How-to posts

—These are the easiest because it just requires you to talk about what you already know how to do.    

List posts

—List posts are the most common style because they work.



Resources posts

—Readers find posts about resources valuable, such as books, blogs, shows, products, services, apps, or just about any type of resource you can think of.



Roundup posts

—A roundup post pulls resources and advice from others into your story. A popular example is a post where an expert panel is asked the same question.



Interviews

—Interviews work great, increase authority, and inject various points of view into your blog.



Reviews

—Write reviews of books, programs events, or any form of media.



Opinions

—Don't be afraid to take a stance. Tackle myths, mistakes, and misconceptions to demonstrate you know wrong from right.  



Stories

—Try to tell stories about people. Or inject stories into your other blog posts with anecdotes, predictions, flashbacks, conversations you had, something you saw, a joke, etc.



Curation

—Curation is presenting the works of others. Don't flat-out copy and paste other publications, but add commentary to a previously published piece, collect ideas to support a story you want to tell, present opposing views, etc.



Guests

—Bring guest bloggers to your blog. Find someone with expertise and writing chops that would welcome the opportunity. If you manage to create a successful blog, you'll discover potential guests come to you.
Write compelling posts
If you read the lesson on copywriting, you'll recognize some of the tactics that follow. After all, blogging is a form of copywriting. However, effective bloggers are part journalist, part copywriters. In other words, you need not push products. The goals are to:
Educate

Entertain

Inspire
It's often said, "Teach, don't preach" or "Ditch the pitch."
"But wait," you say, "I suck at writing."
You don't need to be a great writer to build a blog that successfully supports the marketing of your video programs. Work at it and you'll learn what does and doesn't work. Your writing skills will progress. Here are some tips:
Learn from experienced bloggers

—Identify a short list of blogs and bloggers that appeal to you. Examine why. Is it the writing style? Depth? Humor? Wit? Emulate stylistic ideas from some of your favorites and your style will begin to emerge.



Work on storytelling—

Stories connect us all.

Learn how to tell a compelling story. Take your readers on an emotional journey.



Write several headlines

—Even if you like the headline you started with, challenge yourself to improve it. Write five to ten alternatives. You're likely to arrive at a stronger headline, which is the most important line you'll write.



Use word power

—Powerful blog headlines and copy feature powerful words—not big words. Don't try to show off your vocabulary; try to use words that trigger emotions.



Proofread

—If an editor or proofreader is not an option, step up your own internal checking system. Read your posts aloud. Use a spell checker.



Have a point of view

—Share your opinions and present a strong point of view. Remember, you're not trying to appeal to everyone.  



Write naturally

—Try not to posture yourself as a journalist. Be yourself and write in your unique, real, and natural voice.



Cite research and data

—Enhance the credibility of your posts with research and data that supports your story.
Promote your content
Your blog needs an audience to become an effective marketing channel for your video-on-demand business. In addition to bringing new prospects to your website, you'll also want to earn subscribers—readers who will continue to come back.
Don't be overly concerned about the size of your subscription list. A small list of dedicated followers may be just as useful, especially in highly specific niche industries.
But understand: more than 2-million blog posts are published each day.
Winning traffic and subscribers requires promoting the content you publish. Experiment with the following distribution strategies to find an audience or help an audience find you.  
Social media updates

—Promote your posts via the social media channels your potential customers frequent. Make your social media updates interesting, urgent, and creative and use images to increase their visibility and stopping power.  

Paid posts

—A small investment in sponsored posts on social media channels can have a big effect on your reach. Most popular networks offer a variety of advertising programs, which will allow you to zero-in on the audience you seek.

Build an email list

—Offer visitors the option to join your mailing list. Put opt-in forms in their path on popular pages on your website and blog posts.



Send email

—Alert your subscribers every time you publish new content.

Post on groups and forums

—If you get involved in groups, forums, and Q&A websites, you'll often have the opportunity to post a link to your posts. Don't be a link spammer, but do direct people to what you've published when it's relevant.

Encourage sharing

—Install a social media share bar on your blog and ask your readers to share your posts.



Guest blog and syndication

—If you're not satisfied with the growth of your audience, an effective strategy to reach a larger audience is to become a guest blogger on established websites. Do so strategically and you're likely to drive traffic to your blog. To earn guest blog opportunities, you need to offer original content.





Syndication may be an option as well. If your guest posts perform well, some publishers may consider syndicating posts you've already published (which is far less work than creating original content).
Call for action
Blog posts that are perpetually "salesy" or about your company will repel readers. However, blogging for a business is content marketing (or content + marketing).

Remember to ask the reader to do something—take action. The call to action of your blog posts can be:
Comment

Share

Subscribe

Read this article next

Watch a video

Download something

Try

Buy

Contact me
A successful blog requires commitment
A new website begins with no authority. Similarly, a new web page has no authority. Yet building authority is critical to your success. Understand:
You have to earn authority.




Authority is earned over time based on a long list of qualities: the age of the site, the depth of the content, the amount of content, backlinks, traffic, time on site, bounce rate, and some would say hundreds of additional signals.




One critical factor is indexing. If you update your website once a year, search engines crawl it once a year. You don't want that.
The bottom line: blogging or any form of content marketing requires consistency and commitment. The reason why most blogs fail is they simply stop blogging.
Establish a reasonable release schedule and stick with it. It takes time to build an audience and authority and an ongoing commitment to keep it.