Online payment processing makes it easy for you to bill your customers, accept payments on the spot and even set up subscription-style services for your business. The processor you choose for your payments will have a big impact on how streamlined the process will be and on your profitability.
For most businesses, the choice comes down to two big providers, PayPal and Stripe.
In this post, we're looking at the things that matter most to a business – everything from fees charged, to the overall user experience of the service. We'll also highlight the best processor for your individual needs.
PayPal vs Stripe
We've considered the fees charged by each service, the ease of use for you and your team, security steps taken by each processor and even the level of customer service provided by PayPal and Stripe for their business clients. A comprehensive look at each of these facets can give you the insight you need to make the best decision for your brand, based on your needs and the needs you anticipate in the future.
For the more visual folks out there, here's a quick infographic to give you an overview of the comparison. If you want more details about each aspect of PayPal and Stripe, continue reading.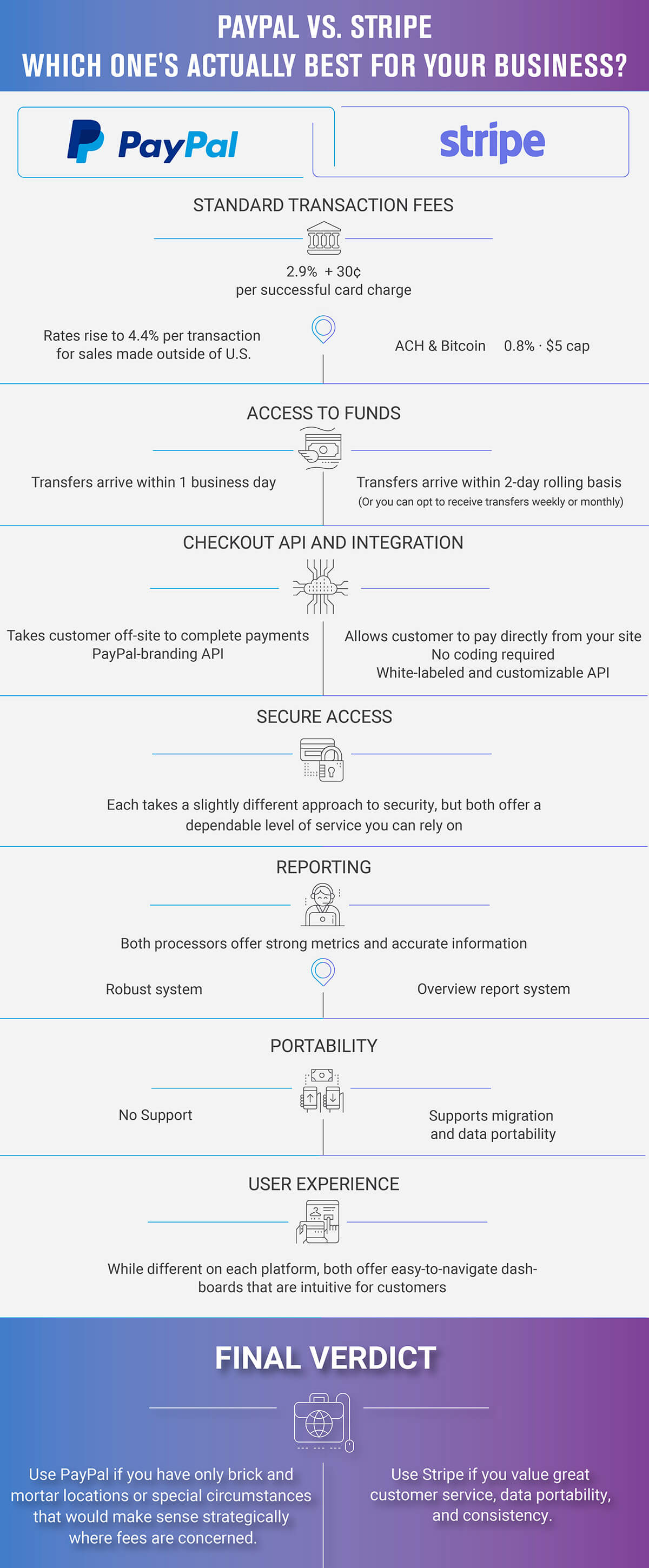 Fees
As a business owner, this is one of the largest considerations you'll have when it comes to choosing between PayPal and Stripe. Fees for both brands are divided into three categories; a service fee, a fee per transaction and extra fees based on specific events or occurrences.
Here's how fees look for PayPal vs. Stripe at the end of 2017:
Stripe Fees
For Stripe, fees are simple and easy to determine. If your business makes under $1 million annually, then you'll pay a service fee of 2.9% per order processed and a 30 cent fee for each transaction you make.
The site can also process Bitcoin and ACH payments for an additional fee; as of November 2017, Bitcoin and ACH costs were 0.8% (with a cap of $5) for each transaction.
Stripe also charges fees for unusual occurrences, including returned ACH withdrawals ($4) and disputes that result in a refund to the customer ($15). There are no additional fees for recurring billing, or more intensive fraud protection for your account.
For accounts doing more than $1 million in business on Stripe per year, customized solutions are available via the Enterprise Sales division.
PayPal Fees
When you use PayPal,  you'll pay fees for each transaction or sale that is processed; as of November 2017, those fees are 2.9% per order, along with a 30 cent transaction fee for every purchase. Rates rise to 4.4% per transaction for sales made outside of the United States. If you have a brick and mortar location, you do get a slight price break; the fee drops to 2.7%, so this is worth considering if you have retail, not e-commerce locations.
PayPal has an additional charge for recurring billing, so service businesses providing regular sessions should be aware of this $10 per month charge. Paypal also charges additional fees for chargebacks (varies), American Express (3.9%) and advanced fraud protection ($10).
Which one is cheaper?
Looking at just payments, Stripe is more affordable for e-commerce brands and those that need to establish monthly billing, since PayPal charges additional fees that drive total costs up. A brick and mortar store without an e-commerce or subscription billing component would benefit from PayPal's slightly lower in-store payment processing costs.
PayPal's menu of fees is more complex and can be confusing; if you prefer a straightforward, easy-to-understand model, then Stripe is an ideal option for your payment processing.
Access to Funds
How fast do you need your funds? If speed matters to you, PayPal has a slight edge. They pay you within one business day. Stripe generally takes 2 days to process funds and transfer them to you. If you don't need funds in record time, then both processors offer similar time frames and accessibility should not be a determining factor when you choose your provider.
Secure Access
Your account needs to be secure and both large payment processors take an aggressive stance when it comes to security. Each takes a slightly different approach to security, but both offer a dependable level of service you can rely on. Both brands have ideal security practices in place, so security is not something you need to worry about when deciding between Stripe and PayPal.
API
Stripe's robust API maker is easy to use and intuitive, and PayPal's once faulty API has recently been upgraded and is more user-friendly than ever before. For intuitive ease-of-use, Stripe is generally a better option when it comes to developer tools and features.
Reporting
If you love reports and anxiously review every metric and bit of data you can on your sales, then you'll love Stripe's easy-to-use reporting. This robust system can actually provide too much information to think about at times, but if you crave information, you'll love it.
If you want just an overview report, then PayPal's more streamlined reporting might be best. You'll have to manually set up some of your reports, but you can make them include just the data you want and can prevent the choices from becoming overwhelming.
Both processors offer strong metrics and accurate information. The difference is in the way reports are generated and the amount of detail included automatically.
Portability
Can you easily transfer subscriptions or payment plans from one processor to the other?
Not if you use PayPal. They are notorious for throwing up obstacles where data portability is concerned. Your data will not transfer readily or easily, and your customers will have to go through the signup process all over again with your new processor. Stripe supports migration and data portability, and is accommodating when you want to switch your business to their primary competitor, PayPal. You may not need to make big, sweeping changes often, but you should at least know how portable your data would be with each of these processors.
User Experience
Your experience as a user is different on each platform, but both PayPal and Stripe offer easy to navigate dashboards that are intuitive and robust. Speed, loading times and options are very similar, so the overall user experience probably won't be a huge concern when you choose one processor over the other.
Customer Service
While the user experience is very similar when it comes to Stripe and PayPal, the actual customer service offered by the brands is very different. A simple search for "PayPal complaint" or worse, "PayPal nightmare", reveals countless small businesses that woke up one morning to frozen accounts and reversed transactions. Since PayPal's customer service team is scattered around the world and their phone interface is somewhat antiquated and easily overloaded, getting through to someone who can actually solve a problem can be a challenge.
Stripe's smaller size is an advantage when it comes to customer service. Where PayPal suffers from too much bureaucracy and an inconsistent (and sometimes inept front-line team), Stripe's more compact size allows the brand to stay agile and to be responsive to customer needs. An IRC channel (try #stripe) and email channels make it easy for customers to get in touch and so far, there are far fewer complaints about reaching live help and interacting with the customer service team.
PayPal vs Stripe Final Verdict:
Choosing the right online payment processor for your business is perhaps one of the most important decisions you have to take when setting up an online business. This is true, whether you're planning to launch an OTT platform, or start an e-commerce business. Here's our final verdict:
Choose Stripe if you value great customer service, data portability, and consistency.
Choose PayPal if you have only brick and mortar locations or special circumstances that would make sense strategically where fees are concerned.