Opting to offer digital yoga classes instead of traditional, in-person sessions has been a growing trend for several years. Thanks to COVID19, this type of digital business has received an enormous boost in the last year and a half, prompting yoga teachers—both novice and seasoned professionals—to move their practices online.
But did you know that you need to protect your online yoga business with liability insurance, even from home?
Surprisingly, there are 5,000 yoga-related emergencies each year.
And, there's a common misconception that yoga instructors (physical trainers of any kind, really), aren't liable for students' injuries, damages, and accidents if they're not in the room with them. This certainly isn't true.
In fact…
As a professional yoga teacher, it's your job to take every step necessary to protect yourself, your students, your business, and your career—and you can't do that without investing in proper risk mitigation strategies.
In this article, we're going to cover a few key things you need to be aware of when you decide to offer online yoga classes—primarily, we'll discuss liability insurance, liability waivers, and why they both matter when it comes to safeguarding your business.
What is Yoga Insurance, Anyways?
Yoga insurance protects you against claims regarding unexpected accidents and occurrences that come along with teaching even if you're not at fault.
Along with professional and general liability coverage, additional benefits vary depending on the provider. Some of the best yoga insurance offers can include:
Coverage for stolen equipment.
Rental damage.
Identity protection.
Website customization.
Yoga insurance is a bit different from sports and personal liability insurance policies, many of which don't cover yoga.
It's important to find an insurance policy plan that will cover the different styles of yoga along with other modalities. This is where liability waivers come in.
Let's talk waivers.
Liability Waivers for Online Yoga Classes: A Necessary Protection
Whether you're offering live or pre-recorded classes for your yoga students, it's important to remember something.
As a professional offering a service, you're liable for what happens to your students unless otherwise indicated.
While it might feel impossible to prepare for any eventuality (it's not, but we'll get to that in a moment), liability headaches can be avoided with a simple, straightforward, and binding liability waiver.
A properly drafted waiver of liability is a must—especially for online teachers.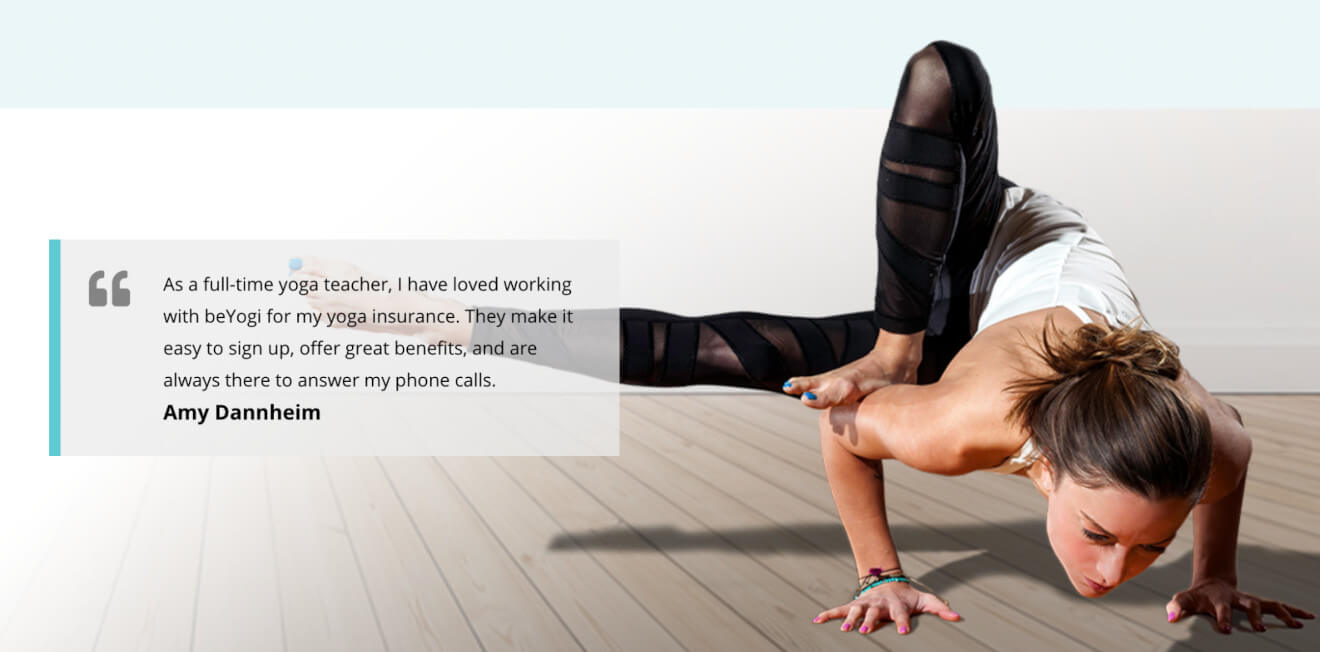 If you're planning to offer live or on-demand classes, it's imperative to make sure all students sign your waiver before they access your online class.
This will save you from liability nightmares that could have been avoided and is a foundational document for your business.
But it's not as simple as drafting up a generic liability waiver.
You need to make sure to include the right information so your students are aware of what they're signing and you're covered no matter the circumstance.
Your waiver should be specific enough that your students understand you're not liable for any injuries or mistakes before they take your class.
Ideally, in your liability waiver, you'll want to make sure you note these factors:
Description of the specific activities.
The method of teaching (online classes).
The risks of those specific activities.
The outcomes of those specific risks.
Any unique factors specific to your practice.
An area that requires a signature to acknowledge the signee is waiving their legal rights to hold you liable for the activities.
We encourage you to learn more about properly drafted liability waivers on the legal essentials needed to protect yourself, your career, and your future.
Liability Insurance: A Must for Online Yoga Teachers
Liability waivers are crucial for your protection, but ultimately, you can't create a waiver for every possible outcome. Because of that, it's crucial to have blanket protection that'll have your back when push comes to shove.
No pun intended.
Investing in yoga liability insurance on top of your carefully crafted liability waiver is a must.
With liability insurance, your business is covered from issues like general liability also known as slip and fall, professional liability sometimes referred to as "malpractice insurance", and product liability claims which cover you in incidents involving cleaning products you use, types of props, etc. If you choose the right insurance partner, you'll probably end up with even more coverage than that—like identity protection and stolen equipment coverage.
General liability insurance, often referred to as "slip and fall" insurance, covers you against any third-party claims for injury or property damage.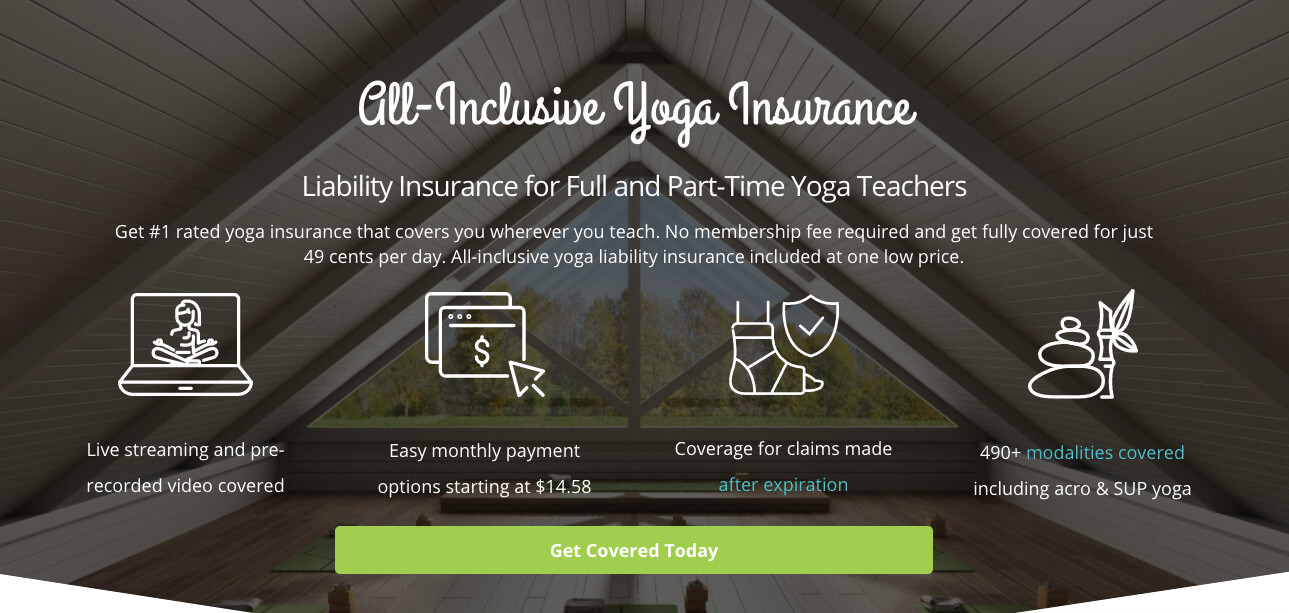 What should you look for when seeking a reliable, high-quality insurance plan? We suggest picking a partner that offers you:
Mobile, flexible coverage: Because you'll be offering online services, you'll want to be sure that your coverage protects you anywhere you're teaching. You could travel all over the world to teach (whether in-person or online), so it's crucial your insurance follows you wherever you go.
Occurrence form coverage: With occurrence form coverage, you'll be covered for the lifetime of your policy—even after the policy has expired. Opting for other types of policies (like claims made coverage) could leave you high and dry if a student makes a claim months (or years) later.
Member benefits: Obviously, you'll want an insurance partner who covers the basics and beyond when it comes to your insurance needs. Look for a partner that includes a long, ever-growing list of member benefits that provide an array of discounts on popular yoga products, services, teacher trainings, and even everyday expenses like shipping, hotels, and rental cars.
Easy, monthly payment options: Don't settle for a lump-sum payment unless that's what you want—pick an insurance company that offers you flexibility and easy with low, monthly payment options.
All your services—covered: Seek out an insurance company that takes care of all of your offerings—not just a few here and there. For proper coverage, you need to ensure that everything you offer is protected as a part of your policy. Cherry-picking doesn't cut it when it comes to liability insurance and adequate protection.
Find Liability Insurance For Your Online Yoga Business
If you're ready to invest in quality, reliable yoga liability coverage, beYogi is a trusted Uscreen partner you can start working with today.
beYogi is the #1 rated yoga insurance that covers you wherever you teach.
Their insurance covers live streaming and on-demand classes, making it a perfect-for-you option if you're looking to offer any type of online yoga class.
In addition to liability insurance, you will get access to stolen equipment coverage, theft protection, and tons of discounts on yoga equipment, retreats, yoga software, classes, and more.
It's important now more than ever to cover yourself as a yoga instructor conducting classes online!
Ready to get started?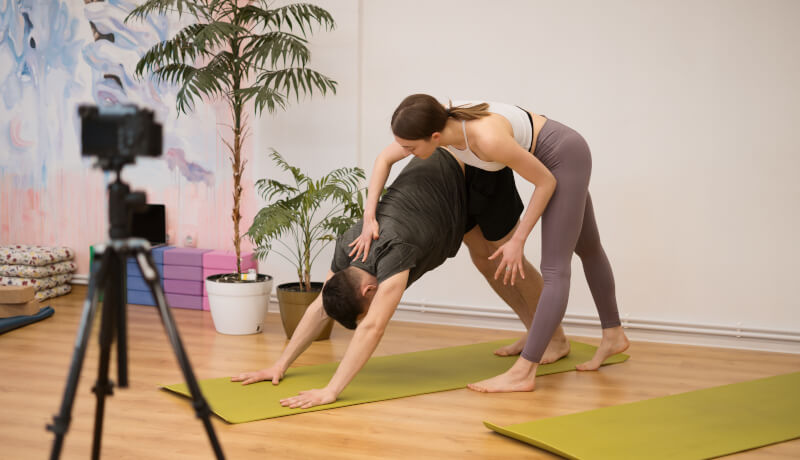 Get Reliable Yoga Liability Coverage With BeYogi