Arguably, the most important aspect of any community is the member experience. You create a stellar experience for your members by meeting them where they are and thinking of the little things so they don't have to.
Just think about the moments when you've had a great experience! What were some of the details that made that experience so great? You can apply those in your community.
Remember when we talked about understanding the journey of your Ideal Customer? Well, you're going to want to map out that in more detail.
Some questions to ask yourself when crafting this experience include:
What milestones do I want my Ideal Customer to achieve along the way?
How can I make the journey easier for them?
How can I let my members know I'm thinking of them every step of the way?
Your rituals and navigation will support your members' experience in big ways. But you can also let your members know you're thinking of them by shouting them out or rewarding them in some way when they reach a new milestone.
To create a top-tier member experience, you'll also need to create a safe environment for your community.
This is where Community Guidelines come in. It's important to set clear guidelines to ensure a positive and respectful environment.
Did you know that the biggest indicator of a thriving community is whether community members feel safe engaging or not? If your members feel like your community is a safe space to engage, they will – and that creates greater success for you and them.
If someone directly violates your guidelines, you have the right to remove them respectfully from the community, protecting yourself and everyone else involved.
As a community manager or owner, you may be faced with a tough decision like this at times. By leaning on your guidelines, you uphold the best interest of the collective.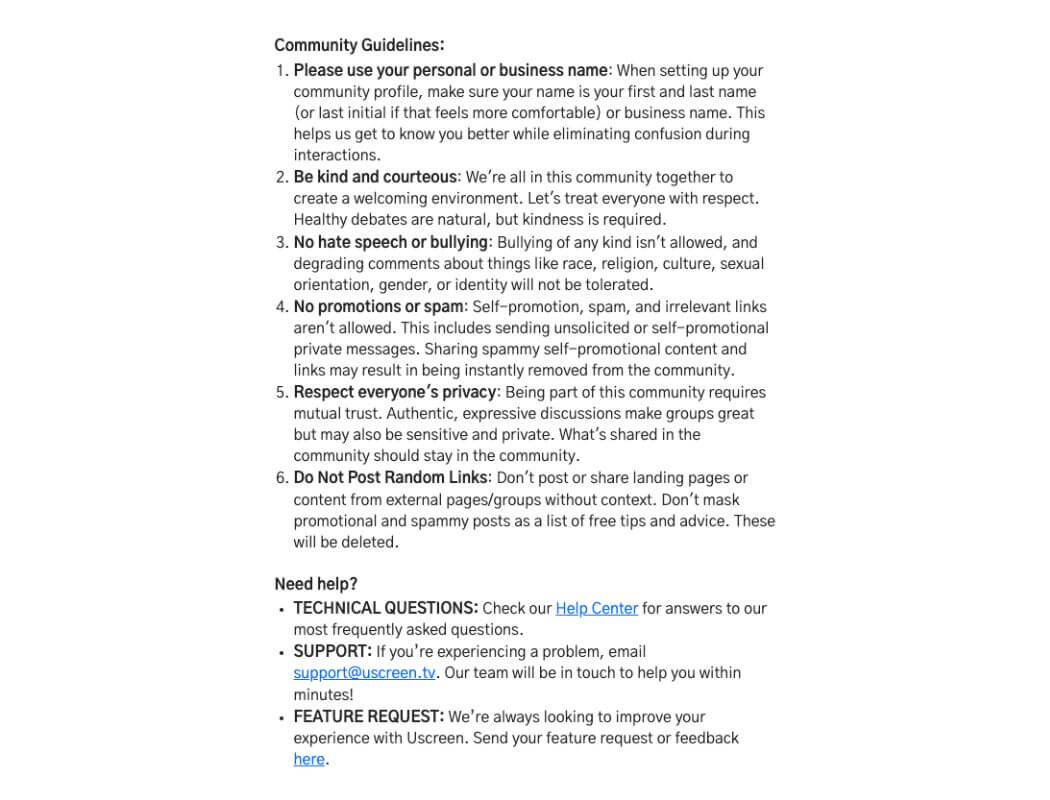 Next, you're going to want to focus on your welcome process.
First impressions matter, which is why your welcome process is likely the most important thing you'll work on in the member experience. You want your members to get access to your community and be blown away by the value and care they receive!
Plus, a well-prepared welcome process makes it easier for them to manage the inevitable headaches along the way, especially as you prepare to launch.
Here's our formula for a top-notch welcome process:
First, a friendly welcome post outlining your community's purpose and instructions on how to get started.
Second, provide welcome materials to make your members feel special. These could include a welcome video of you greeting them, a checklist to make onboarding easier, or a milestone map of what they can expect on their journey.
Third, make sure that new members are directed to (and agree to) your community guidelines. Knowing that your community is a protected environment will give peace of mind to all members.
Here are some welcome post examples Uscreen customers published on their communities: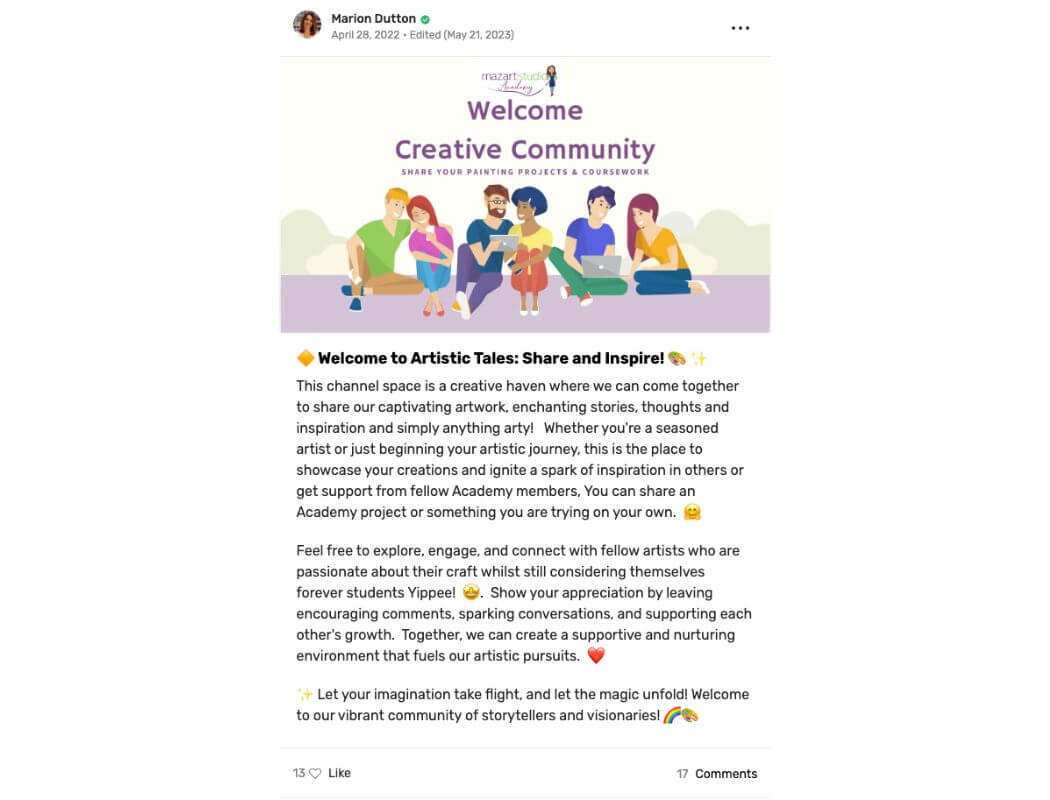 The final step to preparing your community for launch and providing a great first impression in your member experience is having your community content planned and ready for the first 30 days.
A content calendar that you've prepared ahead of time will help you feel confident during the first few weeks of launch and will guide your members on where and how to engage.
Here's the thing: your community will take some time to gain momentum.
True community is built over time, and when you're just starting out, your members need to be told and shown how to take action. 
As you get started, we recommend posting in your community about 3x per week. This allows for space within posts while still giving your members something to engage with and mimic themselves.
The risk of posting too much is that your members might have a more difficult time creating the habit of posting themselves. By posting too little, they might feel too shy or confused to start.
Similar to social media, we recommend creating 3 community pillars that all of your posts can tie back to.
The purpose of your pillars is to keep you aligned and organized as you plan your content, not to stifle your creativity, so adjust as needed.
We've included a list of post ideas for each community style in the free Community Playbook Extras here.
Get started for free
Whether you have 200 or 200,000 members, we have all the tools that you need.