You've built, you've launched, and now it's time to ENGAGE!
Long-term community success lies in engaging your community effectively, and that often comes from having the right strategy.
The right community strategy can be broken down into 3 parts:
Organization.
Programming.
Peer-to-Peer Connection.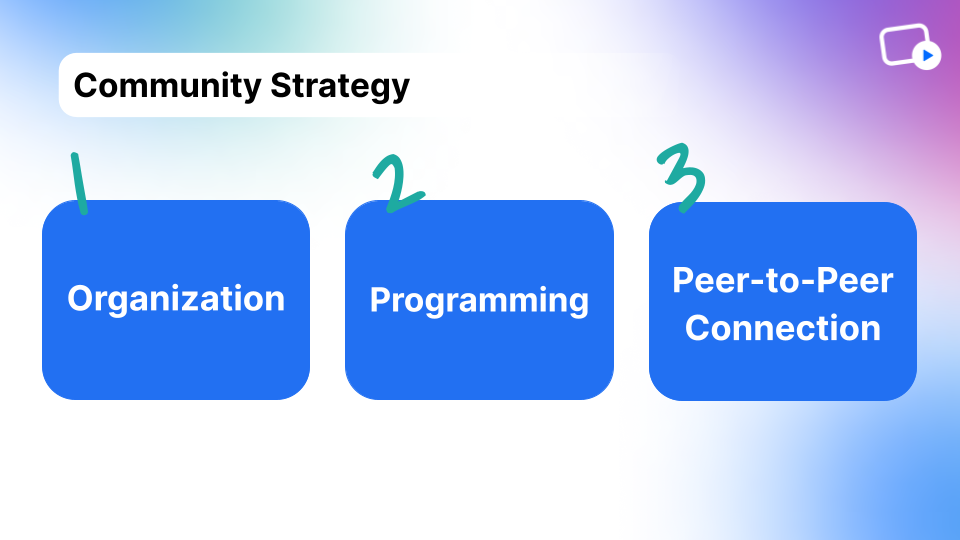 Organization in your community means continuing to adapt the member experience to fit your members' needs, which can change over time. Consistency is still key so if something doesn't work the first time, try it a few more times before you pivot.
Programming is the guidance and value you offer, and that can always change. Encourage member participation by regularly initiating discussions, asking questions, and sharing valuable content.
You can even leverage your existing catalog library! Don't be afraid to try new things sometimes the simplest and silliest things bring communities closer together.
The third part is peer-to-peer connection. In other words, this includes how you bring your members together, like your community rituals. People are less likely to leave places if their friends are there.
Communities evolve, and it's essential to adjust your strategy to meet changing needs.
Continuously gather feedback from your community members through surveys, polls, or direct communication. Use this information to identify areas where your strategy may need refinement and be willing to adapt to better serve your community's evolving needs.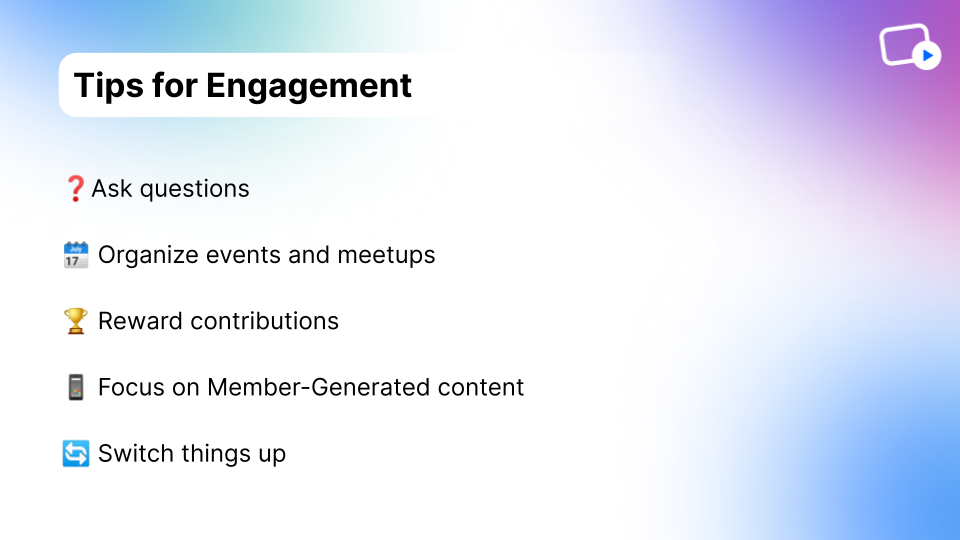 As you move out of your initial launch phase and into maintenance with your community, make sure you continue to:
Ask questions: by asking questions, or using the Poll tool in the Uscreen Community Feature, and encouraging members to weigh in, you can increase your engagement and even get ideas from the answers your members are sharing
Organize events/meetups: your community rituals don't stop after launch. In fact, my recommendation is to build upon them. Ask your members for feedback regularly and make adjustments as needed! By continuing to improve your events and hosting them consistently, you'll see more and more members start to show up.
Reward contributions/actions: in the beginning, your members might need a little help knowing what to do, and even if your community has been running for a while, you may see an engagement lull. Start to consider ways you can reward those who are engaging! Maybe it's through sending them a kind, personalized email, giving them a small gift card, or even just acknowledging their post/or shouting them out. Don't underestimate the power of recognition!
Focus on member-generated content: Encourage your members to share on their own. For example, if someone comments on a question on your post, you could encourage them to share it in the community's General channel. And of course, anytime a member posts, show them some love! 
If you're noticing weeks or months of consistently low engagement, consider asking your members for feedback. Reach out to a few of them and learn why this might be happening. This could be a key indicator that a change is needed to ignite fun!
But also understand that community engagement ebbs and flows, the most important part is that you're consistent and present in your community.
As your community grows, you may want to consider how you want your community to expand. Building a strong community requires the presence of effective leadership.
This could look like identifying members who are knowledgeable, consistent, and a strong representation of your brand and asking them if they'd be interested in becoming more involved.
Here's how some of our best customers engage their members through community posts:
We call these people ambassadors, and they can be a great way to incentivize your members to share more about you and your membership business.
You can also hire a community manager to support you in the day-to-day operations of the community so you can save time and effort.
Finally, to stay ahead and maintain long-term success, it's important to innovate. Continuously explore new ideas, features, and initiatives that add value to your community.
At Uscreen, we have tons of tools to support you and your community.
Some of these tools include:
Polls – you can now share polls on web and in the apps to encourage engagement from your members, plus these are excellent for market research. 
Challenges – you can encourage watch time while also rewarding members for their participation through challenges.
User-Generated Videos – your members can share their own videos (up to 60 seconds) in their posts.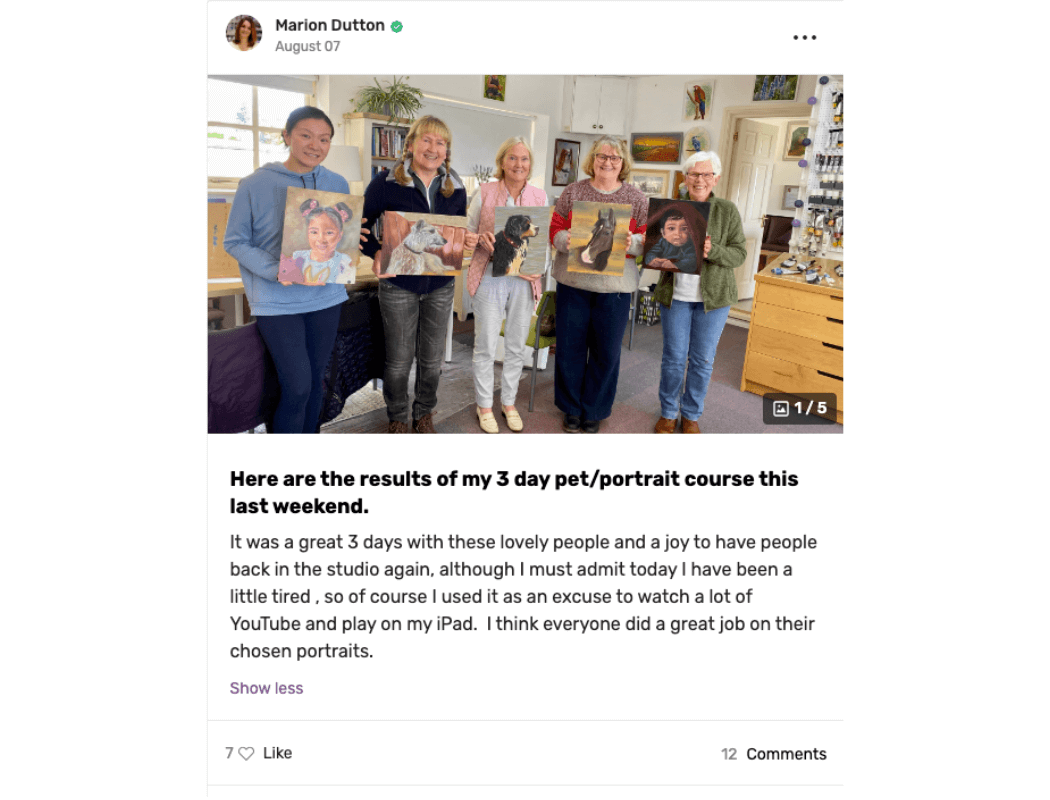 And before we wrap up, I want to share a few best practices with you to help support you as you continue in your community…
Engage with your members daily. Don't let any post or comment go unacknowledged, even if it seems like there is no response necessary. By responding promptly and meaningfully, you foster a sense of belonging!
Put on your member service hat! Sometimes your members might share feedback, and this is a good thing (even if it seems less than ideal). It shows that your members trust that your community is a safe space and that you will hear them. The most important thing is to make sure you respond with kindness to that feedback even if it was the opposite coming from them. Not all feedback needs to be considered. Use your best judgment and, at the very least, let them know you hear them!
Ask more questions. Your community is your opportunity to connect with your members and get to learn from them. Who better to learn from than the people buying from you?
Stay flexible. Not everything you try in your community will work. Stay consistent but flexible. Don't give up after the first try, but give yourself a goal and pivot if you're far from that goal.
Safety is key. Your community should be and is a safe space for your members. Uphold your community guidelines and ensure your members are acting in alignment with those guidelines.
Ask for consent. Before you share anything from a member publicly or with someone else who isn't in the community, ask that member for permission.
Be consistent. To make sure you stay consistent, plan out your posts for the month and schedule them. Hire a community manager if you have the means. If a month feels like too much, plan in two-week increments. Remember, you really only need a few posts each week – 3x during your first few months and potentially less than that as your members start to engage on their own.
Have fun and think outside the box. Your community is part of your business where you can let who you are shine through while simultaneously showing your members it's safe for them too. Play around with fun prompts like posting a picture of a pet or asking what their favorite food is. Your members will likely appreciate the benefits you're giving them and the opportunity to connect deeper.
Get started for free
Whether you have 200 or 200,000 members, we have all the tools that you need.