Uscreen Spotlight is a special monthly feature article showcasing our most successful clients to share their journeys through the realm of online video streaming.
The best part of running Uscreen is speaking to our customers. We love hearing your stories, especially how you've developed your ideas into fully-fledged video businesses!
Today, we're speaking to Alison Hope, Director of Marketing & Communications at Body Harmonics, about how they've taken their offline pilates studio and expanded into the world of online fitness.
Here she is to tell you more about it…
Uscreen: Hey Alison! Thanks for joining us. Could you take a second to introduce Body Harmonics and the work you guys do?
Alison: Body Harmonics is a Toronto-based pilates and movement company. We've been around for about 20 years, and we own and operate two of the largest pilates studios in the city.
We primarily focus on integrated, mindful movement. We often say that we want to help our students move well, forever. As such, we take a scientific, functional approach to pilates and movement.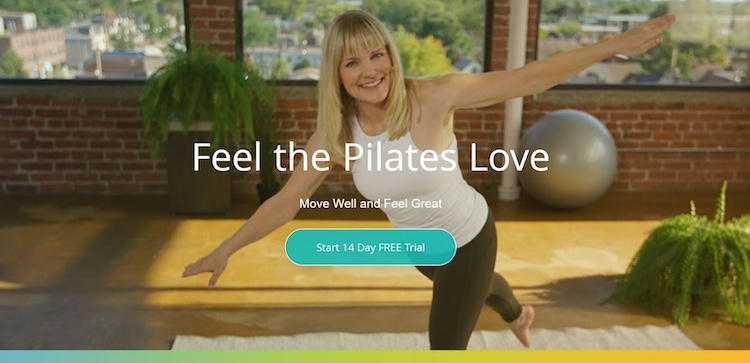 The classes, programs, and services that we develop and deliver are all geared towards helping people do and feel their very best, their whole life long.
We also offer pilates teacher training and dozens of continuing education courses through our Teacher Training Centers in Toronto, as well as internationally through our Affiliate Centers in Canada, Brazil, Bali, Italy, California, and London.
Clients can also benefit from the wide range of therapeutic services that we offer through our Toronto Health Clinics; we offer in-house treatments for Reiki, massage therapy, and physiotherapy, amongst others.
Last but not least, we have our online video platform, Body Harmonics On Demand, where we offer full-length online pilates classes to people who can't get to one of our studios or just want the option to practice anywhere, anytime!
Uscreen: Wow, you guys do a lot! What was it that made you want to expand into the digital world and launch a video on demand platform?
Alison:In 2014, we determined that online video was going to be essential for Body Harmonics to reach a broader audience and to provide more options for people.
To begin with, we created a weekly exercise series called Mondays With Margot that we published on YouTube, and started to record some full-length video classes and courses. We knew we wanted to sell them online (we didn't want to go the old DVD route), but we weren't quite sure how we were going to do it.
To help us we enlisted a team of developers to create an ecommerce portion of our website using the WooCommerce WordPress plugin. This was live for about a year, but we were never really satisfied with it as the technology didn't allow us to stream videos.
We eventually pulled the plug and began looking for other software. We had sales calls and live demos with virtually all of the third-party video on demand platforms, but we ultimately chose Uscreen. This decision in turn helped us to reach a much broader market globally!
Uscreen: And how have you found using the Uscreen platform so far?
Alison:The Uscreen platform has been great because it has allowed our subscribers to have a smooth streaming experience and because, for the most part, we can manage content updates in-house! We have a good feel for what's crucial for our business and our members, and we appreciate how responsive you've been to our feedback and suggestions; especially when it comes to new tools and features.
Uscreen: For sure! Every request you submit helps us to grow and learn and provide a better service. In fact, one of the features Body Harmonics requested is the Gift Card, which recently went live.
Alison: That's great! We were so happy to be able to promote the Gift Card feature for Mother's Day this year. And, I'm glad you've been able to use our feedback to help other customers too.
Uscreen: How have you guys found connecting your video on demand website with customers? Body Harmonics takes a more mindful approach to fitness, which we know can make marketing a bit more challenging.
Alison: We're definitely more niche than some companies, but our experience has shown that slow and sure wins the race. Our thousands of studio clients have proven to us that we're on the right track.
They're not interested in killing themselves to get fit but rather working their bodies in an intelligent way so that they can get strong and learn to move with greater ease and control – whether they're an athlete or they're recovering from an injury or joint replacement.
Because we base what we do on movement science – we look at conditioning the body as a whole, not just individual muscle groups – we find that what we do attracts people long term. Most importantly, our founder, Margot McKinnon, M.Ed., who is the primary teacher on our platform, is a professional educator with years of experience.
Not only is she fully committed to helping people transform their lives through movement, she's a highly respected leader in the field of pilates and mindful movement.
Uscreen: Have there been any marketing techniques that have been particularly successful?
Alison: Email marketing has been our most impactful strategy. We emphasize sending high-quality content to subscribers who have opted in – important with Canada's anti-spam laws – and it's helped us to build a good reputation.
We send bi-weekly messages to our dedicated video-on-demand email list, which is made up of our current subscribers and past clients and students. In this email, we always announce the latest additions to our on-demand platform, and for those who aren't yet subscribers, we promote our free trials.
We also send a link to our free Mondays With Margot video each week and include an ad for our streaming platform.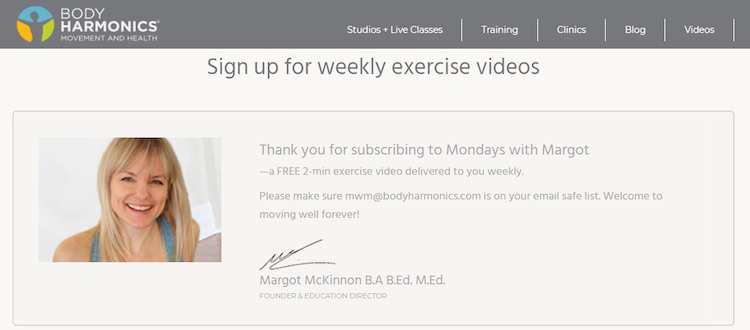 Mondays With Margot has also helped us to attract a lot of relevant subscribers. We find people who come to YouTube looking for short-form content are often open and responsive to investing in full-length, online video classes.
Additional emails that we send include regular newsletters and bulletins to our studio and clinic clients as well as our teacher training students. In these email publications, we always cross-promote the platform. Since many of our clients aren't in Toronto year-round our on demand platform has been a great benefit for them.
Uscreen: Oh, interesting! Could you expand on that a little?
Alison: Well, Canada is notoriously cold in the winter. Lots of local residents fly south to Florida. Seriously, Florida is full of Canadians in the winter (at least it was until this past winter when the COVID-19 pandemic hit)!
Through email marketing, we've been able to connect people who would typically be in our offline classes with our online video programs. They stay engaged with us, take care of their bodies, and are ready to come back to us when the weather changes and they come north again!
Uscreen: It's so cool – pun intended! – that your platform has opened up new markets for you. We also saw that you've been testing extra-long free trial periods; it was at 40 days last time we checked. Could you tell us a little about that?
Alison: That was one of our recent digital advertising campaigns, which has been another strategy we've been testing. Our 40-day free trial was part of a New Year's 20 + 20 campaign for 2020. It was a way to help people commit to their resolutions.
We're constantly testing and looking to find what works best. Currently we're offering a 14-day free trial on our annual subscription so it will be interesting to see how the results compare.
Uscreen: Okay, one final question before you go! What does the future look like for Body Harmonics' online video platform?
Alison: We're very happy with our progress so far; last time I looked we were up over 500% on paying subscribers benefiting from our programs.
Although the COVID-19 crisis has been especially tough on fitness clubs and pilates studios, we (and our clients) are very happy that we already had our Uscreen streaming platform up and running long before the crisis hit. It's meant that we've been in a great position to offer a high-quality alternative to our regular in-studio and live Zoom classes.
We continue to invest in creating high-quality content (we use a professional production team) and have also started adding hundreds of new live recorded 60-minute classes with different instructors to our platform using the Uscreen collections feature. Within the next few months we'll have several hundred new programs on our Body Harmonics On Demand platform for subscribers to choose from.
So, yes, I think the future looks bright for us, but most importantly I think it looks very bright for our loyal subscribers and for people of all ages looking for a smart way to condition their body without hurting it – so that they can continue to do the things they love to do with ease their whole life long.
Click here to enjoy this "Strengthen Your Calves" video, which is part of the restorative Hip Health video series on Body Harmonics On Demand.
How To Sell Fitness Programs Online – The Ultimate 2020 Guide