Finding music for your videos can be difficult and frustrating. That's why it's super useful to have access to one of the many music licensing companies to source legal soundtracks for your music.
They can help you to avoid music licensing rights issues, keeping you safe from the wrath of BMI, ASCAP, and record labels, while still providing high-quality music for your videos!
But how do you know which service is right for you?
That's where this post comes in.
We've done a comparison of the best music licensing companies by looking at their…
music library sizes
audio quality
navigation
licensing agreements and coverage
pricing
…to help you make the right decision for your video content!
Let's get into it!
How To Choose The Best Music Licensing Company For Your Videos
Before jumping into the list of the leading music licensing sites, let's discuss the criteria we've used to help you choose the best option for your videos:
Catalog size — If you create a lot of videos or use a lot of different tracks in your videos the quantity and variety of music tracks a company offers will be an important factor for you.
Audio quality — Sound quality can make or break your video. I mean, is there anything worse than tinny-sounding hip hop in the background? To deliver a professional audio experience you must listen to a few tracks before subscribing to a music licensing company. You don't have to be a musician to hear the difference between tracks recorded by songwriters with professional equipment and amateur indie productions!
Navigation and playlists — a company can offer thousands of tracks, but how quickly can you find music that matches your video theme and mood? Before you choose a music licensing company, you need to check if it offers playlists, tags, and filters that'll save time you spend on looking for music.
Pricing — some music licensing companies offer monthly and annual subscription plans and others charge you for a single song download. There are also companies that combine these models. Based on how often you use music in your videos you can choose the right pricing model to fit your needs!
Licensing — depending on how you plan to distribute your videos, you'll need to obtain a music license for the music you use. Not all licensing agreements give the same amount of freedom to video creators and filmmakers. You'll need to choose one of the music publishers that cater to the content you want to share.
The 9 Best Music Licensing Companies
Here's a list of the top music licensing companies that are available on the market today to help you find the perfect music for your videos and live streams:
Let's go!
Epidemic Sound
Epidemic Sound is a royalty-free music licensing company used by industry-leading creators. It's one of the most complete services on the market.
Pricing model: Monthly and yearly subscription plans. Epidemic Sound subscriptions are $49/mo and $299/year for commercial use. Besides, Epidemic Sound offers a free 30-day trial.
Music library size: 32,000+ tracks, 60,000+ sound effects.
Navigation: Epidemic Sound offers great search options, there are a lot of ways to refine your searches — based on genre, mood, length, tempo, and vocals. You'll also love their 'Find Similar' feature that helps find tracks similar to ones you like.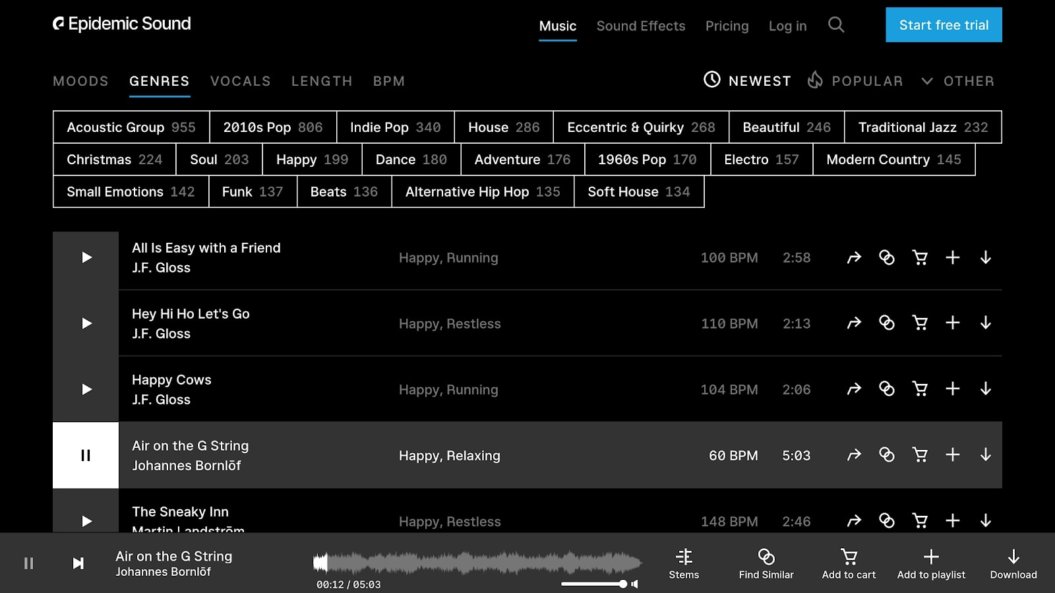 License coverage:
Social media and public sharing platforms such as YouTube videos, Facebook, Instagram, etc. (including monetization);
Websites;
Unlimited use in digital ads;
VODs, Live Streaming, OTT apps powered by Uscreen.
Artlist
On Artlist there's always fresh new music to choose from. Plus, there are absolutely no limitations on channels or monetization options. There are many big companies with the Artlist subscription, including Netflix.
Pricing model: Annual subscription plan only, at $199.
Music library size: 18,000 tracks.
Navigation: You can search the Artlist catalog using multiple filters, including Mood, Video Theme, Genre, and Instrument.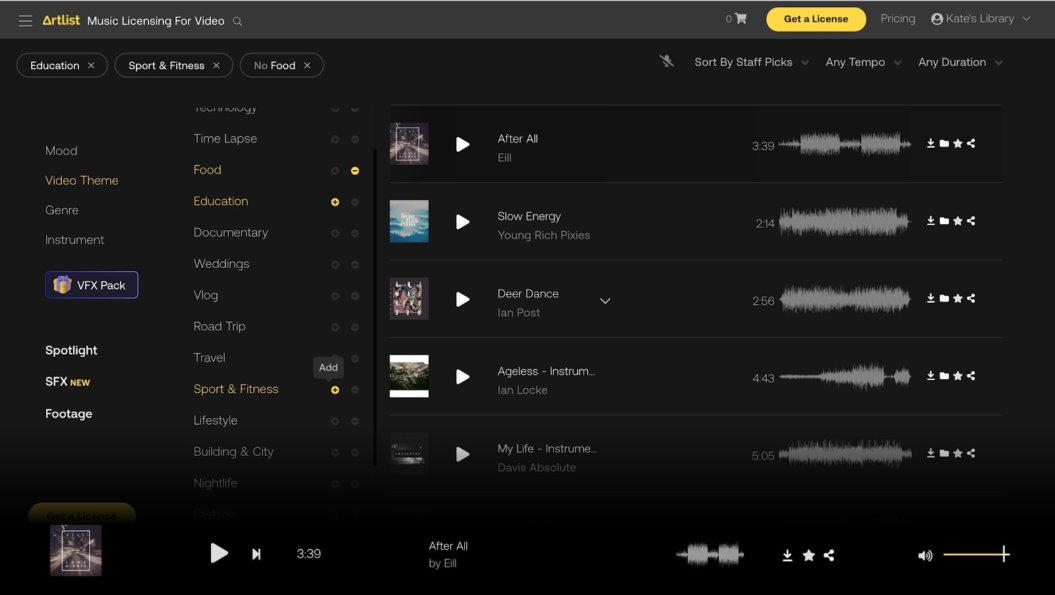 License coverage: Any video project, including video monetization with VODs.
Audiio
Audiio is a brand new royalty-free music licensing company. Right now it's the most affordable licensing option.
Pricing model: Annually ($199/year). For $299 you can get lifetime access.
Music library size: 5,000+ tracks.
Navigation: Audiio offers a lot of amazing filter functions including genre, mood, energy, vocals (male/female), etc.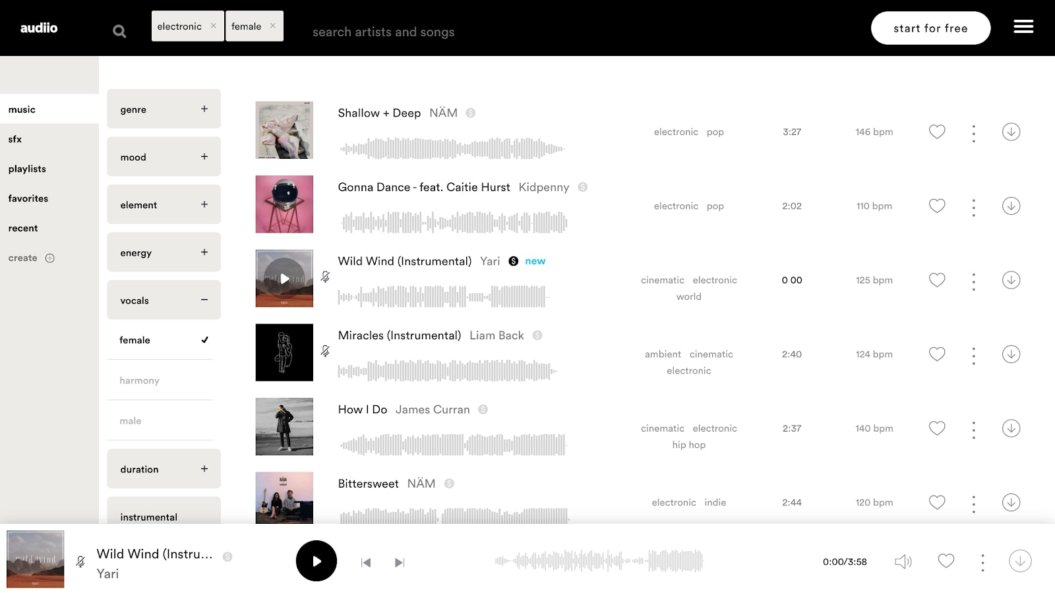 License coverage:
Any type of video project, including:
YouTube (including monetization*)
Social media;
Paid ads and branded content;
Feature/short films;
TV, VODs, and OTT apps.**
* Not all tracks in Audiio catalog are approved for YouTube video monetization. You'll see a dollar sign next to tracks that are approved for YouTube. 
**TV, VODs and OTT apps covered under the Audiio Pro subscription license.
SoundStripe
SoundStripe is another great music licensing company that allows filmmakers and video business owners to use any track however they want in any video project, from personal to broadcast.
Pricing model: Monthly and yearly subscription plans starting from $19/mo and $149/year.
Music library size: 5,000+ tracks and 35,000+ sound effects.
Navigation: The platform offers all sorts of featured playlists and search modifiers to connect you with the right music. You can also exclude songs with certain characteristics from your search results.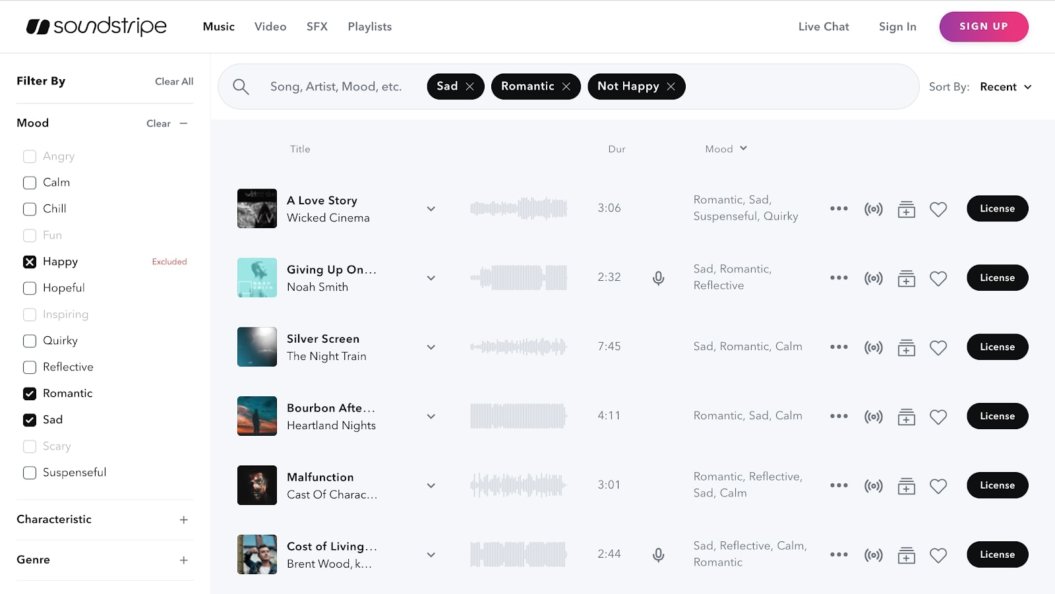 License coverage: You can use SoundStripe music in different types of video projects on any channel (VODs included). The only restrictions are:
video content containing nudity;
live performance of their music.
Hooksounds
Hooksounds music licensing company is owned and operated by independent artists offering original royalty-free stock music that they've created in-house for your video projects.
Pricing model: Monthly and yearly subscription plans. Pricing starts from $29/mo.
Music library size: 3,000+ tracks, 4,000+ sound effects.
Navigation: When it comes to sorting and filtering music, you get all the handy filters you will expect from a music licensing platform, including genre, mood, duration, etc. Some more advanced options like video themes are not there yet.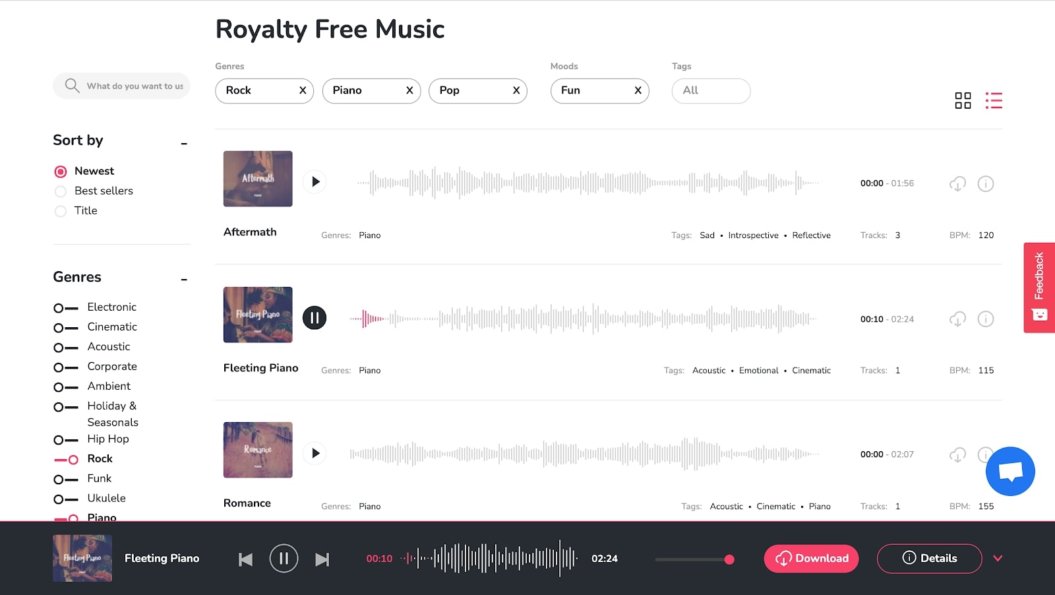 License coverage:
All social media platforms;
Commercial use;
Content behind paywall (VOD, live-streaming, OTT apps).
Music Vine
Music Vine licensing company offers very flexible music licensing opportunities from individual licenses for personal projects all the way to subscriptions for larger productions.
Pricing model: Music Vine offers both pay-per-use and subscription plans.
Music library size: around 6,000 tracks.
Navigation: You'll love the Music Vine interface which is minimalistic and functional.
Their categorization system is impressive. Plus, there are TONS of search filters for finding a perfect track for your video quickly.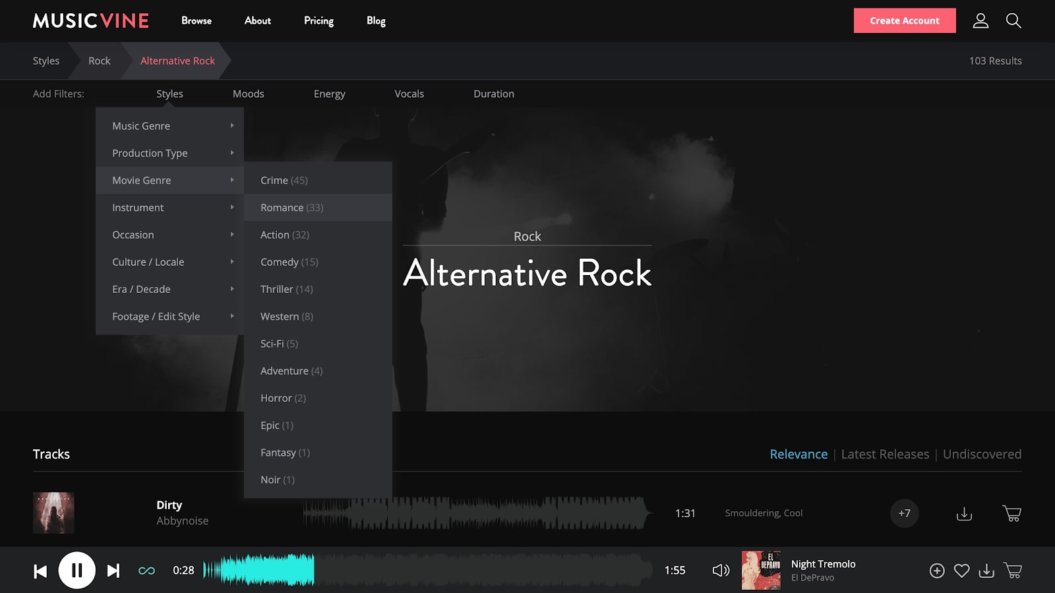 License coverage: Music Vine's license system gives creators full control to customize the coverage included in their licenses. You pay only for the coverage you require. Clearance for VOD platforms could be purchased as an add-on to Pro Standard plan.
PremiumBeat
PremiumBeat has a pretty extensive catalog of royalty-free music. If you only need a few tracks for your video project, PremiumBeat is probably a music licensing company for you.
Pricing model: PremiumBeat's licensing is project-based. $49 or $199 per song, depending on the license level: Standard or Premium.
Music library size: 20,000+ tracks.
Navigation: PremiumBeat catalog categorized into genres. Plus, you can filter by mood, BPM, song duration, and artist. PremiumBeat also has collections with themes like energetic intros, workout and meditative music.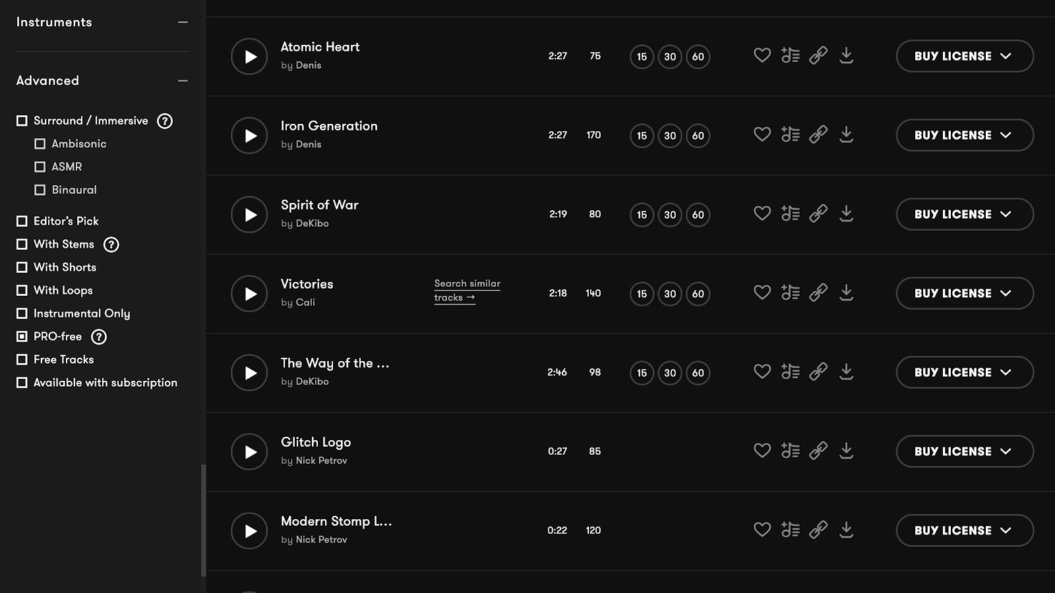 License coverage: Strictly streaming/online use, such as websites, YouTube and even OTT apps, including Netflix, Prime, etc., is covered under PremiumBeat Standard License, for as many online spots as you like. For broader use that includes devices that transmit traditional broadcast content to devices equipped with Apple TV, Roku, etc., you will require a Premium License, which will cover you for one unique broadcast spot and any length cutdowns and language versions of this spot, in any one country.
Marmoset
Marmoset is a full-service music licensing and production company. You can license music from Marmoset's thoughtfully curated catalog or work with Marmoset production team on custom music for your video project.
Pricing model: You can only license individual tracks, no subscriptions here. Licenses for commercial projects are priced at a higher rate.
Music library size: N/A
Navigation: A lot of search filters to find a perfect song for your project. There's also Marmoset Radio that plays random tracks from their music library.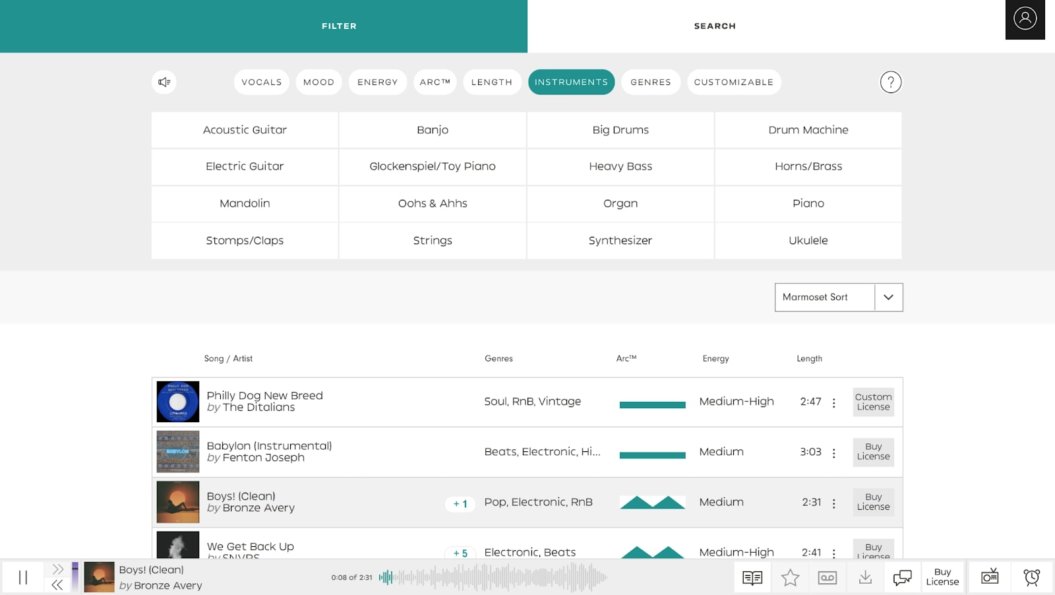 License coverage: Marmoset licenses are tailor to cover a variety of video projects and you pay just for what you need in terms of license coverage. For VODs you'll need to request a custom license.
Musicbed
Musicbed music licensing company is awesome for YouTubers and wedding filmmakers.
Pricing model: You can license individual tracks or pay a monthly fee and license as many songs as you want. Subscription plans start from $19.99 for personal projects.
Music library size: around 10,000 tracks.
Navigation: Very clean and minimalistic interface with all sorting and filtering options filmmakers need to find a perfect track for their projects.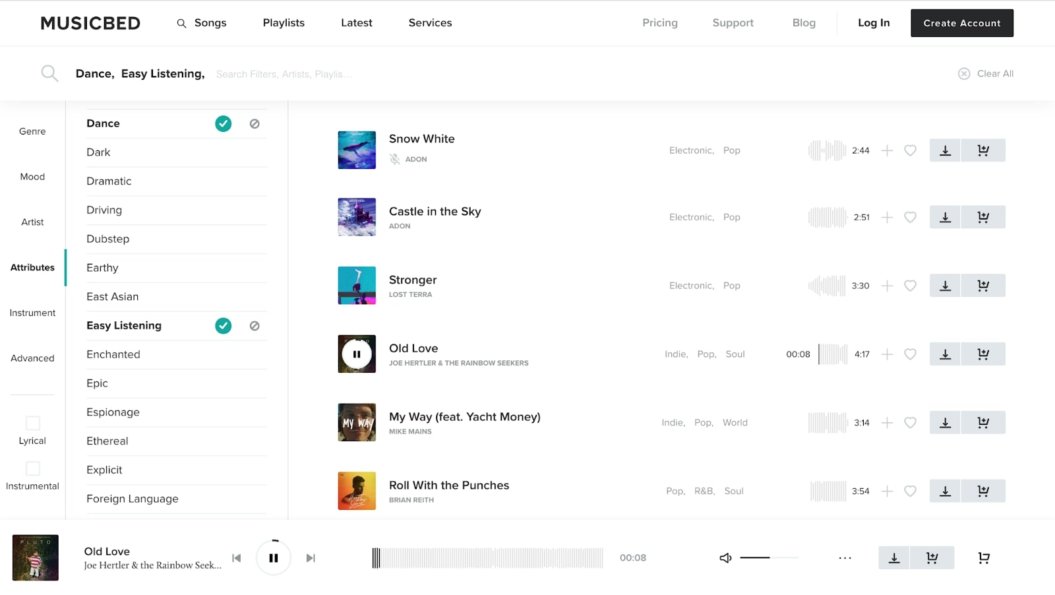 License coverage: Musicbed subscription plans include flexible coverage. If you create videos just for non-commercial projects and YouTube you can go with the cheapest tier and be fully covered. However, none of the Musicbed subscription plans covers VOD or OTT distribution.
Wrapping This Up…
All music licensing companies featured in this post are excellent choices for royalty-free music. The difference between them lies in their:
Music library size;
Licensing agreement coverage;
Pricing model.
We hope this side-by-side comparison has given you a better idea of great music licensing companies out there.
Disclaimer: All information in this article is accurate as of April 9th, 2021. If you see anything here that you know for a fact is incorrect, please do let us know so we can update it immediately.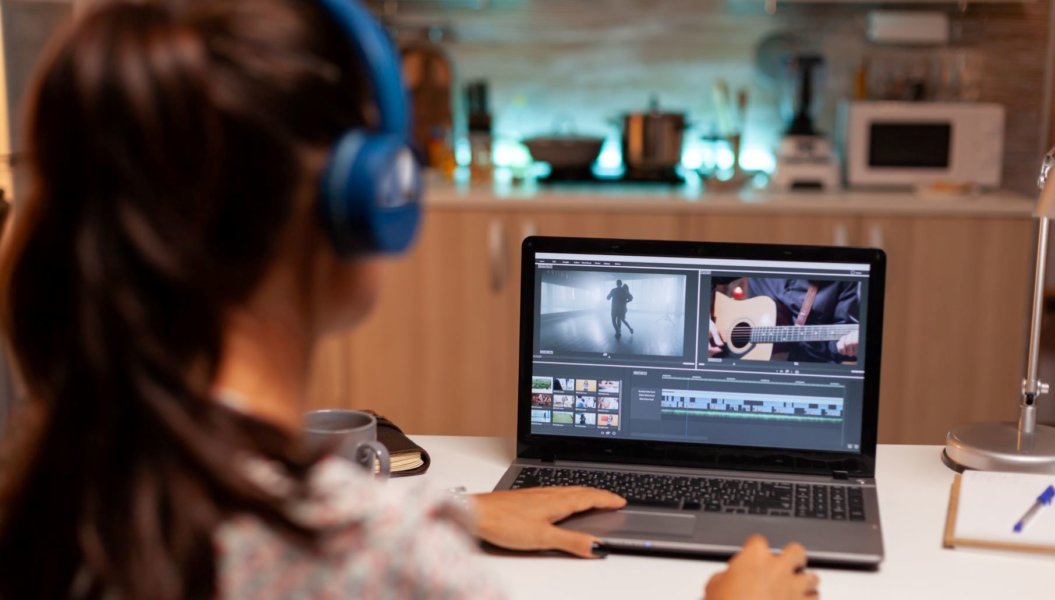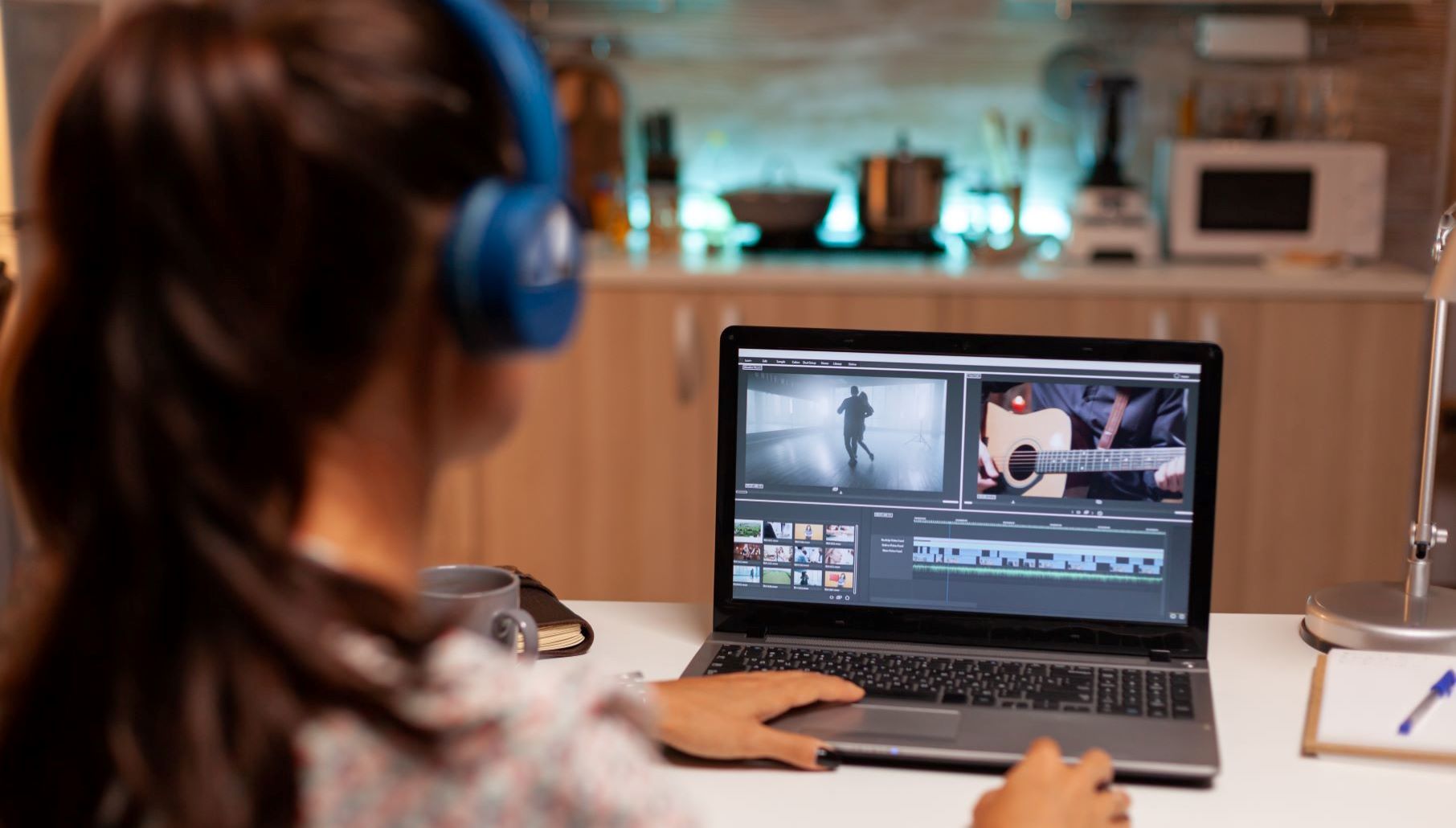 Music Licensing Rights Guide for Video Streaming Services