The online fitness space is saturated with free content.
Everywhere you look it's:
Free classes!
Free pilates live stream!
Free HIIT workout on Zoom!
And, let's be blunt — it feels like a kick in the teeth.
COVID-19 has already given you enough to worry about. Now you're expected to work for free!?
How is anyone supposed to compete with this much free content?
Simple: you don't!
The boom of free fitness content is about to bust. And, it's going to reward trainers who back themselves and monetize their content.
Allow me to explain…
First Off, Let's Break Down What's Really Happening With Free Fitness Content
Let's start by looking at the bigger picture.
There has always been free fitness content online:
So, this isn't a new problem. It's just more visible because of social media. And, the COVID-19 pandemic pushed an abnormal number of trainers and fitness-lovers online.
Google Trends shows a HUGE spike in people searching for "free online workouts" in the first week of the lockdown: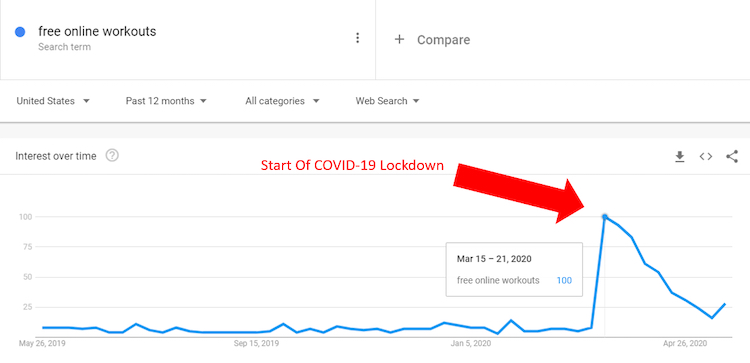 But 2 months later, there was an 84% drop-off in interest: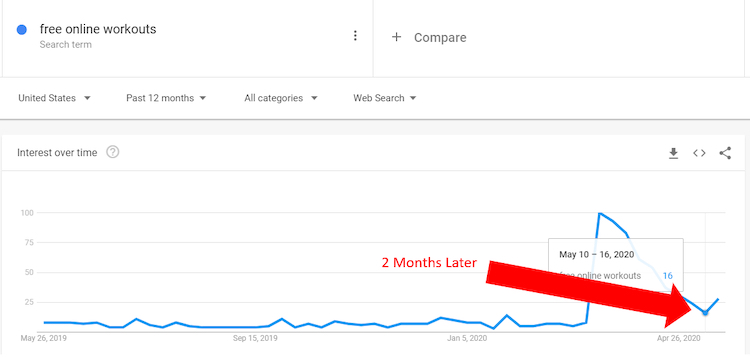 Though some interest remains it's only marginally higher than what we saw in the 5 years before COVID-19: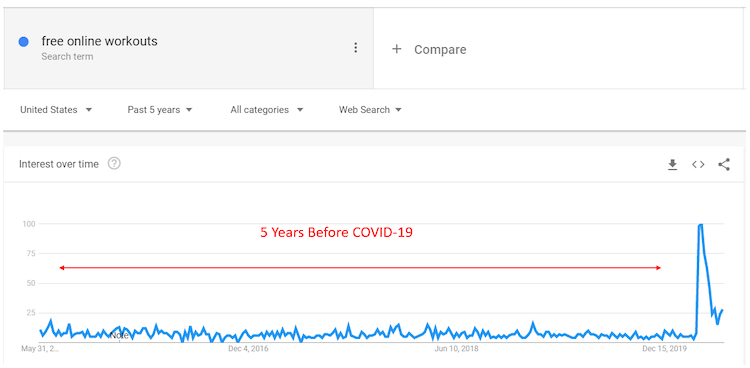 The increase in demand came as a pure panic reaction to the pandemic outbreak.
Exercisers searched for temporary solutions. They figured the lockdown would be over soon and buying a subscription wasn't worth it. They just wanted a few workouts to tide them over!
Fitness professionals needed a way to engage their customers and ensure they had a business to return to when the pandemic was over.
So, free content like Zoom live streams became a great option. They were quick and easy for everyone to access, and it felt like a logical way to replicate the in-person experience.
But…
The pandemic dragged on. And this led to a few important realizations.
The Wake-Up Call For Trainers And Fitness-Lovers
Fitness professionals quickly realized that it's hard to make money with free content. It's a poor long-term strategy. They needed to monetize!
Exercisers also realized that ad-hoc sessions over Zoom weren't going to get them the results they wanted. They needed structure!
This has pushed both groups of people towards premium online fitness content. Platforms that offered monetization options and a consistent structure.
And this ties into already well-established buying habits…
The Truth About Online Fitness Audiences
People have never spent this much money on fitness services.
In fact:
These trends were well-established before COVID-19 and were already trending upwards.
Now…
We're in a situation where online audiences both want and need premium online fitness content. Even as gyms and studios begin to open, they won't do so at full capacity.
Which leads us to you and your content.
Now is the perfect time to monetize your fitness content. It may seem like everyone wants free fitness content, their spending habits show the exact opposite.
People are willing to pay for high-quality, structured fitness content. And you need to have a platform ready for when they come along.
Here are 4 tips you can use to build a fitness platform people want to pay for.
4 Tips To Help You Create A Premium Platform People Will Pay For
In this section, I'm going to show you why you need to:
Build a foundation of pre-recorded content

Create an easy-to-follow structure

Use live streaming to create "above and beyond" content

Offer a free trial to convert more customers
Let's go…
1. Create A Foundation Of Pre-Recorded Content
When you first move online, live streaming feels like the logical option. It's the natural progression from the studio or gym environment.
Although live streaming has its place (more on that soon), it's a short-term solution. Why?
Because it's hard to maintain a business around live content. It means you have to be present at each workout. And, your customers can only log in to train at specific times.
So, instead, I highly recommend you build your business around pre-recorded content.
Simply put:
You record a session once, upload it to your site, and your subscribers can access it forever.
This means you can promote one workout video to an endless number of people. The same video could be earning you money years later, and attracting new customers.
You can also increase the value of this video by offering variations and progressions, like Aerial Physique TV does on their platform:


Each video gets progressively harder, but the customer always has the option to return to the previous video that's at their skill or fitness level!
You can learn more about the differences between pre-recorded content and live streaming, and which is better for you, in our guide: Live Streaming vs VOD: Which One Will Save Your Business?
2. Create A Clear Structure
As you saw earlier, exercisers are looking for structure.
They need your platform to be an easy-to-use alternative to – or improvement on – their gym and studio-based routines. They want to log in, find the right workout, and get cracking.
Structure also leads to convenience by creating fewer barriers to entry. And, studies show 44% of people will pay for content they could get for free purely because it's convenient to use.
You can create structure in your video library by using categories that separate your content into relevant groups. For example:
Raqs Online is an online fitness studio that offers a wide range of workouts; from Bellydance to yoga to HIIT.
It would be hard for their clients to follow a set routine, or even find the right content if this was just displayed as a scrum of video content on their website.
So, to make sure their customers can find the most relevant video, and follow the correct training plan, they divide their content into clear categories: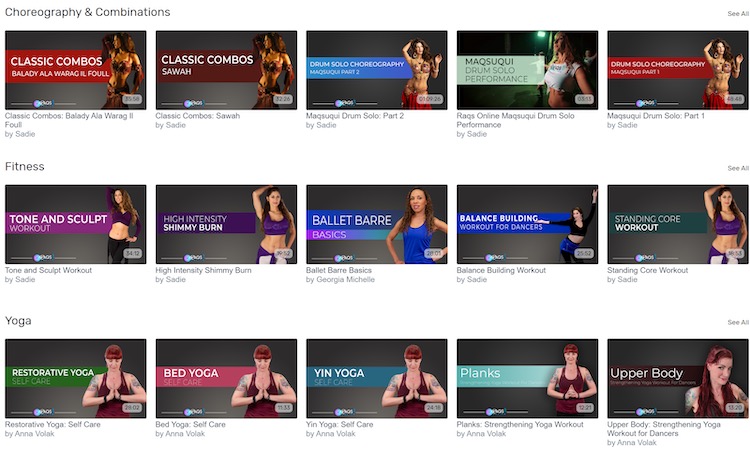 You can apply this to your own site in any number of ways. You can sort by:
Activity type
Body part
Desired result
Difficulty level
Specific routines
The more relevant and structured, the better!
3. Use Live Stream To Add An Emotional And Exclusive Experience
Live streaming does have a place in your online platform.
It allows you to create an emotional experience that is exclusive to your online customers. It's where they can take part in a one-off training that adds value on top of your recorded content.
And, because users are already paying for your service, you aren't live-streaming for free. You can factor the cost of live streaming into the cost of your platform.
It can useful to think about live streaming with the 80/20 rule:
80% of your content should be pre-recorded, 20% should be live-streamed.
TINT Yoga is a great example of this. They provide a comprehensive catalog of yoga workouts for their students, all separated into well-structured categories: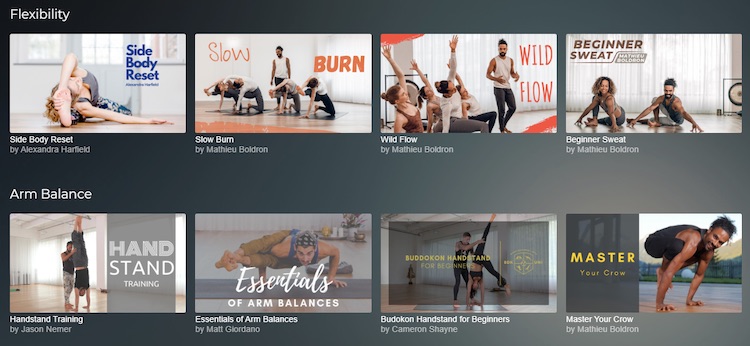 This is how 80% of the workouts on the platform are done. People roll out their mat, open their website or app, and start their flow.
The final 20% of TINT's content comes through live streaming: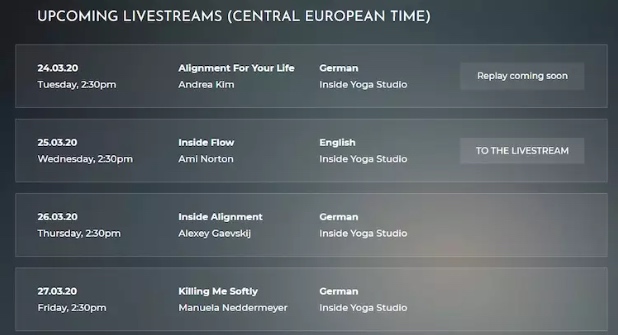 These are scheduled sessions where customers can watch and perform a session with a live instructor. Better still, if they miss a live session, they can watch the recorded version later: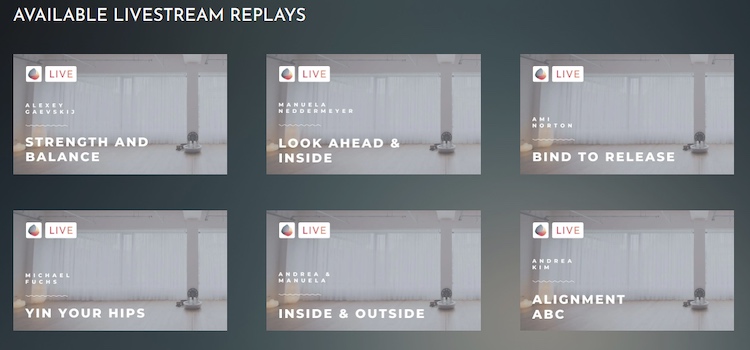 This provides a great service to their audience and helps them grow their content catalog.
4: Offer A Free Trial
Okay, okay, I know!
This is an article about charging for your content. And, I'm about to tell you to offer a free trial. But hear me out because my argument is quite compelling:
Fitness content creators who offer free trials earn more money.
When we analyzed the buying habits of 1.1 million subscribers, we found that 52% of people who signed up for a free trial converted into paying customers.
This is because the mentality around free trials is different from consuming free content. People typically use free trials to see if it's worth the money they're going to pay for it.
It's the customer's risk-free way to answer common sales objections, like:
Is the product right for me?

How is this different from the last product I tried?

Will the product actually work?
This is why some of our most successful fitness customers, like Barre Body Online, offer at least a 5-day trial on their site: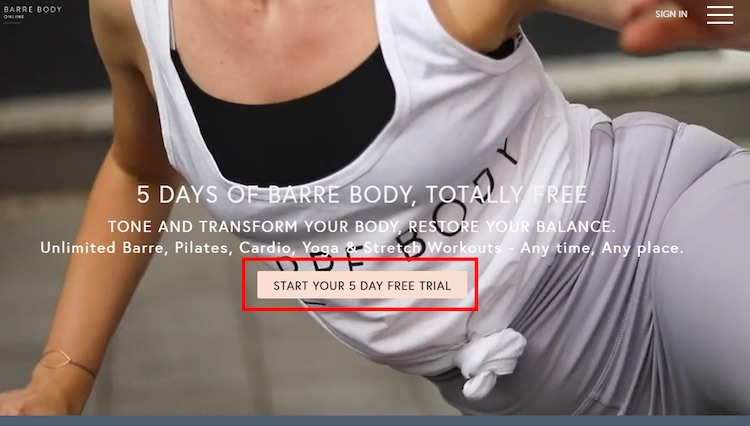 Because it allows them to show their premium content is worth the money. And, it can do the same for your business.
I highly recommend you offer a 7- to 14-day free trial on your website. There's a 50/50 chance that the people who sign up will become paying customers. And, those are great odds!
How To Sell Fitness Programs
Online – The Ultimate 2020 Guide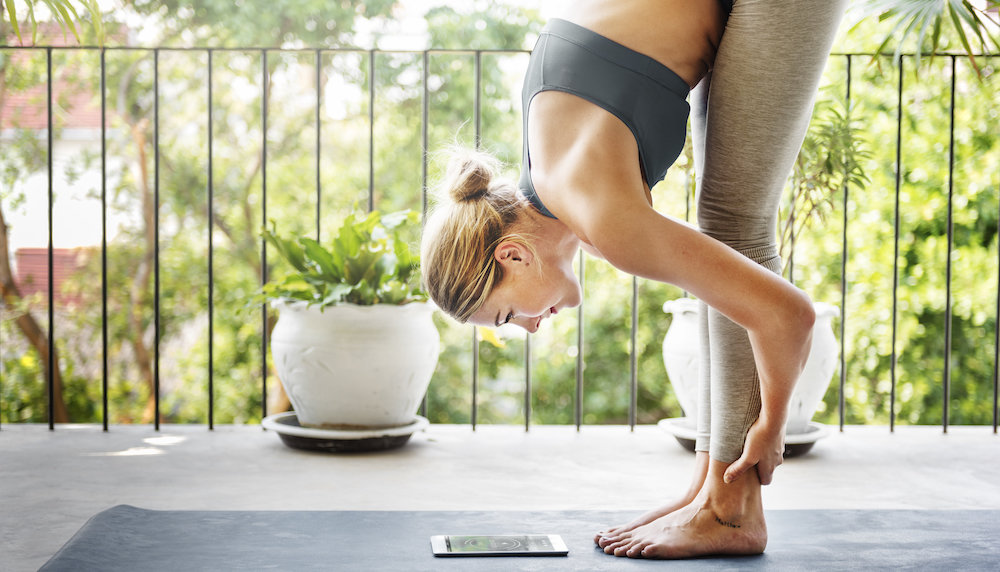 Wrapping This Up…
There has always been free content online. COVID-19 and social media just made it a lot more visible. But, you do not have to work for free.
Trainers and exercisers are both realizing that free workouts are a raw deal for everyone; trainers can't earn money, exercisers can't get the structure they need.
This has led to a growing demand for premium fitness content. And, now is the perfect time for you to monetize yours!
You can learn more about how to build an online fitness studio in the post below: