There are many businesses out there that have loads of videos but they do not have a point of contact with their viewers. Although your business may have a Facebook page, it can still be hard to distribute many videos to a global audience.
That was the problem our featured client, Onmitsu Kage, was facing. But, when they finally found Uscreen, it was a dream come true because they were able to bring the content that people wanted from all over the world and put it in one easy to find place.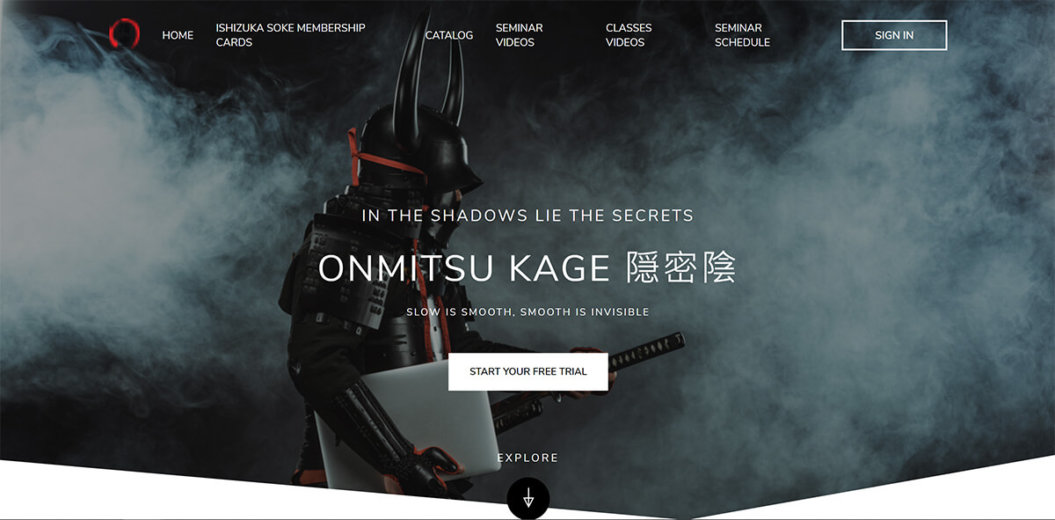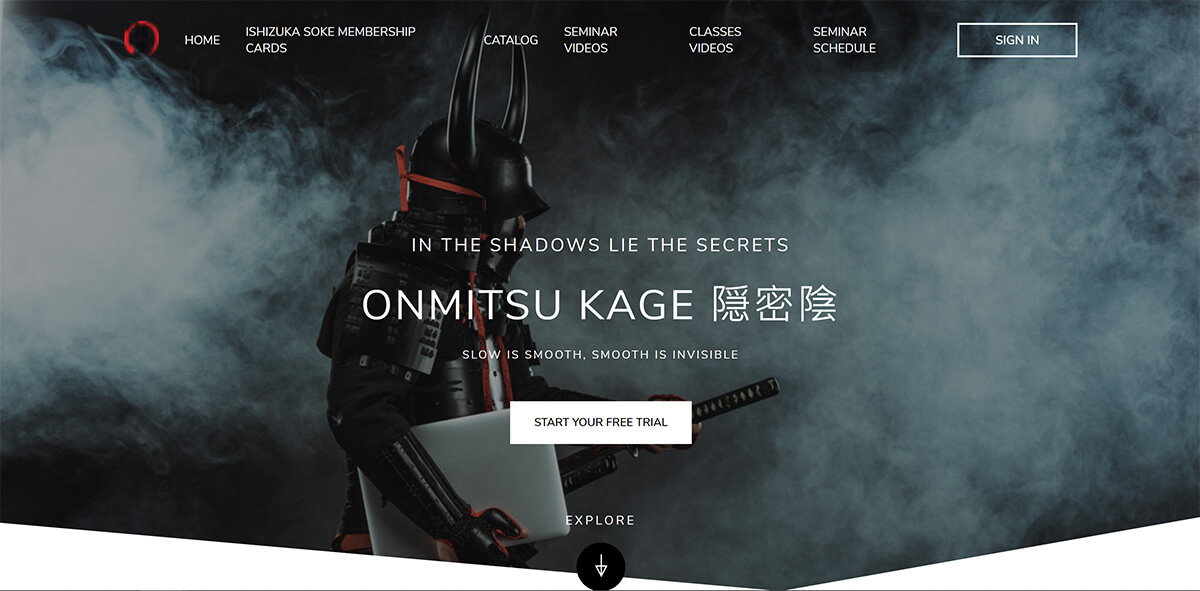 CLIENT STORY
Onmitsu Kage a subscription-based video on demand service of world-famous Budo Taijutsu practitioner, Dr. Kacem Zoughari. They offer training videos for anyone interested in martial arts, specifically Budo Taijutsu. Subscriptions are available in monthly, semi-monthly and yearly payments, or viewers can opt for the a la carte options.
Onmitsu Kage provides streaming content that showcases classical martial arts from INALCO (National Institute of Oriental Civilization and Languages) and is located in Paris. The founder, Dr. Kacem Zoughari, holds a Ph.D. in Japanese studies and is recognized as an authority for Japanese martial arts. This site streams his seminars which take place all over the world.
Onmitsu Kage teaches people techniques from Budo Taijutsu. Also known as 'The Martial Art of Distance,' which is a real-life fighting and self-composed martial art that was used by the well-known mystic warriors of Japan like the Samurai and ninjas from when Japan was in feudal times.
Dr. Zoughari travels all over the world doing these seminars. The videos featured on their site are seminars and training events mainly from the U.S., Europe, and Canada.
HOW THEY ARE USING USCREEN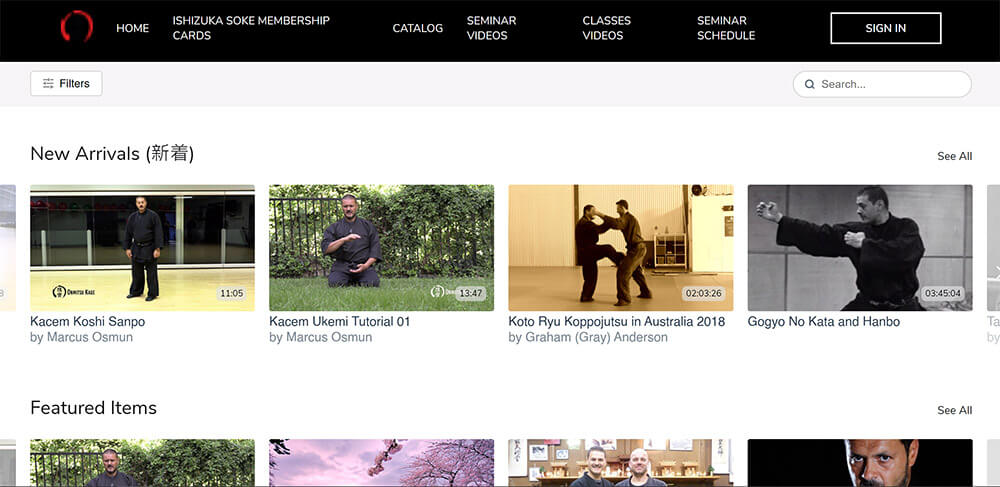 Onmitsu Kage has really done a nice job distributing e-learning content to their end users with the Uscreen platform. The catalog features international seminars, video demonstrations, the latest content, and many other videos from around the world.
Everything is organized nicely with easy to find subcategories so their users can find exactly what they are looking for. This especially is nice when you are looking for a specific seminar from and certain year. Everything is done with the users in mind.
Users have the option of buying multiple subscription packages, or purchasing a la carte videos.
Onmitsu Kage offers a variety of different payment options to ensure that you are getting exactly what you want for your particular needs. Right now, they offer a basic subscriber package that can be paid monthly, quarterly, and annually: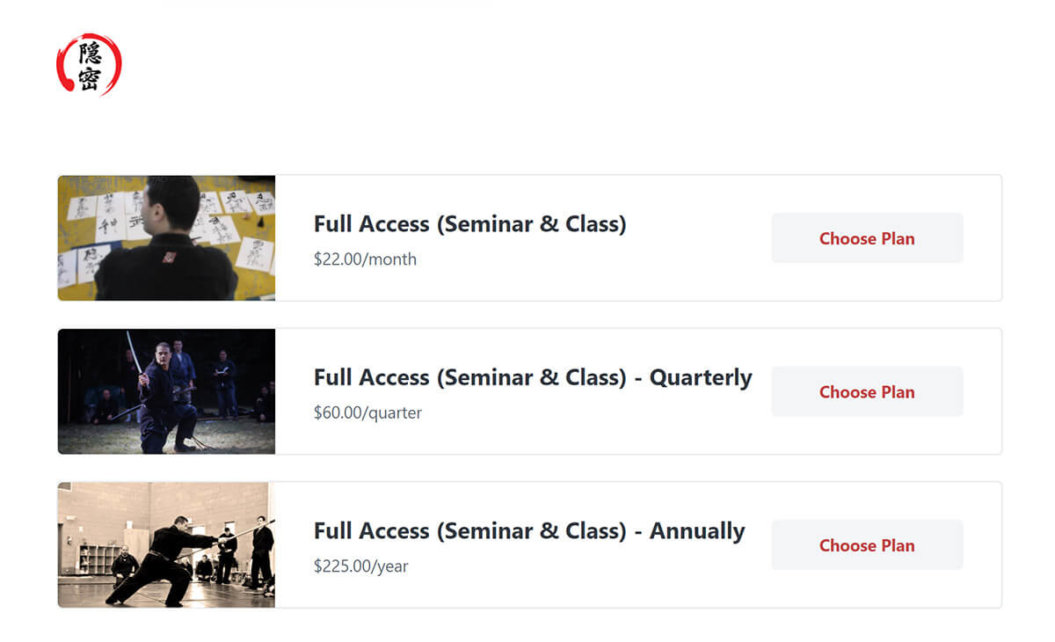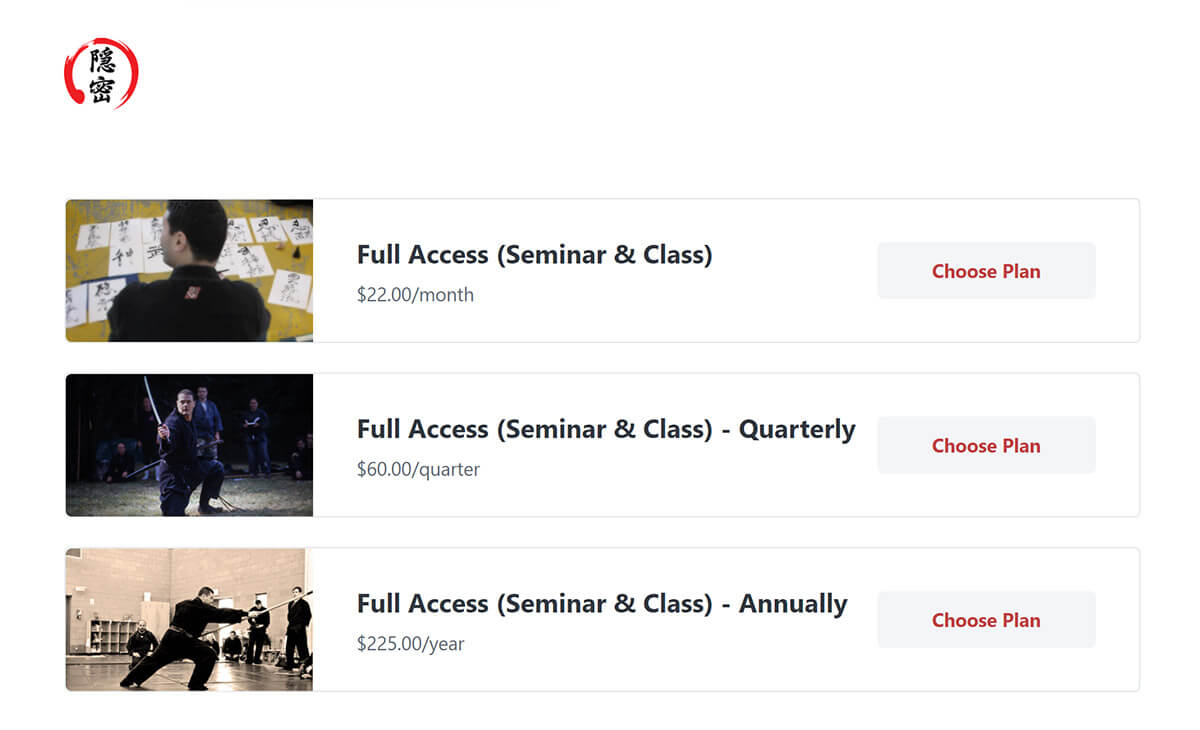 So, if you buy a subscription that is more than just month by month, you can save some money. Again, this is if you are looking for a long-term commitment to their service. Since they are constantly uploading new content, you can be sure that your subscription will always be worth the cost. If you go to the category menu in their catalog, you can see a section for upcoming videos so you know what to expect in the near future.
They also offer a la carte videos in addition to their subscriptions. You can sign in to the website and purchase a la carte videos, even if you have not subscribed to a package.
If you want to purchase a video a la carte, you will first need to click on the button next to the subscribe button to login. Once you login you will have the option to purchase any video a la carte. They make it very easy to do this by simply signing up for an account and then finding the video that they would like to purchase. There is an a la carte price for every video seminar on the site. This is has been great for their customers all over the world.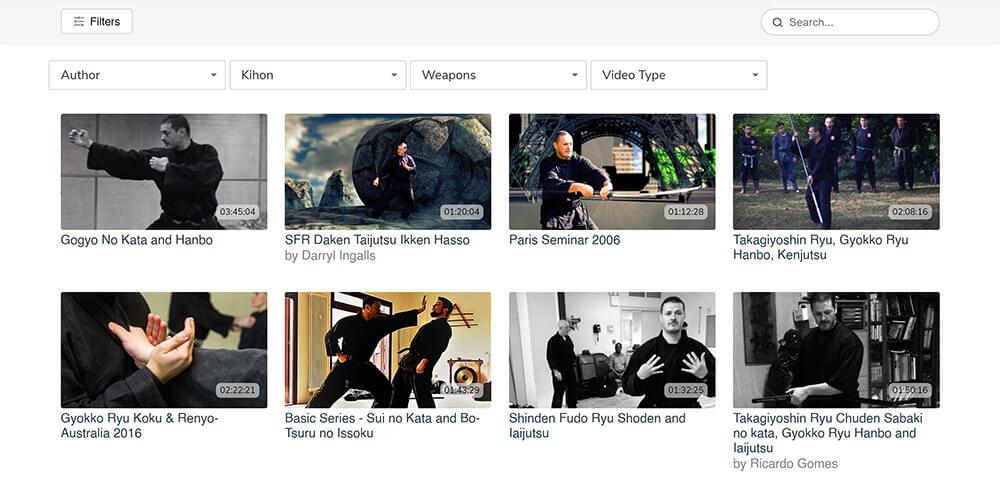 Here's what Onmitsu Kage users are saying:
Layout of the site is efficient, and loads quickly.
The program layouts – with how the seminars are subdivided by chapters for each technique, concept, and lecture – is very convenient and logical.
Site has countless hours of video content, presented in a logical way.
Client'S Experience On Uscreen
The menu setup is very easy to use; you can see the video in the center with other videos that are part of the video series on the right side. They are easy to find and are in the correct order for you to watch.
As the client says, "We are categorizing and editing the information so that it can be easily found on the site and categorized/cross-categorized by many different topics. This will allow the user/searcher of the information one place to go, not only for videos but, in the future, any materials written and developed for this art."
The subscribe button works beautifully. When clicked, it becomes an interactive button that brings the user directly to a terms and service popup. Once the user agrees to the terms of service, they are then brought directly to the subscription page where they can sign up for any level of access they want. This is great because new customers are not looking around trying to figure out how to subscribe to their site. It's simple and efficient and that's what you want in this business.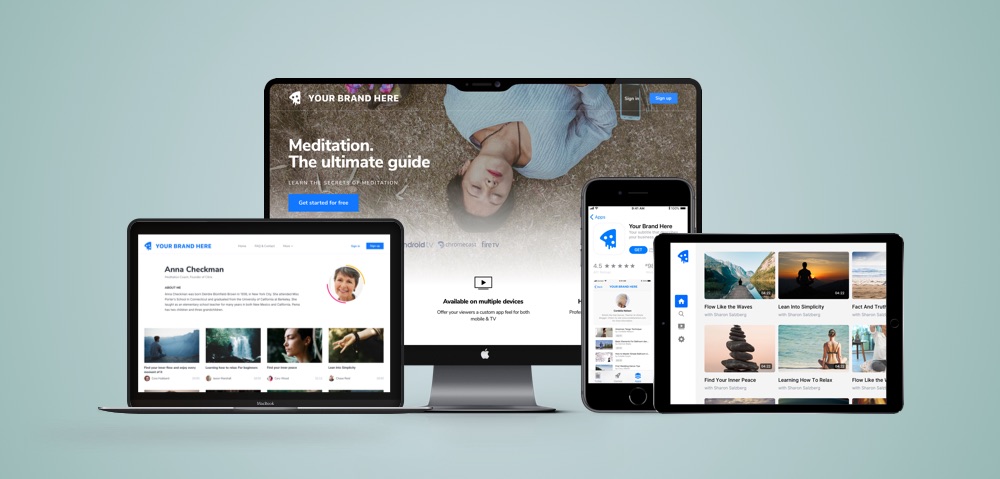 This is a fantastic service because it offers a solid platform to host Onmitsu Kage's videos and offers a very good working store platform to build up from. This includes creating user accounts, taking payments, scheduling subscriptions and email notifications.
The design of the website has enabled them to present a beautiful website without much coding at all. Uscreen offers a variety of themes to choose from and Onmitsu Kage went with the "Netflix in a Box" option. Being able to modify their storefront was a nice feature for this client.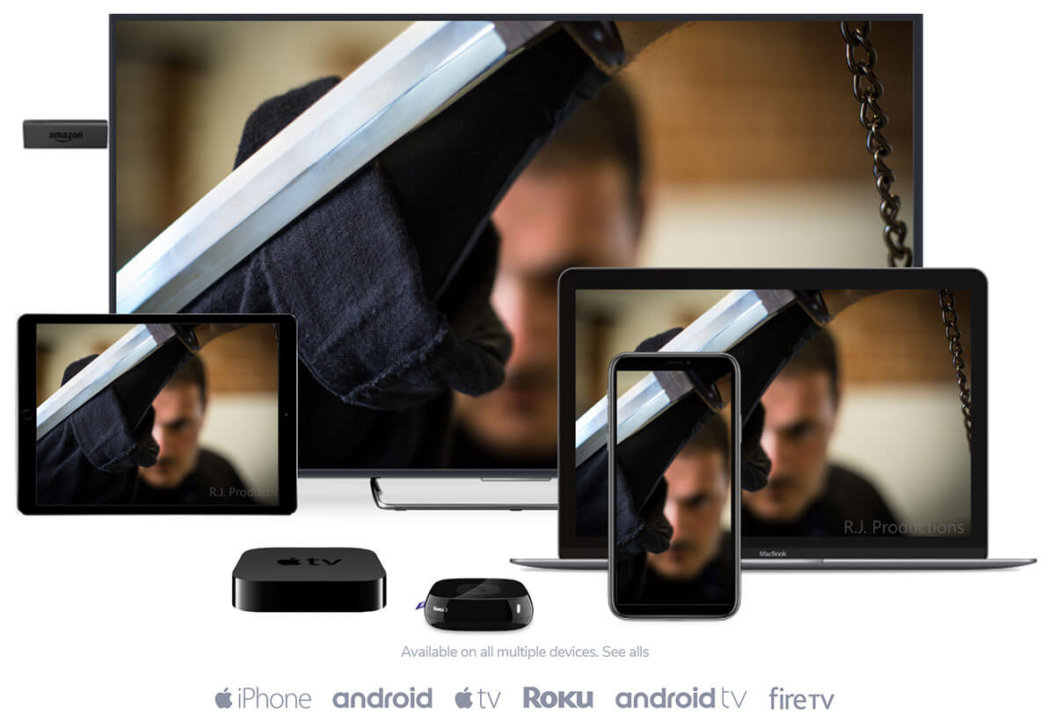 When using the site on a mobile device, it is just as efficient and beautiful as the desktop version, making sure that all users can easily access the videos with any device that they have handy. The videos play wonderfully on all mobile devices and are just as easy to navigate.
With the amazing customer support that is offered from Uscreen, Onmitsu Kage is able to give top tier support to all of their customers. "We have experienced very positive interaction from the beginning until now. Any questions we had, if it could be answered right away, it was quickly turned around. If not, the answer was found and returned back to us."
Also with the CDN network setup that Uscreen offers, being able to stream worldwide has never been easier. "It's nice to have the CDN network as well that they have to allow customers from all over the world to enjoy your products."
Onmitsu Kage hopes to one day be the leading website for distribution of martial arts videos worldwide. They are a new client here at Uscreen and just launched on October 1st, 2015, but they've already seen incredible results – within the first 30 days, they had over 100 subscribers!
With the help of our platform and their stunning ability to produce amazing content, we are positive they see continued success. We appreciate you Onmitsu Kage and can't wait to see how far you go!