Uscreen Spotlight is a special monthly feature article showcasing our most successful clients to share their journeys through the realm of online video streaming.
At the height of the pandemic, live streaming became an important way for people to feel connected.
Live streaming gave content creators and business owners an opportunity to rethink the way they reach their audiences; and for some, it brought even more visibility to their causes and communities.
In 2019, Dustyn Baulkham (he/him/his), Executive Producer of Unicorns.LIVE, curated live arts and culture events for LGBTQ2+ crowds. Now, he's using Uscreen to create that same sense of community on a larger virtual scale.
We spoke with Dustyn to find out how he used live streaming to bring creatives and viewers together, and why live audience communities will continue to thrive after the world gets back to normal.
Uscreen: Hey Dustyn! Thanks for chatting with us. Let's talk about Unicorns.LIVE – can you tell us how it all started and what the journey has been like so far?
Dustyn: My company, Rebellious Unicorns Production Company (which owns Unicorns.LIVE) was formed about 3 and a half years ago. We created and hosted events, from networking to club nights and so on. Initially, it was very focused on the LGBTQ2+ community – my city Kelowna has a small population of 190,000, and there's not a lot here for us. We were just about to launch a live music event series when COVID hit.
A week before the shutdown, we had received some funding from the Kelowna province for a live music series around LGBTQ2+ musicians. Luckily the funders were extremely flexible in terms of how we delivered the music, as long as we were still sticking to the core premise.
So we started creating live streams instead of in-person events to support the musicians. This was the start of the Unicorns.LIVE platform. It's been an experience, to say the least!
Uscreen: That was a great way to adapt. How has moving online changed the way you approach your content?
Dustyn: Right before the pandemic, Rebellious Unicorns was strictly an in-person event company, so I would say 80­-90% of our demographic identified as LGBTQ2+, and the remainder were strong allies of the LGBTQ2+ community.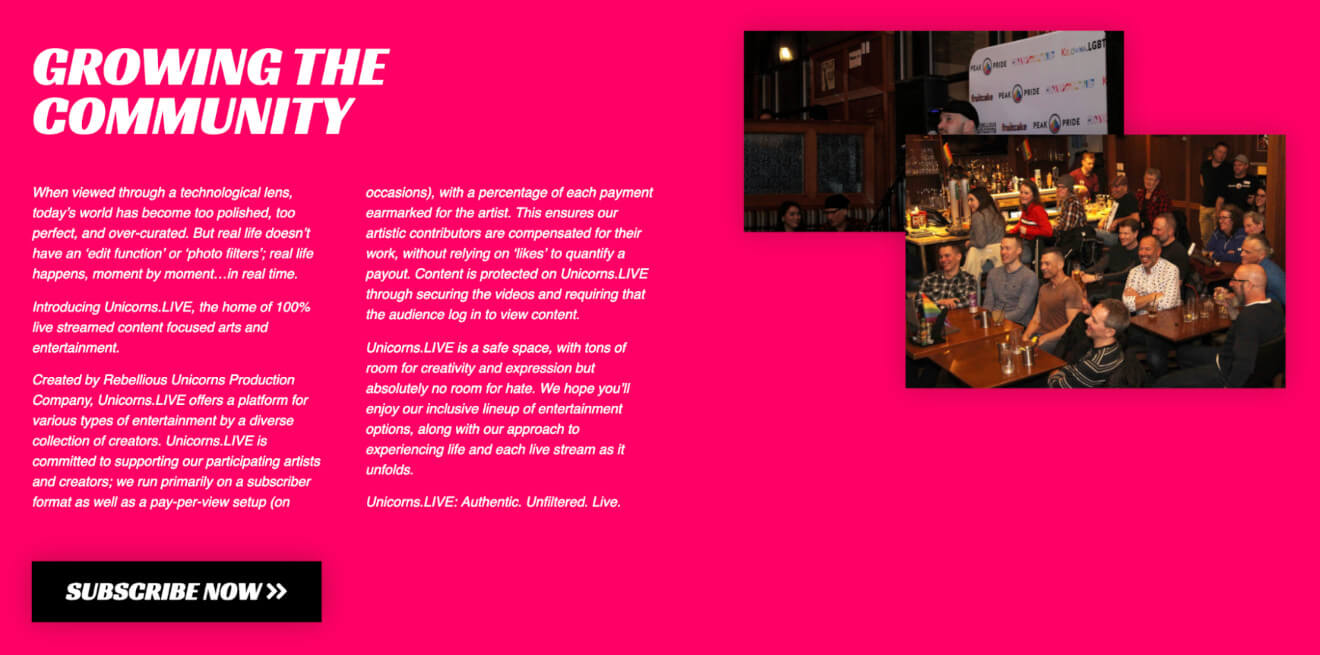 When launching Unicorns.LIVE, I decided I didn't want it to be LGBTQ2+ exclusive – I wanted that to be a heavy component, but I also wanted it to be an inclusive platform with content for everyone to be able to view and enjoy.
This, along with Uscreen's tools, helped us reach a really wide range of people.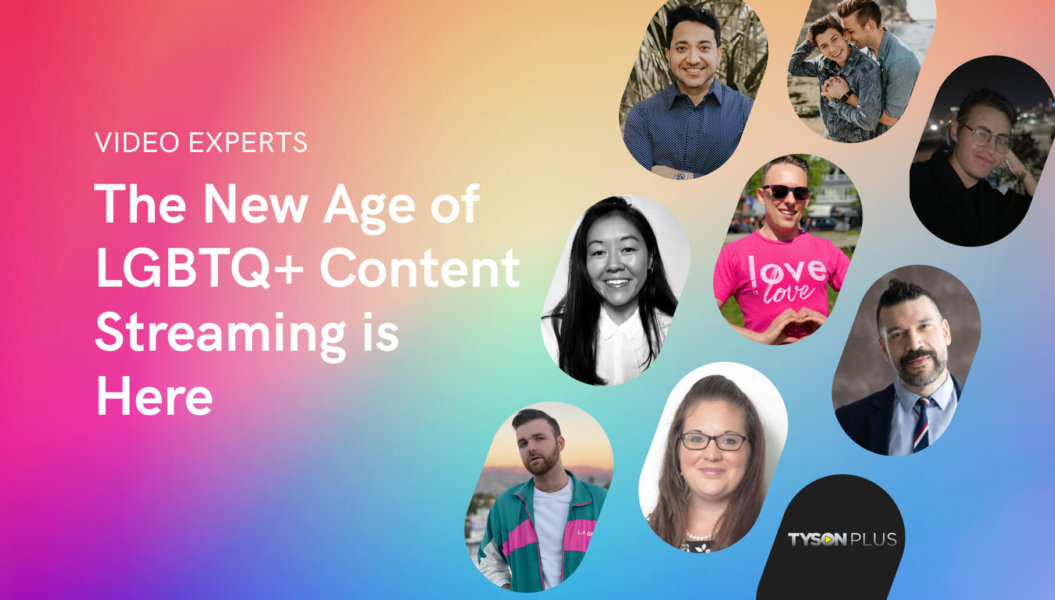 The New Age of LGBTQ+ Content Streaming is Here
Uscreen: Sounds like they're really enjoying the content. What steps are you taking to reach a larger audience?
Dustyn: Well, that was one of the biggest challenges we faced – getting our name out there to people who don't already know who we are and what we do.
We've seen a big push on creatives signing up for our referral program, which has led to a lot of new subscribers. And I'd rather pay my local musician for advertising rather than pay all that money to Facebook or Instagram.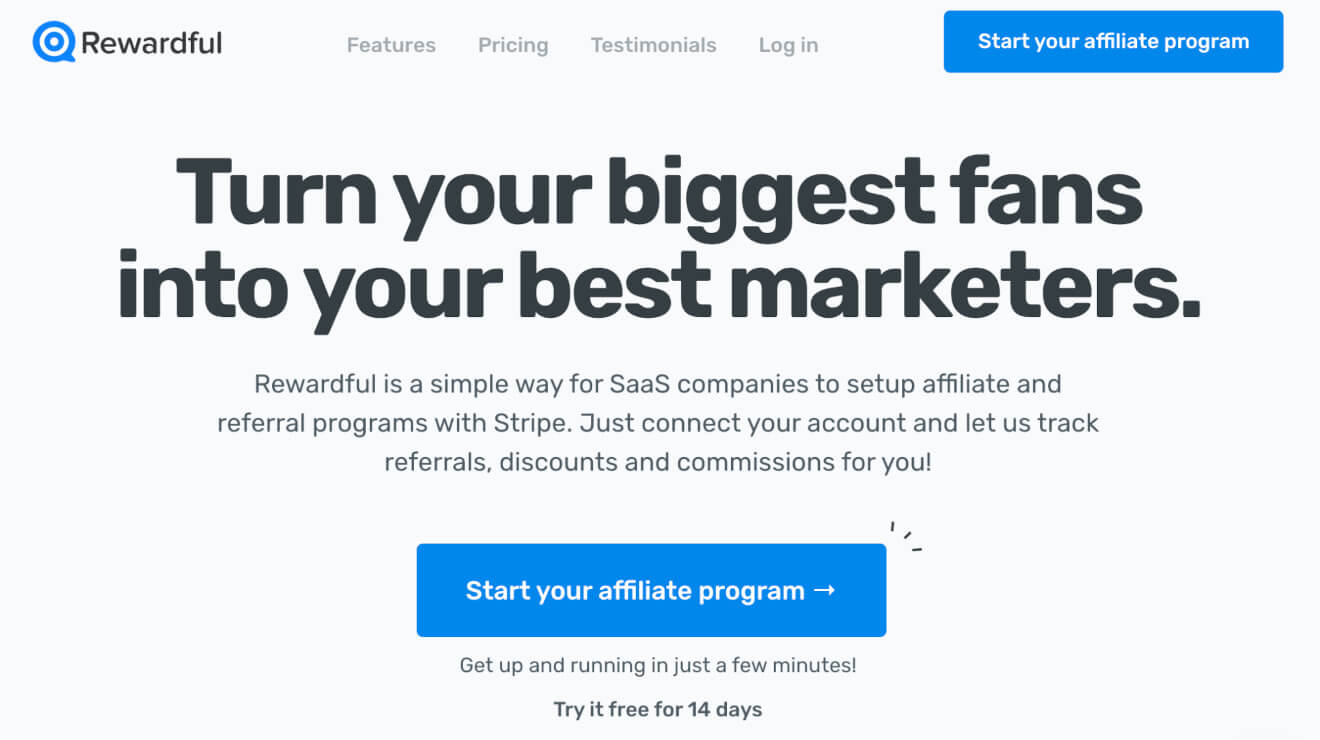 We use the Rewardful integration through Uscreen, which has been incredibly helpful because it's a monetary incentive for creatives and influencers to promote your content, and it's a good way to reward people based on performance.
Uscreen: And of course, your creatives are also a part of the Unicorns.LIVE community, which is great.
Dustyn: We love that. Most of the people on Rewardful now have actually been featured on our Unicorns.LIVE platform, whether they have a series or a one-­off show. If people purchase from any of their referrals, the creatives get paid, and so it's an incentive for them to actually promote other shows that they're not necessarily hosting. They're involved in so many ways, and it's a way for us to give back to them.
Uscreen: So these creatives are responsible for all the live music, live events, and educational videos series on Unicorns.LIVE. How challenging was it to create such a vast library so quickly?
Dustyn: One thing that we mandate with our platform is everything is done live, so every single piece of content you see on our platform was shot live and streamed live. Then we record it, and we don't edit things after the fact, because we find beauty in mistakes.
I know some people don't love that, but others do, because you also don't have the added expense of spending countless hours editing content. For that reason, some of our live content is actually fairly easy to produce, and we were able to grow our content library from nothing to everything we have now in just over a year.
Uscreen: That's really impressive. Aside from content creation, what else have you learned in the process of launching an online platform?
We've learned how to use Uscreen's tools to improve how we operate. A big one is live event attendee analytics. For example, when we're working with Ballet Kelowna, the Okanagan Symphony Orchestra or other arts groups, it's good for us to know how many people watched, and we've never been able to give a solid answer until now.
Uscreen's sales tax feature is also really helpful. I know it sounds boring, but it really helps now that we have an international audience. There are viewers all over the world buying tickets to live streams, so we have to calculate different taxes and currencies – that feature has made a huge difference.
Uscreen: That worldwide growth is amazing. So people reacted positively to your choice to move fully to streaming content?
Dustyn: Yes. They supported the business because they love what we do, and we're a community. Our earliest adopters of the streaming service were the loyal attendees of our in-person events. There were about 50 or so subscribers right at the beginning, and all of them are still with us today because we said "This is our only way to stay alive – we either close our doors and shut down forever, or we evolve and do something that still aligns with what we've done in the past, but in a different medium."
Uscreen: Yeah, we definitely agree. Live streaming has evolved, and it's here to stay. Before we let you go, can you tell us what you're most excited about moving forward?
Dustyn: We're headed in a really great direction. We don't have to worry about costs or selling tickets in advance – now, we're focused on subscribers. We can take clips from live events and continue to promote them.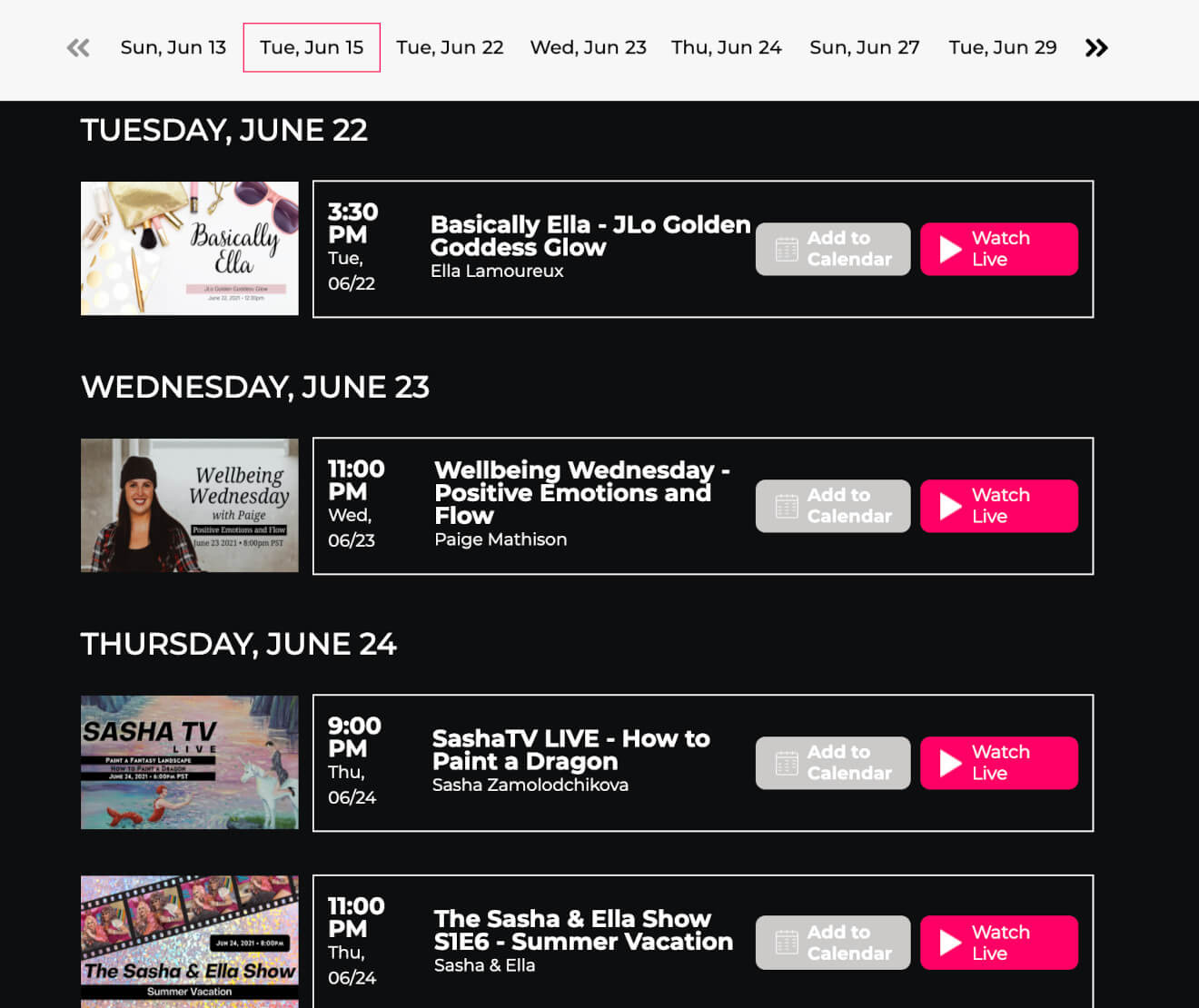 It's not just "one night, one show" anymore – it's an entire collection of shows you can have for as long as you want.
Our outreach strategy has changed completely – we've got longevity now.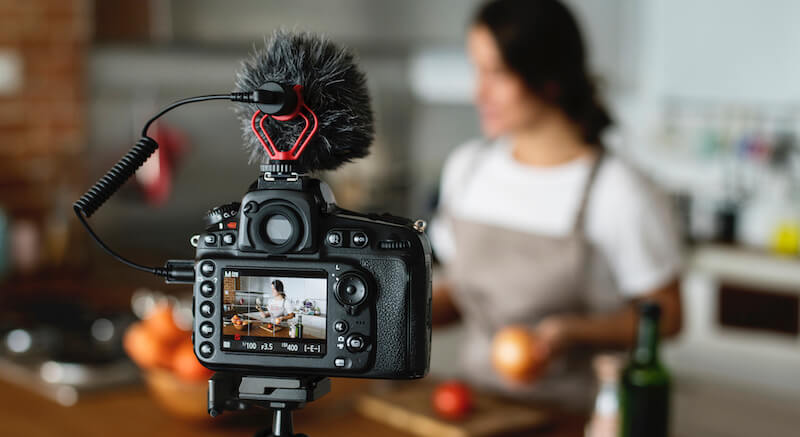 How to Sell Videos Online and Make Over $5k a Month (For Real)