Uscreen Spotlight is a special monthly feature article showcasing our most successful clients to share their journeys through the realm of online video streaming.
In the COVID era, many business owners are asking:
How do you take an in-person, interactive experience online?
Businesses often thrive on a real-life connection with their customers. Today, entrepreneurs are trying to figure out how to translate an experience that needs…
physical presence

emotional connection

active feedback
…into a meaningful virtual experience.
We spoke with Emil Pantelimon, Director of Communications at the Comic Opera for Children, to hear how they creatively used VOD to transform live performances into digital experiences.
Uscreen: Hey Emil! Thanks for chatting with us today. Can you tell us a bit about the Comic Opera for Children and what makes it special?
Emil: We're a unique opera house for children and families in Bucharest, Romania. We produce original shows that introduce kids to opera, ballet and musicals. Led by general manager and renowned Romanian soprano Felicia Filip, we host over 900 events and 220,000 guests each year.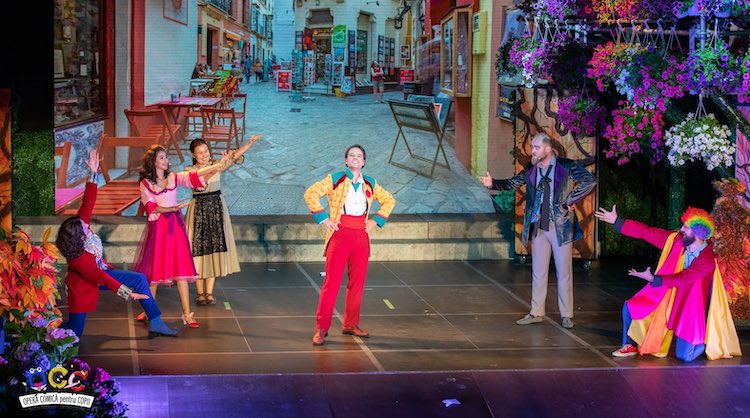 Our mission is to give these kids a cultural education and an outlet for healthy emotional expression. But, most of all, we're a playground for imagination for anyone 3 to 103 years old.
With the Comic Opera for Children, you may think you're just going to a venue to see a show, but it's a whole experience.
From the moment you walk in, you're part of the performance: you'll walk through our halls decorated with props and the kids participate in a pre-show activity to get them familiar with the story.
After the show, we'll invite you to one of our themed outdoor festivals in our main yard, where you can sign up for a workshop, visit an adventure park, or join a book launch.
Uscreen: Wow, it sounds like you guys really bring a strong in-person experience. Had you ever explored video-based options before you started using Uscreen?
Emil: We've been producing DVDs in-house since 2015 which we have sold at our shows and online. So, video has long been a part of our business model.
However COVID-19 left us no choice but to explore online video. That is to say, videos hosted on our own platform. But, as they say: "the show must go on."
Uscreen: So COVID-19 was the catalyst for moving your operations online. Can you tell us about your experience going online?
Emil: COVID-19 hit us fast and hard.
We were forced to close our doors for an indefinite period. There was no cash coming in and our actors needed to be paid.
We knew we had to get our content online and fast. Since we were the first theater in Romania to suspend performances on March 9th, we didn't have any blueprint to follow.
There was no time for trial and error — in a crisis, response time is crucial. So we trusted an experienced partner to advise us on how to do it.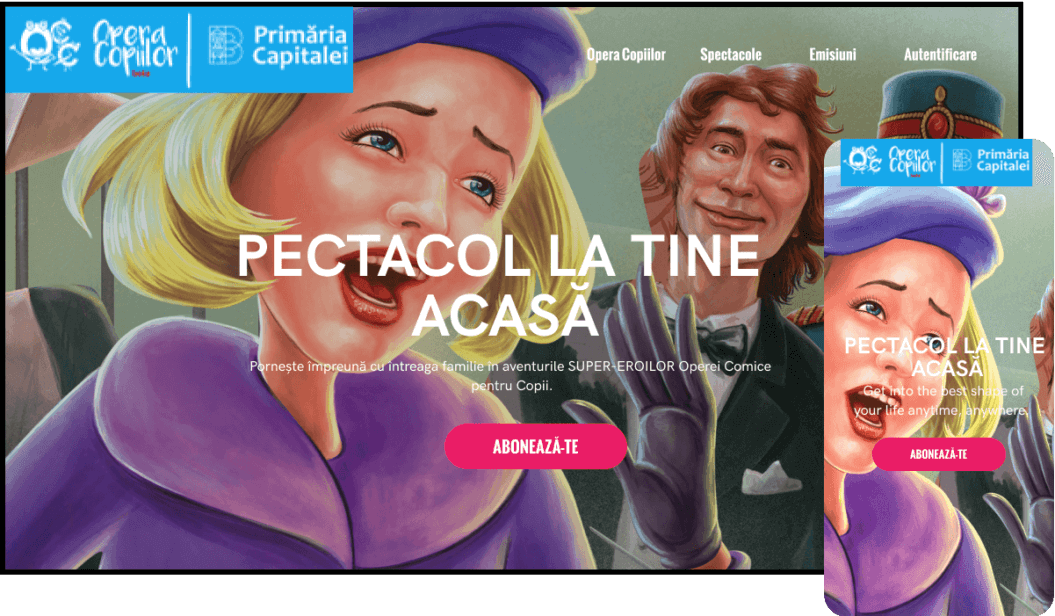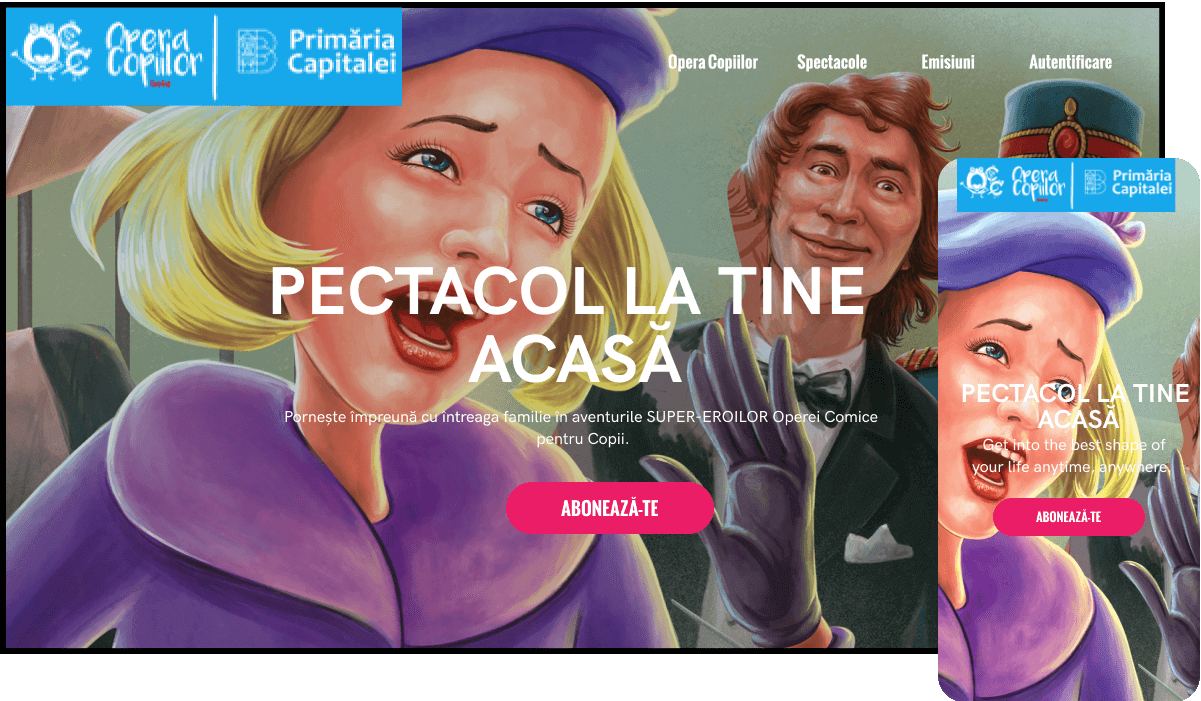 Uscreen: How did audiences react to the Comic Opera's digital transformation? And how was it received by your team?
Emil: We've gotten so much positive feedback from our audience. Just look at the numbers.
Before COVID we had 10,000 viewers each weekend. Going online opened our performances to a worldwide audience that reached 4 million reactions in just 3 weeks.
Both of our online premieres had a live audience that was 1200 times bigger than it could have been if the shows had been performed in our venue.
That was the confirmation we needed to move forward with our plan.
Before COVID, we had 10,000 viewers each weekend. Going online opened our performances to a worldwide audience that reached 4 million reactions in just 3 weeks.

Emil Pantelimon
After launching our Uscreen-developed platform, we heard from Romanians across the country and throughout the world, who had been unable to travel to see us live.
That feedback inspired the artists to come up with new ways of promoting the app in this new phase. Our team saw their hard work paying off.
We still have a long way to go, but the start is so promising.
Uscreen: How are you bridging the gap between that emotional, in-person connection, and taking it virtual? Have you tried anything new?
Emil: We've launched a few new campaigns to keep our viewers close during this time.
Now we have our actors call the children, in character, to talk about the stories the kids have seen. Just imagine seeing 'Cinderella' and then being able to talk to the actual Cinderella on the phone. I think it's mind-blowing for the child, and their parents too.
Our Children's Opera app also helps us connect to kids beyond the screen. One new program teaches children how to grow their own strawberries on their balconies after they watch our urban gardening show on our app.
It's personal for our team, too. Without the emotional connection and applause from their live audience, our actors also need these experiences to feel in touch with their viewers.
We put a human touch in everything we do: I present the urban gardening show myself, bedtime stories are read by our manager, our head of PR does movie recommendations and memory games are explained by our gift shop team.
Uscreen: Thanks, Emil! Before you go, what made you choose Uscreen and how have you found using the platform?
Emil: We chose Uscreen as a partner because you were thoroughly recommended by another trustworthy partner of ours, the Stadeum Group in London. And we're so glad we did because we didn't have a minute to waste.
Uscreen took care of everything — video hosting, customization, analytics — so we could focus on creating our videos. You allowed us to immediately dive into the work of converting live shows into recordings, montages and online marketing.
Uscreen also lets us create apps so our customers can stream on their devices, which is great because our subscribers prefer to watch this way. So we needed to give that option to our viewers, both Android and iOS users on mobile as well as tablets and TV apps.
All in all, we picked Uscreen because it was a flexible, all-in-one solution.
If you want to learn more about the Comic Opera for Children, and their creative approach to children's theatre, you can visit their Uscreen website right here.
Live Streaming vs VOD: Which One
Will Save Your Business?