Many brick-and-mortar businesses are asking:
How do you expand your community outside of your physical location?
BFUNK's answer? Online video.
Because video can expand your in-person community into a limitless online space.
We spoke with Raghu Alla, Chief Operating Officer at BFUNK to discuss their evolution from niche dance company and community to premium VOD business. He manages all things brand and BFUNK's premium video tutorials. 
Uscreen: Hey, thanks for joining us! To start with, could you tell us a little about BFUNK?
Raghu: BFUNK is an L.A.-based dance company teaching a fusion of South Asian and western jazz-funk styles. Our classes and video tutorials combine traditional, high-energy Bhangra and Bollywood with modern hip-hop to create BhangraFunk and BollyFunk.
When BFUNK started in 2016, the South Asian dance scene in L.A. didn't really exist. The founders, Chaya and Shivani, wanted a way to explore their traditional roots and combine it with their love of western dance.
They knew there was a community out there that wanted this, too — the merging of two cultures — so they set about giving them a place to dance, hang out and connect. Their classes brought together a real community of people. If you're coming from two different cultures, finding that community is really significant.
This was their place to go to every Wednesday. Everyone hangs out together, dances together, and works together on projects. Our videos feature many of the core group of dancers who come back over and over again. Our community and that bond are what make us different.
Uscreen: That's really cool. So what made you want to turn your offline classes into online videos?
Raghu: Because more and more people started attending the in-person classes, we felt the need to expand our in-person community. So in 2017, we started filming classes and uploading to Youtube.
When a few Indian artists saw these clips of the group dancing to their songs, they reshared the videos and they went viral — that's how the YouTube traction started. We had a couple of videos blow up and get 20, 30, 40 thousand views.
As we posted more dance videos and classes, viewership grew exponentially and the business evolved into choreography, too. People were asking us, "Can you please post a tutorial on Youtube?"
We held off because we wanted to do it the right way and at the right time to serve our community. After a 19-city North American tour in 2019 and over a million YouTube subscribers, we felt it was time to explore premium VOD.
We were already getting millions of views on YouTube and our community was asking for tutorials so it made sense to offer a paid service. So we began to research our platform options to launch a premium VOD.
Uscreen: Alright, so walk us through your journey online from finding a platform to launching your SVOD service. What was the process and how long did it take you to get online?
Raghu: When we first started, we thought we might have to build the platform from scratch and create our own app.
Then I came across Uscreen. I saw how other dance companies used the platform to teach online classes and choreography through video and live streaming. They used their tutorials to expand their community.
It clicked with us. Why not check out Uscreen? So we researched pricing and how it worked. I paid for a one-month subscription, not knowing if we wanted to do it, to learn how it's set up.
We were looking at a few other people too but it really came down to the monthly payment, features, ease of just being able to upload from Dropbox directly.
And the biggest part was we didn't have to wait a few months to build something and worry about it breaking or having to maintain or update it. So Uscreen gave us a perfect out of the box solution to just get started. I set it up in 2 days.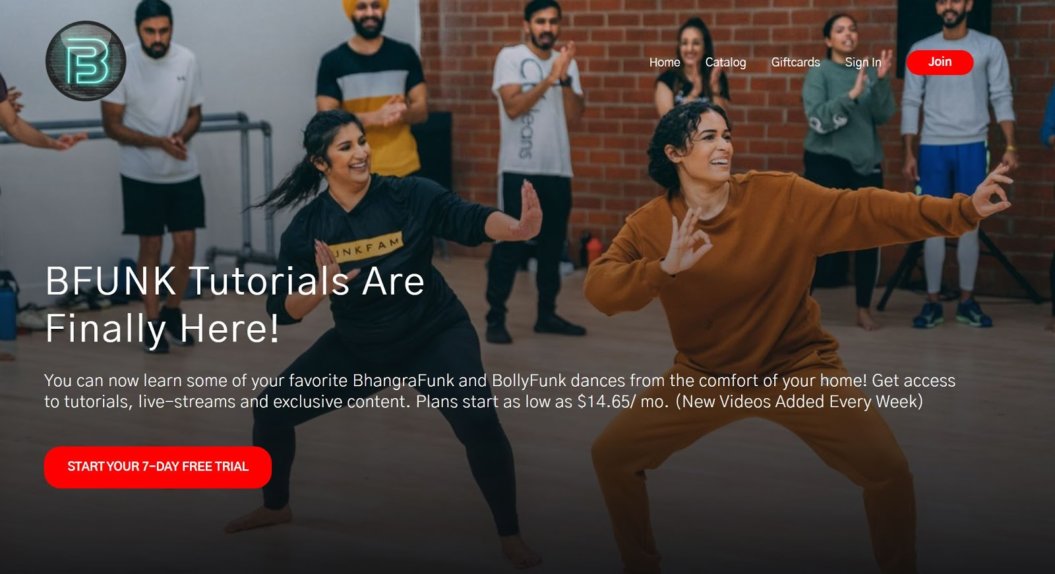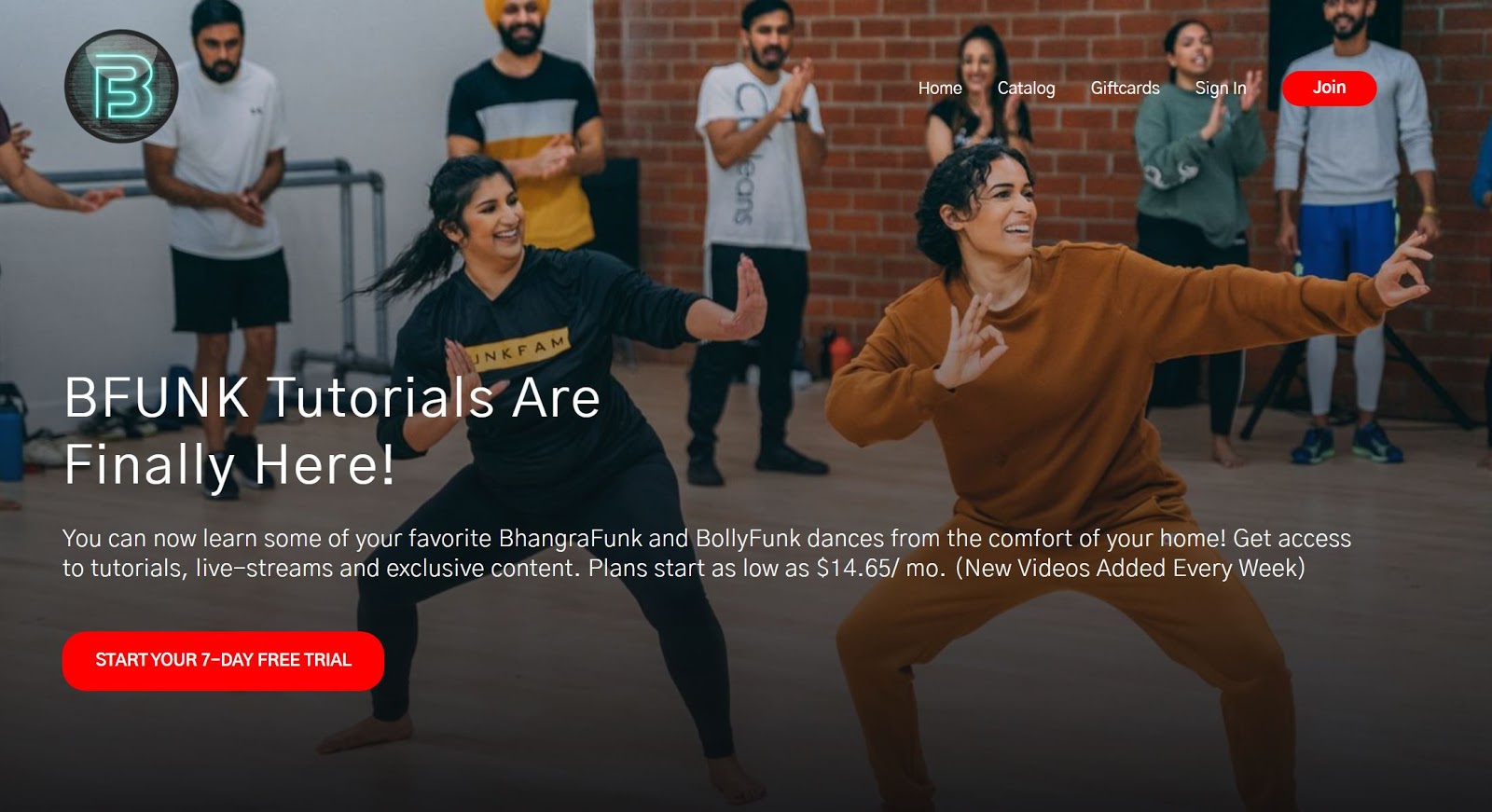 Uscreen: 2 days, that's a record! How did you announce the launch of your new service? Can you tell us about your marketing approach?
Raghu: Shivani and Chaya announced our new VOD service on Instagram Live following a live Q&A session.
We did an announcement campaign using Instagram posts and stories and posts to let fans know our tutorials and live classes are coming. We also used YouTube's community page.
Now that we've launched, we use social media to point people to our website. For every YouTube video, we write in the first line of the description, "learn this choreography on bfunkdance.com."
We also post 2-minute snippets so viewers get to see a teaser of what it looks like. Our marketing is all organic, there's no paid advertising. These social media snippets drive traffic to our website.
In terms of content, we post steadily. At launch, we have 5 videos on the platform. Each week we added more: a live class every Sunday and a new video every Tuesday. Now we have over 25 videos.
Now we're planning a series called Bhangra Funk Basics, diving into the fundamentals of bhangra dance. Each video is less than 10 minutes. We're hoping to make a big push with that.
Uscreen: And how did your community react to the launch of the tutorials?
Raghu: A lot of people were waiting for tutorials and our community responded very positively.
The high quality of our VOD tutorials really stuck out to people in a way that YouTube or IGTV just doesn't. Our community felt like we provided them with the best quality out there.
We're using professional audio and video. When you look at others in this space, we stand out as a paid service because we offer a high-quality product. It really helped attract customers.
And because we coincidentally launched in March when people were trying to do things from home, our audience was able to get more out of our service.
Uscreen: What's your favorite thing about Uscreen?
Raghu: Uscreen's backend is super easy to use. I didn't read any help section or anything like that. I just went in and learned as I went and tested different things, created a test account and saw what the site would look like.
Like I said, I set it up in just 2 days. Once I started using it, I discovered new features. Now I'll check out the blog to learn more about automation tools and how we can use these.
Uscreen: Alright, last question. What does the future of BFUNK look like?
Raghu: Our goal is to make BFUNK a one-stop solution for all things South Asian dance. There's nothing like this that currently exists in the U.S. We're going to add a few choreographers to teach other styles of dance so we can expand the community.
We want to introduce a workout dance using music that we own. We were inspired by the Zumba model to create a fun, universal dance workout. Especially during this time, people want to stay active while they're at home. Here in L.A., dance studios just opened up again and now we've had to shut back down.
We want to make our online community feel just as connected as the in-person classes. That's the next challenge in our journey.
We want to keep feeding the platform with more content and diversity for more audiences. We also want to take advantage of tools that Uscreen offers, like automation, and reduce churn features.
The next step is to see how far we can take BFUNK and turn this into something bigger.
How to Start a Profitable Online School in 5 Steps