I'm sure you'll agree with me when I say:
Coming up with ideas for your membership site is hard.
You're either worried they're too niche to make money, or so broad they won't appeal to anyone. It's enough to put a pin in anyone's creative flow.
But the truth is…
When it comes to membership sites, the niche-r the better.
From Japanese martial arts and self-hypnotherapy, to bellydance fitness and deep-sea diving – the possibilities are virtually endless.
In this article, I've compiled nine membership websites examples that are niche-r than niche to get your ideas flowing and expand your understanding of what a membership site can be.
I'll also give you insight into what makes these membership websites so special and successful.
Get inspired by looking to these examples as you begin your own journey:
1. Find What Feels Good — A 20,000+ Member Strong Yoga Community
If health and fitness is your thing, Find What Feels Good (FWFG) is a great source of inspiration. Led by Adriene of Yoga With Adriene, FWFG is a one-stop shop for all things yoga, meditation, creativity, and wellness.
Their 600+ videos teach viewers to explore the body and what it means to be well through daily practices, workshops, learning and accountability series.

Go Above And Beyond Your Niche
One thing FWFG does brilliantly is showcase how you can dive into all of the sub-niches that relate to your core niche.
Adriene has videos that cover topics like…
journalling

nutrition

hygiene
…to provide her audience with relevant information beyond what they do on the mat.
When creating your own site, it's worth exploring other niches your audience is interested in, and test to see if there's benefit in creating videos about them.
2. Wonder Girl Astrology — Build Your Audience Around In-Depth Astrology Readings
Astrology may be a niche community but Wonder Girl Astrology has been able to build a booming membership site around their area of expertise.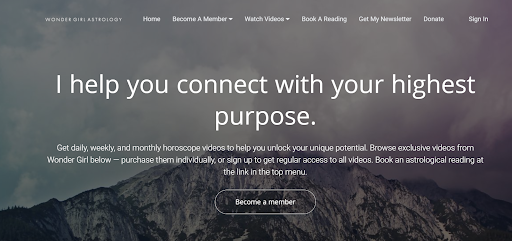 Brittany Binowsky, founder of Wonder Girl Astrology, won over a loyal community of over 50,000 people who come to her to learn about their horoscope readings. Their goal? To gain more self-awareness and lead a happier and more fulfilled life.
Wonder Girl Astrology does this by releasing in-depth videos for astrological readings where Brittany analyzes planetary alignments and how that affects different star signs. She releases daily, weekly, and monthly horoscope videos to help followers better understand their purpose and unlock their full potential.
Leverage Free Content to Build A Strong Niche.
Wonder Girl Astrology leverages their 58K+ YouTube subscribers to generate sales to their paid membership site through their free YouTube content.
Brittany's YouTube videos are long and in-depth readings of different astrological charts, which help her build personal and trusting relationships with her subscribers as she educates them about themselves through astrology.
Since Wonder Girl Astrology's YouTube subscribers are so aware of their brand, expertise, and video content, they are ideal qualified leads which makes them easier to convert to paying members.
Check out our article to learn how to use YouTube as a marketing engine for your VOD website.
3. ONMITSU KAGE — Martial Arts Training Combines Digital and Live Video to Transform Your Living Room into a Dojo
Even if your business requires in-person interaction, your membership site content can help people with their real life learning and doing.
Take a look at Onmitsu Kage. It's a membership website dedicated to content that supplements and guides the study and learning of martial arts.
Onmitsu Kage gives people access to top-level martial arts training right in their own home. Basically, members can turn their living room into a daily dojo. That's pretty cool.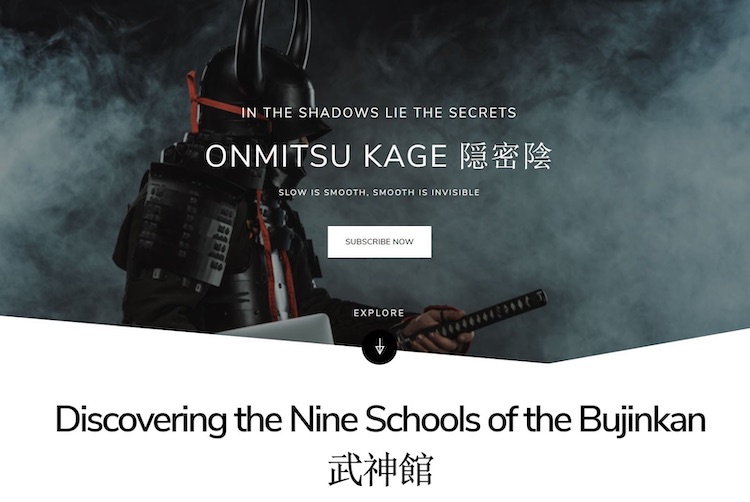 Embrace The Power Of The Expert
Onmitsu Kage showcases the knowledge of world renowned Bujinkan Budo Taijutsu practitioner, Dr. Kacem Zoughari, P.h.d., whose expertise members trust.
For especially niche topics like this, take a note from their playbook and leverage the impact of the expert.
If your business is super niche, a trustworthy expert lends authenticity to the subject and becomes a central figure for members. Why?
Because viewers will feel like they know this person, who's literally in their living room and teaching them — on a more personal level.
This makes for a powerful viewing experience.
4. CETV — Tap Into a Mind-Expanding, Consciousness-Raising Global Movement
Membership is all about creating value through connection. CETV delivers.
CETV is a neutral alternative to mainstream media on topics like
health

consciousness

spirituality

transformation
Their mind-expanding courses push viewers' limits, while staying true to their promise of no censorship, ads or hidden agendas.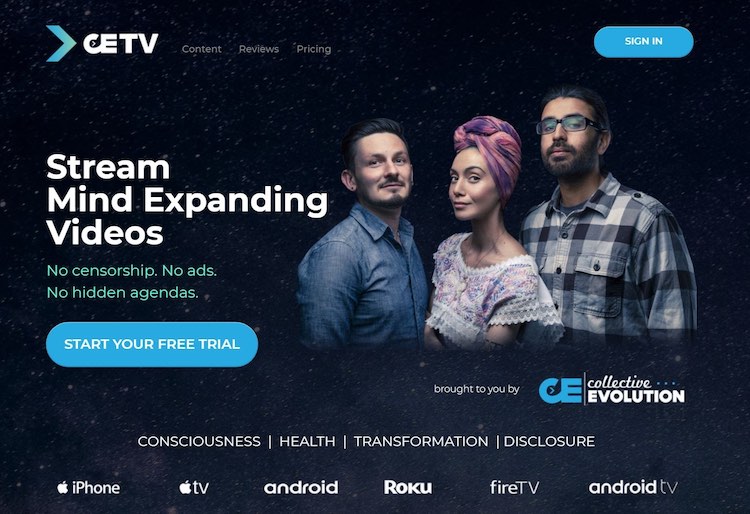 But CETV is more than just access to exclusive conscious content. It's a movement.
Embrace The Bigger Movement
Subscribing makes members a part of a global movement that's challenging politically-motivated mainstream media narratives. Why?
Because shared values like open speech and self-identification as an alternative to mainstream news binds people together in a powerful way.
You can help members cultivate connection by using some of the core concepts of online community building: stating what they stand for and against.
For example, if you run a vegan cookie business, you're not just standing for the deliciousness of cookies. You're empowering and driving the vegan movement and even no-kill and wellness movements too.
As a membership site owner, you can lead the movement behind your content when you:
Facilitate discussions and debates in forums

Organize online and offline events

Create a manifesto of shared values
When you stand for something, you attract those with the same values.
5. Raqs Online — Attract the Audience you Want with Dance Fitness for Everyone
Dance fitness is gaining a huge online following.
Raqs Online is a membership site focusing on bellydance, world dance, and fitness. They're also a thriving community of people looking to learn more about dance and fitness while fueling self-growth and having fun.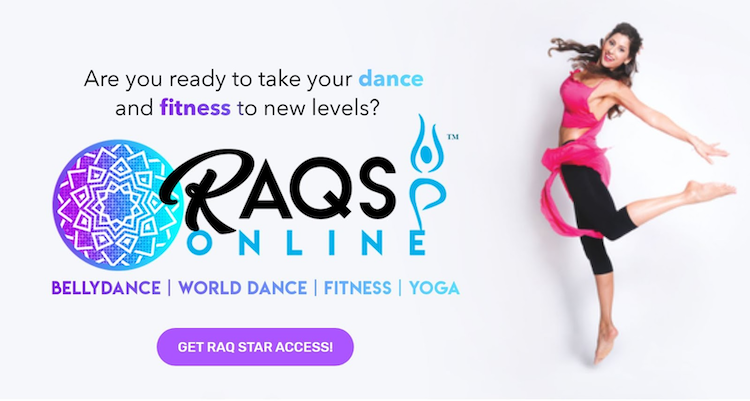 Raqs Online sees dance as a journey for all, no matter the level of experience. They cater to subscribers of all levels and expertise.
Cater To The Audience You Want To Attract
Raqs Online offer such a wide array of topics and filters, that members can essentially personalize their dance workouts by categories like:
Focus

Fitness

Experience level

Video length

Instructor
The lesson is this: your topic is niche, but your audience doesn't have to be.
Closely examine what audience you want to attract, and find ways to cater to them.
But if, let's say, your business is geared towards food industry professionals, your content wouldn't be for those looking to learn cooking basics. If you have an expert-level niche, target those viewers with content that will keep them coming back.
6. New Sky Kids — Trustworthy Content for Kids and Supportive Parental Community
Family-friendly content for kids is skyrocketing as kids consume more online. How much more?
The average amount of online videos watched by young Americans has doubled since 2015!
With all that screen time, parents are understandably worried that their kids might see less than age-appropriate content.
New Sky Kids has a reputation as one of the safest and most trustworthy membership sites out there. Parents can feel confident that their children are consuming kid-safe healthy content. Why?
Because they make it personal.
Founders and parents of three, Felipe and Leigh Adams, just wanted kid-friendly content that they could trust. So the Adams and their children created that content and formed a community of parents who feel the same way.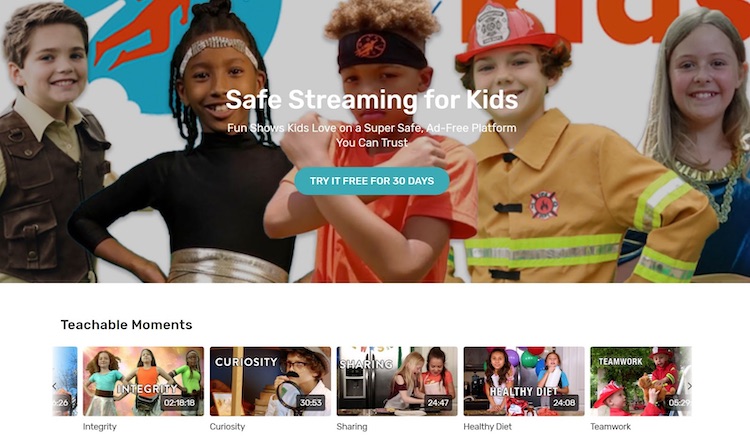 Members Are In It Together
New Sky Kids' Parents blog and monthly newsletter offers tips, encouragement and insight. It feels like a real, supportive community — the hallmark of a quality membership site.
No matter who your audience is, the lesson applies: make it personal and relevant to your community of viewers.
Reach out to your members with…
Blogs, articles or social media posts

Weekly or monthly emails or newsletter

Forums or commenting for members
…and provide them with useful information to help solve their problems. Better yet, enable other members to do the same.
When you help people collectively support each other, you build a genuine community.
7. Consider the Dog — Expert Training Tools to Help Dog Owners Develop Healthy Relationships With Pets
Owning a pet is a long-term commitment, and Consider the Dog's membership plan gives owners unlimited access to training resources they can use the entire time.
Tyler Muto, founder of Consider the Dog, realized that dog owners needed a place to find trustworthy advice – so he created it. His platform gives customers real-life video examples of dog training exercises, along with other valuable content.
And because a membership means unlimited access, users can refer back to their favorite videos whenever they want.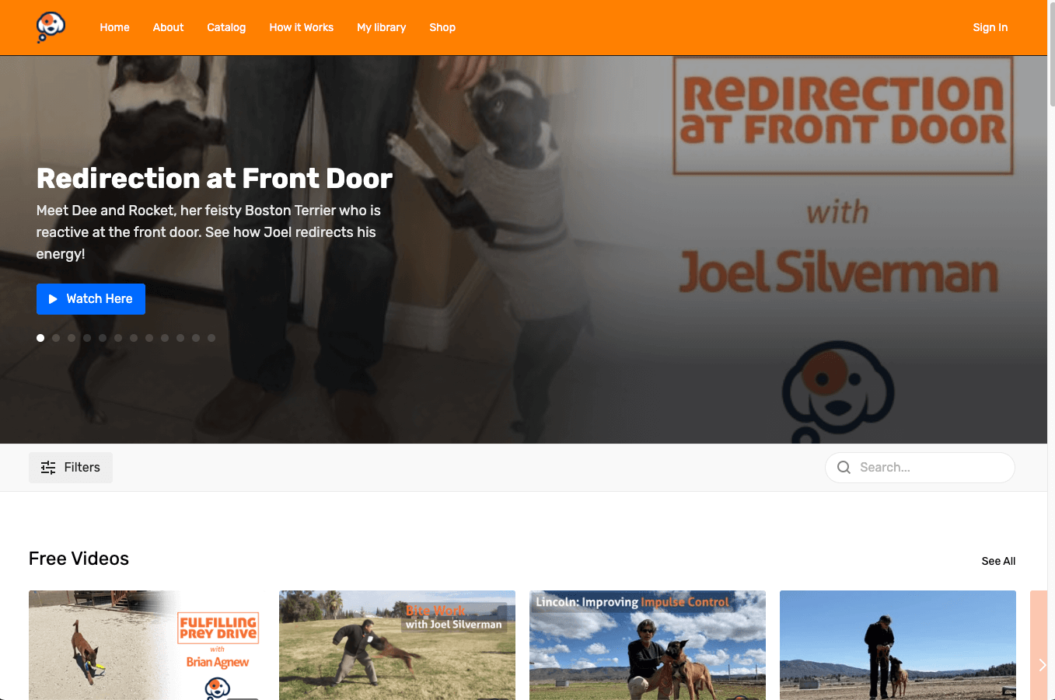 When members sign up, they get access to a huge video library filled with content like:
Addressing behavioral issues.
Interviews with experts in the dog training industry.
Teaching specialized skills (such as teaching your dog to army crawl!)
Consider the Dog also offers paying customers access to an exclusive Facebook group. This community space lets members connect with each other and bond over their shared interest – living a better life with their dogs.
Provide Members With A Ton Of Value
Consider the Dog provides the ultimate value to their subscribers. For just $14.99 per month, they offer access to their members-only catalog, as well as exclusive content on their Facebook group.
When creating your membership site, price your content based on the high quality you'll deliver. In Consider the Dog's case, this means expert training techniques based on innovation, canine philosophy, and mutual respect. This gives members the best bang for their buck.
But how?
It doesn't mean lowering prices. It means bundling different services into your membership site, including:
Live streamed events.
Member update videos.
Daily reminders.
You can do this by including supplemental content right into your membership packages.
8. Gue.tv — An Immersive World of Diving Education and Exploration
Can you imagine an online platform that teaches you how to deep-sea dive from your living room? You don't need to: just check out Gue.tv.
Gue.tv creates an immersive universe that goes beyond education to action and interaction. They combine aquatic learning, conservation, and a like-minded community of people.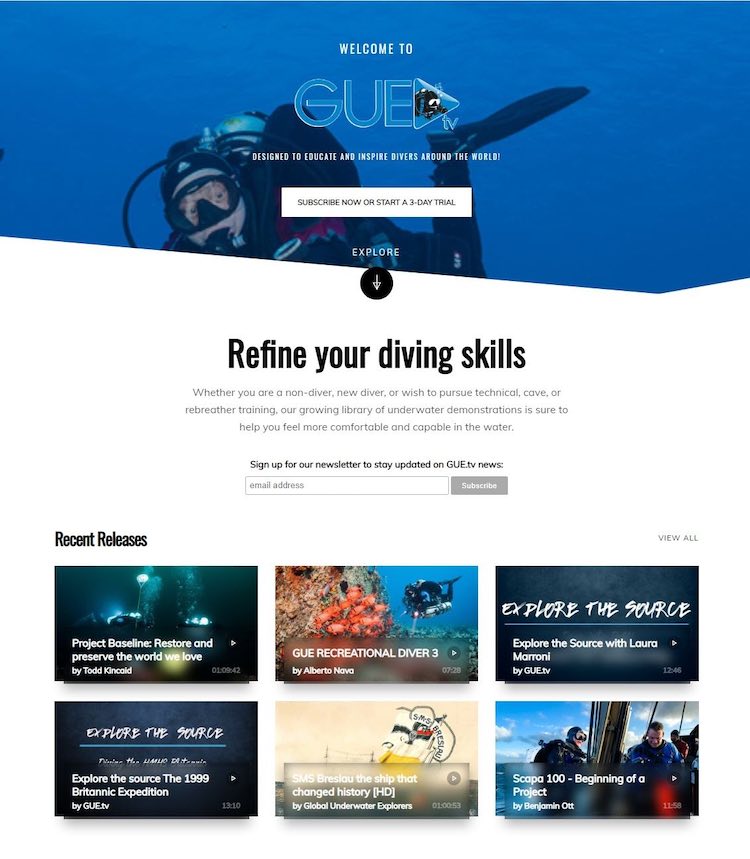 Make Your Site Interactive And Actionable
The key takeaway from Gue.tv is when you make content actionable, people are inspired to engage. Empower your members to:
Interact with each other

Take action

Explore together
Let's say you're teaching folks how to make jewelry from reclaimed plastic waste. Why not help members organize their own collection events?
If you're appealing to a community of different experience levels is a huge opportunity. Maybe some of your members are new to jewelry-making or don't even know what reclaimed plastic is.
Educate them about the issue and create fun ways for members to connect around it.
9. The Neuro Studio — Online Workouts for People with Neurological Conditions
The beauty of niche membership sites is creating content for people with particular needs. Maybe these groups haven't always had content catered specifically for them.
Neuro Studio demonstrates the real world impact of creating membership websites for a specific niche and how this can actually improve lives.
They provide scientifically-backed and studio-tested workouts designed for:
Fitness professionals

Physical therapists

People living with neurological conditions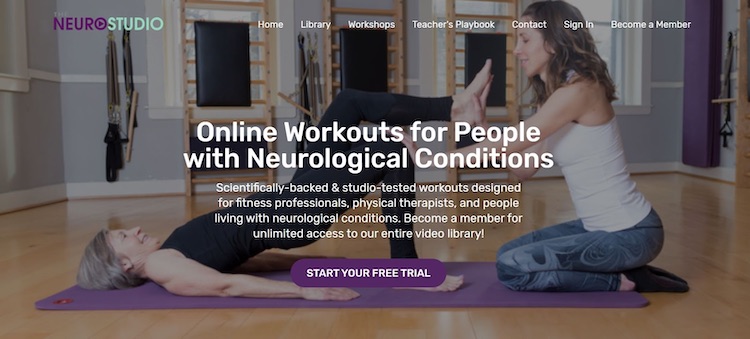 Scale your business to teach the teacher
The online fitness studio also scales their business with education courses to "teach the teacher." This Teacher's Playbook offers valuable client workouts and instruction for any teacher, trainer, physical therapist, or occupational therapist.
If you take one thing away from this, it's scaling: teaching the teacher is an incredible tool for businesses.
For instance, if you have a life coaching business, bolster your client-facing work by teaching others how to become coaches themselves.
Final Thoughts on Membership Site Examples
To break it all down for you, here's what some or all of these membership sites have in common:
1. The power of the expert
As Omikatsu Kage shows, a resident expert inspires and gives a sense of authenticity. Viewers connect with a central figure, coming back again and again.
2. Bundled benefits provide clear value
Like FWFG, create a one stop shop for all things related to your niche. Your content should go beyond the screen and spur action and interaction in the real world.
3. Sense of connected supportive community
Take a note from New Sky Kids in creating a supportive network of people. Tools like newsletters, events, and forums create engagement and help people stay connected.
4. Embrace the bigger movement
You may not realize it, but there's a movement of people behind the content. In CETV's case, they directly appealed to a global movement and took it on as their own.
5. Offer a Free trial
All of these membership sites offer a free trial. It lowers the barrier to entry and allows potential customers to try out your product, risk-free.
These qualities make membership sites succeed. For inspiration and beyond, that's exactly what you want to emulate.
For even more inspiration, check out some of these incredible examples from Uscreen clients. They've taken their sites to the next level.
Ready to build your membership site? I've compiled a step-by-step guide on how to do it.
What qualities stand out the most to you? Tell us below.
How to Create a Video Membership Site: The Ultimate Guide for 2023