The COVID-19 pandemic has been, well…let's just say it's been a whole thing.
While the entire ordeal was pretty negative, it has led to some positive changes. There have been unprecedented levels of demand for authentic community-focused content, and a surge in LGBTQ+-owned businesses launching to meet it.
We're especially seeing a rise in LGBTQ+ video streaming services on Uscreen, which we really couldn't be giddier about!
Our observation begged the question: did the pandemic really usher in a new era of video content for LGBTQ+ audiences?
To find out, we reached out to LGBTQ+ content creators and video entrepreneurs – ones who are in the trenches, right now, creating change – for their take on how COVID-19 has impacted the current state of diverse representation in online content.


How COVID-19 Changed The Way People Consume Content
When the world shut its doors, people turned their attention online. It caused them to spend record numbers of hours online streaming videos.
In fact:
2020 saw up to a 61% increase in streaming across different platforms. Better still, 79% of people reported that their video streaming services made them happy.
This level of growth and positive association had long been predicted by industry experts. But, being forced to stay home and tune in accelerated it.
"The digital streaming world is moving at some pace," says Naomi Bennett, CEO of LesFlicks, a lesbian- and bisexual-focused video streaming service that saw a spike in new subscribers during the pandemic, "[and] new technology now enables smaller [ video streaming ] platforms to be created."
COVID-19 created a sort of perfect storm for video content and businesses. There was increased attention from audiences and the technology was there for entrepreneurs to act on it.
One of the biggest spikes we saw was the demand for LGBTQ+ streaming content. Google Trends data shows a spike in the search for "LGBTQ+ streaming" from the first day of the pandemic: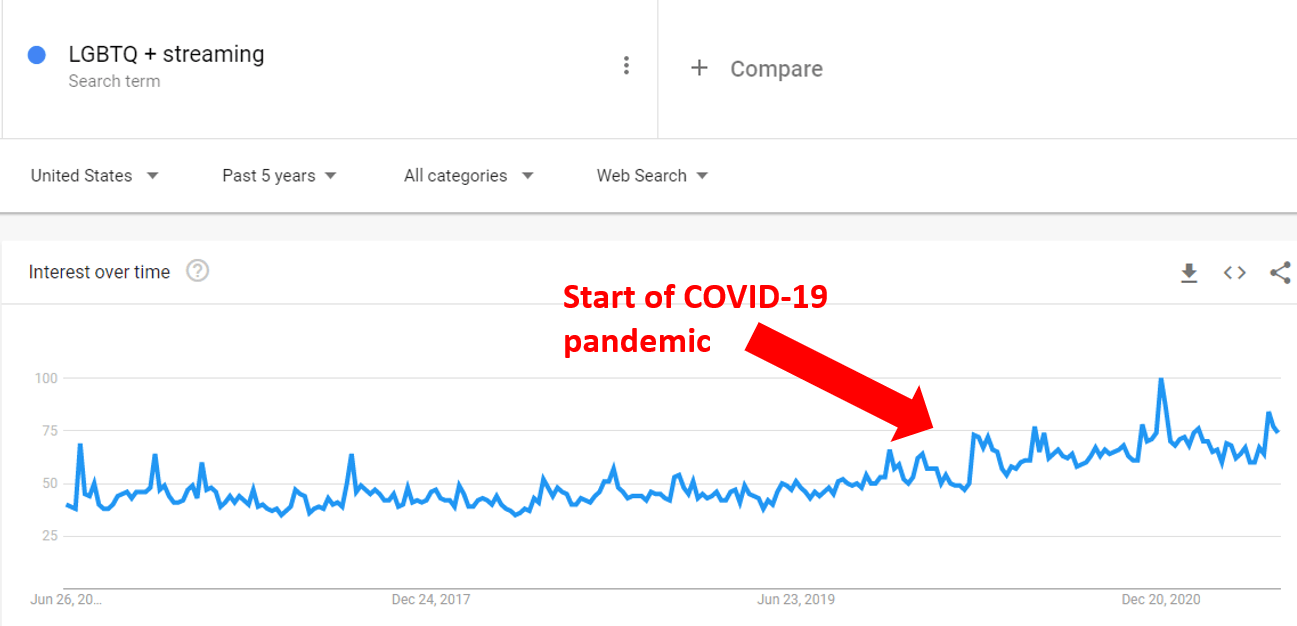 In an age where 86% of social media users crave authentic content and stories, members of LGBTQ+ community were clamoring for content that represented their lives.
Audiences are consuming content they can connect with […] and they are seeking to be inspired by new stories and points of view.
Says Armand Petrikowski, Head of Operations for GayBingeTV.
But this increased attention and demand for authentic LGBTQ+ content highlighted a problem in mainstream streaming platforms. Namely, a lack of representation of the LGBTQ+ community.
A GLAAD study of 773 characters on TV series found a 33% decrease in LGBTQ+ representation on popular streaming services like Amazon, Hulu, and Netflix.
This extends to social media and the content pushed by algorithms there:
I'd love to see more representation in the online video space. So many times I flip through Reels or TikTok and see white muscular men doing something cute […] It's something that has been an issue for ages and should be addressed.
Says Matthew Schueller, from the gay travel blog Michael & Matt.
While more people were cooped up looking for content to engage with, LGBTQ+ folks (and allies) found there weren't a lot of options tailored to them
So, they created their own and ushered in a new age of video content.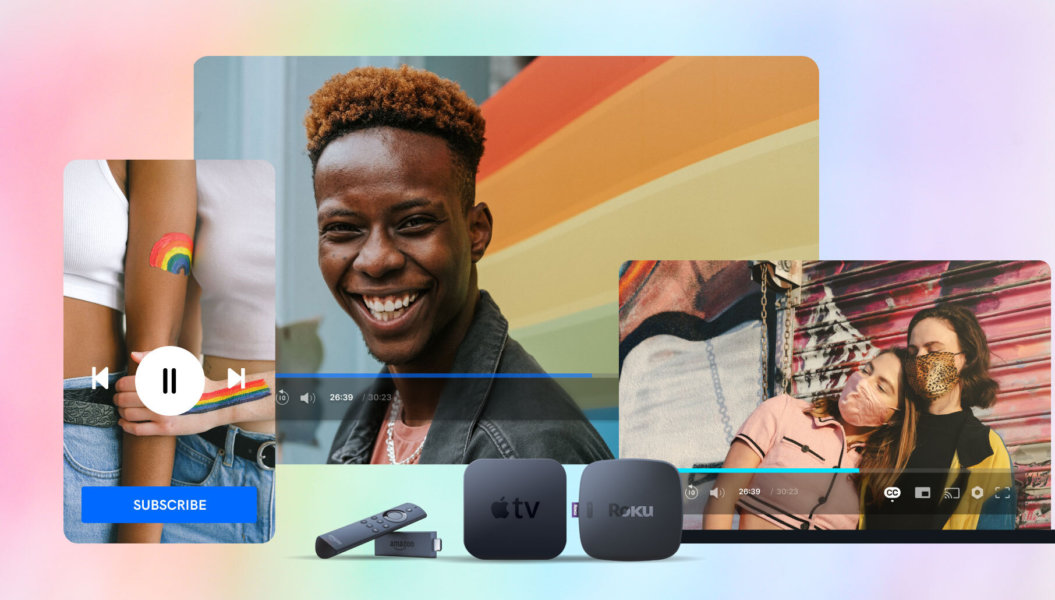 6 Best LGBTQ+ Streaming Services in 2021
Out, Loud, And Proud: The Age Of Authentic LGBTQ+ Video Streaming Content
Let's face it:
We're in a time where it's easier than ever to get online and amplify your message. We have the tools we need to create change, spread love, and connect with others in the LGBTQ+ community.
But…
It's also a time where people can share hate, prejudice, and homophobia more easily than ever before.
"When you become a content creator, you open yourself up to the world and you realize the world isn't always nice. I've been told my voice is annoying and my haircut is bad, to even some personal attacks," says content creator Scott Frenzel. (Whose voice and haircut we absolutely love, btw.)
The fear of these encounters online is what has kept many entrepreneurs and creators "in the closet" when sharing their orientations and affiliations in their work. It often feels too risky.
However:

We've reached a stage where people are actively seeking LGBTQ+-focused content. There's an audience looking to engage with streaming businesses that are out, loud, and proud.
Unique, inclusive LGBTQ+ voices are in demand right now. Audiences will follow you if you constantly deliver to them the type of content they are watching and connecting with.

Armand Petrikowski , GayBingeTV
Being the true LGBTQ+ you is exactly what audiences are looking for. What once seemed like a disadvantage is becoming a key opportunity.
The time has never been better to be an LGBTQ+ content creator.
Being boldly, brashly, and unapologetically open as LGBTQ+ — in whatever way that manifests itself — can help [you to turn] branding and marketing challenges in your favor.
Says podcaster and speaker Scott Mason. "As for authenticity: is there anything more real than being out, loud, and proud?"
Authentic content is only one part of the puzzle. Audiences are also looking to engage in online communities, especially as they've come to rely more on internet-based communication.
"An online community is key," says Naomi of LesFlicks.
The pandemic created an opportunity for isolated and disconnected [LGBTQ+ people] to connect online. As the world re-opens, many will look to retain their online community.

Naomi Bennett, LesFlicks
We've seen a number of community-focused video businesses sprout up since the start of the pandemic, and had a few of our pre-COVID-19 Uscreen customers receive a surge in clients.

Many of these have been in the entertainment sector. Which is good news for video entrepreneurs of all kinds.
Let me explain…
How The Entertainment Industry Drives Changes
Media plays a vital role in how we view the world.
The types of content we consume – from news and tweets to movies and books – directly impact how we feel about ourselves and the world around us.
We often hear the negative side of this, like how social media makes us more critical of our bodies when we look in the mirror. But there can also be positives.
Media has the power to positively change how members of the LGBTQ+ community feel about themselves.
"I grew up in small-town Ohio, very secluded. I remember watching vlogs of gay couples and it was the first time I saw a real future for myself," says content creator Scott Frenzel.
We've all felt lost in our journeys at one time or another. And everyone can empathize with turning to stories and films and TV shows to find someone like us.
When we see ourselves in the media we consume, we feel seen. We feel heard. We take solace in experiences like ours, fictional or otherwise.
I feel an almost tangible validation in seeing queer people on screen.
Says our very own Molli McGee, a content creator here at Uscreen. "It gives me this long overdue feeling of being accepted–like a big sigh of relief."
This desire has driven the growth of the LGBTQ+ indie entertainment industry over the last year. Especially for Netflix-style streaming platforms, like the ones we've mentioned earlier.
Representation in entertainment also spearheads changes in the general population. In fact, research shows that exposure to LGBTQ+ media has already made people outside the community more accepting: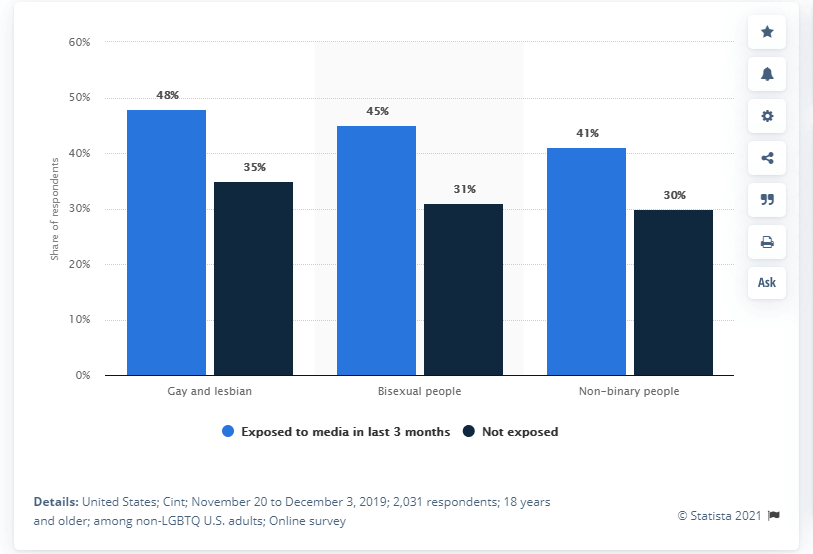 Even if there is initial outcry – as there often is when it comes to social change – it eventually can become the norm.
But that isn't to say that change can only come through the entertainment industry. It's often just a starting point. And, we're expecting the positive LGBTQ+ vibes to flow into other video streaming businesses.
The Future Of LGBTQ+ Streaming Content
Stories.
That's what the LGBTQ+ community and its allies are looking to connect with. Specifically: they want to know your story.
Write your story – even if it's being told by somebody else right now. One small detail from your experience will add a fresh touch.
Says Kevin Anthony of Tyson Plus, a streaming service telling LGBTQ+ stories from people of color.
But how you tell your story is up to you.
You can weave it seamlessly into your personal brand; throw a dash of it into your tutorials; create conversations with members of your community around your struggles.
We expect – and want – to see an increase in demand for LGBTQ+ run video businesses in all types of content niches, like:
eLearning & Instructional.
Yoga & Meditation.
Health & Fitness.
Faith & Spirituality.
Kids.
The segmentation of the online content space gives us the opportunity to find our own tribes of fans who will embrace and enthusiastically support our work.

Scott Mason
Though you shouldn't feel any pressure to incorporate your sexual identity into your work, the benefits of doing so can extend well beyond your business and into the community at large.
"I am beyond happy to have met so many sweet and wonderful young people online, some of whom ended up coming out," says Avital Shtapura, an artist and animator with over 1.4 million likes on his TikTok posts. "It is my honor to help trans youth and offer my own story as consolation, because I remember how isolated, hurt, and betrayed I felt when I came out."
There is power in sharing your story – however you choose to do so – and video sharing platforms are fast becoming one of the most impactful ways to amplify your voice.
And, though there will always be risks to sharing your authentic voice online, it does get better over time:
I've found over time that I get fewer and fewer homophobic/angry/disapproving comments. There is a growing acceptance and appreciation for open and outspoken members of the LGBTQ+ community online.
Says Josh Rimer, content creator and former Mr. Gay Canada.
Wrapping This Up…
We hope you've enjoyed this report about LGBTQ+ video streaming content. It's important to us to spotlight the many diverse voices that use our Uscreen platform.
We'd also like to give a very special thank you to all the content creators and video entrepreneurs who contributed their thoughts and shared their stories with us to make this report as accurate as possible.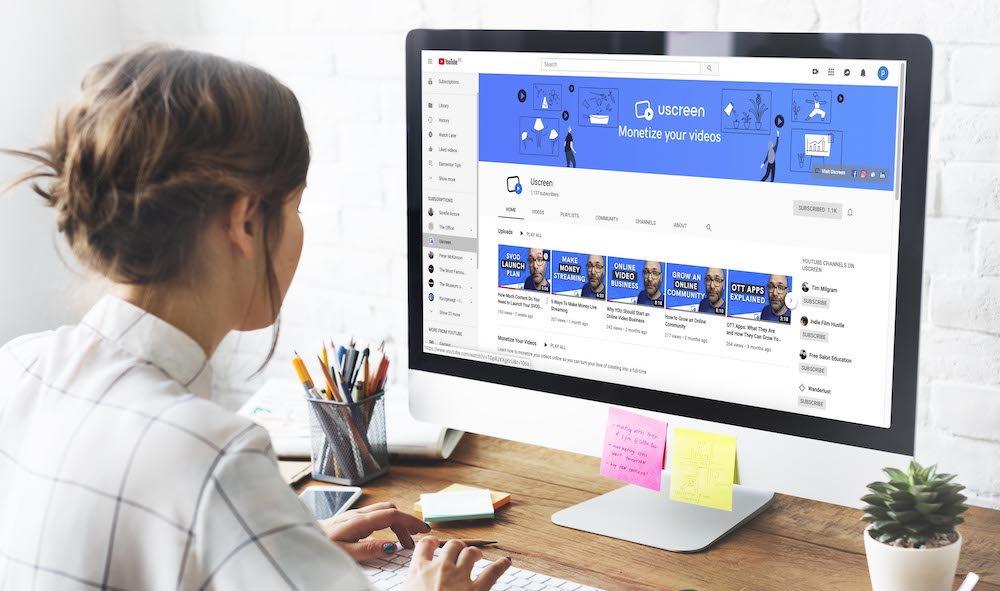 How To Turn Your YouTube Channel Into A VOD Marketing Engine