By now, most of us have heard of Zumba.
This dance fitness program has become a phenomenal success, encouraging people around the world to live a healthier lifestyle while enjoying a fun, exciting activity with friends. Zumba was launched in 2001 by an experienced Colombian choreographer, Alberto Perez (also known as 'Beto'), and has since evolved into a global trend showing no signs of slowing down.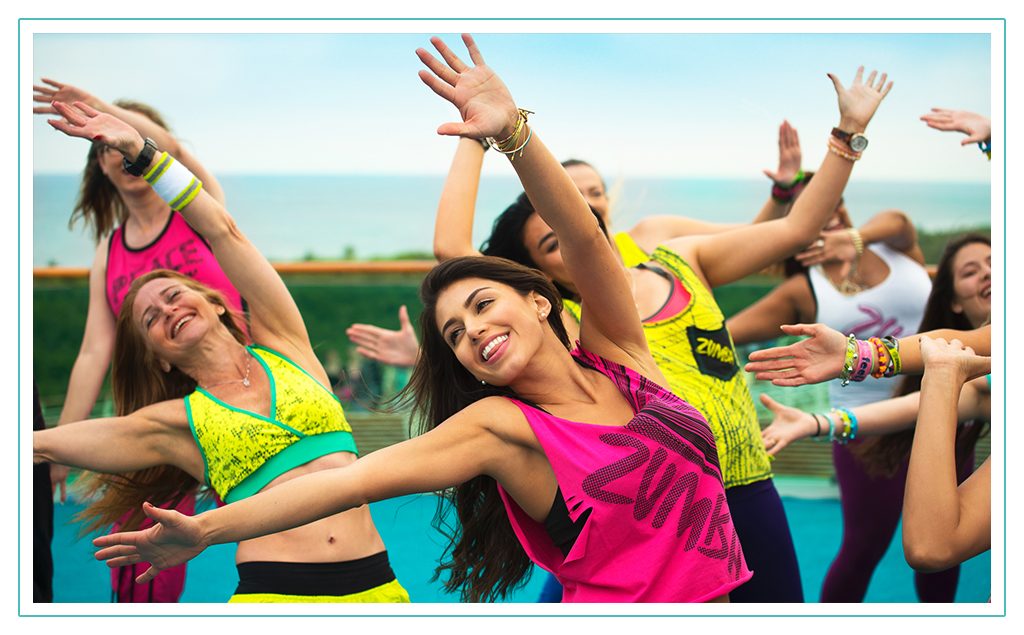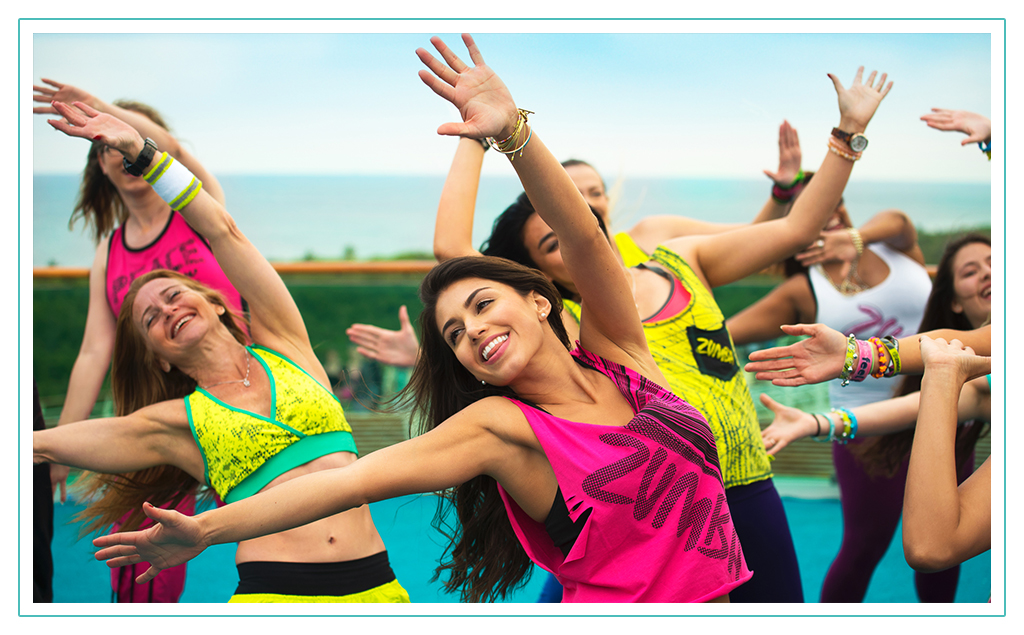 What is it about Zumba that keeps people coming back again and again? How has it managed to conquer the crowded fitness industry?
When we think of keeping fit, we think of exercise and working out; for those of us unable to furnish our home with lavish body-building equipment, this equates to joining a gym. On top of the potentially-pricey costs, working for that toned, energized physique is no easy feat, particularly if you're not quite as young as you used to be or find lifting weights dull as dishwater.
Of course, running, walking, swimming, and other forms of cardio make exercising a little more interesting – yet they can still feel like a chore.
Zumba, on the other hand, pulls off a neat trick: it's working out, without you knowing you're actually doing it.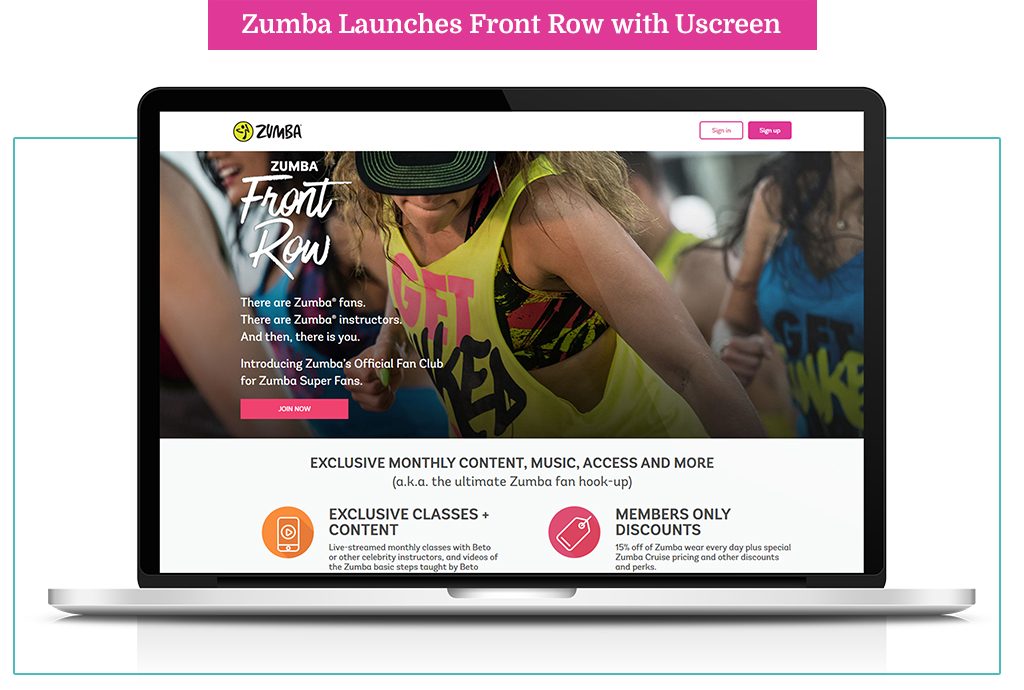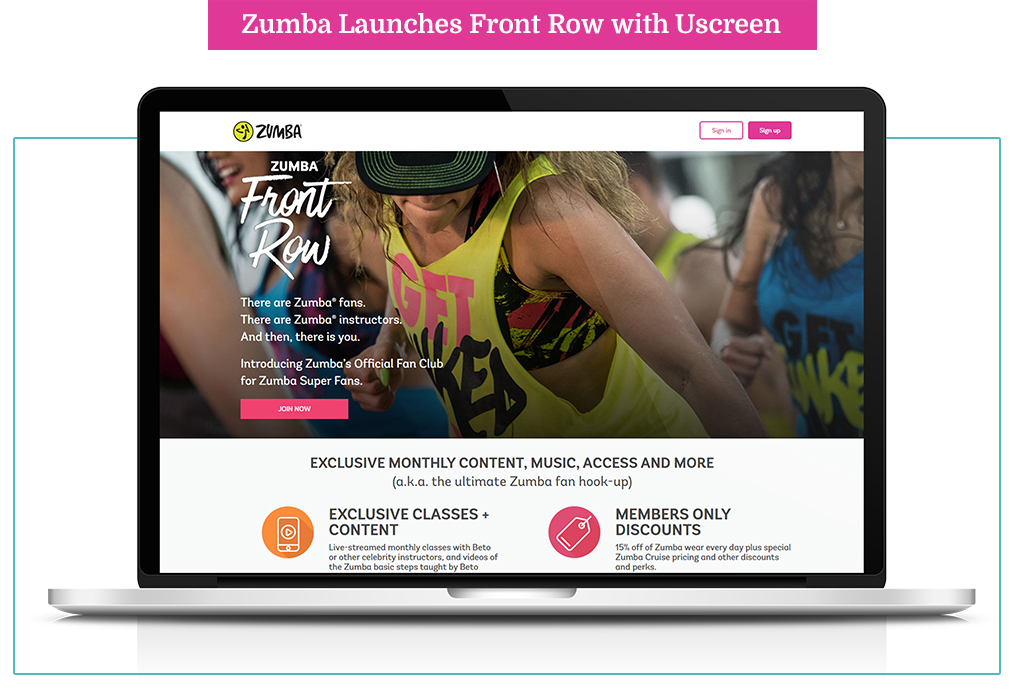 Zumba combines fitness with fun dance movements: participants follow routines performed by an instructor, incorporating elements of merengue, salsa, soca, hip-hop, squats, lunges, and more. Rather than sweating yourself into a stupor in front of a mirror, lifting weight after weight, or watching your reflection tackle a treadmill, you're actually having fun with friends.
We all know keeping fit and following a healthy lifestyle is in our best interests – the media bombards us with this information on a regular basis – but actually committing to it is easier said than done. With Zumba, people of all ages and fitness levels can join in, just by following the routine as best they can.
Part of the reason for Zumba Fitness, LLC's immense success is also down to its generous franchise model: it allows fitness centers and gyms to hold Zumba classes without charging any licensing fees – no small gesture, considering around 15 million people take part in Zumba in 180 countries every single week. While the Zumba brand has achieved monumental success around the world, its followers are apparently always looking for more ways to integrate it into their life – a hunger which led Zumba Fitness, LLC to Uscreen's door.
Now, Zumba has launched Zumba Front Row with the help of Uscreen. The successful membership site provides lovers of Zumba new options and possibilities. Zumba Front Row gives students access to videos, music, live streams and even nutritional guides, no matter where they are. You don't have to be in a fitness class anymore to enjoy everything Zumba has to offer.
Zumba Front Row is the first of its kind and the customer story is pretty inspiring. As we'll discuss, there were certain challenges that Zumba had to face in order to achieve their goal of providing the new consumer program to a global audience.
Here's how we have helped a worldwide phenomenon expand and evolve:
Facing the Challenge: What was the Goal?
Here at Uscreen, we're dedicated to helping individuals, businesses, organizations, charities, and anyone else looking to establish an online presence launch their own high-quality video-distribution website. Video is a major part of the internet, set to account for 80 percent of all consumer traffic by 2019, and businesses across all sectors can utilize this expanding medium to reinforce their brand. Not only do videos convey information in a faster, more dynamic way than words on a page can, they also offer cross-device accessibility, allowing companies to reach potential customers at any time, any place.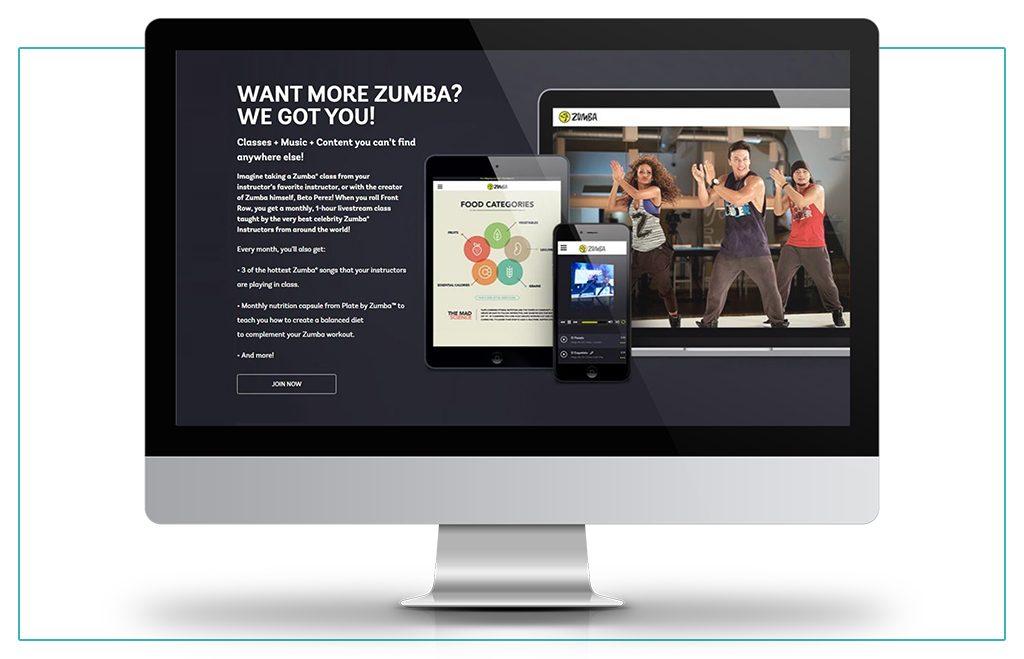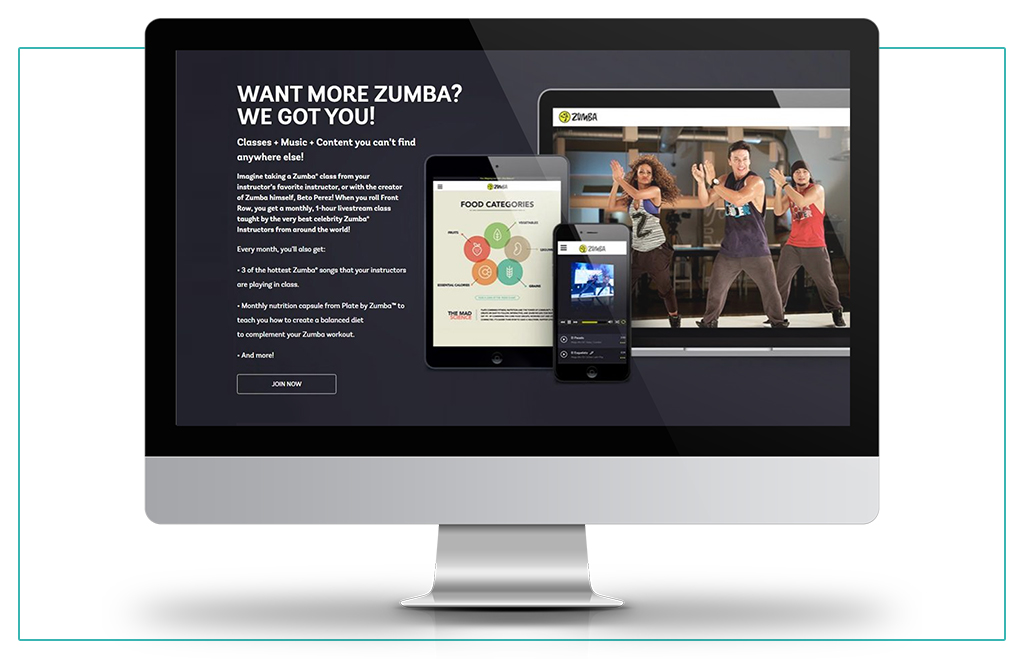 The Zumba team was looking to make the most of cutting-edge online capabilities, expand their reach, and provide their followers with a deeper, more engaging relationship with the Zumba experience. Zumba Front Row builds on the existing Zumba model with a simple, membership-based enterprise which enriches the brand-customer relationship.
Zumba wanted to embrace 24/7 engagement, yet knowing where to start is not as easy as you may imagine – even for a brand with such worldwide appeal.
The Zumba brand is all about fun, fitness, and community: classes can range from several people to dozens, all working towards that same goal, moving in harmonious synchronicity. However, fans had been vocal about wanting more from the company – rather than taking part in one or more classes every week, they wanted to be able to maintain their sense of immersion for longer.
In order to do this, Zumba began investigating the possibility of launching a consumer membership website. This would enable them to maintain a close link with their followers, provide information on a variety of Zumba-related subjects, and build their brand.
However, while this is simple enough in theory, finding the right way to launch this is somewhat daunting. For a major enterprise like Zumba to establish a new website offering enthusiasts a deeper relationship with the company, there is understandably a significant amount of pressure. Followers have high expectations of the quality of material and service the site should offer; with such a successful model already in place, adding to it was something of a risk.
If followers are to pay for this on top of their usual class-admission prices, they have to feel the pricing is fair, and their investment will be rewarded with a satisfying experience.
After investigating numerous possibilities, Zumba found Uscreen to be the best choice.
A Bespoke Solution
Uscreen is a white label platform providing enterprises with a simple, user-friendly video-distribution service. With our service, clients have the freedom to build a website to their own liking, featuring unique branding and content, without any trace of our own businesses anywhere on-site.
Is this important? Consider the drawbacks of other prominent video-streaming sites, such as YouTube. While this is massively popular with millions of users across the globe, it imposes certain limits on what a channel-owner can and cannot do. For example, while a channel's page can be personalized to reflect a brand's profile and imagery, it is still very much entrenched in the YouTube style.
Regardless of a business's reach, reputation, and fame, they are still subject to YouTube's house style and mechanics. They are also prevented from publishing additional materials alongside their videos, such as documents and audio clips for downloading.
At Uscreen, however, a brand has full control of their site's entire look and feel. They customize the layout, imagery, content – the full customer-experience is in their hands.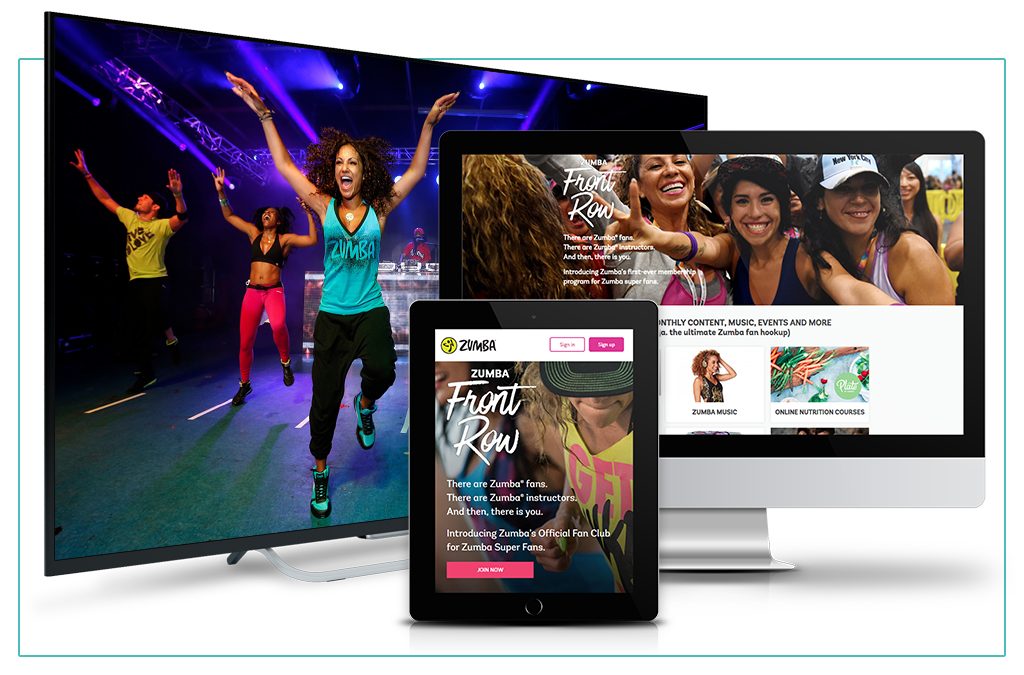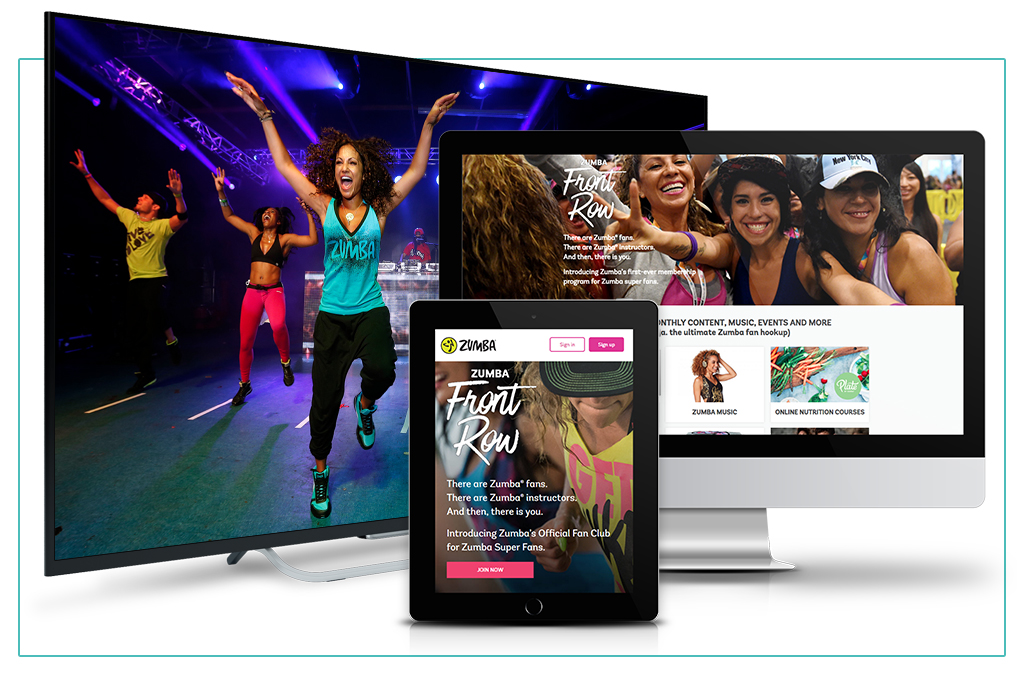 This freedom was exactly what Zumba was looking for, and the simplicity of our interface only helped to entice them further. As Uscreen is a WSYWIG (What You See Is What You Get) platform, even those with little knowledge of managing content or uploading videos can make the most of the technology, creating the site they have in mind by simply moving elements around the screen with a minimum of fuss.
This all-in-one platform has all the elements Zumba were keen to include. Rather than simply publishing one educational video after another, they were looking to cover the full range of information and guidance to maximize the user's QoE (Quality of Experience): they planned to include music, live-streaming classes, and nutritional guides. All of these can be accommodated by the Uscreen platform, enabling Zumba to create a full, comprehensive Zumba-branded addition to regular classes.
After deciding on Uscreen as the host of their website, Zumba set out to create a powerful enterprise to reinforce their brand: Zumba Front Row.
Just as the name suggests, this puts users at the forefront of the Zumba experience. This would not only serve as an effective way to introduce newcomers to the world of Zumba alongside attending classes, it also satisfies anyone clamoring for a deeper connection to the Zumba lifestyle.
A Winning Result
Since Zumba Front Row launched, it has acquired thousands of members and received exceptional feedback, with users thrilled at the level of quality, informative content, and the sheer authenticity they receive for their membership. The subscription model is, of course, a major way of running a business today: across all sectors, memberships are a more convenient system than one-off purchases. Look at the success of Graze and Loot Crate, which ship their goods to customers according to set schedules, offering various options and payment models to suit individual circumstances.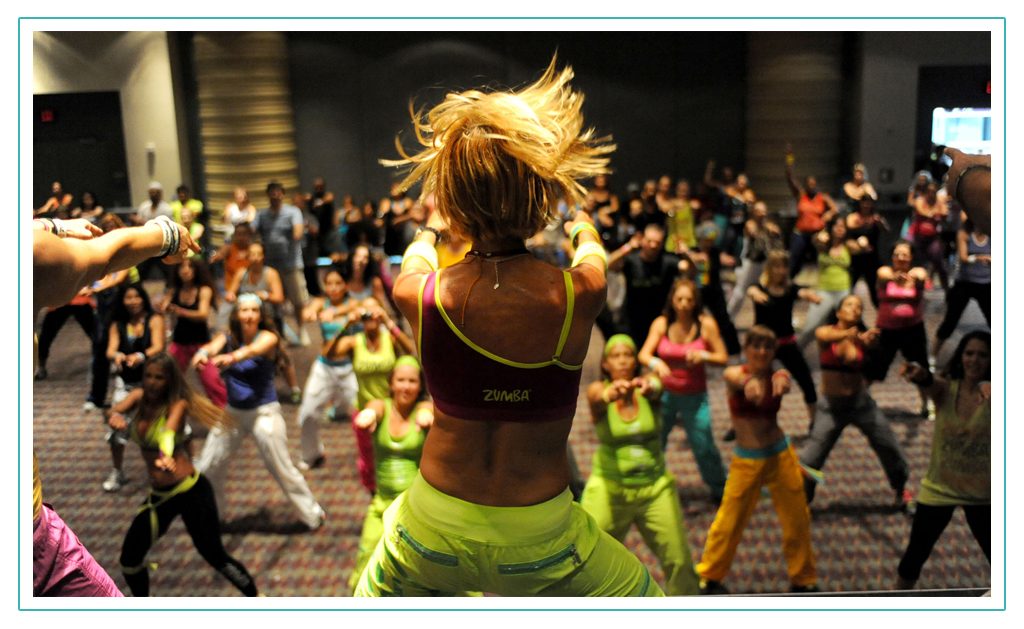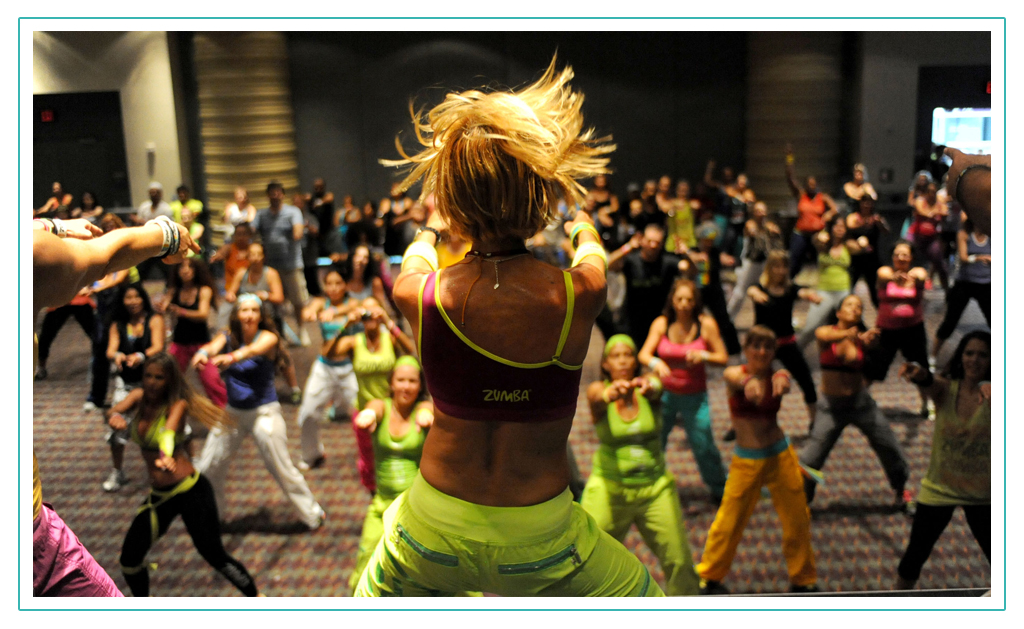 Just as Zumba has captured the imaginations and hearts of millions of people around the world, Zumba Front Row has expanded the classroom to suit the modern consumer. This is a complete, fully-branded online hub, giving members everything they need for a richer Zumba experience.
For example, Zumba Front Row offers:
Exclusive Classes and Content: Video streaming puts members in the heart of Zumba classes from around the world, bringing energized rooms into your home. These live-streamed monthly classes feature a variety of celebrity instructors, including Beto himself: the man who kick-started the Zumba franchise.
As a complement to members' regular Zumba classes, these live-streaming sessions are a fantastic idea, making fans feel part of the action. How many other businesses would allow you to learn directly from its creator, in your own home?
Every month, a new nutritional education course is available, all developed by Zumba with valuable input from respected nutritionists.
Exclusive Discounts: Clothing is a major part of the Zumba experience, having a direct impact on comfort and flexibility. Zumba Front Row's members can receive exclusive discounts on a daily basis, with as much as 15 percent off standard prices.
Meanwhile, tickets for popular Zumba cruises are also reduced in price, and additional discounts are offered throughout the month. This is all optional, of course, but their exclusivity helps to reward subscribers and act as a powerful incentive to join.
Download Authentic, Original Music: Zumba Front Row provides its members with three top Zumba tracks chosen by instructors each month, all ready to be downloaded. These are available only to subscribers, and help members to become attuned with beats and rhythms between classes.
Exclusive Events and Access: Perhaps the more attractive perk available to subscribers? Access to the yearly Zumba Front Row Fest, an unmissable celebration of Zumba and its dedicated followers. Special guests appear throughout the Zumba Front Row Fest, and access is permitted to subscribers only.
As you can see, though Zumba Front Row is crafted using the same Uscreen platform as many other businesses, it is absolutely unique. The key features listed above are exclusive benefits, devised and put in place by the Zumba brand – the team was free to build the model they envisioned. Offering perks to members is an essential aspect of developing a profitable, successful subscription-based enterprise. With Uscreen's platform, you can quickly and easily set up your features, and put them front-and-center to entice newcomers.
Behind the scenes, Uscreen's analytics data enables Zumba Front Row's team to monitor their performance and user-activity details. This is a fantastic tool, which is integral to building ongoing success: by exploring the most popular aspects of your site, you can build on your strongest elements and improve your weakest. Rather than providing you with a pre-built, one-size-fits-all platform, Uscreen's fluidity ensures Zumba Front Row is constantly assessing their users' experience.
While this analytics data is comprehensive, it is still accessible to even those with little or no experience on similar tools (such as Google Analytics). The better you understand your audience and the videos/materials they respond to best, the more you can engage them over time – increasing those all-important conversion rates.


As video continues to dominate internet traffic, every business must embrace this medium as a communication tool. For everything from marketing and education to entertainment, video is incredibly versatile, allowing brands to engage with their audience in a fast, convenient way. Uscreen is helping companies maximize their online presence with a user-friendly platform, enabling businesses to build a unique domain to their exact specifications.
What can we do for your business? Let's talk!