When you record a video you're probably going to end up with a number of smaller files that need to be combined together for a coherent video.
You may be looking to:
Split up your videos into 3 or 4 sections.
Combine footage from different videos to the main one.
Create a compilation video (i.e. a round-up of testimonials).
Combine other files with your video, like audio.
Whatever the reason may be, more often than not you'll find yourself in a spot where you wish to merge different videos. Sometimes a whole bunch of them.
We're here to show you how you can do that with any video editing software you might be using:
Let's jump right in…
Desktop Video Editing Software
Shotcut (Windows, Mac, Linux)
iMovie (Mac)
Filmora (Windows & Mac)
Mobile Apps (iOS and Android)
Web-based Services
Let's jump right in…
Merging Videos on Desktop
You can use any video editing software to combine videos on your PC.
To help you, we researched a few options that are both user-friendly and have a lot of features you may need.
Let's have a look:
1. For Windows: Shotcut
Shotcut is a great Windows video editing software. The learning curve feels a bit steeper but you get a lot of control and the tool is completely free of charge.
Here's how to combine files using Shotcut:
To combine different videos using Shotcut, go to File >> Open File and select a video file from the list.
When the video opens drag it below to your timeline.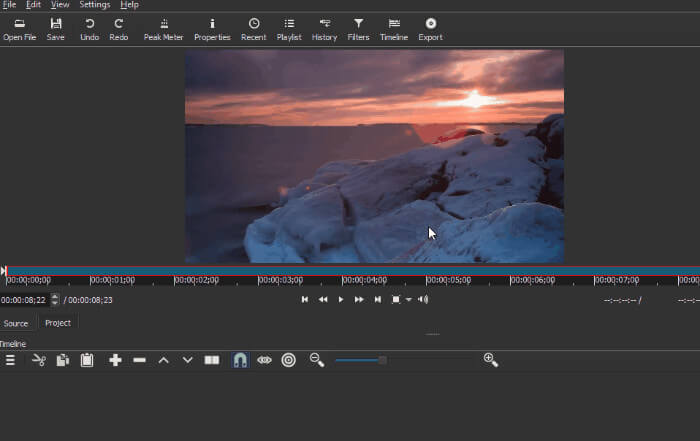 To add one more video, open another video and drag it to the timeline at the bottom. The edge of the second video you're adding should line up with the first clip. It may look like a struggle at first but becomes second-nature with time.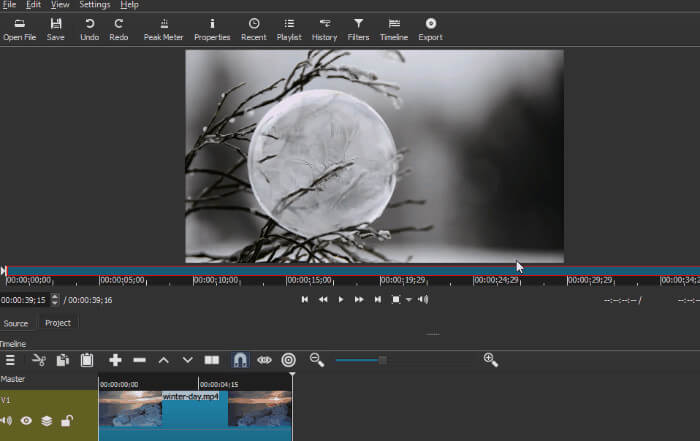 To save the video go to File >> Export Video.
When accessing File settings, you can tweak the video settings like video resolution, its aspect ratio, frame rate, scan mode, and you can find similar options for codec and audio settings.
To save this file, click on the Export File button.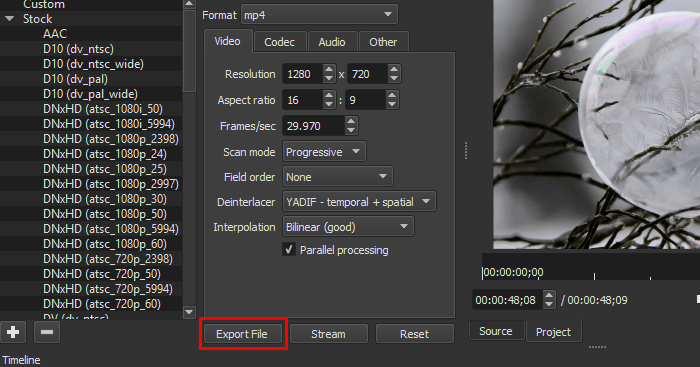 Key Features
Supports video files and audio and image formats thanks to FFMeg technology.
Supports a number of image formats like BMP, GIF, PNG, SVG, WebP, and more.
Supports webcam capture.
Supports audio capture.
Has color, text, and noise generators.
A large number of advanced video effects for transitions and overlays.
Comprehensive video editing features.
Pricing
Shotcut is a free tool with a lot of premium features. Just head over to the downloads page and download the tool.
While Shotcut is available on Mac as well, Mac's native video editor, iMovie, is a much faster option to use.
Here's how to combine files with iMovie on Mac:
To add files to the project go to File >> Import Media.
Choose the hard drive and look for the video files you want to combine.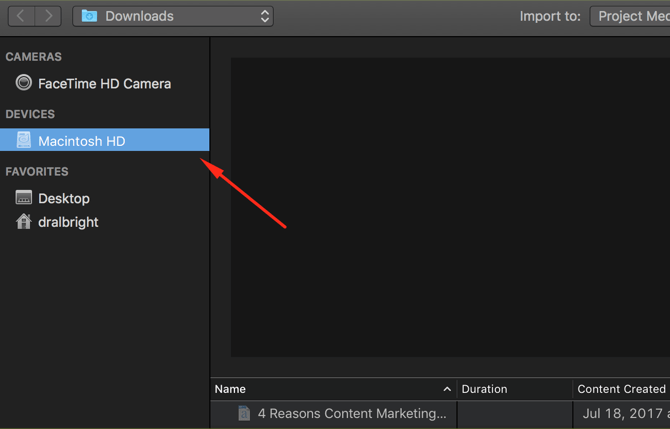 Select a video and click on Import Selected.
Repeat this for the next file as well.
Once you're done importing these files you're going to find them in the My Media section of the software.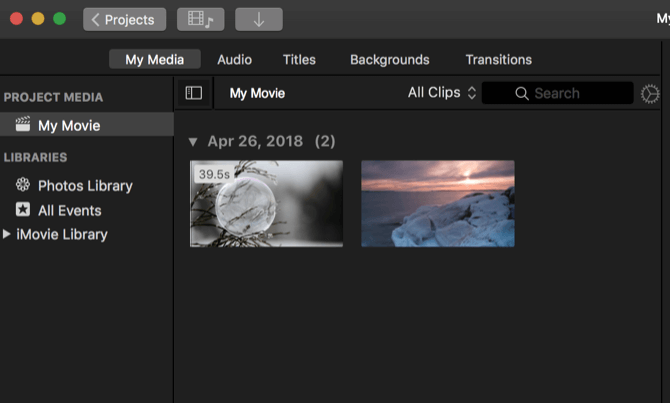 Click and drag these video files to the timeline.
Go to File > Share > File to save these newly combined videos as a single file
Key Features
Supports automated video editing.
Supports audio editing.
HD and 4K video support.
Video color settings.
Crop and rotate video clips.
Video stabilization.
Add video effects and transitions.
Add speed changes.
Pricing
iMovie comes pre-installed with Mac for free.
3. Windows and Mac: Filmora
Filmora Wondershare is a desktop-based tool you can use to combine videos. You can use the software on both Windows and Mac.
How to combine video clips with Filmora:
To use Filmora to combine clips, click the Import button and choose from these options: Import Media Files, Import a Media Folder, or Upload Video from Camera.
Another option is to go to the Windows File Explorer to simply drag and drop files to the User's Album. In the User's Album, the added files appear as thumbnails.
Double-click on any file to preview its contents on the right hand side.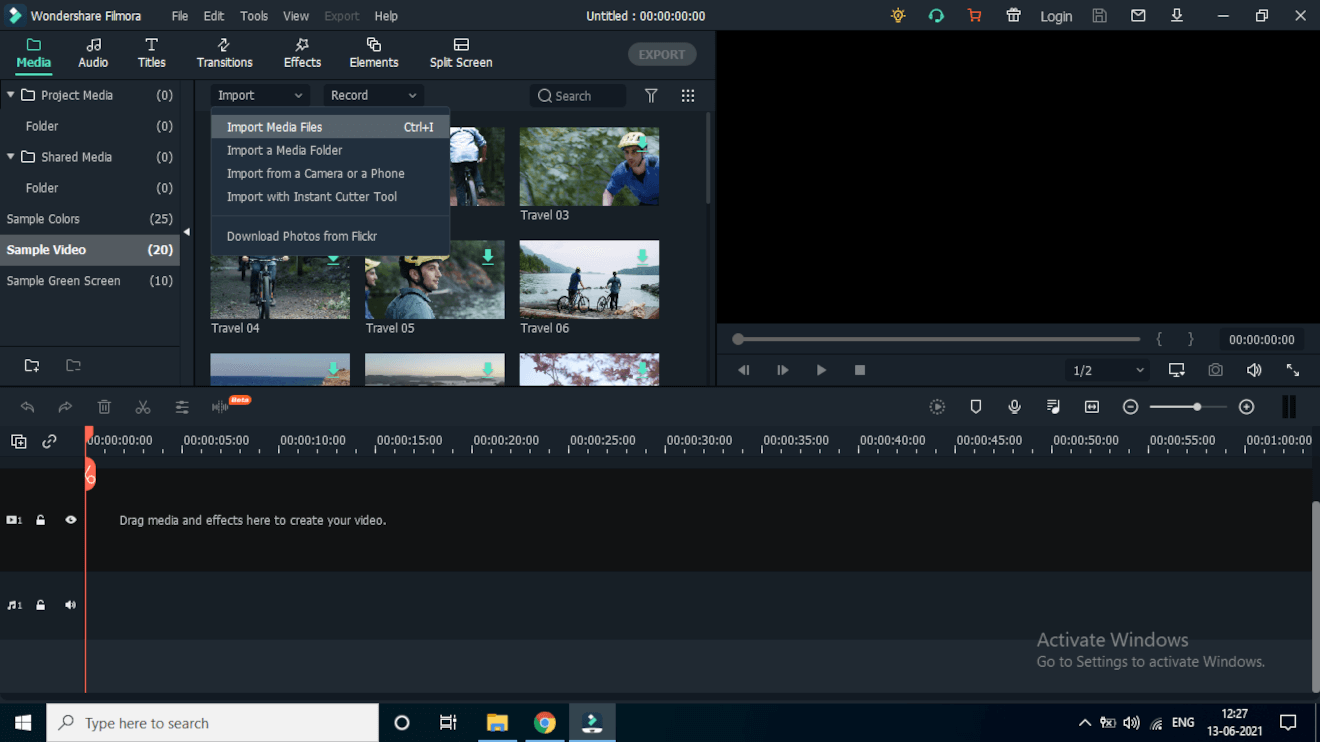 Now drag and drop the videos from the User's Album to the video track on the timeline. With this option, all video files merge together as one clip with no transitions between them. You are free to add transitions between these clips.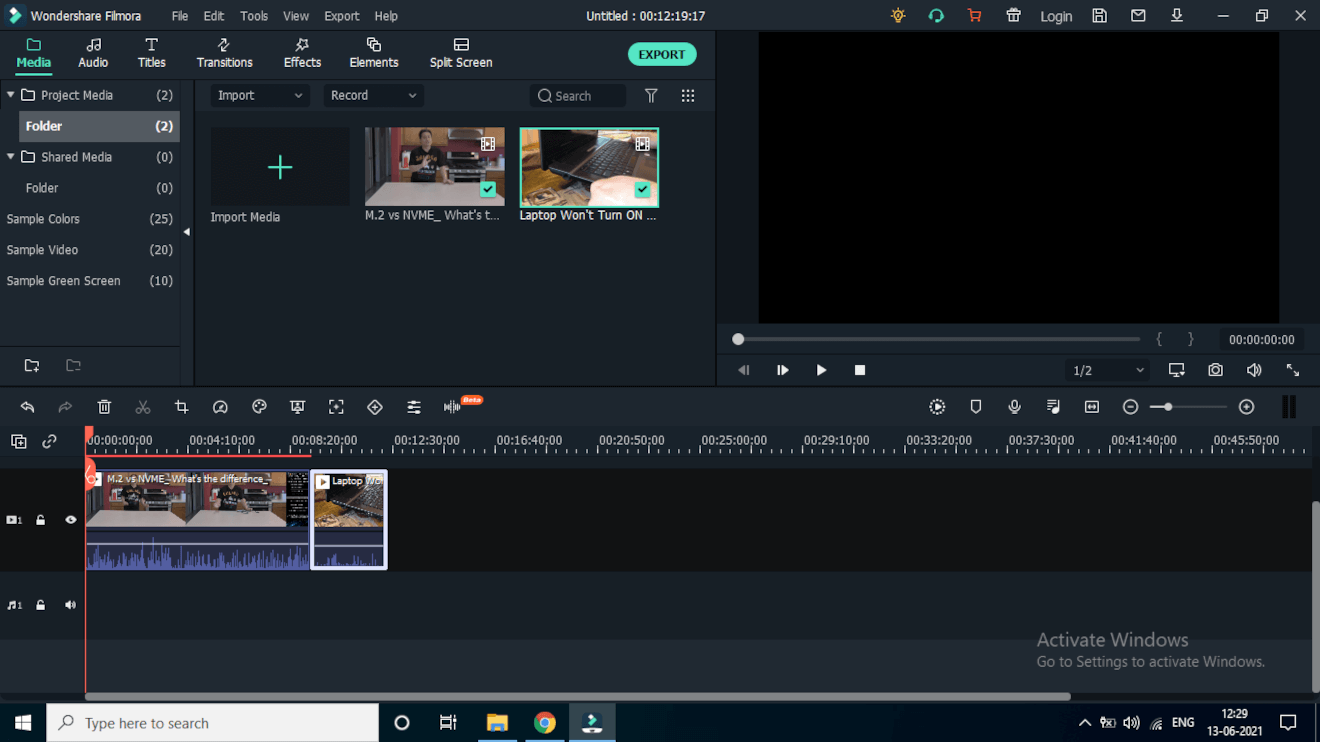 To add transitions go to the Transitions tab on the top. A menu appears from which you can choose to apply the transition globally for all files or randomly apply to a few. There are quite a few options beginning from basic transitions to 3D transitions (spherical, curve, fisheye, cube, ripple, and dissolve effects.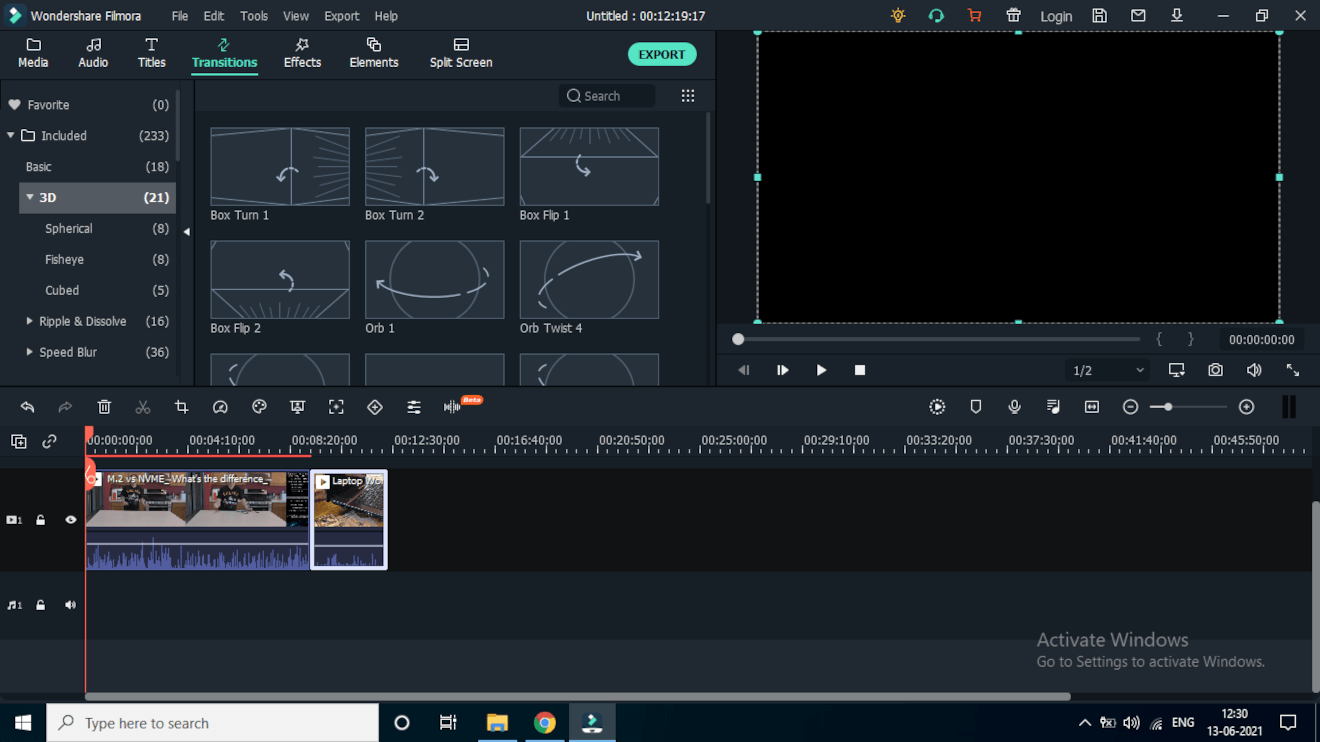 After that, you have the option of previewing the combined video you just made. Once you're happy with the presentation, click on the Export button to save the file and download it.
With this, you get the option to save these clips into a single file.

Choose any format from the list. You can also export the final file by device and play it on iPhone, iPod or other devices by choosing the thumbnail of the image.
Key features
Drag and Drop feature.
User-friendly interface (UI) that's easy to use.
Can add over 800+ effects.
Pricing
You can use a free version of Filmora but that adds a watermark to the videos. You can also pay a monthly fee of $19.99 or annual fee of $51.99.
Combining Video Clips on Mobile
You can have the option to merge together several video files on phones running on Android or iOS. If you don't know about editors, here are a few user-friendly options.
Adobe Premiere Rush is a good tool to combine videos on mobile. Their easy-to-use importing and editing features let you combine and edit clips any way you want to.
In this tutorial, I'm going to give you a sneak peek at how to combine videos on Samsung Galaxy Note 10:
To combine video files you need to create a new project. Click on the Create a New Project button or the + button at the bottom of the app.
Select videos to open up the videos folder.
Tap on the videos you want to combine. When done, click on Create at the bottom of the screen.
Add more video clips by simply tapping on the + button on the video preview page.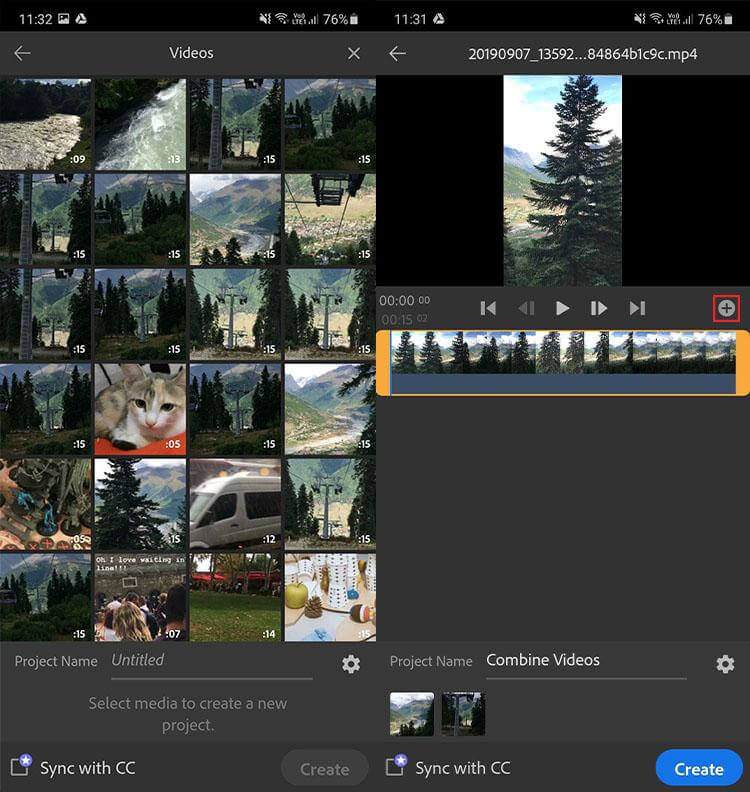 As you tap on Create, the app combines the clips. More options become available for you to add audio clips, tweak transition effects, and more.
You can see each clip appear on the timeline. To rearrange them, simply tap and hold a clip and drag it to reposition.
Once you place the clips in your preferred order, tap on the Share button at the top of the screen.
On the export page, choose Video Quality Settings and select Export to save the newly merged video clip.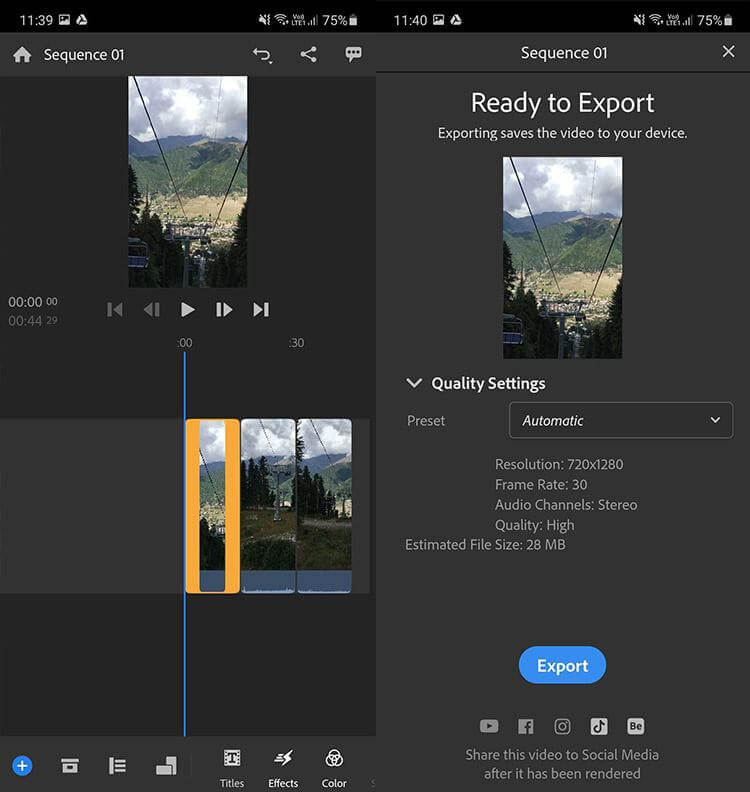 You can add two or more videos and save the combined video file to either your phone or upload it to the Adobe Creative Cloud.
With a subscription, you can immediately start editing the new file.
Key Features
The app is very easy to use.
You can edit and compress videos and audio files.
Use from the available motion graphics templates.
Magnetic timeline.
Run multiple tracks.
Pricing
The Premiere Rush Single App plan costs $9.99 per month. You get the ability to add unlimited exports and syncing across on mobile and PC apps and 100 GB of cloud storage.
GoPro's Quik app is another useful app to combine video files that is available on both Android and iOS devices.
There isn't much editing firepower but the app is enough to combine a number of video files together at one go.
If you want to quickly merge together files without editing them, Quik is the only tool you need.
Once you've installed the app, you will be asked to connect to GoPro. You can skip that option for the moment and instead go ahead setting up the app.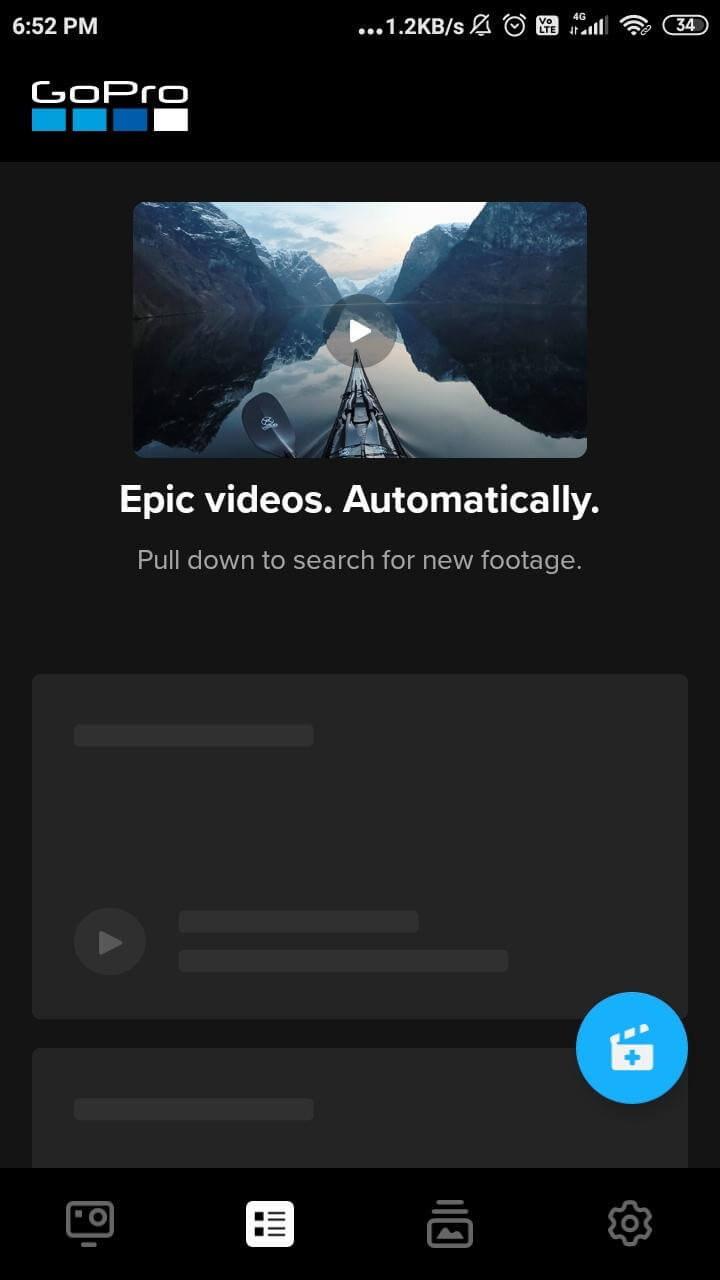 Next, select Media from your phone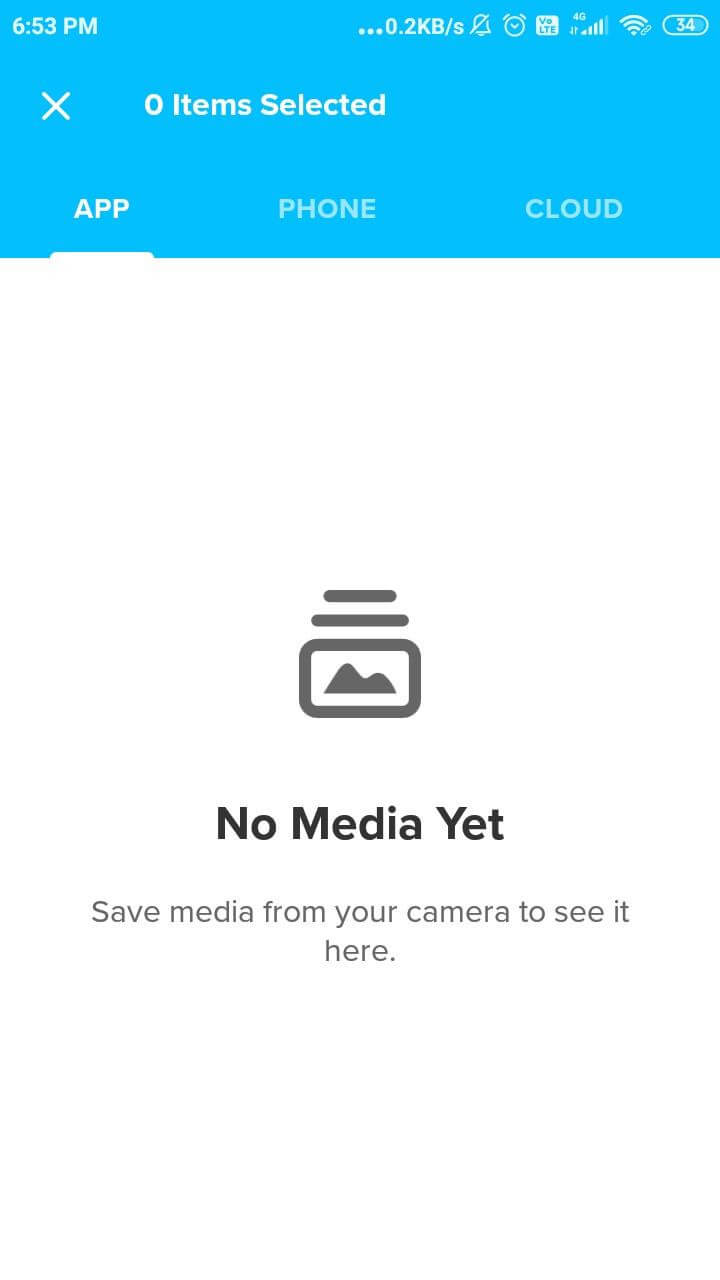 The chosen videos appear on the timeline and you can start combining them. When done click on Export to get your files.
Key Features
The app supports unlimited importing of photos and videos. Import these from your phone or from a camera including DSLRs.
Every photo you post to the Quik mural feed will be backed up to the cloud for free.
Pricing
Most of the features are available for free. But if you want to unlock advanced features it costs $1.99 per month or $9.99 per year.
CapCut Video Editor is a good and free application to edit videos on your mobile device. You can share these videos with friends or directly to social media channels. Better still, it's easy to use and you can add text and stickers to the videos.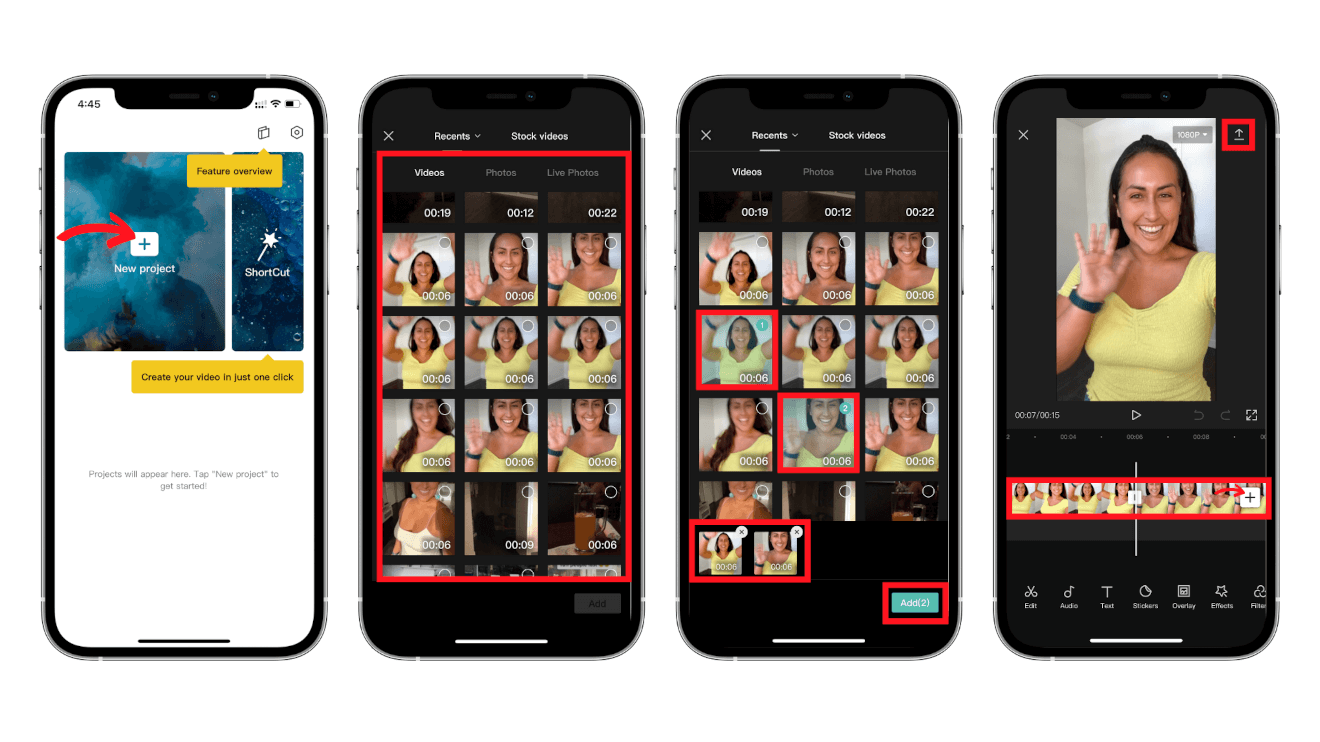 To start combining videos here's what you need to do:
Open the app and click on New Project.
Choose your first video. Next tap on the Add button to add another video. Repeat the process until you are happy with the number of videos.
Play or review the video for checking.
The timeline is filled with all the clips one after the other. You'll see it as a single continuous video. Click on the timeline to choose and delete any part of it or add transitions.
Combine Videos Online
You can also combine videos over the cloud with web-based tools.
Web-based tools remove the need for installing clunky software on either your phone or PC. They let you merge videos over the cloud with as little hassle as possible..
VEED is an online, fully cloud-based video editor. You can either upload a video file from your desktop, dropbox, device, YouTube URL, or via a Google Drive link. The easy-to-use timeline editor lets you add multiple video clips that you can cut and trim. You can also add image files or subtitles.
Here's how to merge videos using the tool:
Start by clicking Choose Files.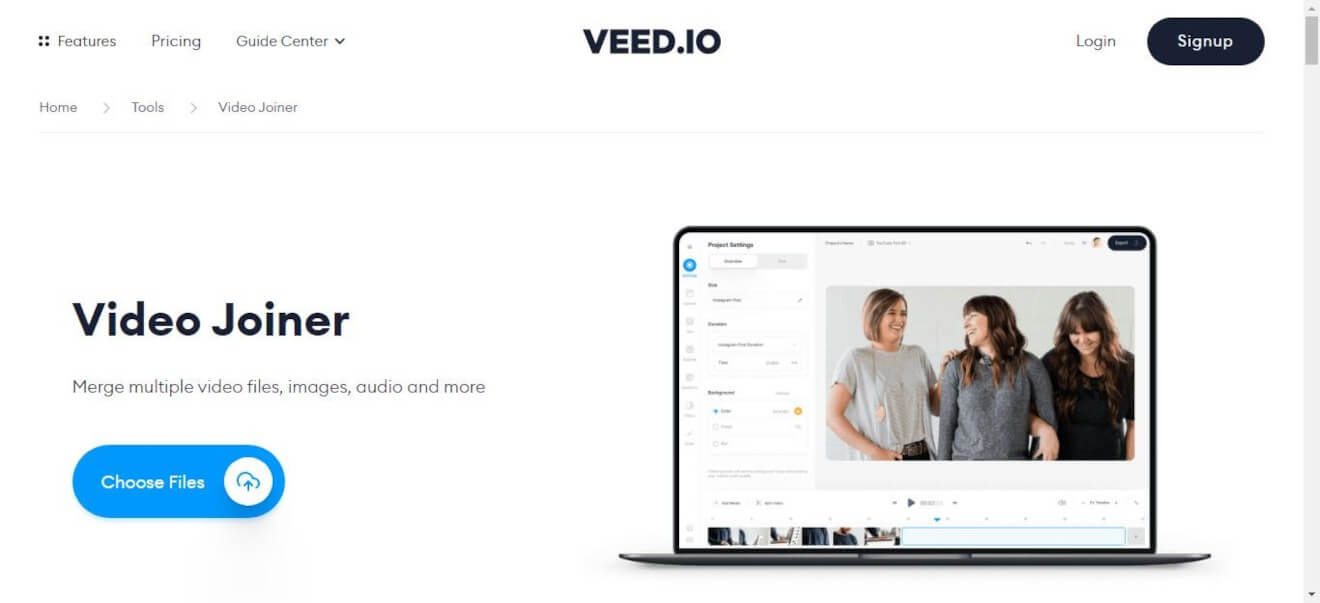 You can then Upload your files from either your device, dropbox or record it on the spot.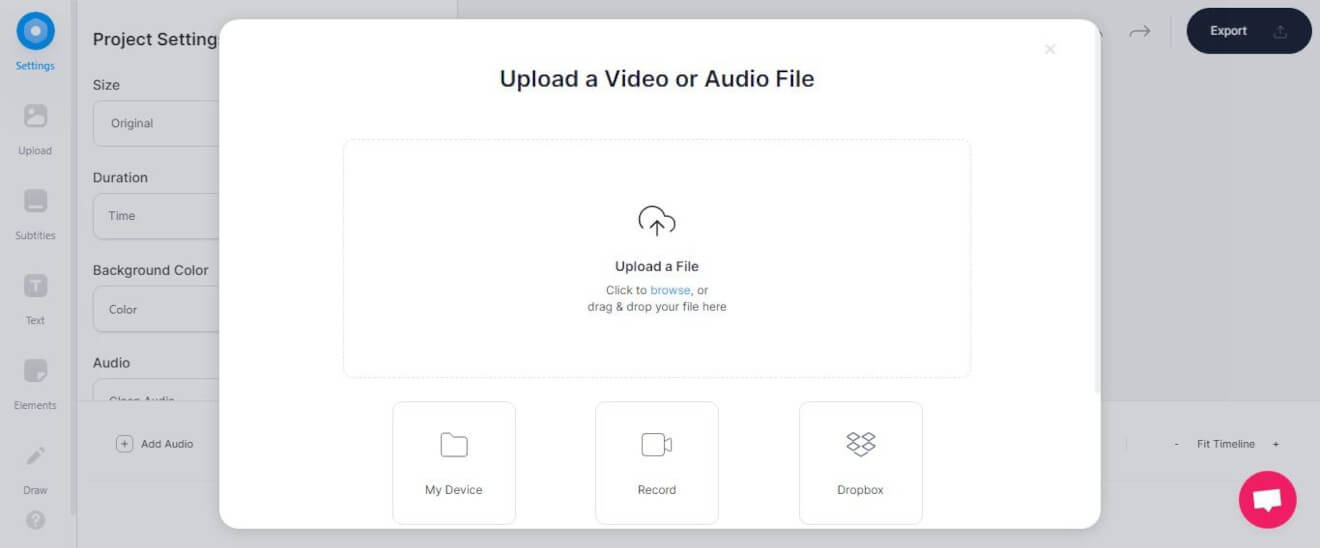 Arrange the files on the video timeline in the right order. Use the splitter to trim the edges of any files you add.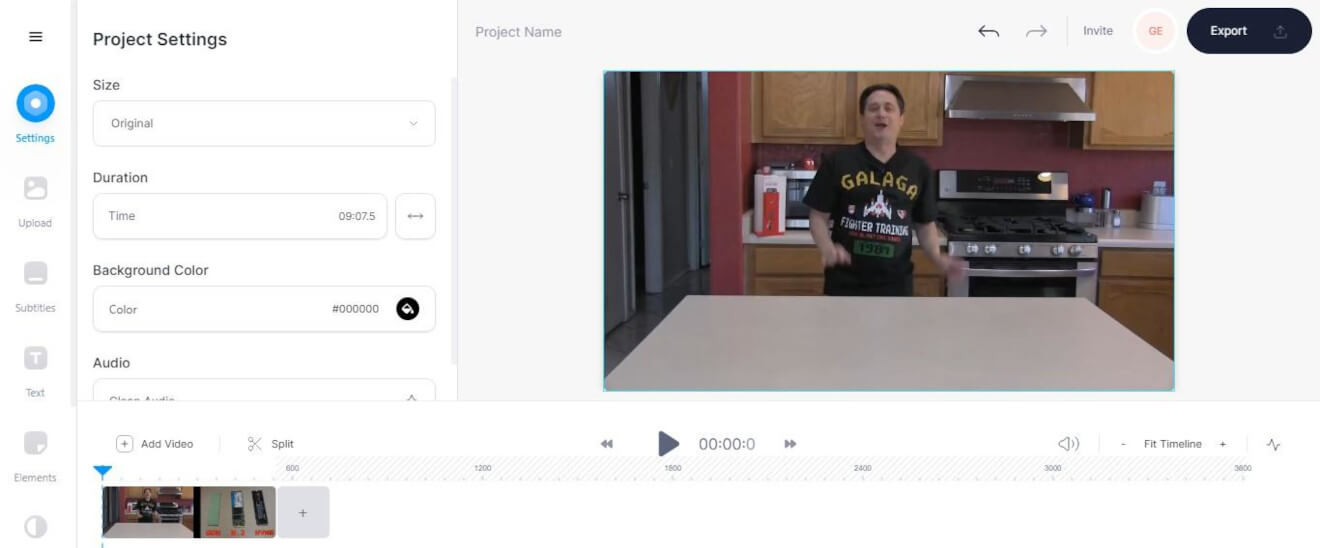 To the left, you can access a number of options to edit the file.
You can keep the original size of the file or compress it, add a background color, add different audio, split the file, and more.
Once you are happy with the changes click on the Export button to render and get your newly merged video file.
Key Features
Automatically add subtitles to the videos.
Translate videos.
Add audio and music visualizers.
Record video using their screen recorder.
Pricing
There's a free version you can use but the maximum file upload size is 50 MB. The paid plans start at $12 per month for the basic plan and $24 per month for the annual plan.
Merge Video is another cloud-based tool to add and merge videos.
Go to the Merge Video site. Click on Choose Files.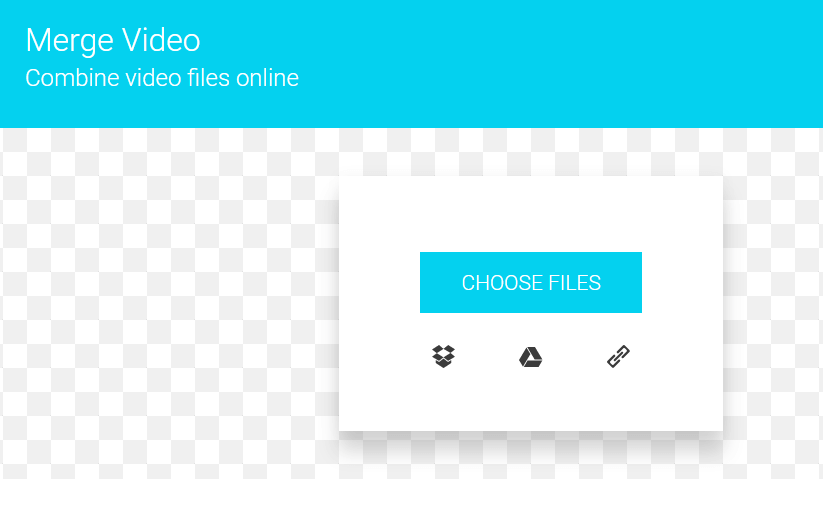 Choose the videos you want to combine together and click Open. The videos will be uploaded in a few seconds and then you get a panel where you can reorder the files to combine them in any order you see fit.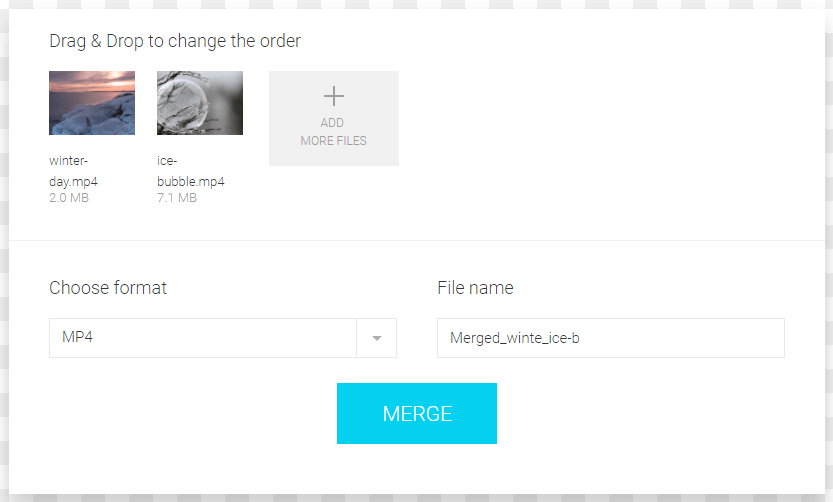 To change the order of the clips, click on one and drag it to a new location. You can also add another file with the Add More Files button. Once you're happy, choose a video format and click on Merge.
You also have the option to switch the file format of the video.
You see a download button next. Click on the Download button to get the finished video.
Key Features
An easy-to-use web app to merge video files.
No advanced editing involved.
Pricing
Free
Adobe Express is the final cloud-based tool we recommend to merge video files. It offers more features (like editing) than Merge Video but it takes longer to merge different video clips. 
This is a great tool if you want to merge and edit your videos. But the free version watermarks your videos with Adobe's logo.
Here's how to use it: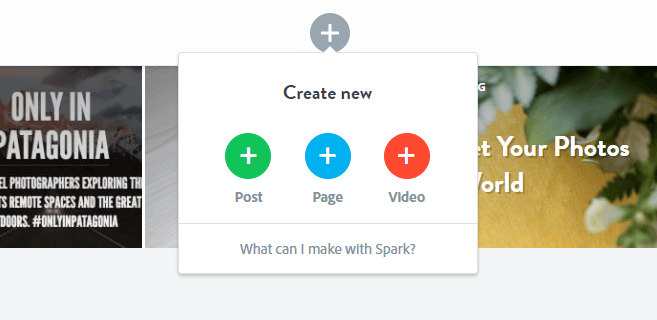 Select Video, add a title, and click on Start from Scratch.
Once in the editor, click on Video to upload the video file.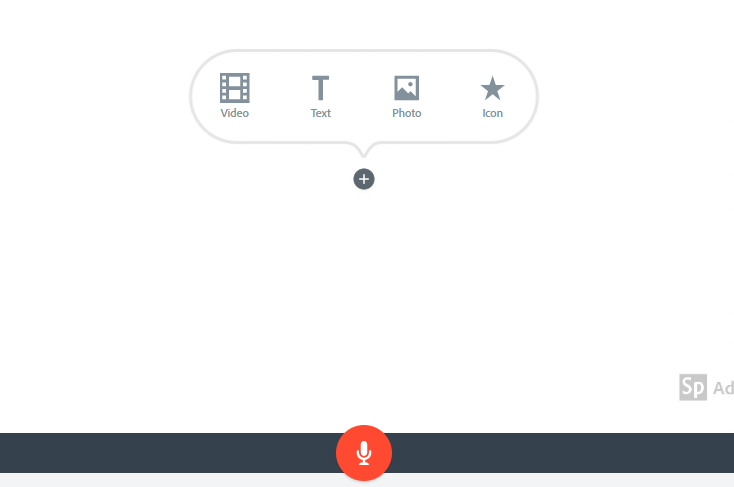 Choose a video file and click on Open.
You can access the video on the screen that appears next. The slider under the video lets you choose how much of the video you want to import. If you want to import the full video, you must select the entire timeline with the slider.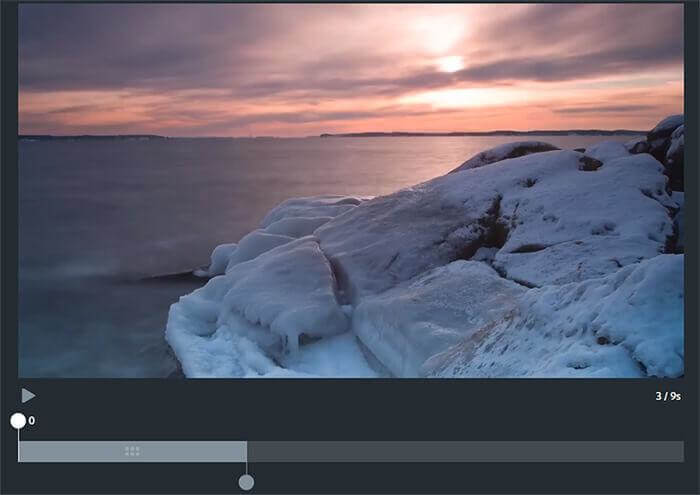 Click Save. You are then brought back to the main editor. Click on the New Slide button in the bottom-left corner to add more videos.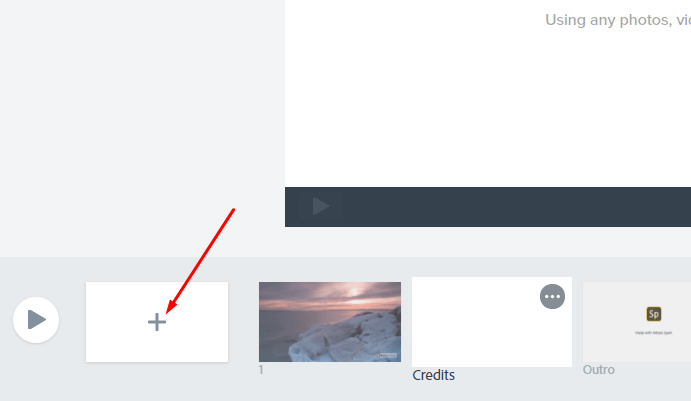 Repeat the same process to add one more video. You can rearrange the clips and click and drag the slides to a new position. Click Download at the top of the screen to get the new file.
Key Features
You get a choice of branded templates.
You can collaborate with others on the platform.
Personalize the project.
On the premium plan, you can remove the Adobe watermark.
Pricing
Adobe Express has three plans: Starter, Individual, and Team. The first two plans are free while the team plan costs $19.90/mo paid annually.
Compare them all…
Now you know different tools to combine videos on your PC, phone, or via the cloud, and how to use them!
If you're still wondering which of these 9 tools is best for you, here's a quick comparison table you can refer back to:
Tool
Has a Free Version?
Plans
Operating System
Highlight
Best For…
Shotcut
Yes
No
Windows, Mac, Linux
Great video editing features.

Free tool with advanced features like overlays, effects, and transitions.

Has color, text and noise generators.
People who want to do advanced video editing, add effects and cool transitions.
iMovie
Yes
No
Mac
Basic tool for editing and combining videos.
Someone who wants to complete basic video tasks efficiently and with good quality.
Filmora
Yes
$19.9/mo
Windows, Mac, and Linux
Advanced video editor that adds over 800 effects to videos.

It can combine audio.

It can add overlays.

It can add subtitles.
Someone who wants a full-fledged video editor, compressor and video effects feature.
Adobe Premiere Rush
Yes
$9.99/month
Cloud-based
Advanced editor.

The best feature is cross-platform compatibility.

Edit multiple tracks.
Full video-editing. Ideal for those who want to edit on the go.

People who want to edit a video on their phone and access the synced version on their PC.
Quik
Yes
$1.99/mo or $9 annually
Cloud-based
A simple app to edit and combine videos.

Not much editing support.
Those who want to combine videos on the go or those who want an app that seamlessly ties to their GoPro user account.
Capcut
Yes
No
Cloud-based
Has some advanced filters.

Add music.
Combining videos and basic editing on your phone.
VEED
Yes
Starts at $12/mo for annual plans
Cloud-based
Auto-subtitles.

Audio and music visualizers.

Screen recorder.
Is ideal for content creators who make a lot of video content and need to do more than just combine clips.
Merge Video
Yes
No
Cloud-based
Simple cloud-based editor.

No additional features.
Combining videos and basic editing.
Adobe Express
Yes
$19.99 per month
Cloud-based
Has pretty much the same features as Adobe Premiere Rush but is much slower.
Those who want more advanced features and a great video-editor.
Thanks for sticking around! We'd love to hear your opinions on these softwares or others you thought should be on the list! Leave us comments on Facebook or Twitter!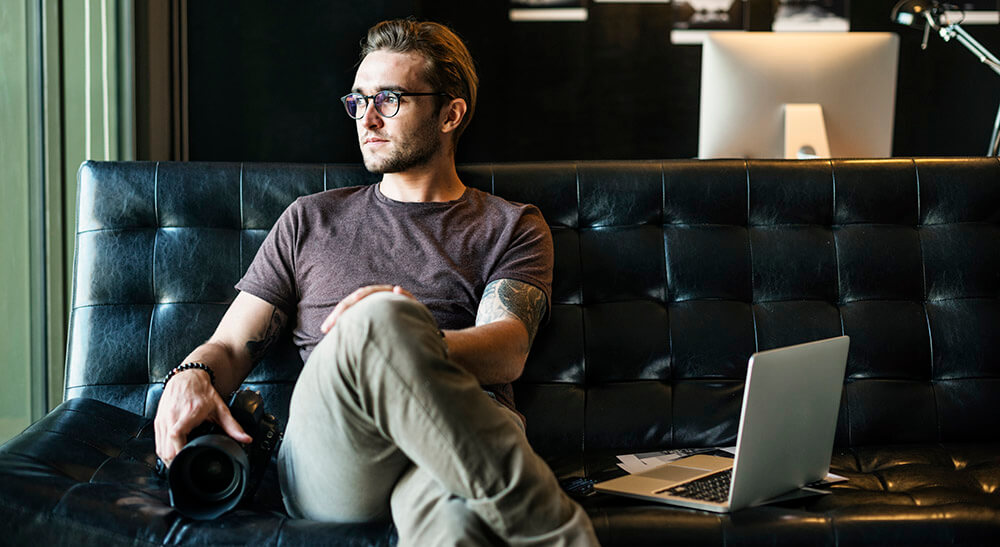 The Best Video Editing Software for Beginners – Ultimate Guide