Members might choose to share their accounts with others. And we get it, people love a bit of free access. But account sharing means you lose out on potential revenue for your premium content.
This is where our "Simultaneous Viewing Limits" feature comes in. The feature tracks simultaneous viewing sessions across web, mobile and TV apps to help avoid account sharing.
Similar to streaming services like Netflix, Disney+ and Spotify, multiple users can login, but only 1 person can watch the content at once. If multiple users try to watch content they'll see this message…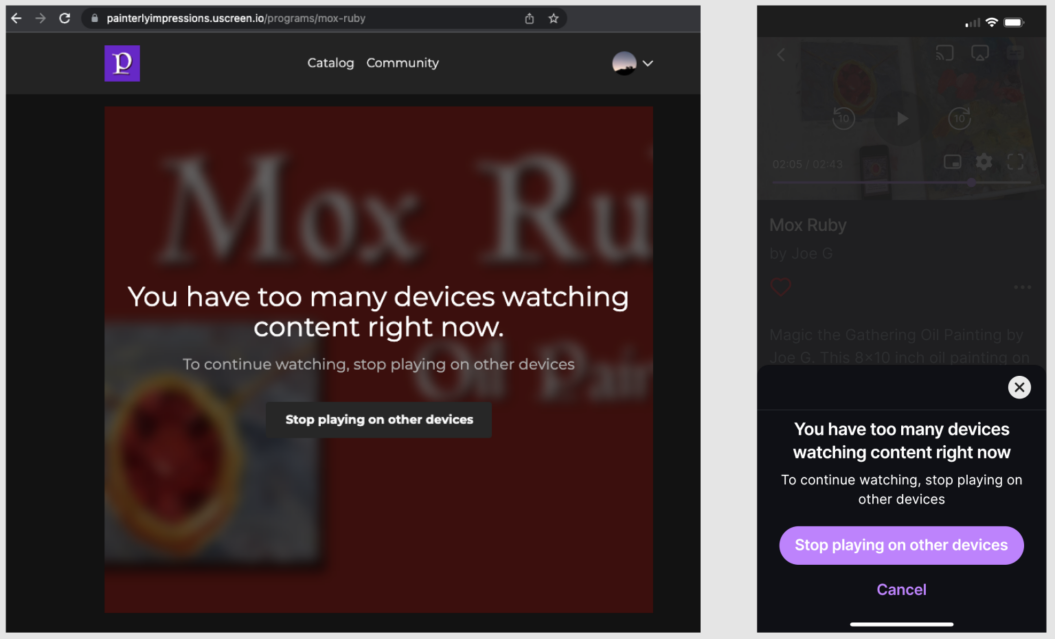 They can choose to 'stop playing on other devices' or cancel their own session. This is particularly useful for live streaming events.
Simultaneous viewing limits beta
Simultaneous viewing limits is in beta which means the feature will change as we make improvements.
And some of those improvements comes from your feedback. So please share your related feedback in a feature request or with your Customer Success Manager.
Where is this available?
Web Browser 🌐 available now
Mobile Browser 🌐 available now
iOS Mobile App 📱 available now on version 3.12 or later
Android Mobile App 📱 available now on version 3.12 or later
Roku 📺 available now version 3.9 or later
FireTV 📺 available now 2.3 or later
AndroidTV 📺 available now 2.3 or later

Apple TV 📺 planned Fall 2023
Enabling simultaneous viewing limits
To enable simultaneous viewing limits, please reach out to our support team or customer success manager.