Website and SEO
Getting Started with SEO for Your Video-on-Demand Website
On average, Google processes over 40,000 search queries every second. That amounts to 3.5 billion searches per day. 

Yes, sales of your video content will increase when you learn how to successfully manage search engine optimization (SEO). Yes, the inverse is also true: neglecting search means missing out on a potentially immense amount of sales opportunities.
Optimizing your video website, programs, and pages for search will enable the users of Google and other search engines to discover your video membership offerings.
But if you have no experience with SEO, you may be spooked by its seemingly technical nature. 
Don't be. Embrace and apply this lesson.
Getting started only requires a fundamental understanding of how to optimize your pages, which we'll cover in this article.
First, understand success with organic search (meaning paid advertising programs such as Google's AdWords are excluded) relies on three factors:
Creating quality content

Indicating the relevance of your content to the search engine

Building the authority of your video website and its pages
You have complete control over numbers 1 and 2 above, but only partial control over number 3. This lesson focuses on number 2—how to indicate the relevance of your video website's content to the search engine. Numbers 1 and 3 will be covered in the following lesson.
How search engines work
The search engine's job is to deliver information and links to the content users search for. It does so with search engine results pages (SERPs). It's possible a search phrase returns billions of results.
A search for "dog training" produced 5.3-million results in .69 seconds.
However, only 10 of those results will earn a lot of clicks. You guessed it, the 10 results on the first SERP.
To do its job, the search engine relies on an index of data, a massive index of trillions of pages residing on more than 1-billion websites.
The search engine relies on a searchbot (or crawler, or spider), a program capable of visiting web pages, indexing them and following the links they contain. The end goal is to determine how relevant your page is to the search.  
Obviously, you want the pages on your website to be included. And you must take steps to ensure they are understood by the searchbots so your page is served when a relevant search query occurs.
Yes, optimizing your pages correctly is a big deal.  
Doing it is not. Let's look at what needs to be done.
Select carefully chosen keywords
According to Google data, the phrase "dog training" is searched 135,000 times per month. Suffice to say, the competition to rank for this phrase will be outrageous. Unless yours is an established, highly authoritative site, you won't rank for the phrase.
However, the phrase "best online dog training course" is searched 110 times per month. If this were your business model, it would make far more sense to optimize for this phrase.
The lesson here is called long-tail keyword search. Keywords are the words typed or spoken by someone doing a search.
"Dog training" is what SEO professionals call a "seed" term. They are generally one or two words that produce massive search activity, but produce results at a much lower rate. One reason is the intent of the searcher is often broader (less likely to purchase). The second reason: there's too much competition to succeed.

"Best online dog training course" is a keyword phrase composed of 5 words. Phrases of 3-plus words are described as "long-tail." Selecting relevant long-tail keywords with high buyer intent is critical to the success of marketing your video products.  
Use keywords to optimize your page
Provided you have created a valuable page and selected keyword phrases you have a shot at ranking for, your task next becomes using the chosen keywords in a number of places:
URL (web address)


A URL (Uniform Resource Locator) is the web address of a page and serves as the browser's path to it. Create a URL that is easy to understand by a search engine by featuring your keyword phrase. Small, "stop" words such as "and" or "it," which may be in your page title should be removed. 
URLs are not the most important factor search seek, however, using a URL that includes keywords can improve your site's search visibility.
Title tag

The most important way to optimize your page for effective indexing is the title tag.
In search results pages, the title is shown as the blue link. The URL appears on the next line.  
"Tag" merely means how your title is marked-up with HTML, the code language of the web. With Uscreen's software you need not get into code, so think of this element merely as your page title, which you'll be prompted to enter in your page publishing sequence.
Search engines will only display 55 to 70 characters for the page title. Prevent your title from being truncated with an ellipsis (…) by making your title's length fit within this range.
Meta descriptions

You're not done until you write a description of your page. Do this properly, and in most cases, your "meta description" is displayed as a significant part of your search engine result listing.
SEO folks call this element a "snippet" and it should act as a mini-ad to describe the content of the page and why a user should click. Note: meta descriptions are technically not ranking factors, however, they can improve your click-through rate (CTR), which actually is a factor in search.
Headline tags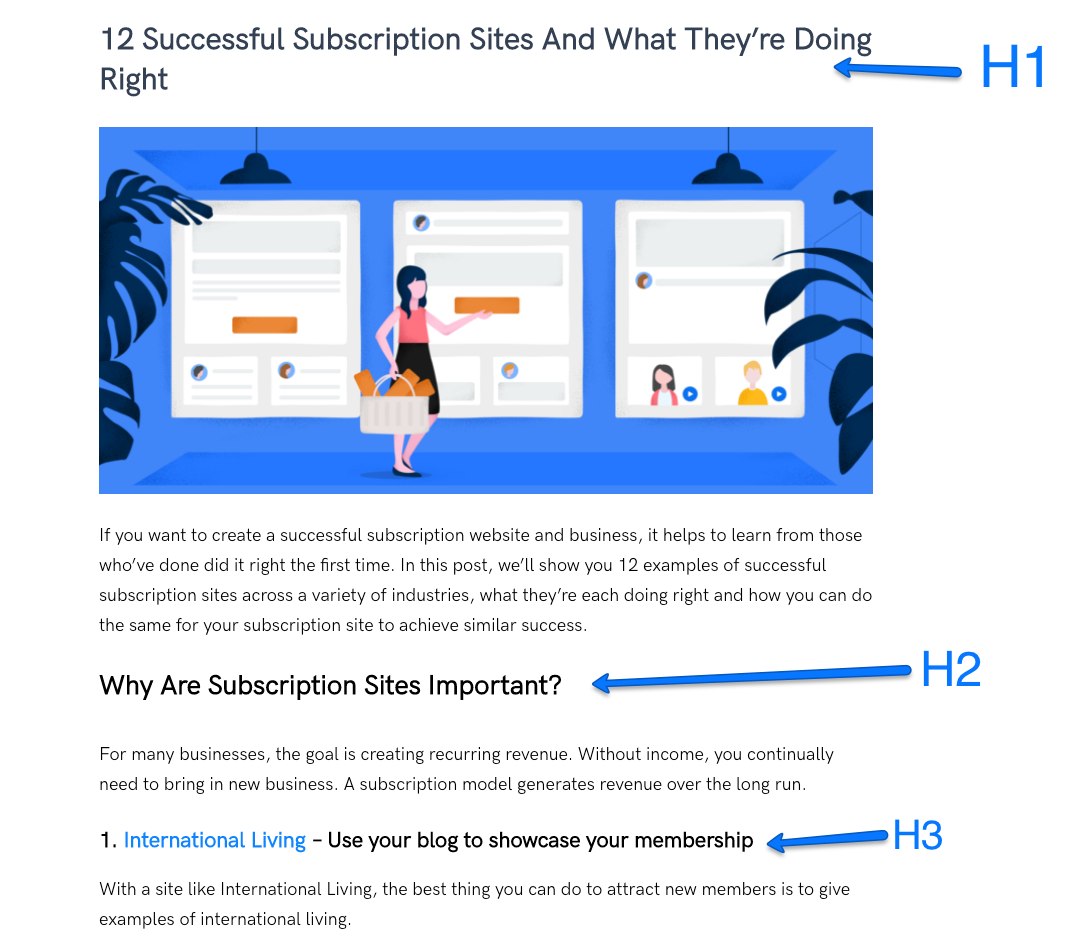 Your main headline is coded as <H1> (in developer speak). Subheadlines are marked <H2> and <H3>. You don't need to know how to code them, but should understand how to optimize them.
Your page headline, or H1, typically is the same as your title tag. End of story—unless you want your headline to contain more characters than will fit in an optimized title tag.
For H2 and H3 tags, though they won't affect your SEO with the same weight your main headline will, you should consider using your keywords and related terms to help indicate the relevance of the page.
Image and video tags
Search engines are not able to crawl images or videos—only text. Your page is likely to contain images and videos, so you'll need to tag them with keyword phrases.
On-page copy
Your keywords should also be used in the body copy of your page. This tip comes with a very stern warning: do not overdo it. This practice, commonly called "keyword stuffing," was effective (though dubious) a decade ago. Today it will get your pages demoted or unlisted entirely.
Should you read advice about the proper "density" of your keywords, ignore it. Instead, simply use your keywords and related terms once or more—and only where they sound natural.
Internal links
Internal links create clickable links to other pages on your website. They help users navigate your website and help the search engine better understand the structure and content of your site.
Create links to relevant pages within your own site using the appropriate keywords. Again, be judicious taking care to not overuse this technique.
Ranking in search also requires having great content
Unlike the state of online search earlier in the century—or even this decade—the goal of achieving top rankings is never achieved with lightweight content and rarely achieved by a website's homepage.
It's achieved with helpful, unique and relevant content. Modern marketers tend to offer blogs to create high-ranked pages.
In the chapter that follows, we'll look at basic blogging and content marketing strategies bound to accelerate your success with SEO.