Subscription sites have exploded over the past few years.
But…
Why have they become so popular, and what are they doing right?
In this article we're going to show you.
We're going to break down 12 successful subscription websites and tell you exactly what they're doing right to grow their business.
That way, if you want to launch your own subscription business, you can learn from the best!
Let's get started, shall we?
What Are Subscription Websites (And Why Are They Important?)
I know what a subscription website is. Skip ahead!
A subscription website is a paid membership platform that keeps content or services behind a paywall and asks customers to pay a recurring fee for access.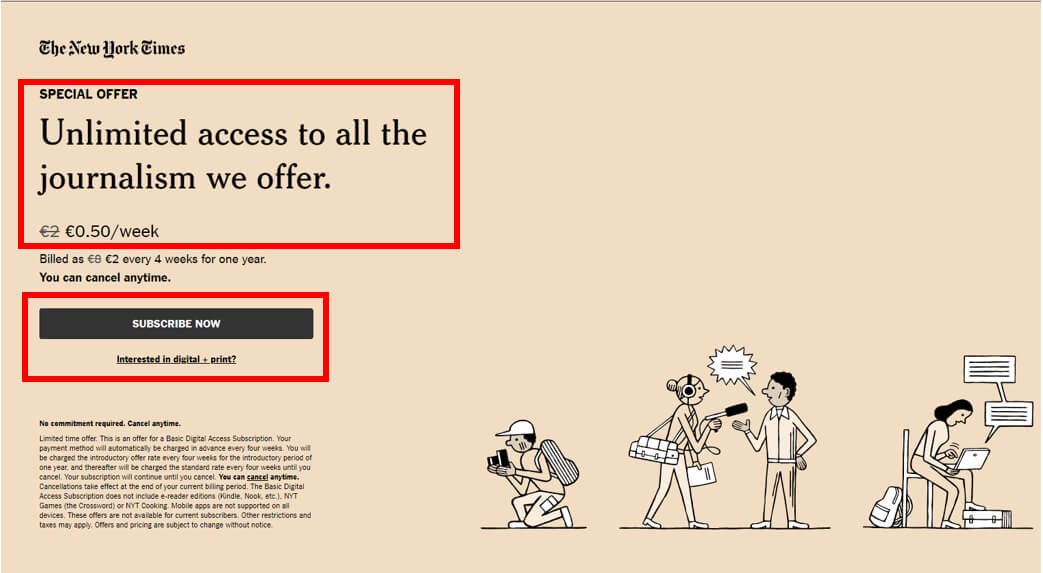 Subscription business models have been around for a long time, but they've become a cornerstone of how online businesses operate in the last 10+ years.
In fact, we've seen subscription platforms like…
Audible
The New York Times
Dollar Shave Club
…build businesses that shake up and reinvent how we look, interact, and consume products within entire industries. You're probably using 2 or 3 subscriptions in your life right now!
This growth has happened, in part, because subscriptions offer benefits for both business owners and their customers.
Business owners benefit by generating a reliable, recurring income that allows them to predict their growth and invest in the future.
Customers benefit from having lower prices and more flexibility in the services they use or content they watch, like choosing an video-streaming service over an expensive cable contract!
And the results of this combination are remarkable. For example, take a look at the growth in the share price for the New York Times after they launched their subscription site: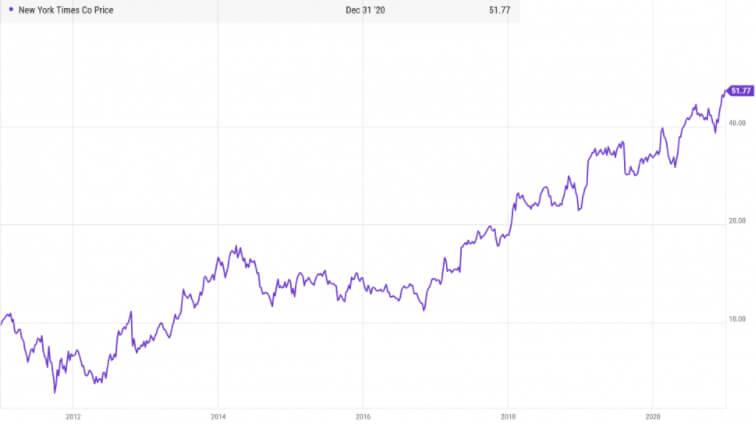 This growth can be seen across lots of industries – from subscription boxes and SaaS, to video streaming and shaving – with businesses of all shapes and sizes.
In the rest of this article, we're going to show you some examples of online businesses using the subscription model, and dive into what they're doing right.
Let's go…
12 Examples of Inspiring Subscription Sites
1. BBC Muzzy – Language Learning, On Demand
BBC Muzzy is a language-learning resource for kids. They teach children how to learn multiple languages through easily accessible videos and storylines around the character Muzzy.

The BBC used to sell these programs through DVDs and VHS programs that would be ordered and sent out to your home, or the school you were ordering them for.
In fact, our Content Marketing Lead James is old enough and British enough to remember Muzzy's French-learning set being delivered to his home!
But they decided to reinvent their program in 2019 with Uscreen (that's us!) and bring their offering online in a more accessible way using subscription video on demand!
Parents can pick and choose the subscription period they like, and get access to BBC Muzzy's video streaming site and learning resources for on their desktop, or through OTT apps: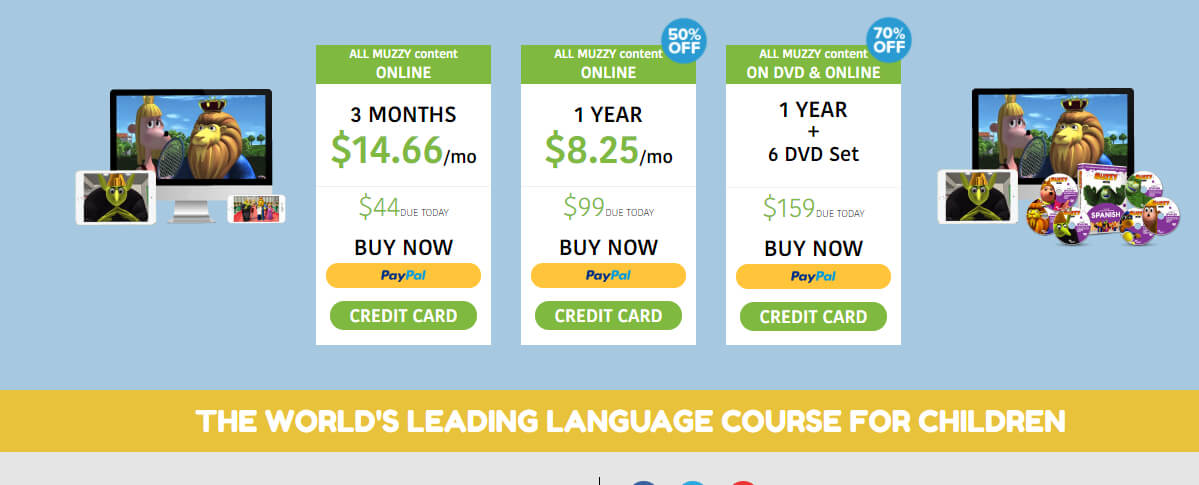 This has allowed the BBC to grow their audience and make their content far more accessible. Now kids can learn languages anywhere, any time, from their favourite device!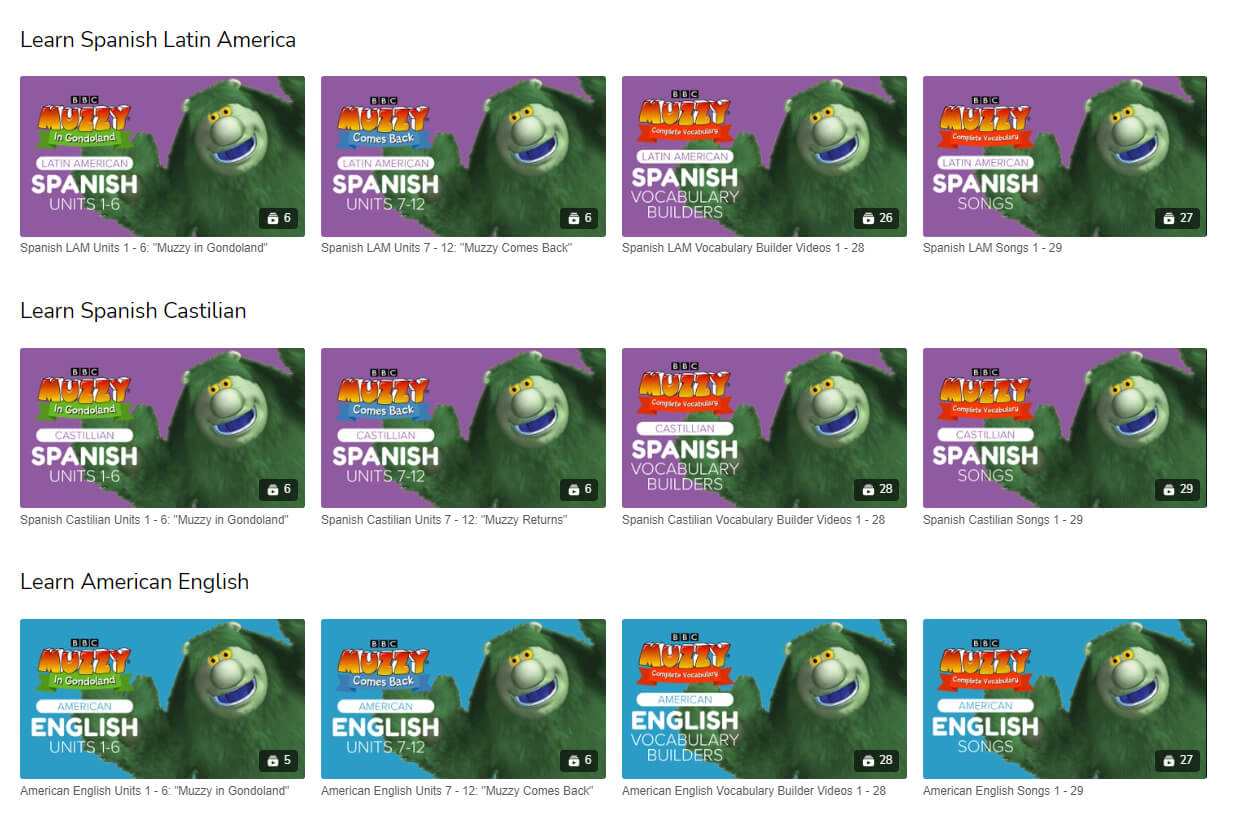 If this subscription business model looks familiar, it might be because it's similar to the one lots of entertainment streaming platforms – like Netflix and Hulu – use for their content.
It's extremely versatile and can be used for a lot of different types of content. You can learn more about companies using video streaming monetization through the link below: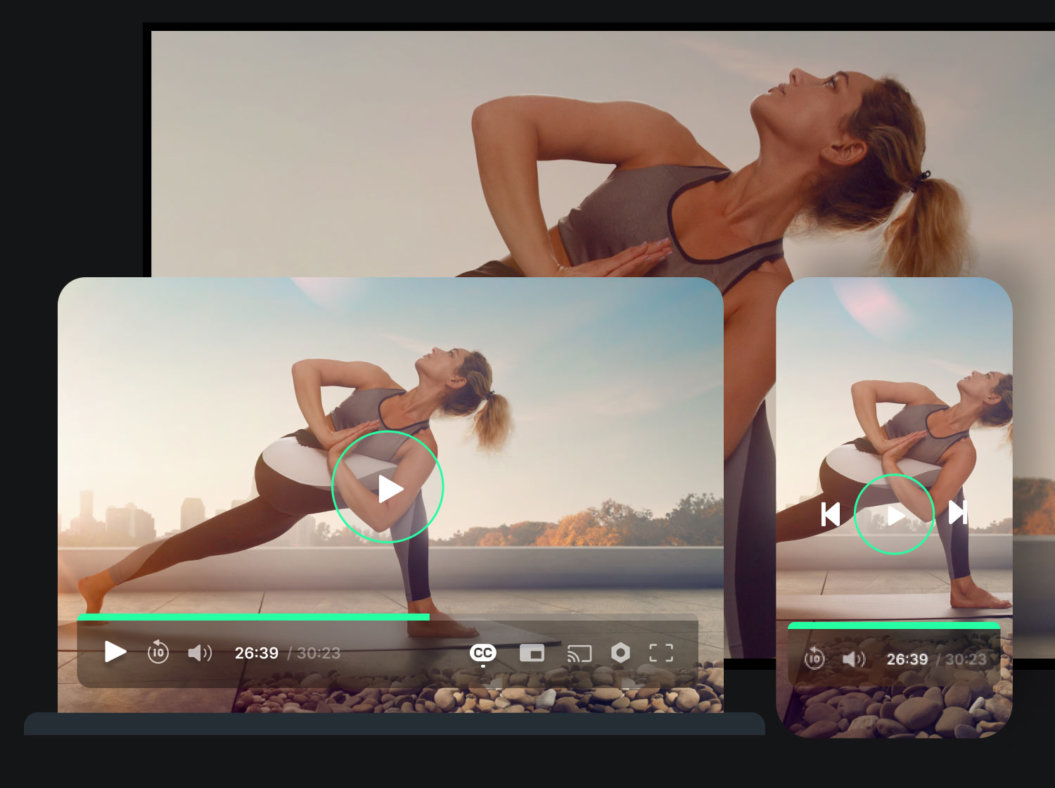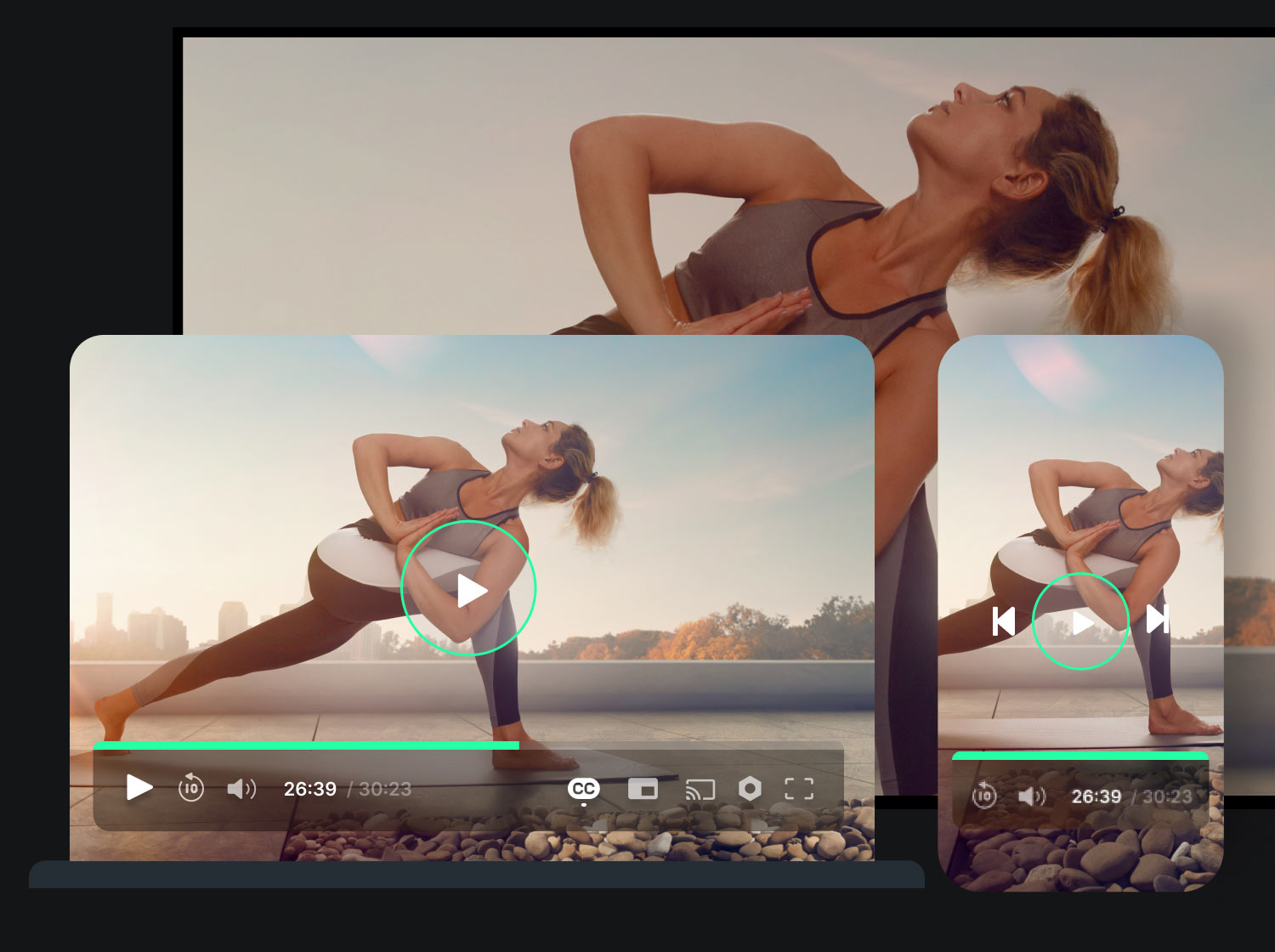 Get Inspired by OTT Apps & Website Examples Created with Uscreen.
2. Audible – Start Your Free Trial
Audible is a content subscription service offered through Amazon.
They offer access to a wide range of audiobooks, podcasts, guided wellness programs and Audible Originals exclusive content for a monthly fee.
They also offer free credits every month that members can use to purchase add-on premium content: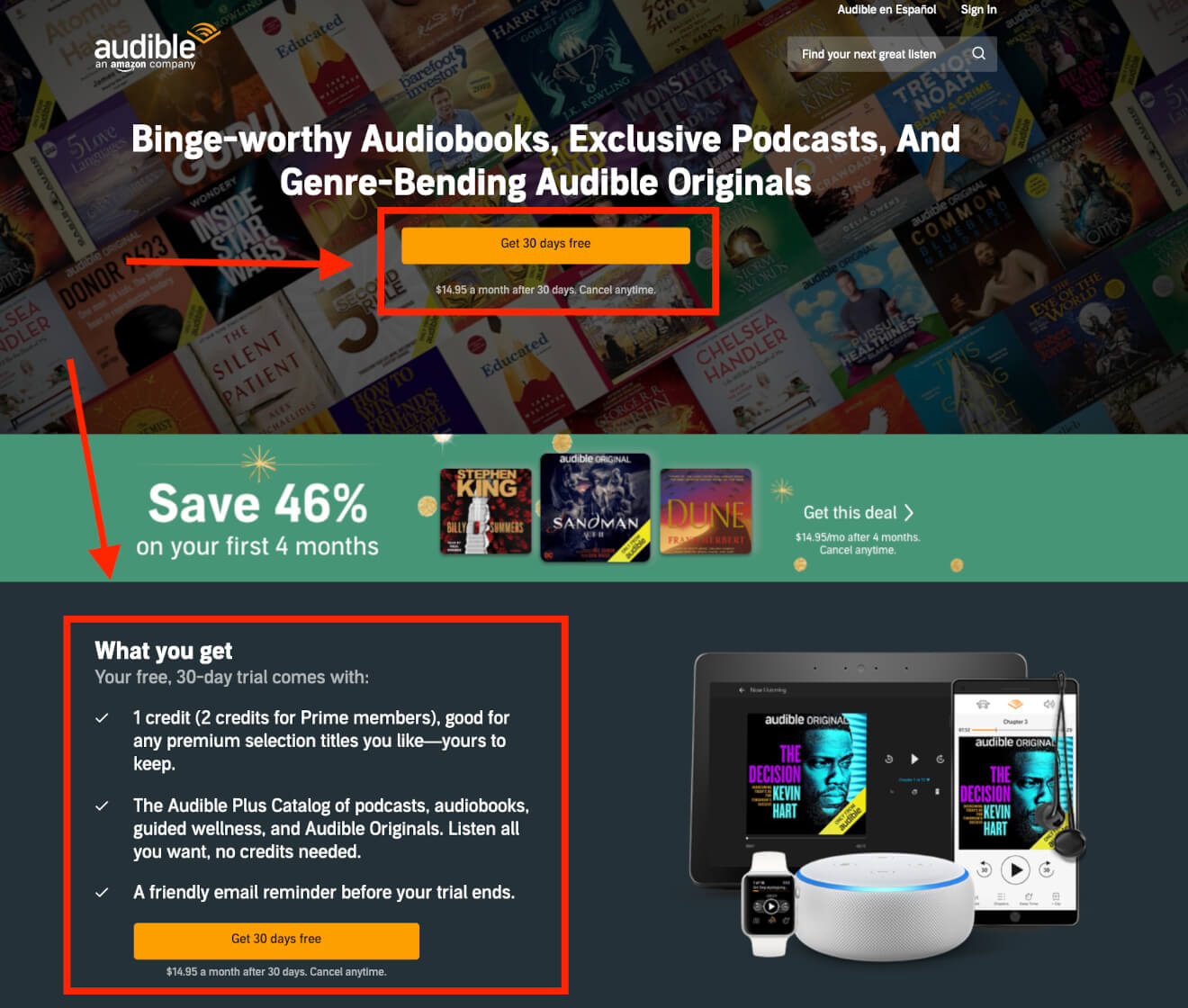 Statistics from other services show that free trials lead to as high as a 66% conversion rate across multiple platforms.
The idea works because people need to trust you before they work with you. A free trial is a type of guarantee. (More on guarantees later!)
It guarantees that customers won't have to take a risk by signing up immediately, which is something that can help any type of membership business succeed in their space!
Free trials let potential customers get to know your business and benefits before signing up. It also allows them to overcome sales objections all on their own!
This builds trust and shows your members that you're confident your service will work for them. In fact, our internal data shows that 52% of free trial-ists convert into paying customers!
Audible free trial is even more appealing for 2 reasons:
Customers get unlimited access for an entire month. There's no restrictions or limitations to how they can use the service, so customers can get the full experience.
They offer a free gift of 1 or 2 credits (depending on whether you're already a Prime member.) This can be used to purchase any of Audible's premium content. There's no strings attached, and you can keep the credits even if you don't sign up for the membership. This bonus makes the subscription tempting to potential members.
Audible also offers 2 membership level options – and a free trial is available for each one! This gives customers even more ways to test drive the experience.
The free trial from Audible is a brilliant move. They offer apps for plenty of devices that users already own (like tablets, phones, eReaders and computers) which makes their free trial easy for everyone to take advantage of. (Plus, it shows people how easy the service is to use.)
Before you sign up for either Audible plan, you get 30 free days to explore Audible's entire catalog, accessible on any device.
It truly offers something for everyone!
Here at Uscreen, we also offer a free trial for businesses looking to launch and grow membership websites. With 14 days to play around with our all-in-one platform – what are you waiting for? Start your free trial today!
It's simple with Uscreen.
Build, launch and manage your membership, all in one place.
3. Travel Club 360 – Use Your Blog to Showcase Your Membership
Travel Club 360 is a luxury travel concierge program that offers travel planning services, discounts, and more.
When customers sign up for a membership, they can enjoy tons of benefits that make travel easier and more convenient (especially for large groups and families with children that require a little more work to plan.)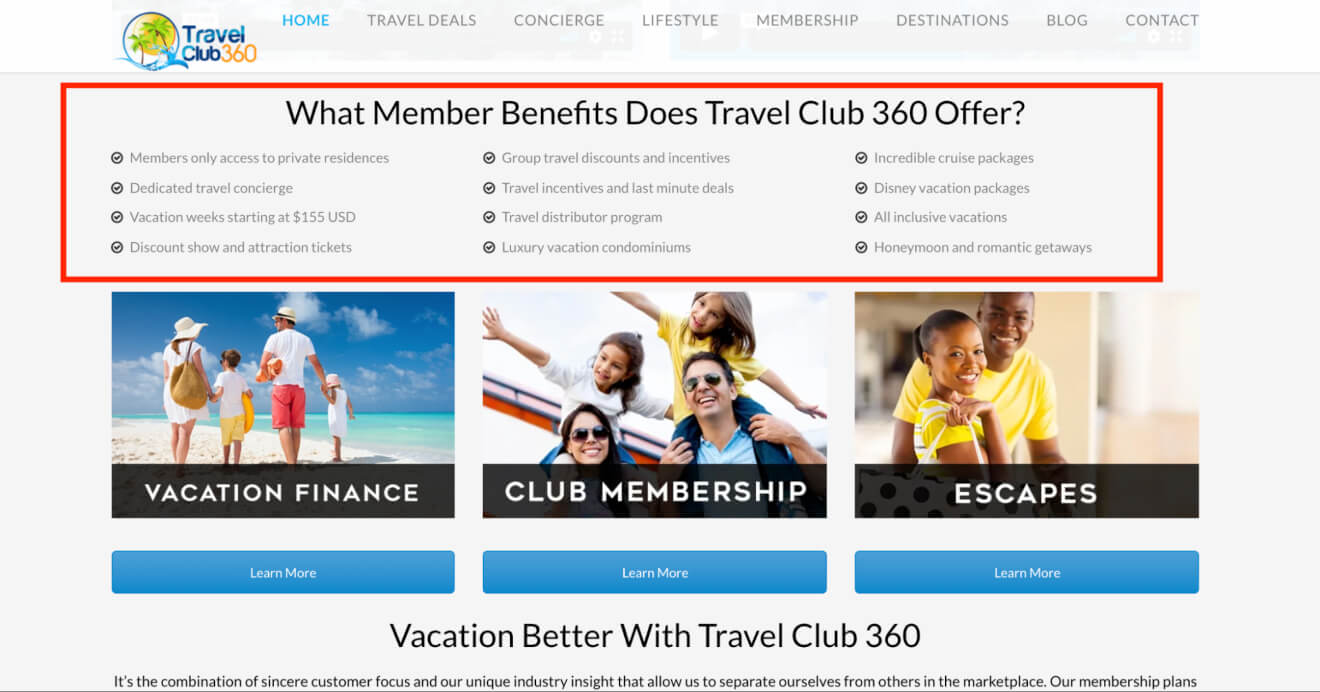 To provide inspiration, Travel Club 360 regularly updates the blog on their membership website with new content and photos, giving readers an emotional reason to check out their service.
Seeing all the travel articles can further guide customers towards a purchase by showing them everything they could experience with the help of a Travel Club 360 membership.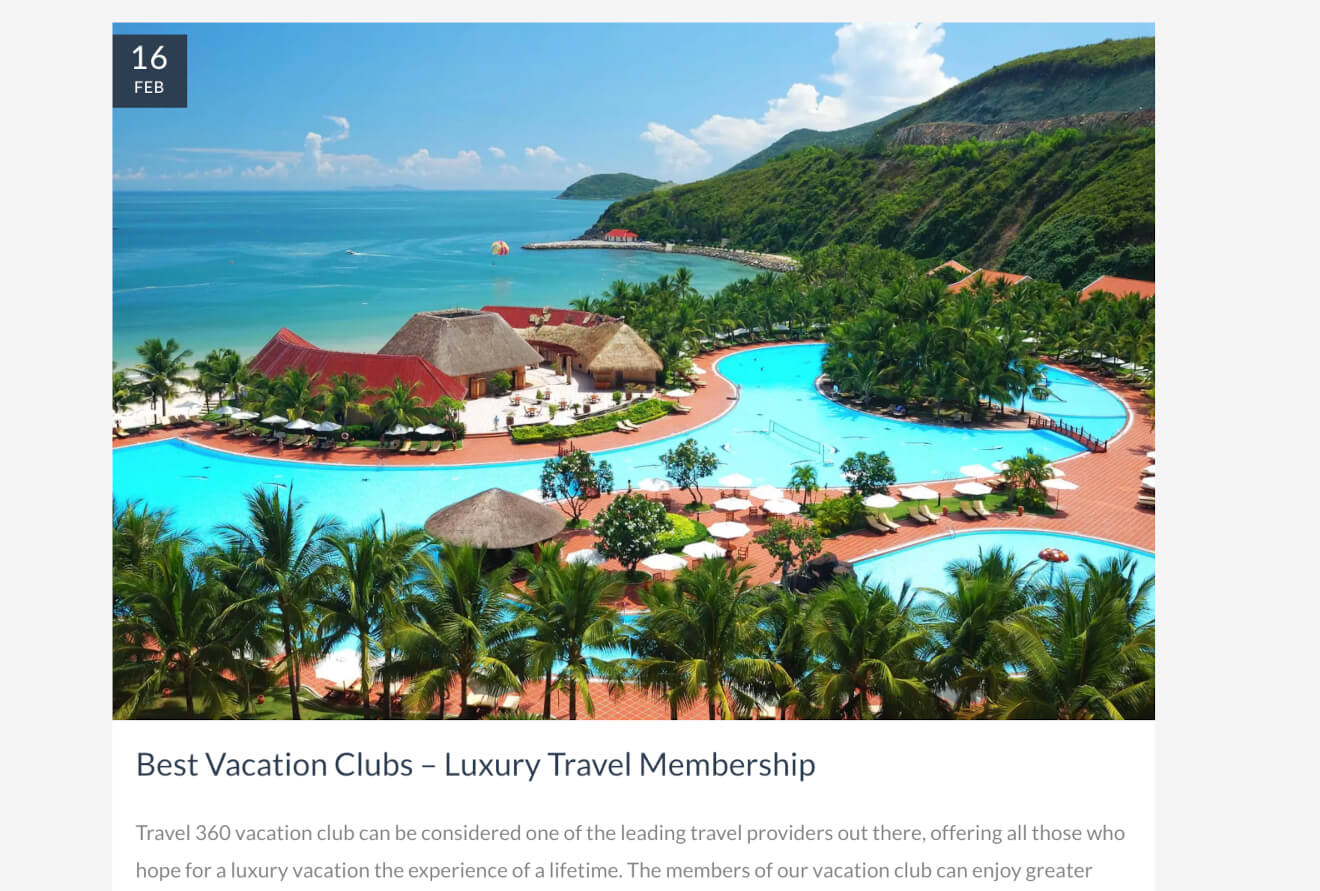 Without a blog, Travel Club 360 is just another travel site looking to build an audience of subscribers. Instead, this company uses their blog to whet prospective members' appetites.
All the content drives traffic to the member area, where people who want to learn more about the service and how to sign up can find more information. There, they can review their membership options and go through an easy signup process.
4. Copyblogger – Create A Lead Generation Funnel Around Content
When you are the premier blogging site on the Internet, your content can be used to draw in prospective members.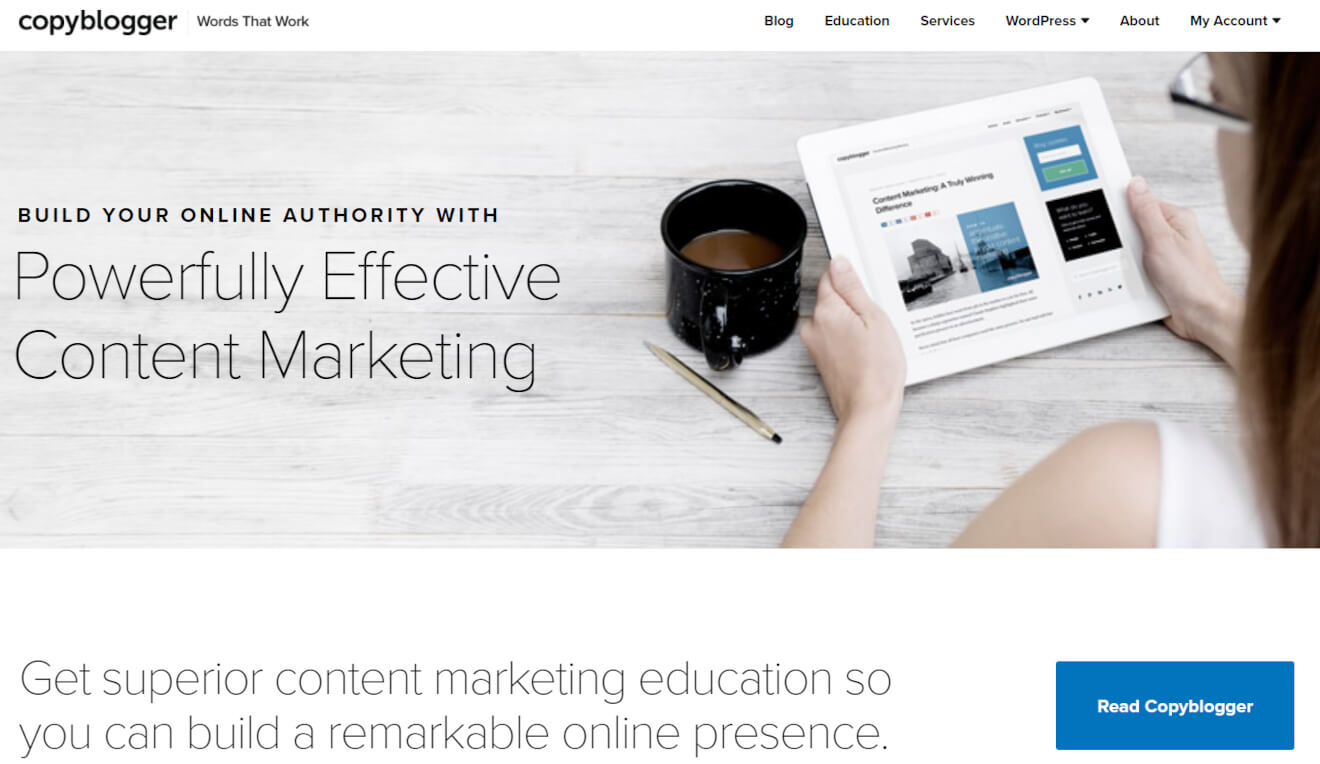 Copyblogger's membership site has a veritable treasure trove of free and paid resources on content marketing. They provide access to 100,000 words of proven marketing training for free, including many valuable copywriting e-Books (see below).
Their lead generation funnel works as follows:
Draw visitors to your website with high-quality blog posts.
Send them to the free membership option where they can access 100,000 words of high-quality free content.
Keep them engaged with user-generated content on the Copyblogger online community. There they can connect with paid members of the community to foster a sense of belonging.
The content unites their lead generation funnel at each step of the way as it piques prospective members' interest in their subscription service.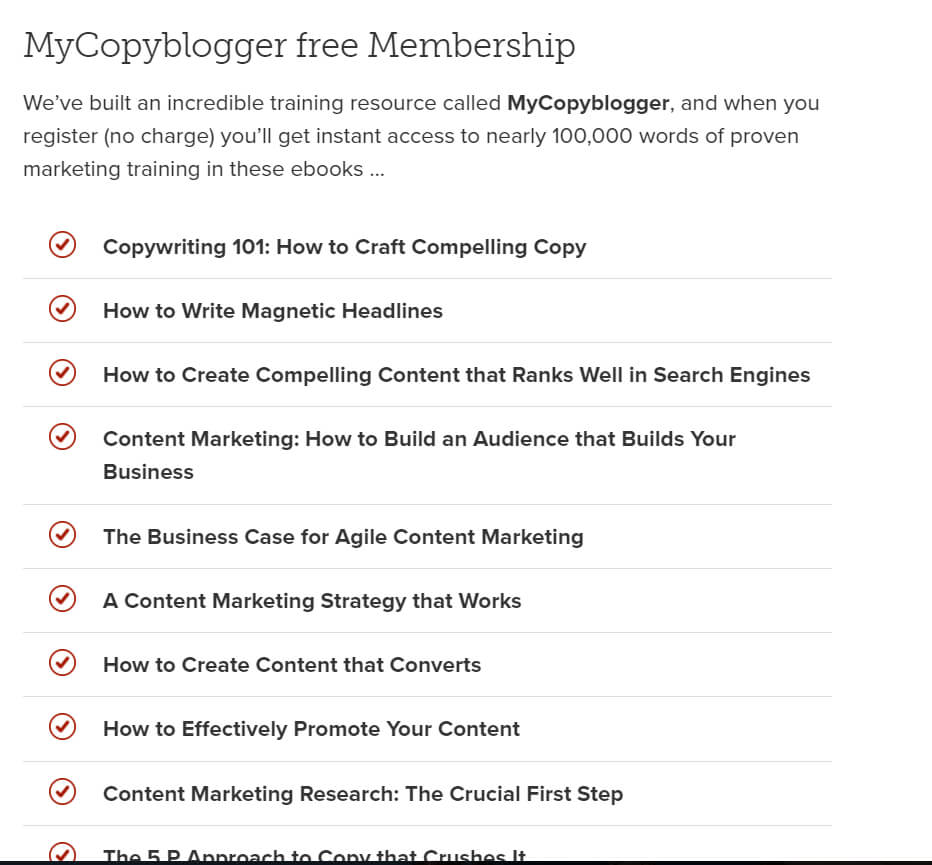 5. HelloFresh – Use a Clear Call-to-Action (CTA)
HelloFresh is a food kit delivery service that lets members enjoy cooking at home while saving time and money.
Subscribers can choose a set number of meals from 50+ menu options. Then, the pre-measured ingredients and recipe cards are delivered right to your door.
HelloFresh shows an attention-grabbing offer at the top of their home page with a prominent "Get 14 Free Meals + Free Shipping" CTA. All you need to do is click the "Personalize Your Meal Plan" button.
Additionally, below the main text in the hero image, Hello Fresh includes a great description of what their service offers. It's brief, straight to the point, and uses appealing language.
They're telling customers why they need this service by creating a delightful vision of what they can enjoy by signing up.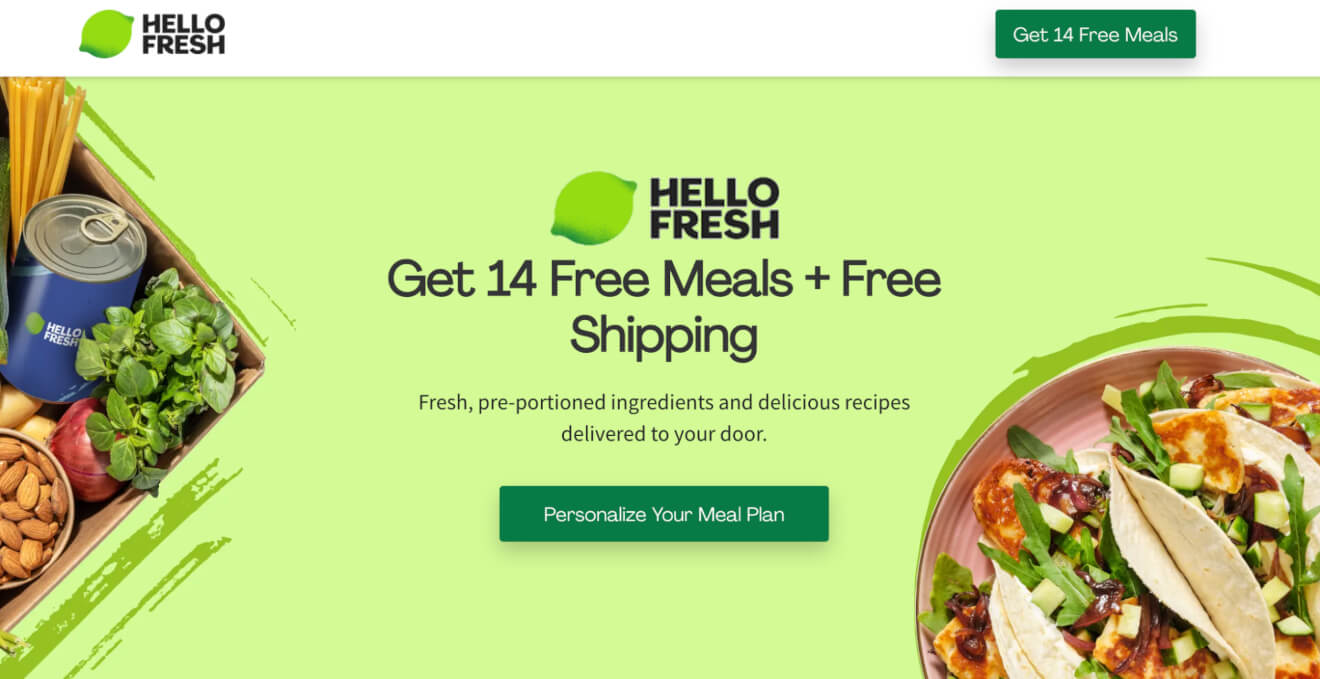 Notice how all the colors on the homepage are crisp and bright – like the food itself! Even the green background seems "fresh," and this definitely helps create a positive association with the service. That makes the Call to Action even more effective.
Unlike Copyblogger, which has a longer cycle to get users to join their membership, HelloFresh wants members to join as soon as possible.
That is why the food delivery membership uses 2 different CTAs above the fold. The sign-up button in the upper right hand corner reminds customers that they can get 14 free meals, while the main sign-up button in the hero image tells them they can create a personalized plan to make it truly their own!
Both buttons lead to the same sign-up page – but by offering a few different CTAs with different clearly-stated benefits, HelloFresh can simply show customers why a subscription is a great idea.
6. Fabletics – Highlight Savings Right Away
Fabletics, an activewear clothing company with an optional membership program, offers deep discounts and other benefits for subscribers.
They make sure to clearly advertise their benefits right on their homepage, along with an easy link to sign up. For a monthly fee, members can save 80% off regular retail prices and enjoy bundle deals, along with other great perks.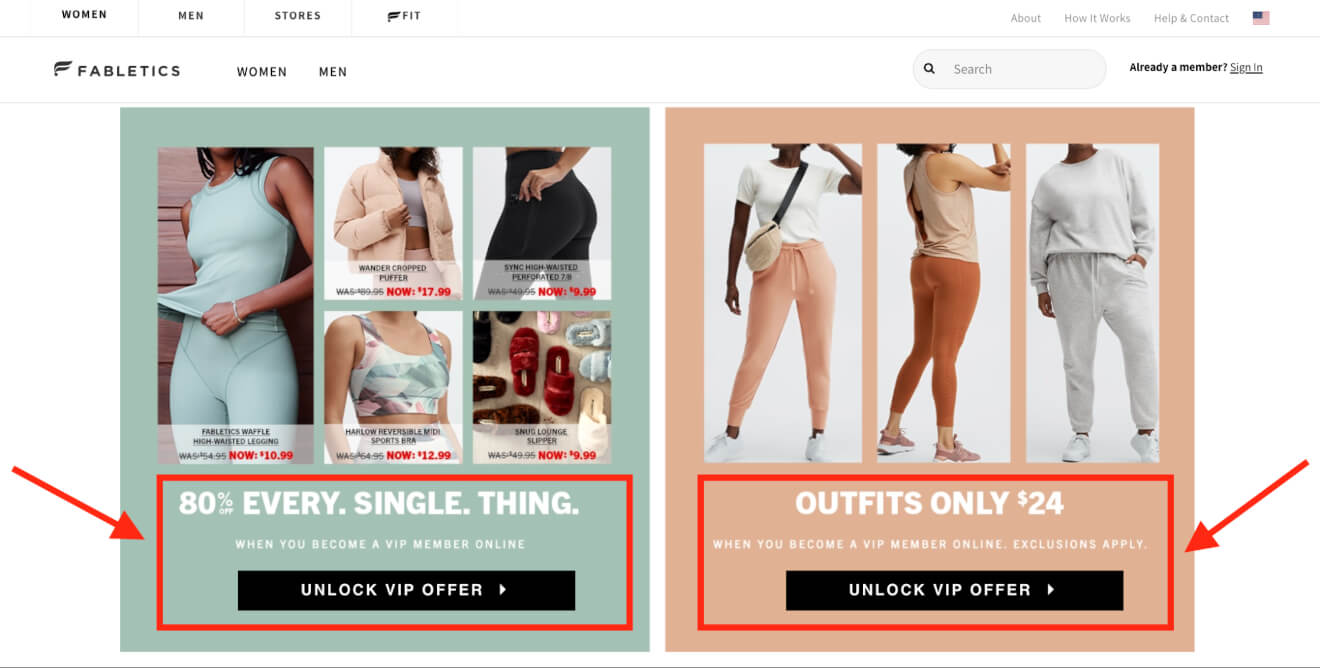 While Fabletics is primarily a subscription company (that's their main business model,) they also offer the option to make purchases without a membership.
However, this is a clever move to encourage customers to sign up by highlighting the massive savings they get when they become members.
When customers click through to the "How It Works" page, they show a more detailed breakdown of all their membership benefits.
For customers, this answers any additional questions they might have, and also drives the point home – a Fabletics subscription is a worthwhile investment to save money on products they love.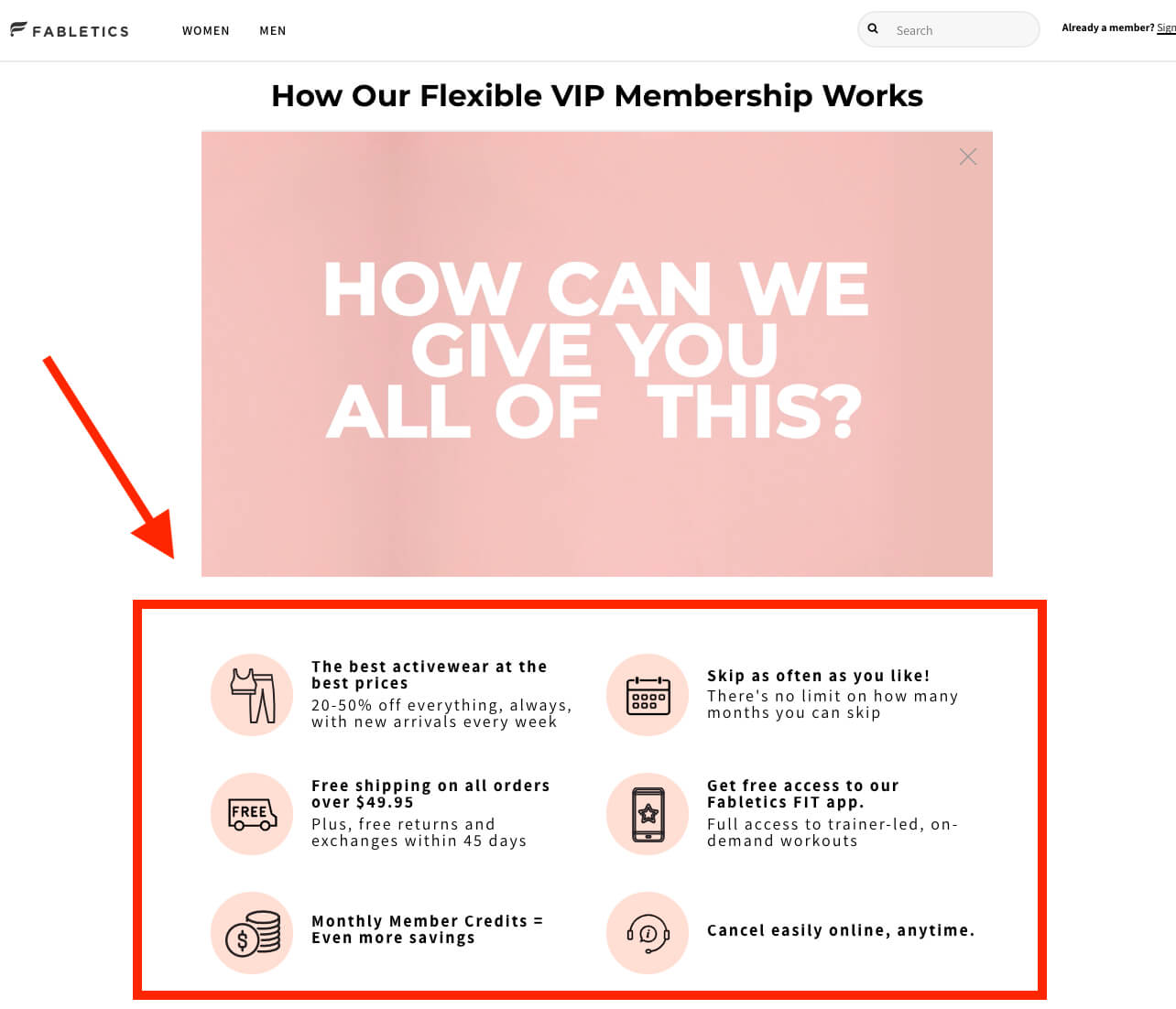 Everyone wants to save money and know they got a great deal!
Showing how you can help members save on products they already want is a great way to generate interest in your membership.
If you're looking to create a subscription site like Fabletics – or even if you're targeting a different niche – talk to Uscreen today. We help businesses in various industries grow successful subscription sites!
It's simple with Uscreen.
Build, launch and manage your membership, all in one place.
7. Bright Cellars – Use Quizzes as a Conversion Tool
Bright Cellars is a subscription service that offers members a unique "wine experience."
Customers pay a monthly $80 fee to receive a shipment of 4 new bottles of wine every month, chosen specifically to suit their flavor palate.
While the site has several great ways to convert, one thing that stands out is the personalized quiz they offer to help determine a customer's preferred style of wine.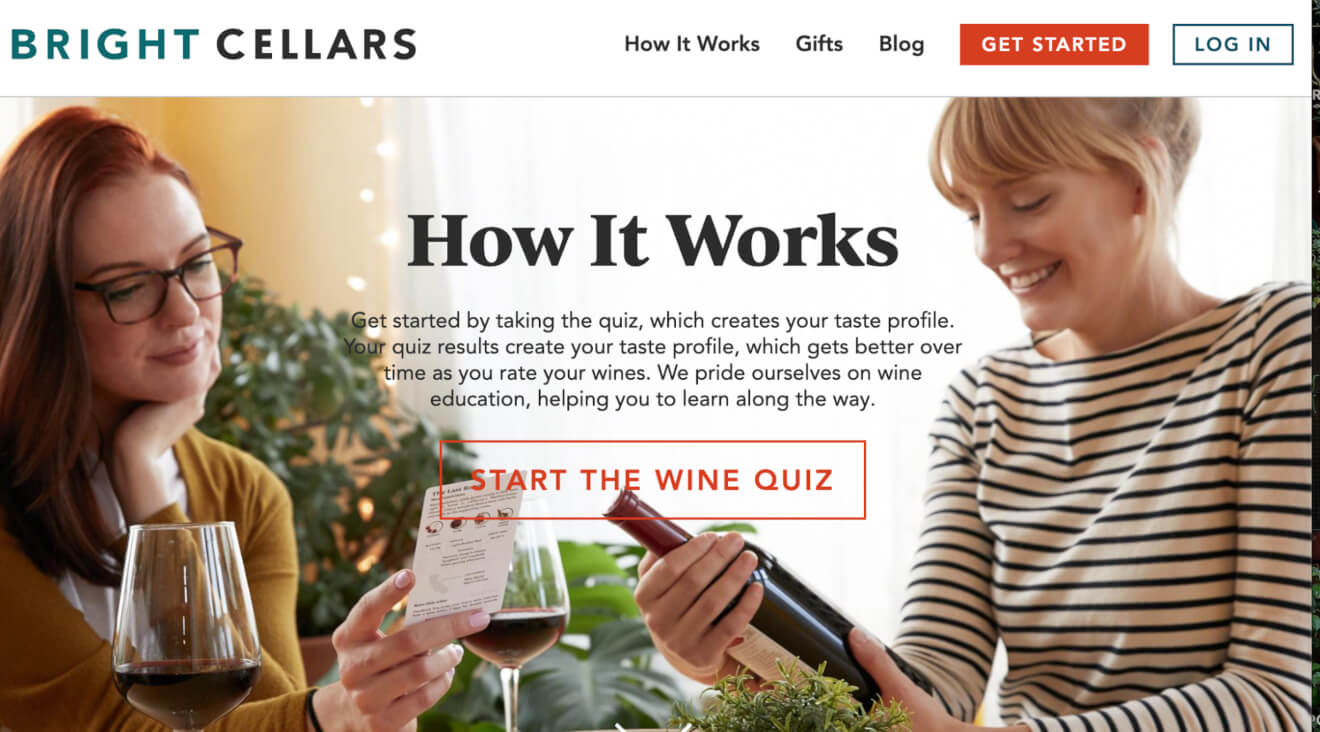 This quiz helps get potential customers on board in 3 ways:
It gives customers something of value by helping them identify what type of wine they like.
It's a fun, interactive and visually appealing way to explain how customers will benefit from their service.
It acts as a gradual transition to the actual sign-up process.
We took the test twice to see if the results would change, which they did based on our responses! It is a real quiz; not just a marketing gimmick.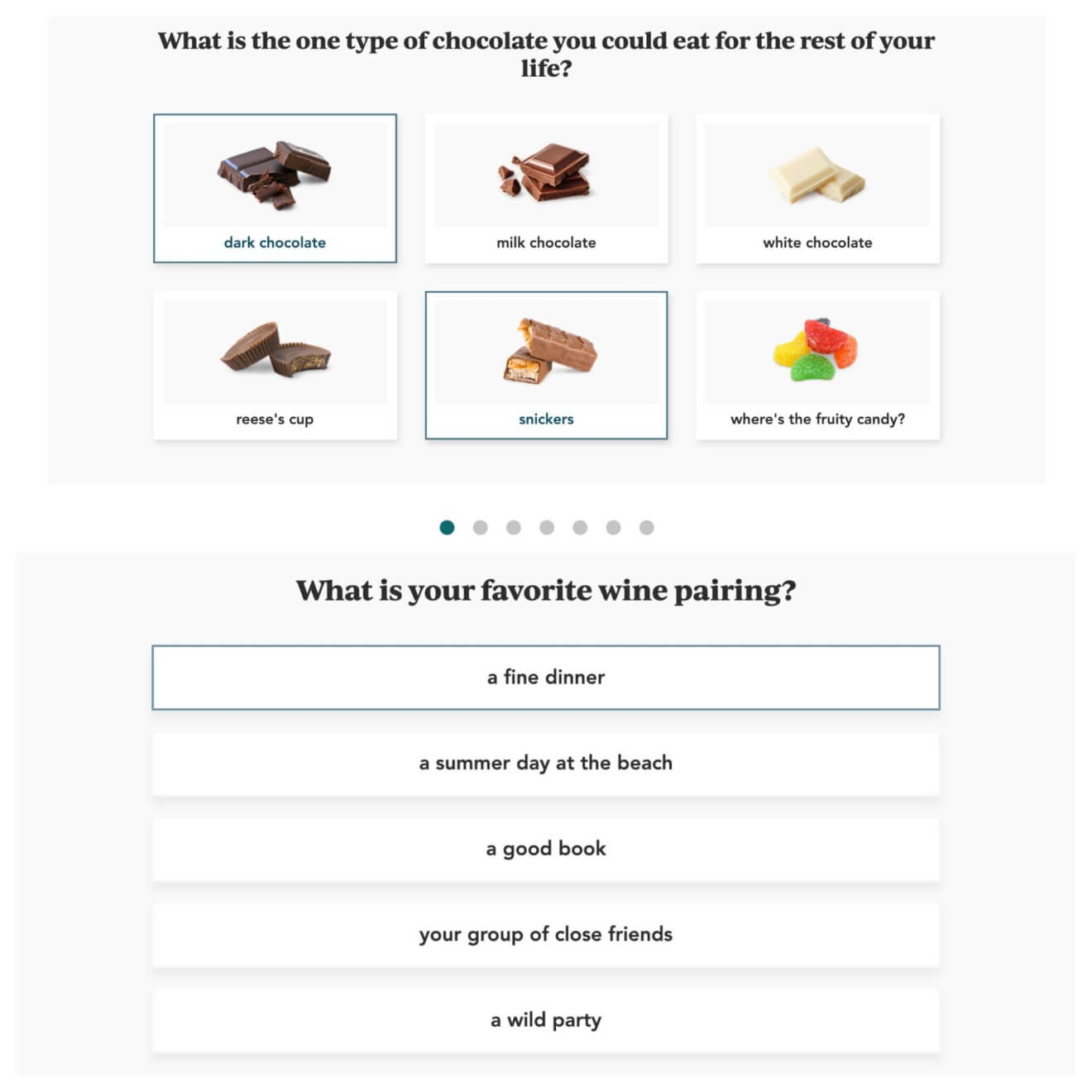 BrightCellar also asks for an email address where they can send your results, which helps them build their email list. This helps them continue to build relationships by reaching out to customers (even if they don't sign up right away!)
They can send targeted follow up messages through their email marketing campaign that provide more personalized offers and updates, based on the quiz results.
If you work with a few audiences, you should consider using this strategy to sell to each group effectively. The quiz helps to self-identify prospects and create a sense of trust.
8. Birchbox – Show How Your Membership Site Works
Birchbox is a socially and environmentally conscious beauty and grooming subscription service that sends customers 5 handpicked deluxe product samples every month. They offer a monthly plan, as well as an annual subscription package for a discounted price.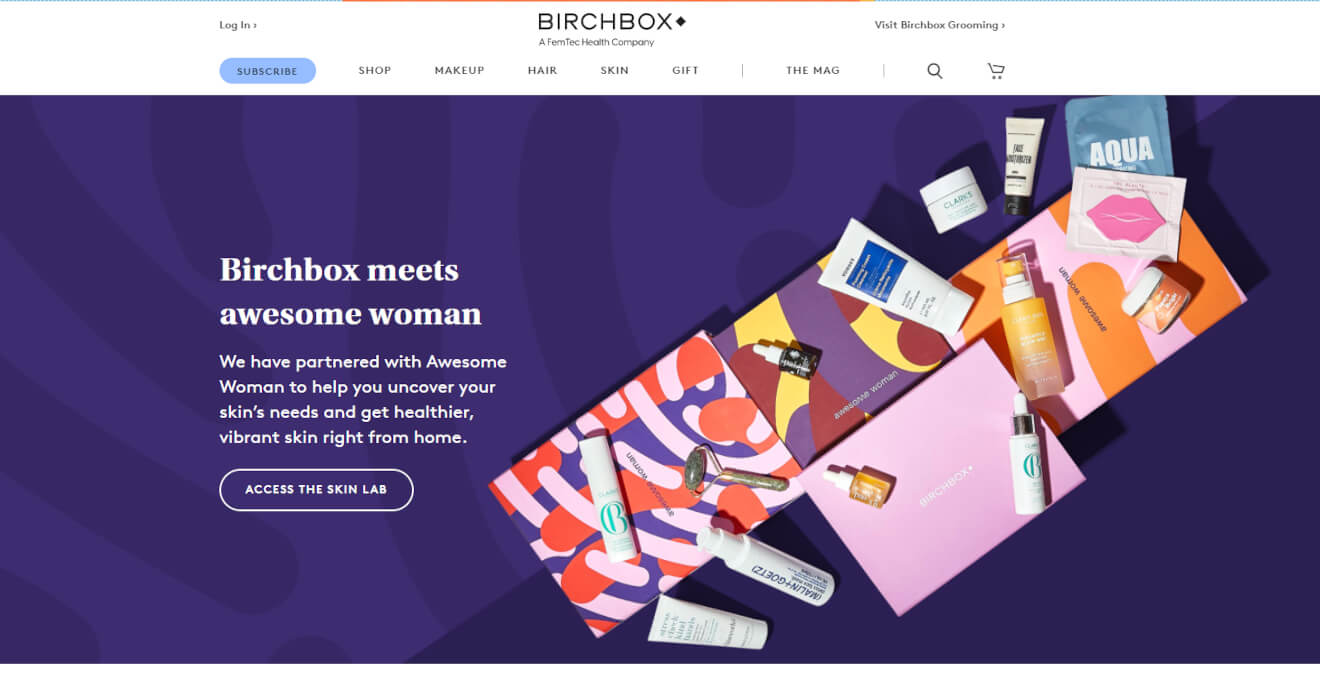 Birchbox does an excellent job showing "how it works" on their homepage. Because the subscription model for products is still relatively new, you need a quick way to guide users through the process.
The key is to make the "How It Works" section easy to understand. Many memberships confuse new members. They don't know what to do. You need to make it as easy as 1-2-3 for these members.
When you lay out a new type of membership, you need to make it easy for users to learn. If they don't pick it up quickly, then more than likely they will go somewhere else. Show them how it works, so they stick with you instead.
9. eHarmony – Everyone Loves A "Guarantee"
eHarmony offers a different perspective on online dating.

While many dating sites allow you to flip through pictures of potential mates, eHarmony focuses on finding your soulmate.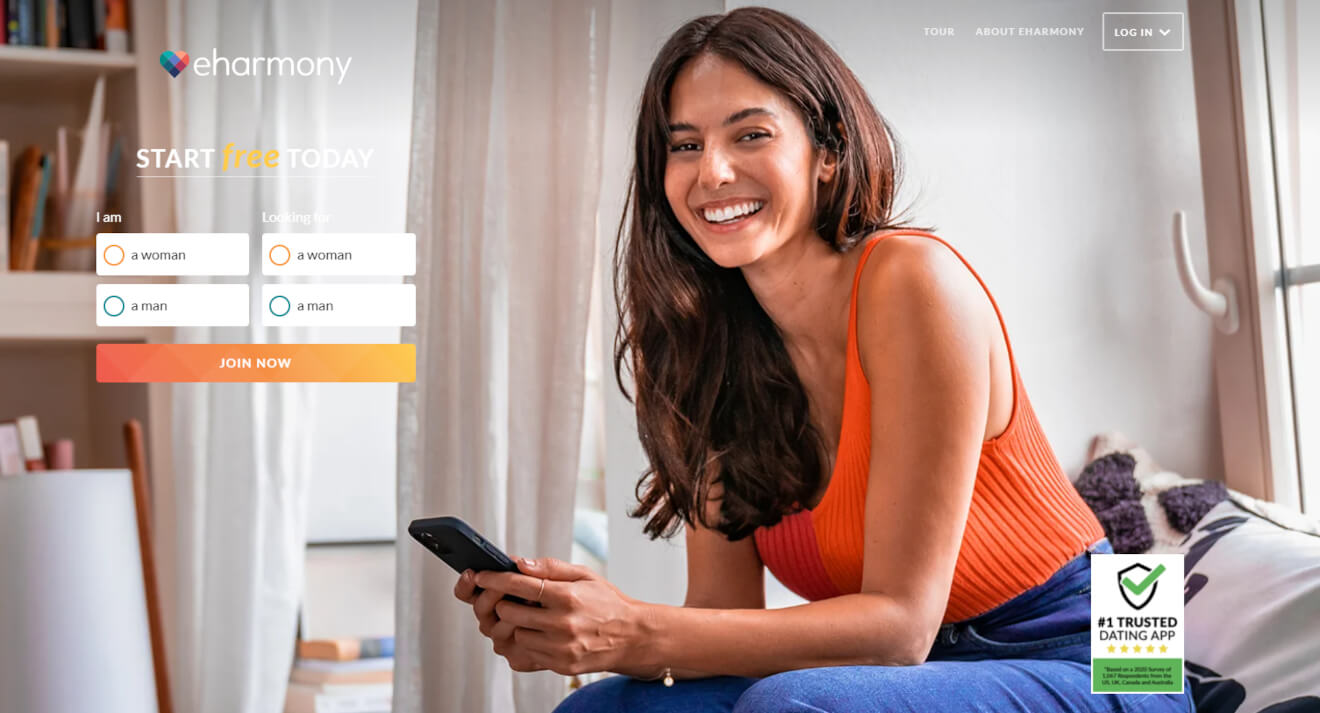 That is why the guarantee on eHarmony is fascinating. The hero image shows you the potential to find your soulmate along with a guarantee: eHarmony guarantees meaningful connections or three months of free service.
eHarmony cleverly used the guarantee for a few important reasons we want to discuss:
First, the guarantee helps new users trust them.
eHarmony understands their market is mostly heartbroken singles who have probably loved and lost and are tired of the grind of trying to find someone suitable. A guarantee gives users comfort!
Second, using a specific guarantee will improve conversions. It should be relevant to the desired audience and is added as a benefit to prompt people to join the membership.
Third, this guarantee is a win-win because either the user finds a soulmate or has more time to find someone. Either way, it allows them the time to gain confidence in the service and themselves.
Memberships that do this might lose a little money in the short run, but they earn it back in the long term!
The Freelance Writers Den is a go-to resource for freelance writers looking to start and grow their businesses.
The Den's founder, Carol Tice has filled the site with premium content based on key takeaways from her time as a journalist and writer for clients like Forbes and American Express.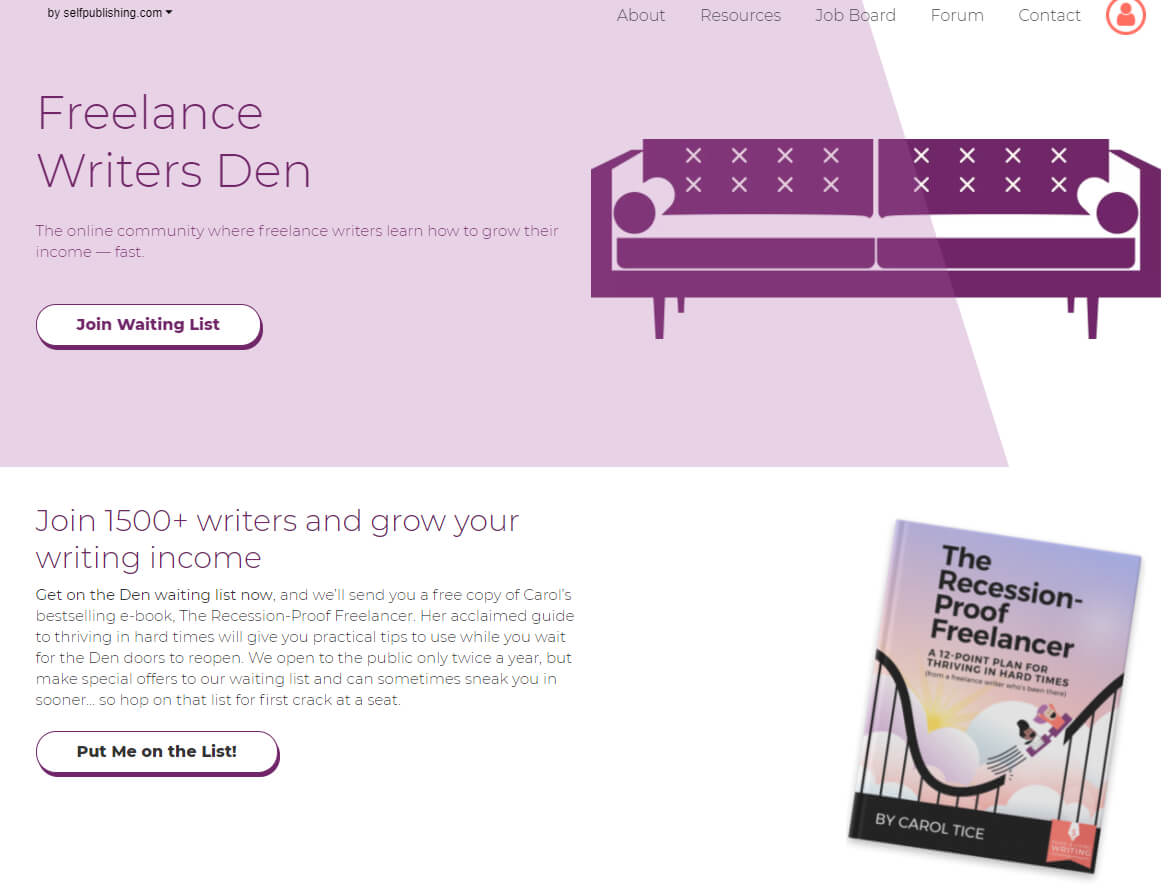 They do a great job in this business of using psychological triggers to increase sign ups and grow their brand. Namely, social proof and scarcity.
They use video testimonials and success stories from their current or past subscribers as social proof to show people the value in their service:
And they ask potential customers to apply and join the waitlist before gaining access to their membership site. This creates a feeling of scarcity and demand!

Understanding what drives your customers to buy is important, and the more you can connect with their internal emotions and desires, the better!
Dollar Shave Club (DSC) is a pioneer of modern subscription business models. They took a well-established shaving industry and flipped it on its head!
They were able to do this, in part, by having a keen understanding of their target audience and how to make them laugh. Their marketing is as comedic as it is informative!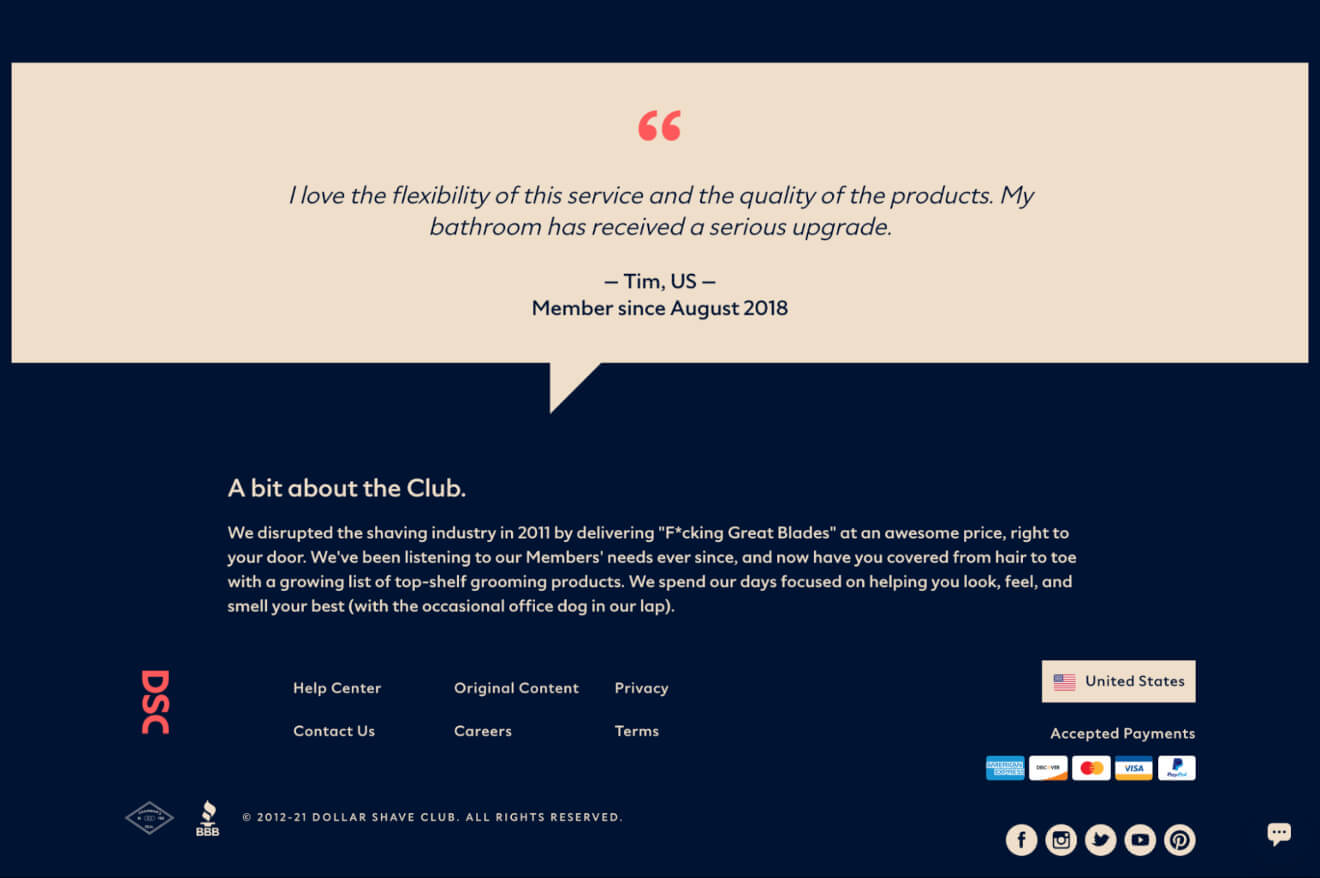 For a shaving company, they go out of their way to promote the $5 monthly recurring payment for their product. They know customers who buy this will eventually look at other DSC products like shave butter and Superba toothpaste.
Even more importantly, loyal customers can gift free DSC products to others. Savvy sites count on the fact that 92% of consumers trust referrals from those they know.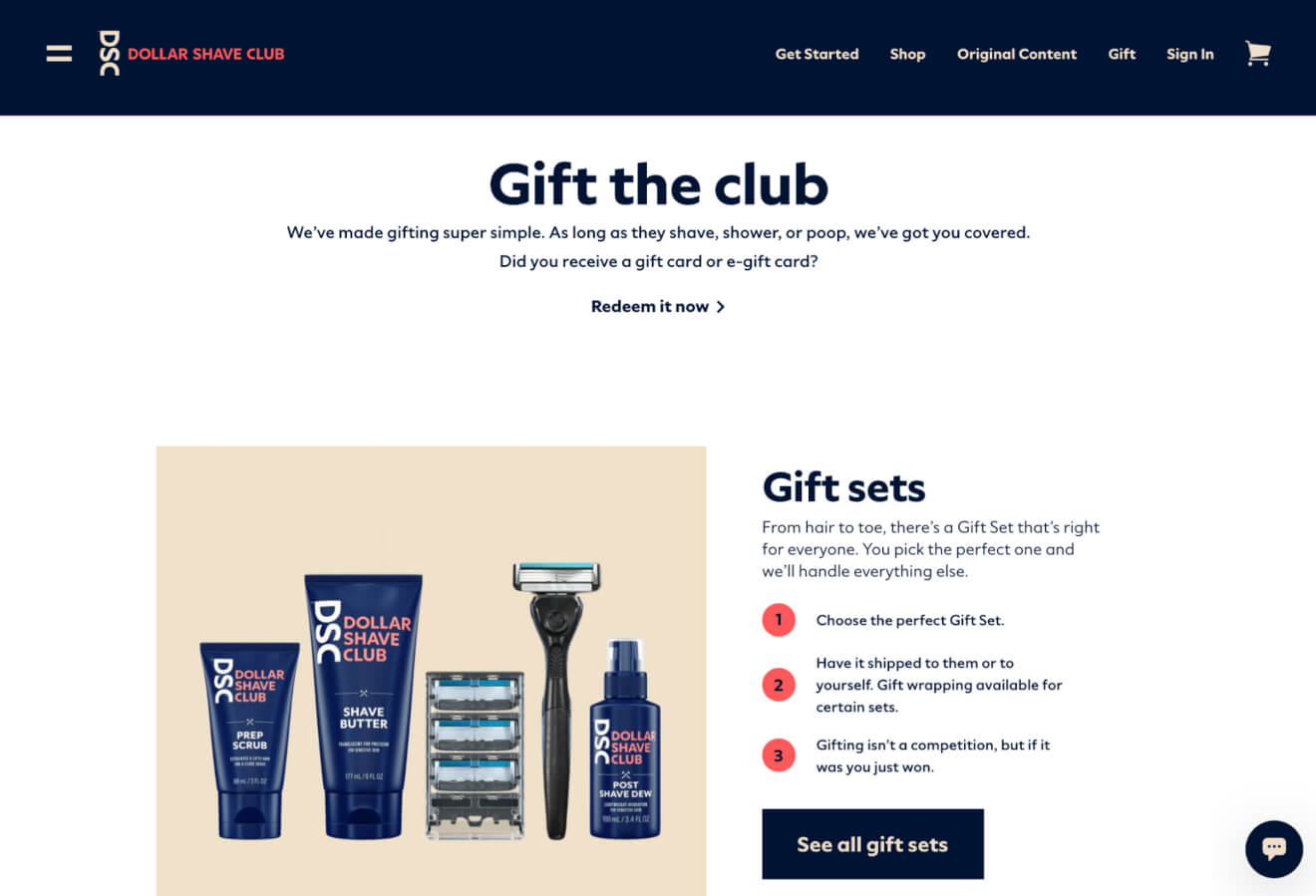 Getting everyday consumer items like DSC can generate a lot of organic traffic to low-cost products. Because of their profit margin, it is difficult to set up large-scale Google AdWords SEO campaigns or other paid promotions.
Instead, word of mouth is one of the powerful tools DSC uses to grow their business.
12. Youpreneur – Understand Your Target Market
Youpreneur is a membership platform that helps business owners unleash their potential.
A key component of their success has been understanding their target market. They work with coaches, authors, speakers, experts, consultants, freelancers, bloggers, podcasters, and digital marketers.
It might sound like an expansive list – unless you are an entrepreneur who identifies with one or multiple items on this list. Then it feels like they are talking to you.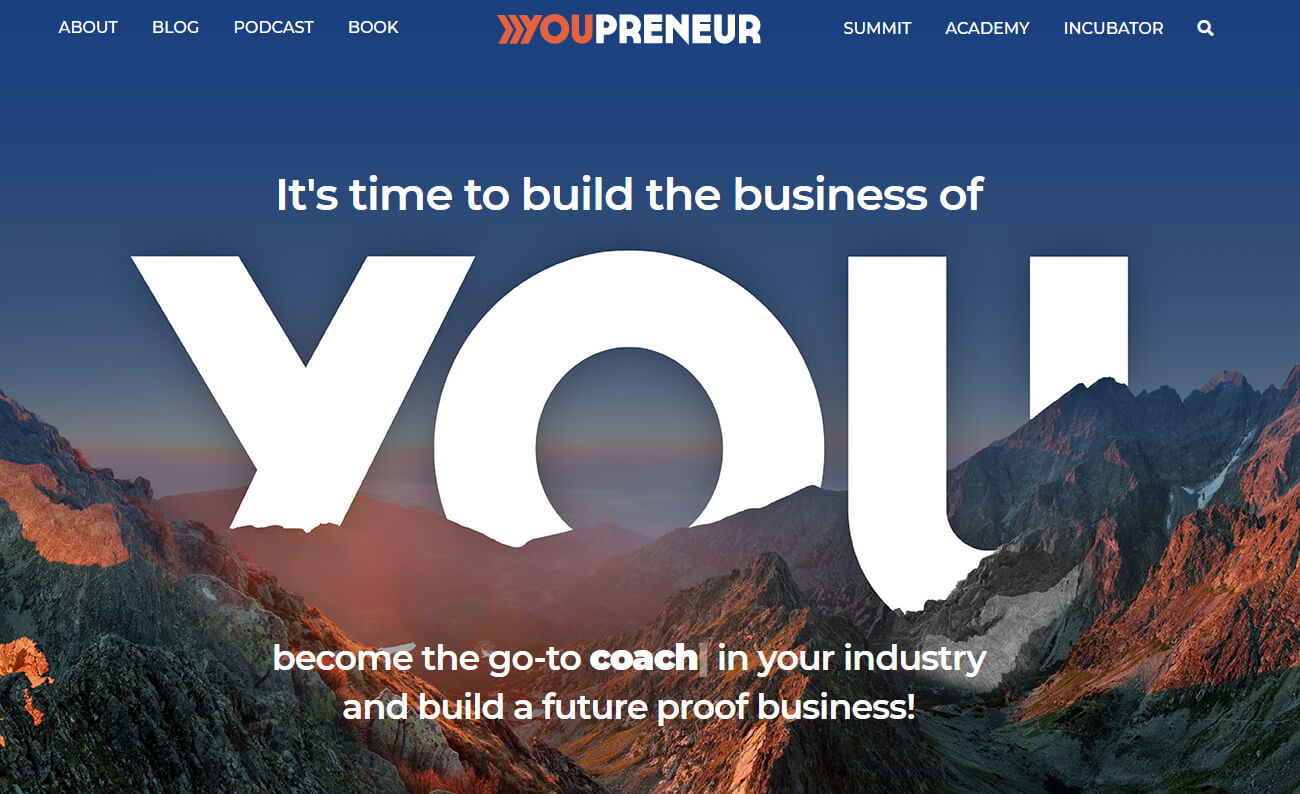 Chris Drucker's membership model helps work-at-home entrepreneurs feel like they're part of a broader online community.
Communities help grow subscription services by letting users interact with other people that share their interests and values.
Plus, they invite some of the most successful entrepreneurs on the planet to help you grow your business.
How Uscreen Can Help You Build A Video Subscription Website
If you're thinking about starting a subscription business around your video content, you'll need to find an all-in-one membership site platform that allows you to sell your videos!
Though general website builders are great and have their place, you need a platform with unique functionality – one that specializes in video hosting and video selling!
Uscreen is a great example of this:
We have everything you need to start, launch, and grow your video business. With us, you can:
Create your own video membership website.
Use templates to customize your business brand.
Upload and organize your videos with ease.
Distribute your content with OTT apps on TV and mobile devices.
Monetize your content, your way.
Accept worldwide payments at checkout.
Use live streaming and webinars to reach audiences on any device.
Track subscriber growth and churn.
Own your audience.
Better still…
We're currently the number one platform in the industry and our customers earn an average of $12000+ a month!
If you'd like to find out more about how Uscreen can help you, you can sign up for a no-risk free trial through the link below:
It's simple with Uscreen.
Build, launch and manage your membership, all in one place.
Final Thoughts
Regardless of the industry you're in, adopting a subscription business model will allow you to:
Accurately predict your revenue.
Offer lower price points up-front.
Increase customer retention.
Which is why subscriptions are shifting the landscape for content creators and consumers alike.
Hopefully, these 12 examples have given you some inspiration for how you can optimize your own subscription website.
If you need some help creating and launching your subscription site, we at Uscreen are here to take care of the details for you and make handling all your subscription needs run smoothly and effectively. Contact Uscreen today to find out more about building a successful subscription website.