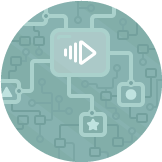 The reseller program enables you to get a master parent account and launch child accounts which are individual Uscreen accounts. This setup is perfect for companies & users who wish to setup multiple sites for their customers and manage them all under one roof.
In order to become a reseller you need to have a minimum of 3 months service under a normal account, which you can sign up for here. You'll also need to start with 3 or more accounts prior to qualifying for a reseller account.
How it Works
Parent/Master
Account
The Parent/Master can create Child Accounts which will be able to manage and bill their end users directly.
The Parent sets all rights and permissions for each individual Child Account and can oversee all activity within each Child Account, including analytics, billing, income and much more.

All the features of the platform are available to you at this level.

Full Platform Access

Bill Child Accounts directly either by commission or recurring platform fee.

Bill Child Accounts

Fully manage Child Accounts below you, rights, permissions, activity, and more.

Manage Child Accounts

Enable or disable the ability for Child Accounts to upload their own content.

Enable Child Accounts to Upload Own Content & Re-sell Others

You control what permissions and rights Child Accounts are granted.

Set Specific Permissions & Rights to Child Accounts

Oversee all activity and billing from your Master Account for all accounts below you.

Oversee All Billing for All Accounts
Set your own branding & logo in the Child Account admin area.

Set Your Own Branding & Label for Child Accounts

View all analytics for each Child Account platform, including end user activity.

View All Analytics for All Child Accounts

Enable Child Accounts to distribute your content as well as their own.

Manage & Set Permissions
to All Content Within All
Accounts

Track royalty payments based on what content is viewed.

Track & Pay Royalties

Create Child Accounts easily and on the fly.

Create Child Accounts

Create Admin Users
& Roles
Child
Account
Child
Account
Child
Account
Child
Account
Child
Account
Child
Account
A Child Account is branded by the Parent's logo and is dominated by the access levels and permissions set by the Parent above.
A Child Account has access to the complete video platform and can launch their own video on demand (vod) service.
Child Accounts can enable end users to pay them directly for content access.

Can Bill Users Directly

Child Accounts can charge via pay-per-view, one-offs, subscriptions, and various terms and free trial periods.

Can Offer Subscriptions,
Rentals, One-Offs

Child Accounts see the Parent's branding in the main platform panel for user and content management.

Sees Parent's Branding
& Label

If Parent allows, the Child Account can upload and distribute their own content.

Can Upload & Distribute Own
Content if Allowed by Parent

Child can also distribute other content within the Parent's network, if Parent allows this right.

Can Distribute Other Child
Account Content if Allowed
by Parent Account
Child can manage own end users, reset passwords, set up users, etc.

Can Manage Own Users

Child Account can sell content via multi-currency and multi-languages all in one platform.

Can Offer Multi-Language
& Multi-Currency Support
for End Users

If Parent gives access to native apps, end users can download white label native apps from the Parent Account.

Can Distribute Parent's
Native Mobile Apps

If Parent gives access, Child can distribute Parent's account to end users.

Can Distribute Parent's
Content if Allowed

An active user has the ability to log in and take a course, watch your programs and videos at any time.

Can View End User's
Analytics

End
User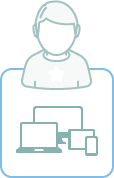 End
User
User can purchase and view
content on any device, anywhere in the world.

End
User

End
User

End
User

End
User

End
User
Features
100% White Label

The reseller program is white label, meaning that Uscreen is not listed anywhere on the platform. You will be able to brand your own platform with your own logo and colors.

Permissions & Royalties

As a reseller, you can upload your own content and enable Child Accounts to resell this content, and you can receive royalties based on what content was viewed. You can also enable the Child Accounts to upload their own content and package them all together for their end users.

Full Platform Access

The Uscreen platform includes over 100 unique features. As the Parent Account, you have access to these features, including multi-subscriptions, rentals, order management, coupons and much more. You can also enable your Child Accounts to have full platform access in order for them to also take full advantage of the platform.

Multi-Language & Multi-Currency

Both the Parent and Child Accounts can sell in different currencies and languages. These settings can be controlled in the admin area by the Parent Master Account.

Native Mobile Apps

You have the option to white label the mobile apps with your own logo and icon. We will publish them under your account in the app stores for both iOS & Android and fully maintain the apps for as long as you have service with us. If you have a unique Child Account and wish to give them their own native mobile apps, we can also accommodate this by request.

Built to Scale

The reseller program is built to scale; we can globally deliver any type of content instantly without any buffering. We are able to accomplish this by using state of the art CDN technologies such as Akamai and Edgecast. Both Akamai and Edgecast can deliver to any continent instantly as they cache the content in local servers securely all over the world, so there is no delay in the content transmission. Uscreen services clients in over 100 countries.