Digital Marketing
How to Succeed at Email Marketing for your Video Business
Social media marketing can be helpful, and advertising can deliver targeted traffic when ad campaigns are set up correctly. There's one marketing tool, though, that's not only effective, it's essential. That tool is email.
The research, the case studies, and the polls consistently declare email marketing delivers more return on investment than any other marketing method. Top-ranked digital marketers will tell you their email list is the most valuable asset in their business.
You may have tried to use email before, but couldn't make it work. You may personally hate to see marketing messages in your own inbox. You may be a social media believer and figure all you need is Facebook, YouTube, Pinterest, or another social platform. If you leave email out of the mix, though, you're almost certainly making a huge mistake.
In this section, we'll cover the three critical components of successful email marketing. If you'll take this information and apply it, you'll discover something top-performing e-commerce managers already know: Email marketing works.
Let's get started.
1. Build your email contact list
Email addresses are valuable. There are companies that base their entire business model on collecting and selling email addresses. There's no quicker, cheaper, more effective way to get your marketing message out to a throng of prospects and begin seeing immediate results.
You only need three things to get started:
an email service provider (ESP),

a list of emails from people who've given you permission to contact them, and

a message you want to deliver.
There's a short list of email service providers at the end of this section.
We'll talk about the different types of messages, how to write them, and how to use them when we cover the other three components. But it all begins with collecting the emails (building your list). Without a list, none of the rest matters.
Build a targeted list of qualified prospects
The size of your list isn't nearly as important as the quality of your list. If your VOD website teaches people how to scuba dive, you'll want a mailing list of people who want to learn more about scuba diving. The more tightly focused your list is constructed, the more effective it will be.
Use a lead magnet to attract the right people
Because email addresses are private and valuable, you'll need to give people a reason to join your mailing list. Typically, that's done with a "lead magnet." You offer something of value to them, and they'll turn over their email address to you.
For maximum results, use a lead magnet your target audience would love to have, but other people don't really care about. Your prospects must believe that what you're providing (the lead magnet) is considerably more valuable than what they are asked to trade for it (an email address).

Make the opt-in form as simple and non-threatening as possible
Your aim is to attract qualified prospects to your mailing list, not to find out everything you can about them. Email marketing is a relationship-building activity. Don't press for more information than you absolutely need to get started. If you can, ask for the email address only.
The more you require from the prospect, the more valuable your lead magnet will need to be. The tension between value and cost is ongoing. The more you can weigh it towards the value side of the equation, the faster you'll grow your email contact list of prospects.
Make delivery of the lead magnet simple, quick, and painless
Once someone has decided to trust you with an email address, your first job is to build on that trust and solidify the relationship. Give them exactly what you've promised, exactly in the way you promised, and do it quickly.  
Note:
Lead magnets
are so important they have their own section here in the Video Business School.
2. Convince recipients to open your emails
The open rate percentage reflects the number of people who opened your email versus the number of people who received it: (opens ÷ sends) x 100. Open rate is primarily determined by the subject and address fields of the send. Those should plainly justify the send and connect to a specific problem the prospect will identify with.
Here are some of the ways you can justify the send:
The prospect requested information from you

You're sending a receipt or shipping information

There was a problem with the order

You want to congratulate the prospect on the order

You're announcing new products or services in stock

You have news to report

There's a unique opportunity to present
Writing great subject lines is a topic unto itself. You can find out more in the copywriting section. One of the best ways to draw immediate interest and get more opens from is to relate your subject line to the biggest problem bugging your best prospects right now. Check the example below, courtesy of MECLABS.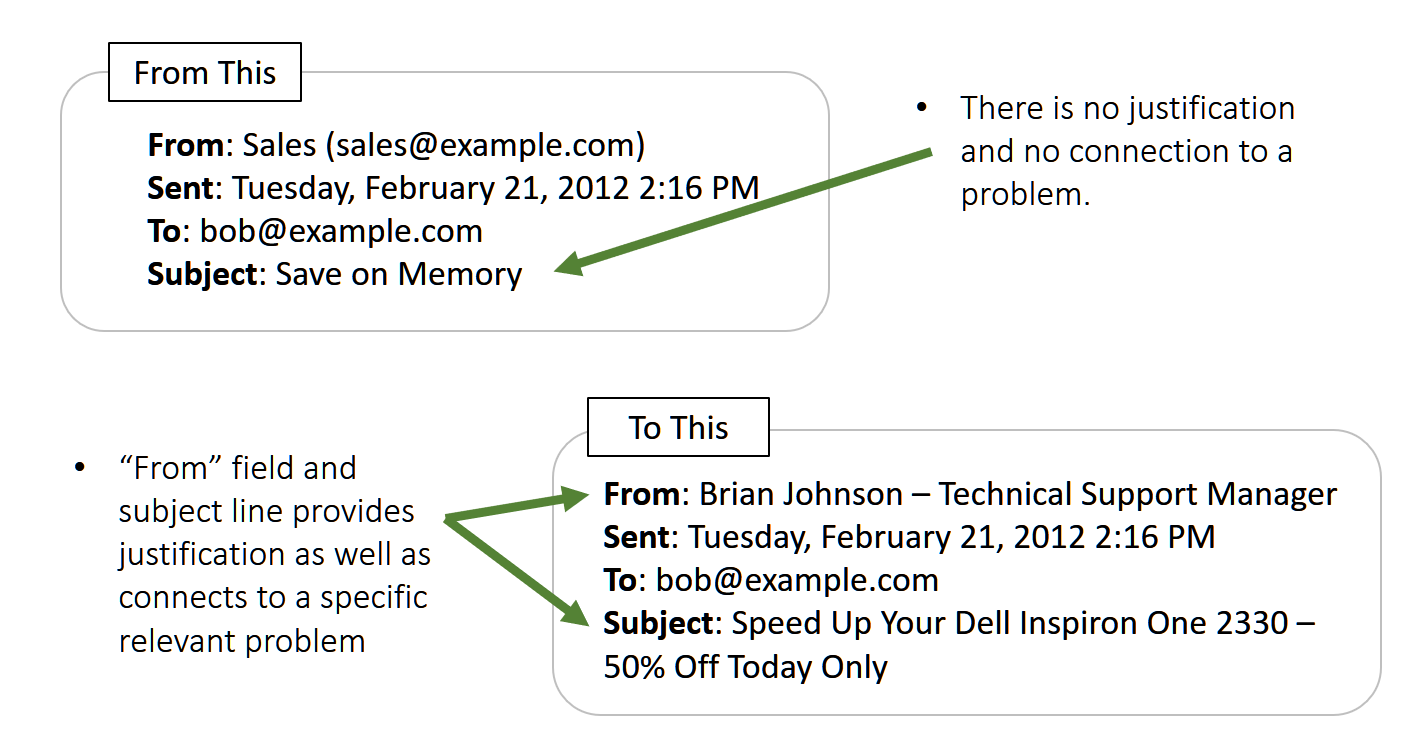 3. Persuade customers to click through from the email to your offer
Email marketing should focus on building the relationship and getting the reader to click on the link you've provided in that mail. Most often, that will take the prospect to a landing page, and the landing page will serve an offer that turns prospects into customers and customers into repeat customers.
Don't overcomplicate your email campaigns. All you're trying to sell from the email is the click-through. Trying to include all the information about your offer in the email is never a good idea. Keep it simple.
Period.
Cut any messaging that doesn't help achieve the click-through. Extra copy reduces your chances of accomplishing the primary purpose.
Here are the essentials of an effective email marketing message:
Get the prospect's attention

Build the connection

Stir up the problem

Point to the solution

Get the click
Aim for a tone of voice that sounds more like customer service than sales. The best way to sell is to provide value and help the prospect solve a problem that will help achieve a goal. Don't focus on marketing, focus on communicating. Buying begins with trust.
Note:
Remember to check the copywriting section for more information.
Email Marketing Is an E-commerce Essential
We can't stress the importance of email marketing enough. Advertising waits for the prospect to hear or see your ad. Search engine optimization depends on keywords and algorithm rankings. Email is like walking up to the prospect's home and knocking on the door. Get email right, and you'll reap the results in your VOD sales.
We'll finish by providing the short list of email service providers we promised earlier. Choose the one that best offers the price and features you need. Most offer a trial period. Some even provide a free option for smaller lists.
MailChimp: A favorite of many small businesses, MailChimp has improved its services and features dramatically over the past few years. There's a generous free option, but the number of emails you can send under that plan is limited. Check to be sure it's large enough to accommodate your needs.
Drip: This email service provider is owned by Leadpages. The free version provides unlimited sends, but currently caps out at 100 subscribers. Drip provides easy-to-learn automation and robust training. On the downside, the email design dashboard is lean on functions. You'll need template designs for anything but simple text sends.
GetResponse: The features here are impressive. You can even get landing page design capability included with your email package. Unfortunately, the GetResponse compliance team is merciless and disconnected from customer service. Get on their wrong side, and they'll shut you down in a hurry.
Infusionsoft: Many companies choose Infusionsoft as the go-to ESP, since automation sequencing and customer relationship management (CRM) options are well-established and come with every account. Expect higher cost and a steeper learning curve. It may be wiser to begin with a simpler platform, then step up when you begin to outgrow it.
There are plenty of other ESP options. If you begin by familiarizing yourself with the ones we've listed, you'll be better prepared to investigate others. Whatever you do, don't get hung up in the selection process. There are way more similarities than differences, and it's quite easy to switch platforms.
Final Suggestions
Here are some final suggestions to help fine-tune your email marketing strategy:
Keep a current backup of your mailing list. Treat it like gold.

Buying a mailing list is seldom a good idea.

Segment your list to get better results. Your ESP will have tutorials on how to use tags and special fields.

Proofread your emails carefully before sending them. Once they go out, they can't be recalled. Check your subject line too, not just the body copy.

Be careful with images. They can hurt deliverability and detract from your main message if not used judiciously.

Use A/B testing to determine the kinds of subject lines and calls to action your audience responds to best.

Use an email cleaning service (like

NeverBounce

) before uploading email addresses that aren't fresh. That will keep your bounce rate down and your ESP happy.

Sanitize your list often. If a subscriber hasn't opened the past 12 or so emails you've sent (choose your own number), move them to a re-engagement campaign. Subscribers who still don't respond should be removed from your list. That boosts open rate and improves, improves your reputation with the ESP, and will eventually save you money.
Refer to the following additional sections of the Video Business School. These contain information that will help you get more effective at email marketing:
How to build an audience

The marketing funnel

Writing copy that sells

Getting your first 100 sign-ups

Creating lead magnets
Note:
Perhaps we should include the above message at the end of every section. It will point out gaps in the training and give us an opportunity to get to know prospects and students better.