You can't do a good job at something you weren't trained for.
That's why employees need initial and continuous learning to keep them up to speed and capable of meeting business goals. With so many kinds of employee training programs that your company needs to succeed, hosting your training portal online is the easiest and most cost-effective way to go about it.
Let's walk through the benefits of hosting your company's employee training programs online, and how Toys'R'Us is doing just that to teach its employees about leadership.
Why companies should host their employee trainings online
As with most things these days, automating and digitizing your company's employee training programs is a worthwhile investment. Taking your trainings online will:
1. Save you time and money
Since your company will no longer need to schedule people to deliver the trainings at different time slots, you will save a lot of money and time training your employees. All you will need to do if film the training once then take it online. Simple!
2. Guarantee informational consistency
With online video training, you can count on everyone getting the same exact training they need to perform their jobs well. No information will be missed, and no group is getting more or less.
3. Train multiple locations
If your company has multiple locations across the globe, you will have to host your trainings in multiple locations at different times. If trainings are in person, you will either have to fly your employee training instructor across continents to deliver the sessions in person, or hire full time instructors for each location.
By taking your training programs online, your company can deliver trainings at various locations and times at no extra cost.
4. Digitally track and assess
Sign-up sheets at the door are pretty outdated.
When your company's employee training program is online, you can digitally track completion and maintain accountability. You can also easily gather this digital data for analysis and future improvement.
5. Constant access to information
It's difficult to catch everything that's been taught on a one-on-one basis. When you miss something in a life lecture, which we often do, you can't rewind to catch what you've missed. But with online video trainings, you can do exactly that!
Employees will always have unlimited access to the information they have learned, whether immediately or in the future. This will significantly reduce uncertainty, misinformation and errors, and make employees feel more confident regarding their knowledge and ability to do a great job.
How Toys'R'Us is hosting its employee trainings program online
Toys'R'Us has been hosting its company leadership training portal on Uscreen since the beginning of 2017, covering topics related to management, decision making, communication, active listening and creativity. 1650 of its employees currently log on to Toys'R'Us' leadership training portal to catch up on their corporate trainings, and have watched over 3000 minutes since earlier this year.
Here's are the Uscreen features that Toys'R'U is using to maximize its online employee training program:
Group Subscription
Uscreen's group subscription feature allows Toys'R'Us to give access to a predetermined number of authorized users, along with an admin account to manage the platform and list of users.
This feature allows for multiple individual logins, so every employee can create their own account, upload avatars, bios and manage their own profiles. They can access their personalized feeds of content and are easily able to pick up where they last left off in their trainings.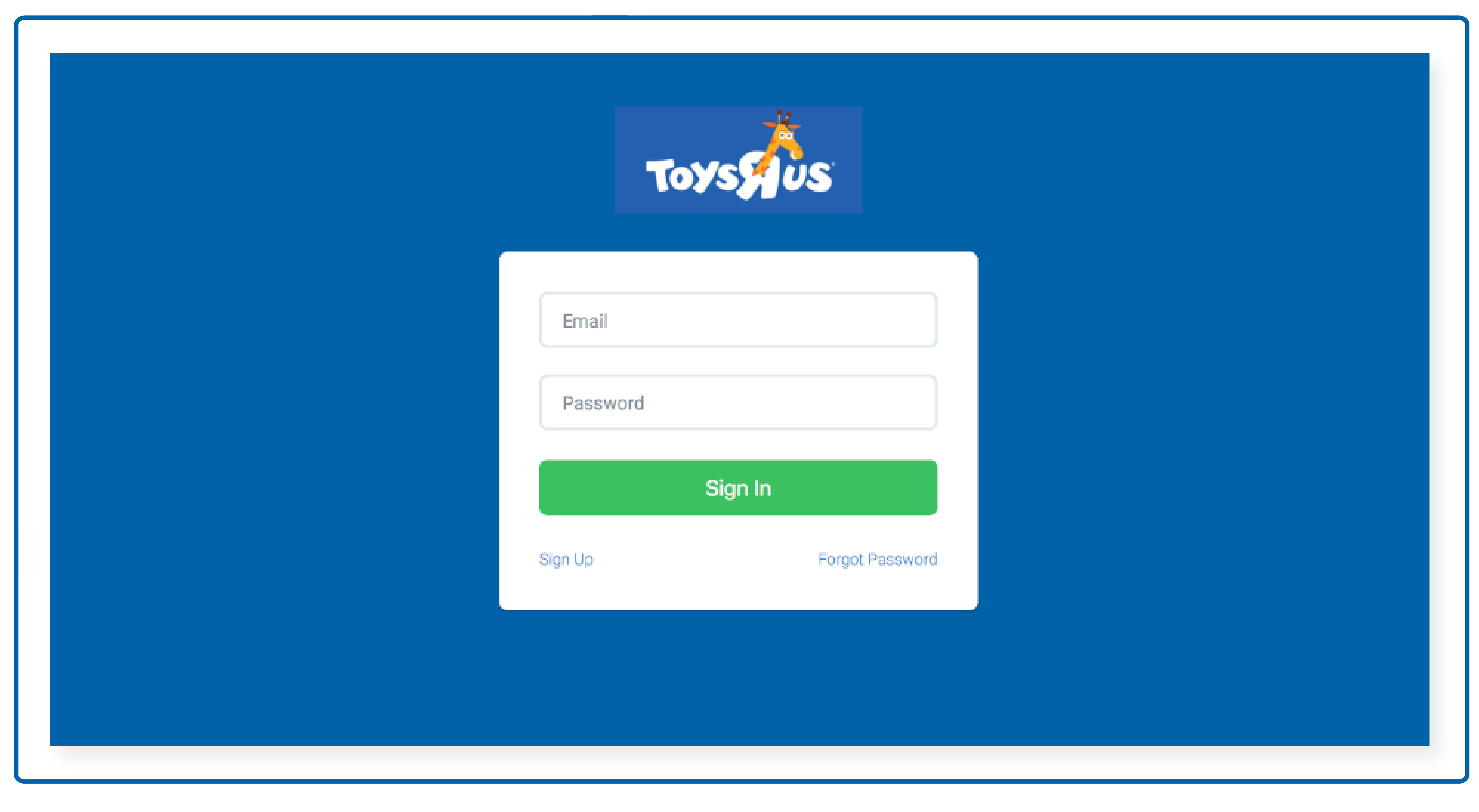 The group subscription feature also allows for management to track the progress of each employee throughout their training, and allows for employees to be accountable for their progress.
Content Management System
Often times, those managing these training portals are not tech savvy, and need to be able to upload and edit their content quickly and easily.
Uscreen is designed to be as easy to use as possible, saving you time, effort and money since you can do it all yourself with no coding experience needed. Toys'R'Us can upload videos quickly and securely from any browser, all of which will automatically be optimized for mobile sites.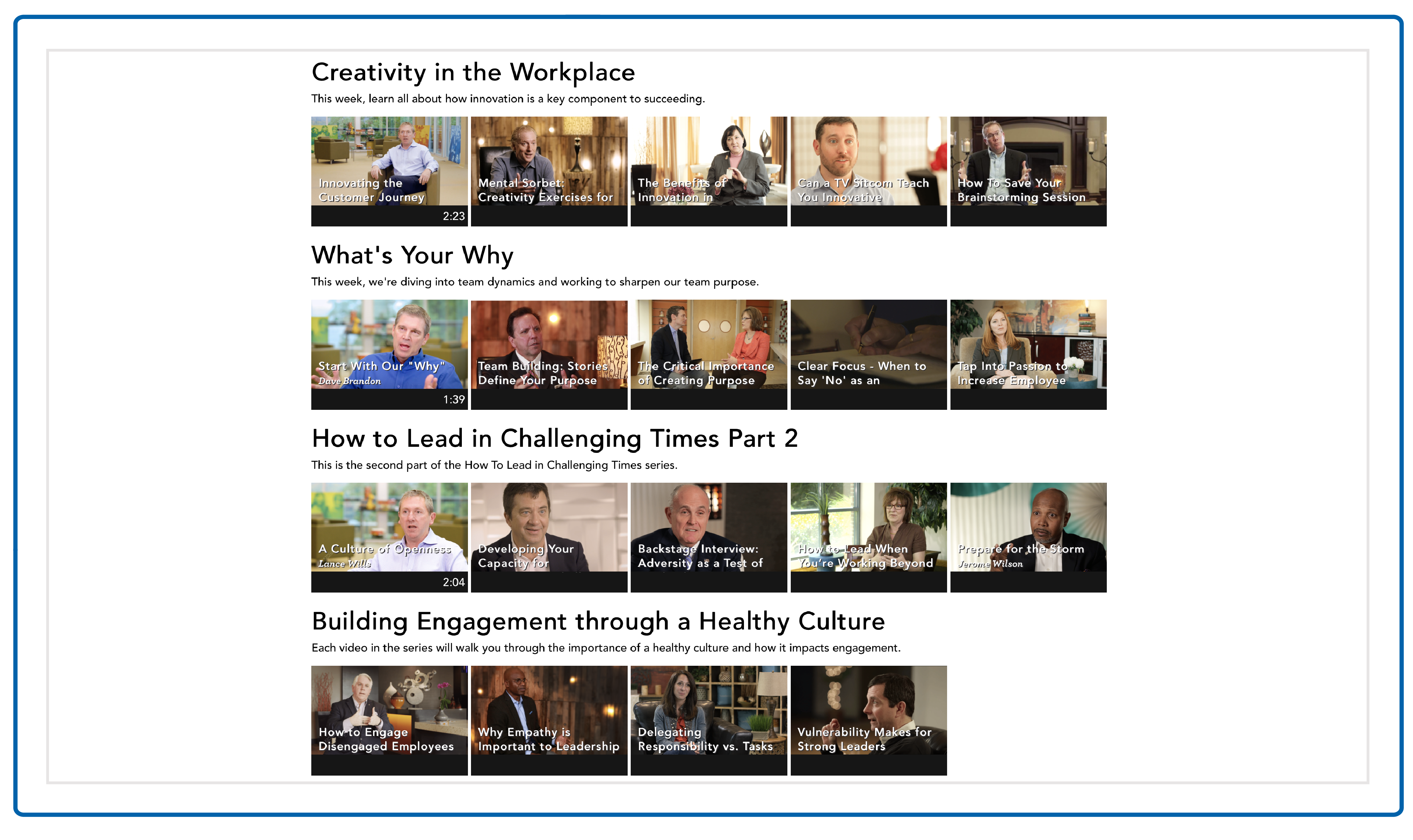 The Uscreen content management system also allows for easy categorization of the video library to make browsing easier for employees based on topics. You can create a menu similar to those on Netflix and Hulu that feature helpful links to chapters, episodes and other digital content you have uploaded (such as PDFs, documents, audio clips), and even timestamps for videos' starting points.
All of this minimizes the risk of employees becoming confused or frustrated. Keeping your library well-organized is key to quality of experience, so it's common practice to separate content into relevant categories. You can even schedule content to automatically be added or removed from subscribers' libraries, add subtitles in various languages in needed.
Branding
Toys'R'Us' training portal needs to feel like home to employees.
Uscreen gives Toys'R'Us the ultimate flexibility to build a VOD that matches its corporate brand. Portal creators were able to choose from a number of flexible and beautiful themes to work with, and integrated the styles and colours that worked best for and perfectly matched the brand. Every single aspect of a Uscreen website is customizable: player-type, chapters/episodes, and color schemes.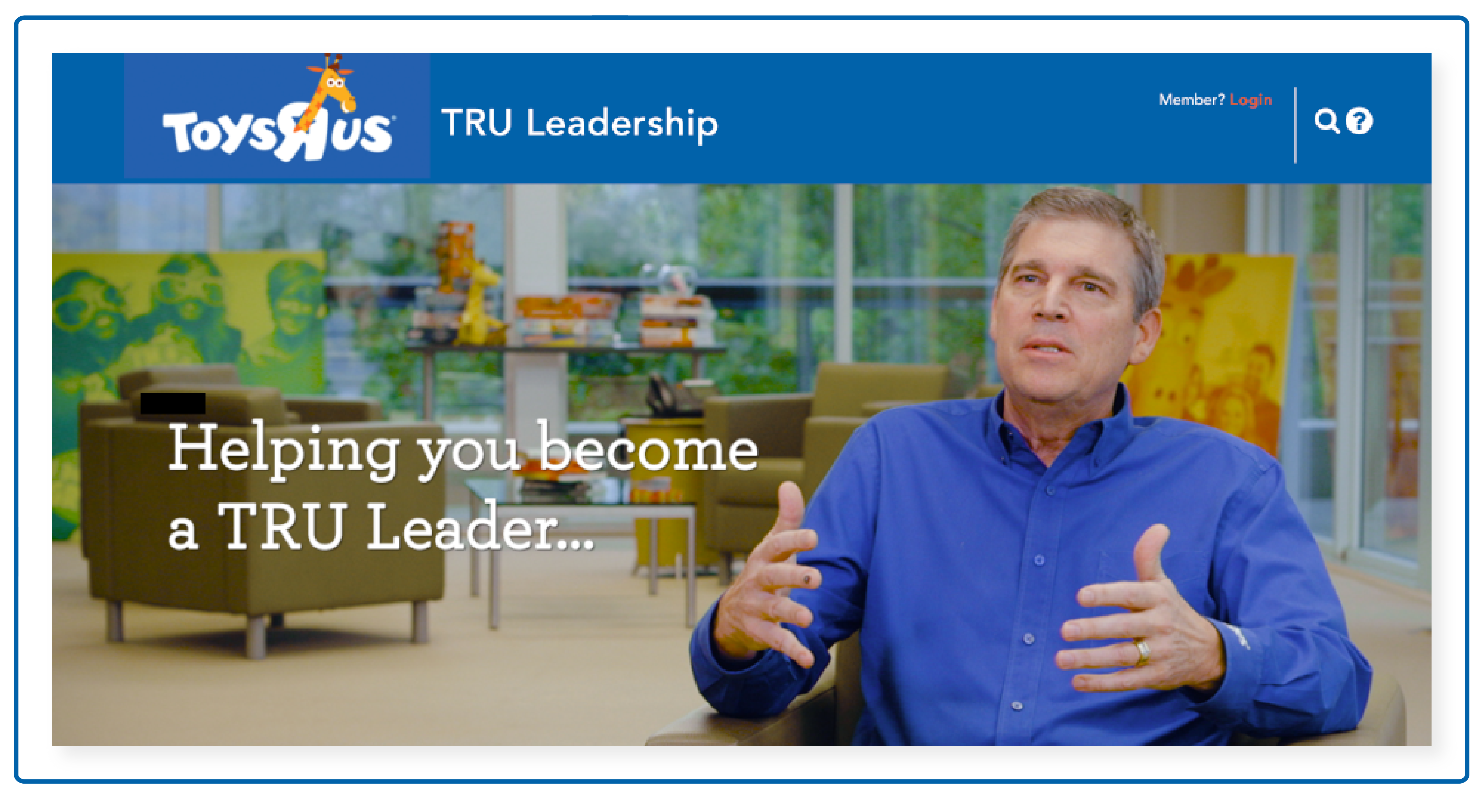 And as mentioned before, the administrators of this training portal are not necessarily tech savvy. Uscreen allows them to customize their website with not advanced design or coding skills. It offers a simple, user-friendly, plug-and-play, web builder, so you can see how the finished design will look as you build it. No coding. No complex technical jargon. No worries.
Analytics
Behind the scenes, Uscreen's analytics data enables Toys'R'Us' team to monitor their engagement and user-activity details. Toys'R'Us is able to manage its employees and view key analytics, like which videos are viewed the most often and how much of the trainings each employee has completed.
It allows the team to explore the most popular aspects of the training,build on their most already successful aspects and improve on weaknesses. While the analytics data is very comprehensive, it is still accessible to even those with little to no experience using similar tools (such as Google Analytics).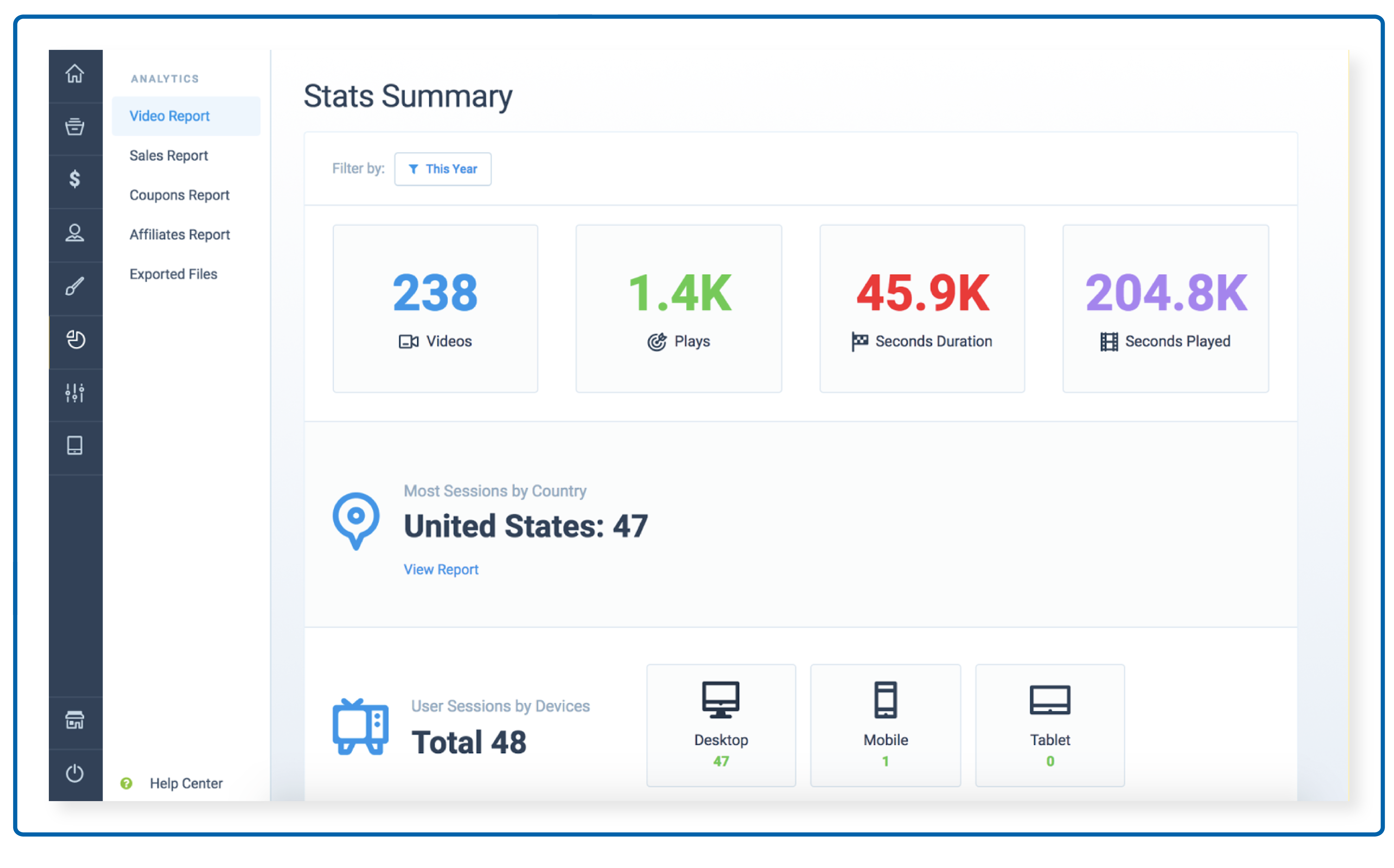 Toys'R'us started with a soft skill employee training program about leadership with Uscreen. Which online employee training are you going to start developing and implementing first?
Training your employees is vital to your success and to your company's future. Give your current and future employees what they deserve by creating a safe learning environment with goals and rewards. This is how you can rise above your competition and be the benchmark for others around you.

Uscreen is a third-party video hosting service that securely hosts videos, allowing you all the flexibility and none of the hassle of building a video website. Uscreen provides the ultimate personalized video-distribution platform with a login wall, offering your company the opportunity to host its own customized training portal to populate with films and videos, case studies, planned readings and quizzes to bring your employees up to speed.