The last few years have seen SVOD services become a staple of people's lives.
444 million people used them in 2018, and there is a good chance you've either used, or are going to use, one today.
In this article, we're going to answer the question "what is SVOD" and show you how this service is helping businesses of all kinds grow their income.
What Is SVOD?
SVOD stands for Subscription Video On Demand (VOD). Since VOD refers to videos available online and accessible at the viewer's convenience, SVOD is a service that allows you to access the entire video library for a small recurring fee. This fee may be charged daily, weekly, monthly, or annually.
Once you've paid for access to their service, you can watch as many videos as you want on any device with internet access. They often allow multiple users at a time, too.
Subscription video on demand is one of the most common types of VOD services available right now. According to Business Insider, 55% of Americans use Netflix, where 1 billion hours of video is streamed per week, and 31% use Amazon's Prime Video service.
You might also be familiar with other types of SVODs, like: Hulu, Now TV or even Vimeo.
Anywhere where someone pays you a recurring fee in order to watch the video content that is hosted on your platform can be considered an SVOD service. And these services are projected to become more and more popular as time goes on, with an estimated 568.4 million people watching videos on these platforms by 2022.
This type of service has become so popular because it comes with massive benefits to both the reader and the business or creator hosting the videos.
Viewers are able to watch premium content at a time of their choosing. They're no longer bound to timetables, or waiting for a show to record to their smartbox.
Instead, they can view across multiple devices for no extra fees. And a yearly subscription comes in, on average, much cheaper than a cable or satellite TV package.
If you've ever found yourself seven hours into a new series, unsure if you've showered, surrounded by junk food and soda cans, you've definitely enjoyed the benefits of an SVOD service. (Who knew it could be so hard to say "No!" to another episode of Stranger Things?)
For businesses and creators, the benefits come in the form of creativity and control.
They have complete control over the content that is created and broadcasted. They don't have to wait for permission to release their latest video, have their income depend on advertising budgets, or hope that everyone is there to watch the show at the right time.
They can create the content they want, release it when they want, and let people consume it however they want.
Creators can also gather real-time data on what their audience is watching, and have direct communication with their fans, to help them provide better service and videos in the future.
It's what we'd call a win/win situation.
But SVOD isn't just the realm of giant media companies like Amazon, Netflix or Hulu. Small online business owners are using these subscription models to grow their income, and their audience, every single day.
Online choreography school, TMilly, is a perfect example of this.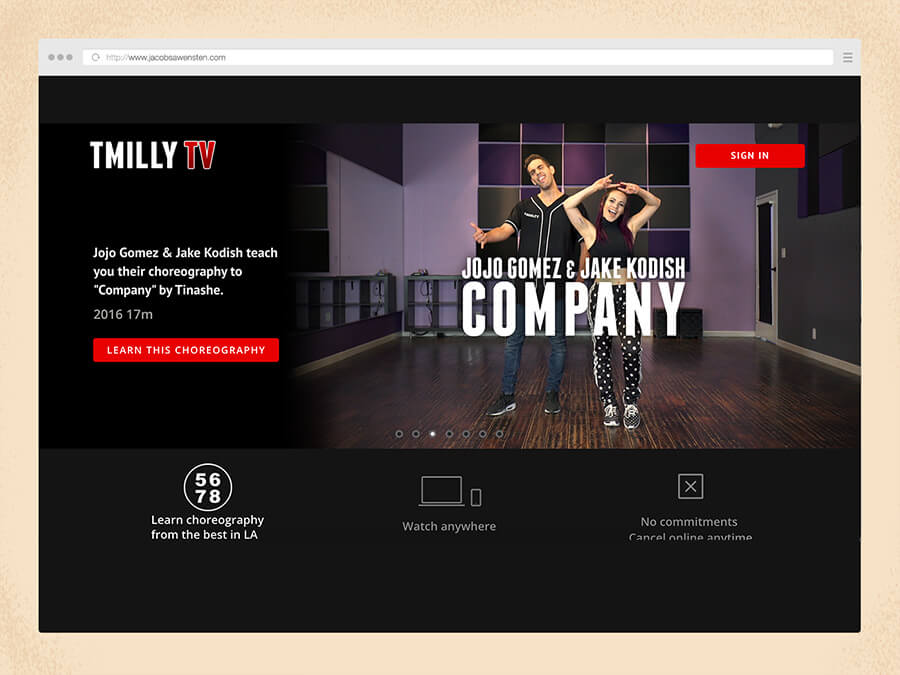 For just $9.99 per month, dancers can get access to a complete suite of video choreography lessons made by some of Los Angeles's best instructors. They can access these lessons on any device, from any location with WiFi, whenever they have time to work on their moves.
If you want to make a living creating video content, and have complete creative control over what you produce, an SVOD business model might just be the solution you've been looking for.
It doesn't matter if you create sitcoms, documentaries, courses about sales techniques, or want to show people how to brew their own coffee. If you can video it, you can incorporate it into an SVOD platform.
SVOD In A Nutshell
An SVOD platform is a Subscription Video On Demand service, where users pay a recurring fee to watch video content.
In order to count as a video on demand service, the content has to be available to watch whenever the user has the time to watch it, and not conform to a schedule.
SVODs are one of the most common, and most profitable, business models for video creators. They have complete control over their content, distribution, and what to charge. This gives a level of freedom a television program just doesn't have.
If you create video content, you can use a service like Uscreen to host it and begin to charge for it.
And, if you have any questions about SVOD services, feel free to comment on this blog post and we'll help you as best we can!