Today we're going to show you the best Muvi alternative on the market.
One that lets you…
build beautiful websites

get support when you need it most

keep more of your hard-earned money
… while always innovating, listening, and working to create the best possible tool for you.
So, without further ado, allow us to introduce ourselves…
No time to read this article now?
Download a free PDF version of this blog post (all tips and links included).
Uscreen: Transparent, Professional, And Trustworthy
At Uscreen our goal is to become the best video monetization platform – ever!
And to do that, we didn't just set out to build the best features and tools (although we still do that).
We also vowed to always conduct business fairly and honestly, and to treat our competitors with the utmost respect. We focus on building transparent and nurturing relationships with our clients and community.
We value professionalism and transparency over everything else.
We bring this up first because we know that the way we choose to do business is one of our biggest differentiators to Muvi.
Unfortunately, Muvi is known to prioritize business gain over honesty, and has time and again confirmed this to be true.
The most harmful thing they've done to their customers and website visitors is they created comparison charts that mislead readers about how their platform compares to the competition – not just by embellishing their own capabilities, but by blatantly lying about the competitors' capabilities. Check it out yourself:
We don't think that's fair or cool.
On the other hand, when we create platform comparison charts or blog posts (like this one), we are always sure to be completely honest with the information we give you so you become well informed about the facts and make your own decision about which platform to choose.
We also go so far as to try the competitor's platform ourselves so we can vouch for our claims.
Finally, we believe in transparent communication about our product's capabilities. We want you to make the right choice for your business.
In this rest of this comparison post, we're going to show you a fair comparison between our two tools, so you can make the decision that is best for your business right now.
Let's get into it…
Looking for a more visual,
side-by-side comparison?


User Experience: Which Platform Is Easier To Use?
Uscreen and Muvi both offer a dashboard to manage your site. Within it you can:
Design your website

Manage payments

Upload content

Check your analytics

Contact customers

Create offers
The features on offer are comparable. But the difference is how they do them.
Muvi's dashboard has a nice design but is unintuitive. Some processes, such as managing your content library, are more complicated than they need to be.
Muvi dashboard

Uscreen, on the other hand, is built on customer feedback.
We've worked alongside our customers to create a dashboard that works with you. We test everything thoroughly and ensure everything is in top working order before it's launched.
Uscreen dashboard
And, if you have an idea about how the dashboard could be better, we are always open to suggestions!
Design: How Is Your Website Going To Look?
Uscreen and Muvi both offer website customization as part of their packages. However, we have different ways of implementing it.
Muvi works on a Bring Your Own Design system. Here's Muvi's official statement on how that works, taken from their dashboard:


This means that with Muvi, you have three options:
Bring a fully-coded website design with you when you sign up
Hire a developer to change the HTML
and CSS for you
Pay Muvi $5000+ to create a website for you
If you find these options to be out of your price range they do provide four simplistic templates you can use in the meantime: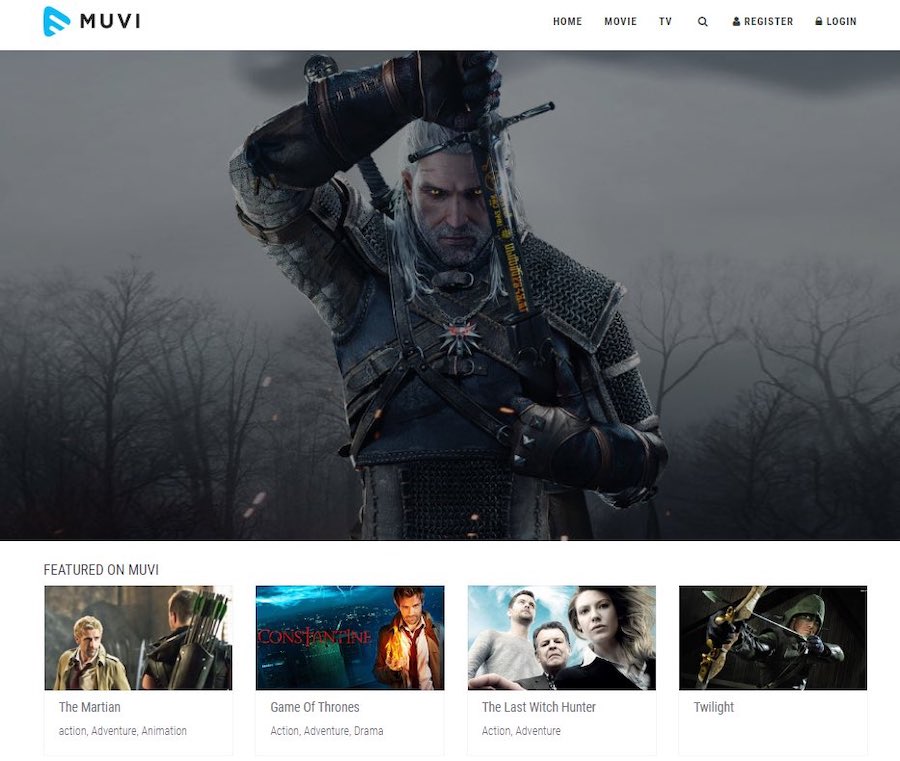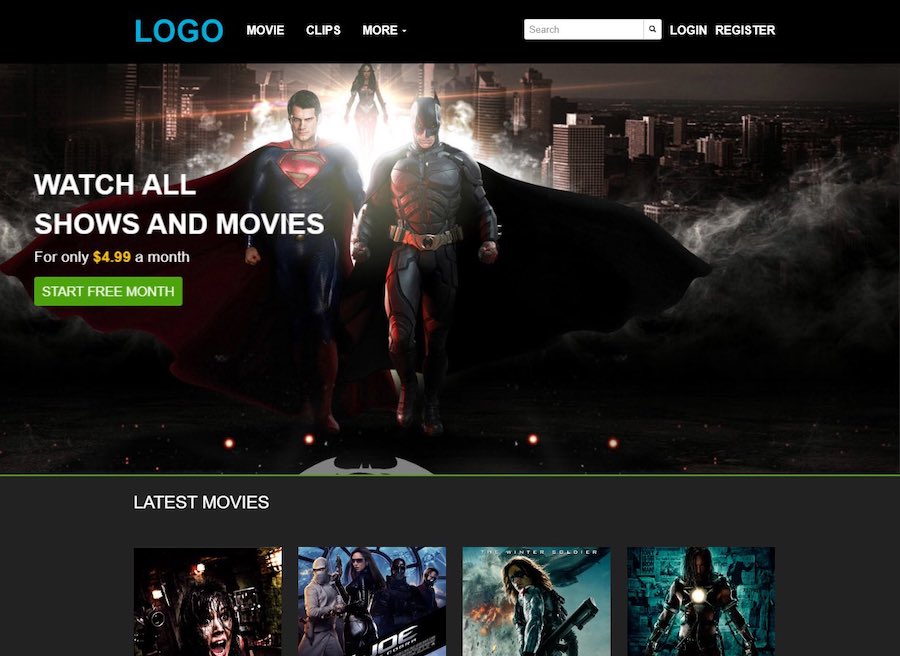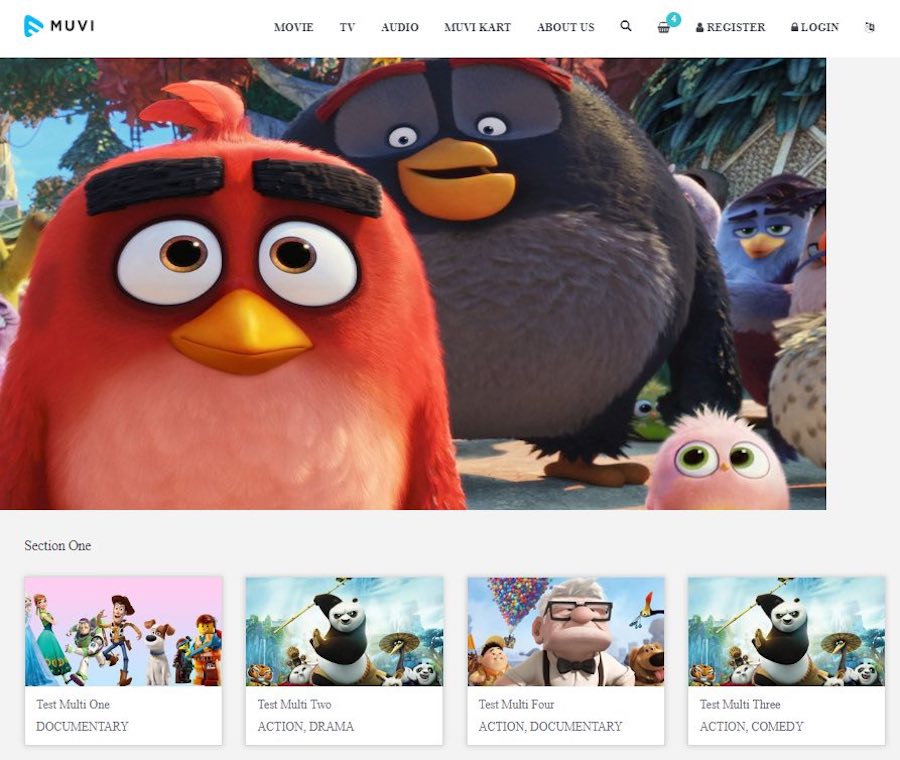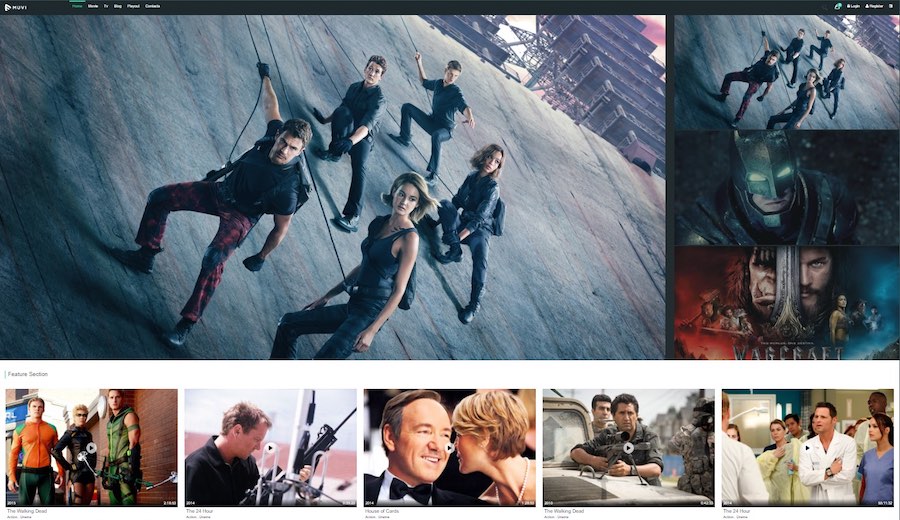 Uscreen offers a more budget- and user-friendly approach to design.
We offer 12+ stunning free templates that have been optimized for different industries. Whether you sell magic tricks or fitness videos, there is a template here for you.
Here are 5 of my personal favorites: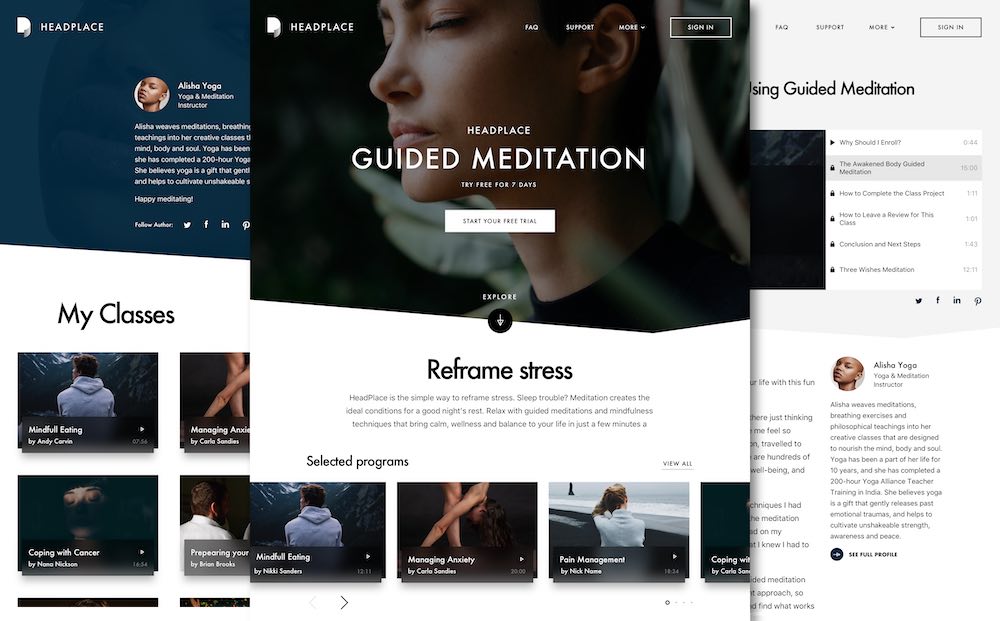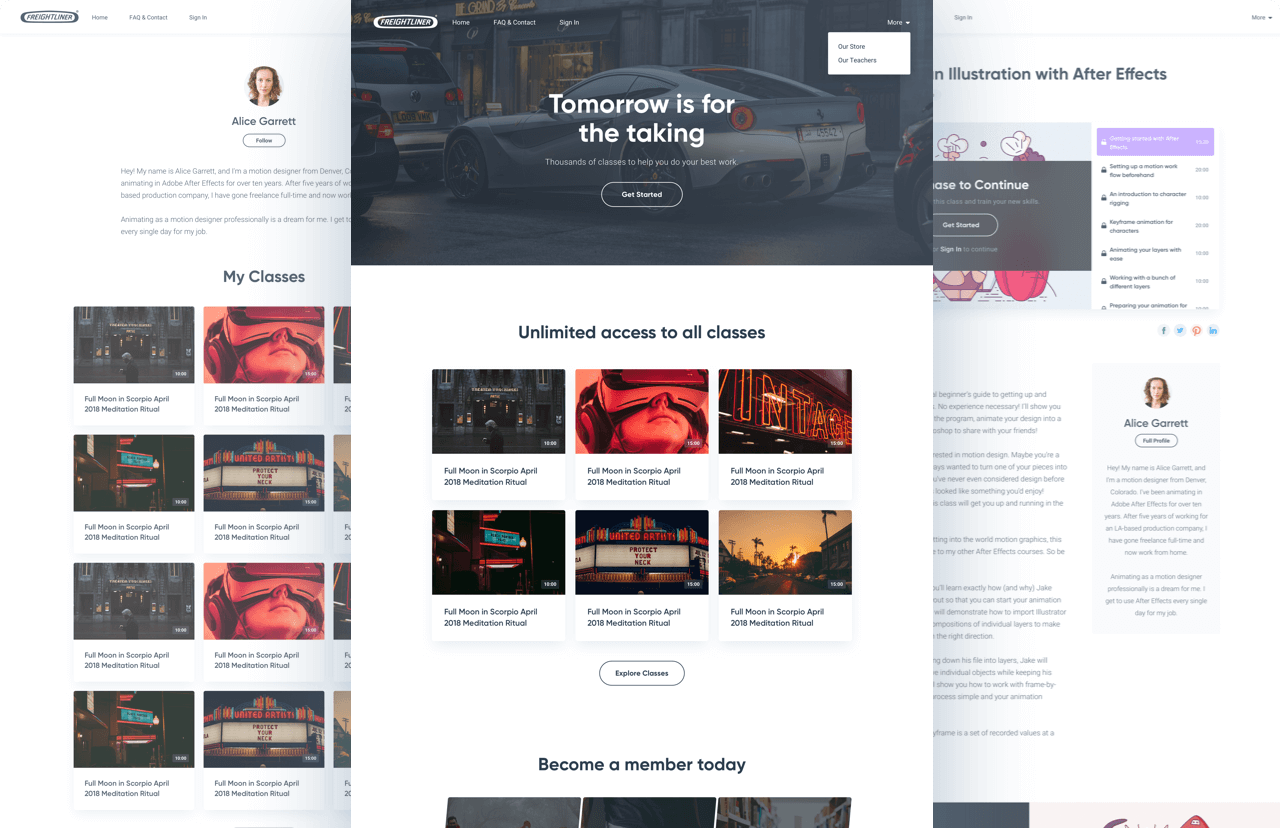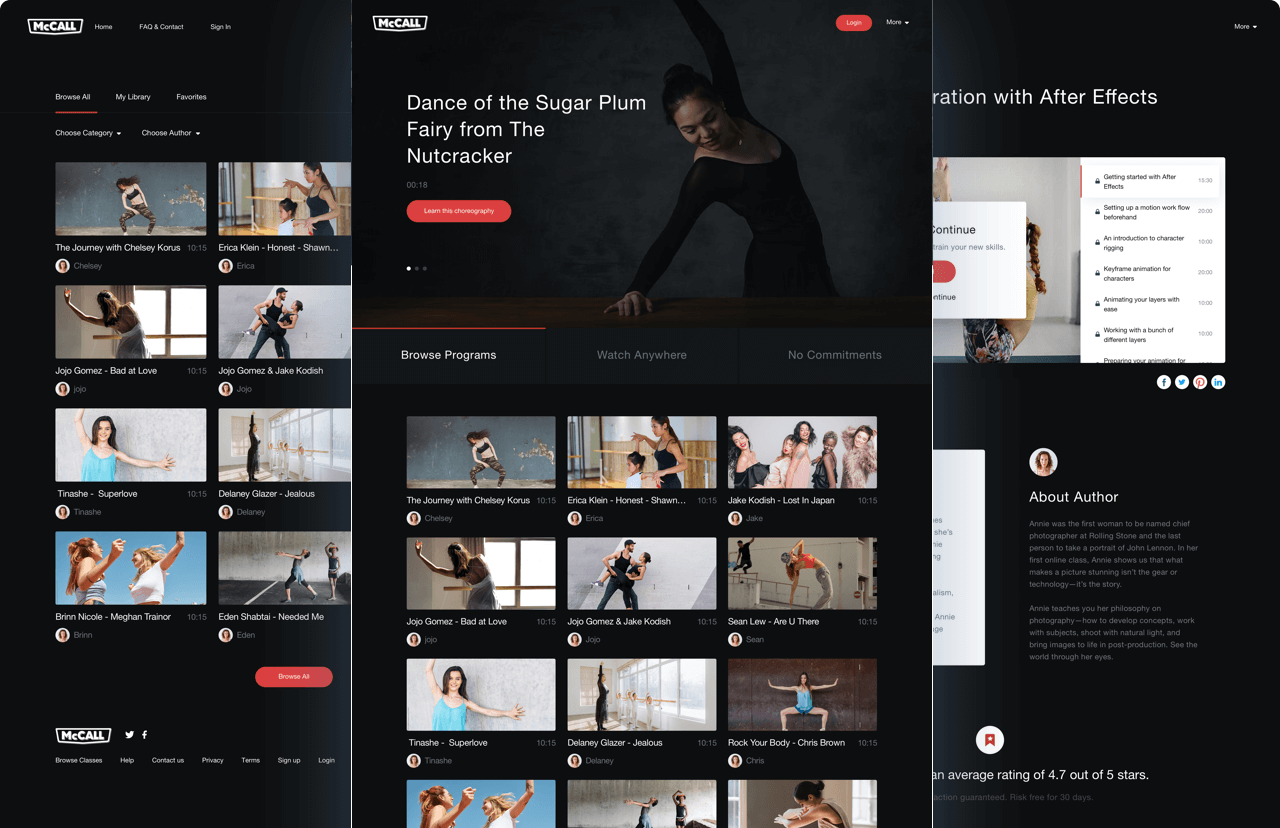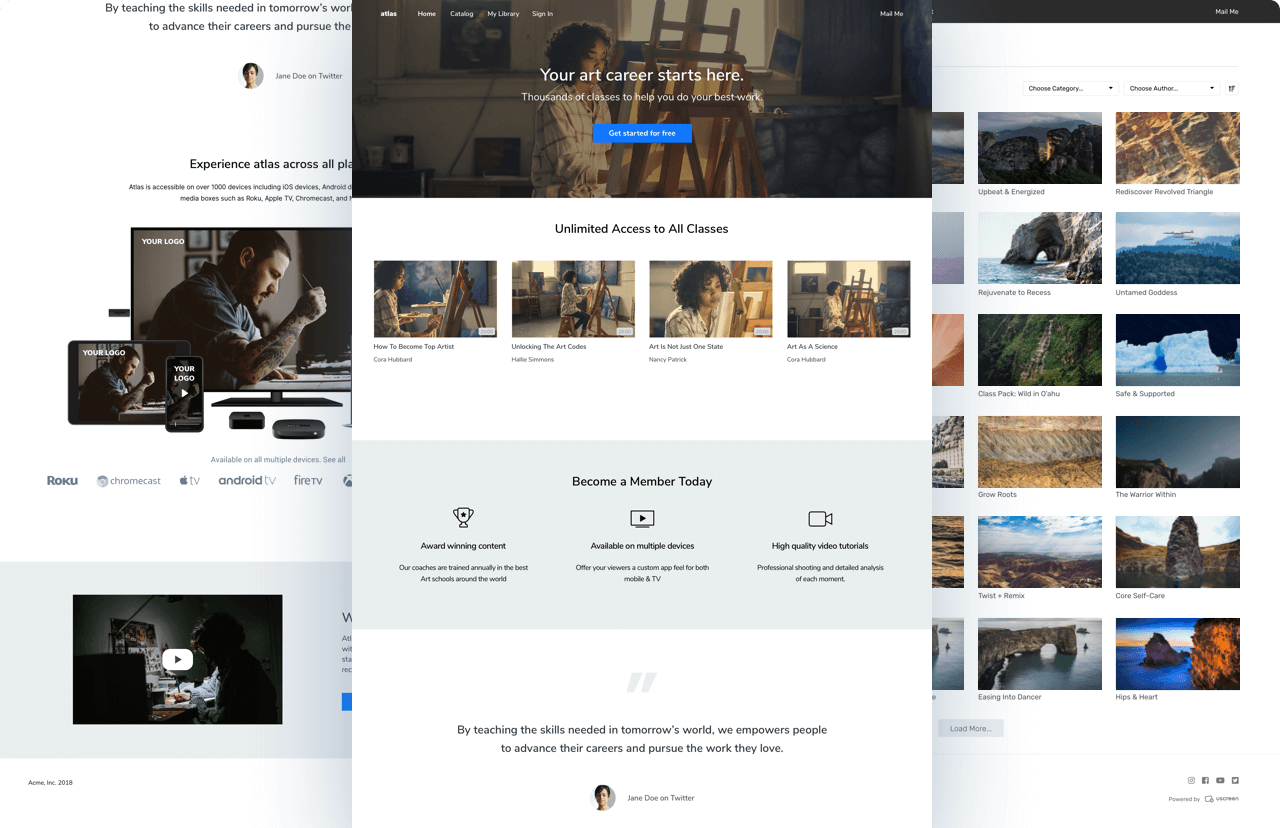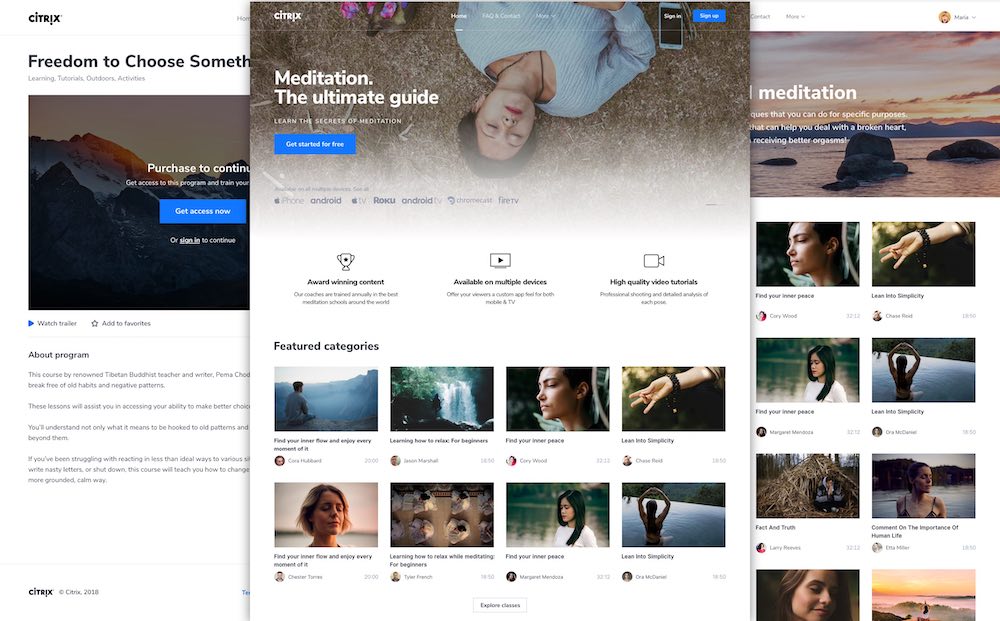 If you want to customize any of these templates, we have also created a point-and-click website builder, so you can create a unique website.
This means you can create your website, your way, without needing a degree in computer engineering or to fork over $5000+.
Pricing: Are There Any Hidden Charges?
Uscreen and Muvi are much different when it comes to pricing.
Muvi offers three different packages with base rate monthly prices of:
These are competitive prices when you consider they all come with an OTT app included.
However, Muvi also has several extra charges if you stray outside of your tariff, which can incur high unexpected costs. Here's a list of their "infrastructure charges":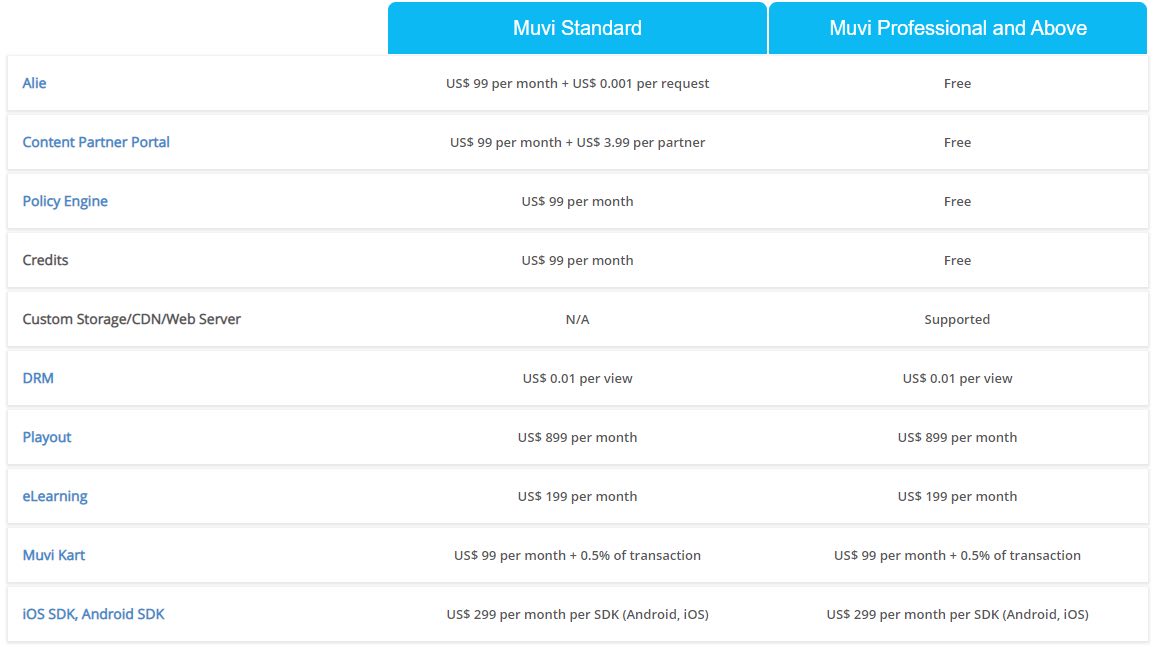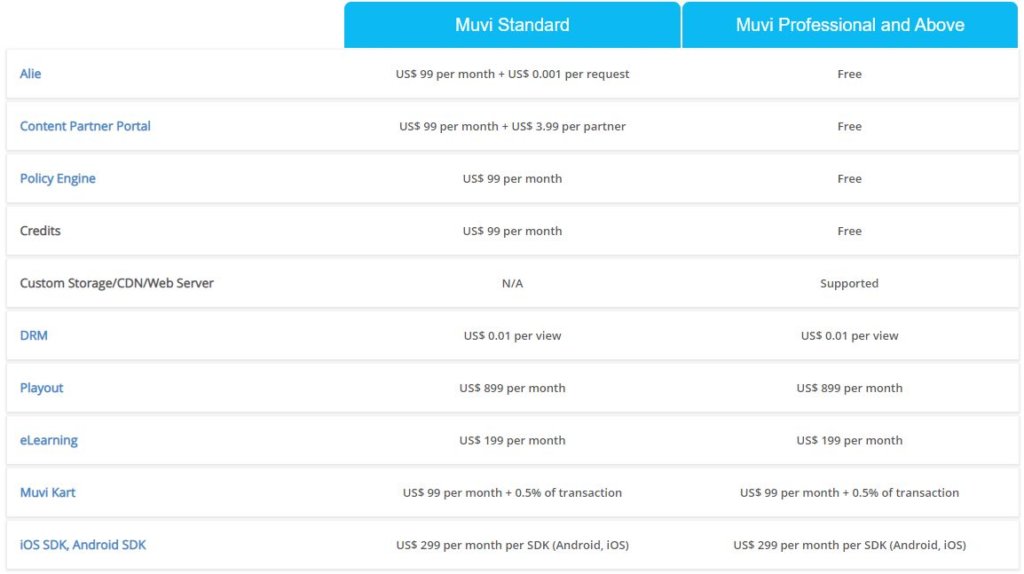 Based on the average usage of a medium-sized video business you could expect to pay this could result in a couple of hundred dollars in fees on top of your monthly rate.
One way to avoid these costs is to purchase extra bandwidth. But, these come with a large price tag. And if you exceed your limit you will need to purchase one of these upgrades: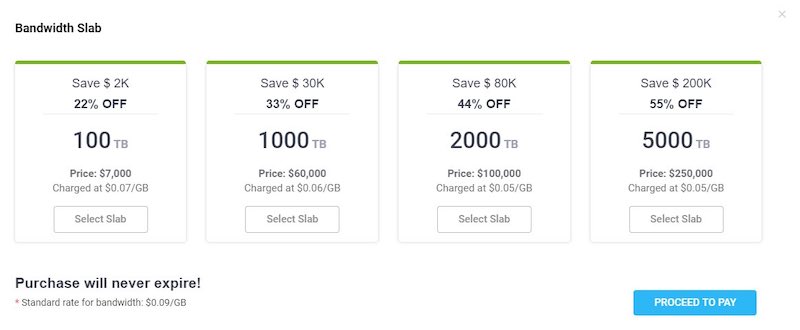 $7000+ can make a real dent in your yearly profit margins. And, not purchasing these upgrades can incur significant overcharges.
At Uscreen we believe in transparent pricing.
We want you to always know what you're paying for. As such, we have no hidden fees, and will only ever charge you a flat monthly rate.
Uscreen's Pricing Plans
Fair and consistent pricing every time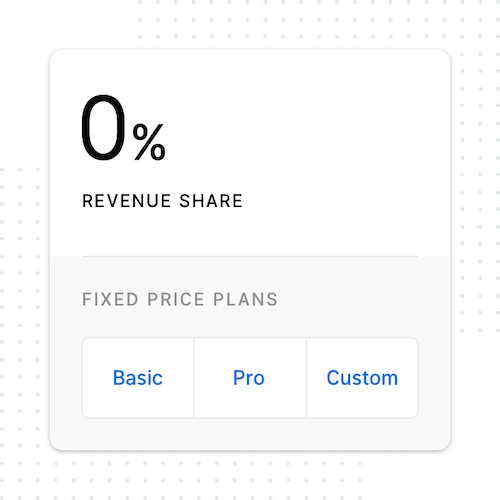 Our Basic and Pro packages provide everything you need to effectively launch and scale your video business.
Then, when you outgrow those packages, we will work with you to create a custom service where you only pay for what you need. After all…
Your overheads should be predictable and you should never pay for more than you need.
Onboarding And Support: Who's There When You Need Them Most?
Uscreen and Muvi both provide round-the-clock support. Depending on your package you can contact a team member by either:
Our services are comparable in this respect. But, Uscreen also offers a Help Center to help you troubleshoot and solve your own problems.
But we believe that support is more than fixing broken websites. That's why Uscreen has created resources to support you in all areas of your video business.
It starts with onboarding.
Within 24 hours of signing up you will receive an email from our dedicated onboarding specialist, Sarah, to schedule a call where you can:
Receive a walkthrough of Uscreen and our features

Discuss your video business goals
Sarah will then show you how to tailor the platform to your needs.
We have also created our free Video Business School to help you navigate the murky waters of selling videos online. There are modules on:
Pricing

Brand building

Content optimization

Marketing and SEO
To help you find, connect with, and sell to your ideal customers.
You can also find weekly updates on our blog about the latest industry tips, tricks, and trends to help you get ahead of the competition.
Wrapping This Up…
If you are looking for a Muvi alternative, we'd love it if you would consider Uscreen.
We pride ourselves on being a professional, transparent, and trustworthy brand that always communicates the facts about our tool.
We also believe we have a better product that you will love to use.
If you want to learn more about how Uscreen can help you, here's what to do next…
You can read our side-by-side comparison with Muvi to get a closer look at how our tools are different.
Or, you can start your free trial, to see if Uscreen is the right choice for you: