As people turn to the Internet more and more each day for pretty much every need, it is crucial that, as a business owner, you have as many points of contact with your clients as possible. One way you can do this is through social media and it works fairly well depending on your business model. Business owners who offer streaming videos or DVDs, however, may find it hard to sell and distribute their work to a global audience through social media.
This was the same issue that Amy Griffith was facing until she met Uscreen and everything changed for her. Finding Uscreen was a lifeline for Amy's prenatal yoga video tutorials and it remains the main distribution point for her workout videos.
A Little Bit about Amy Griffith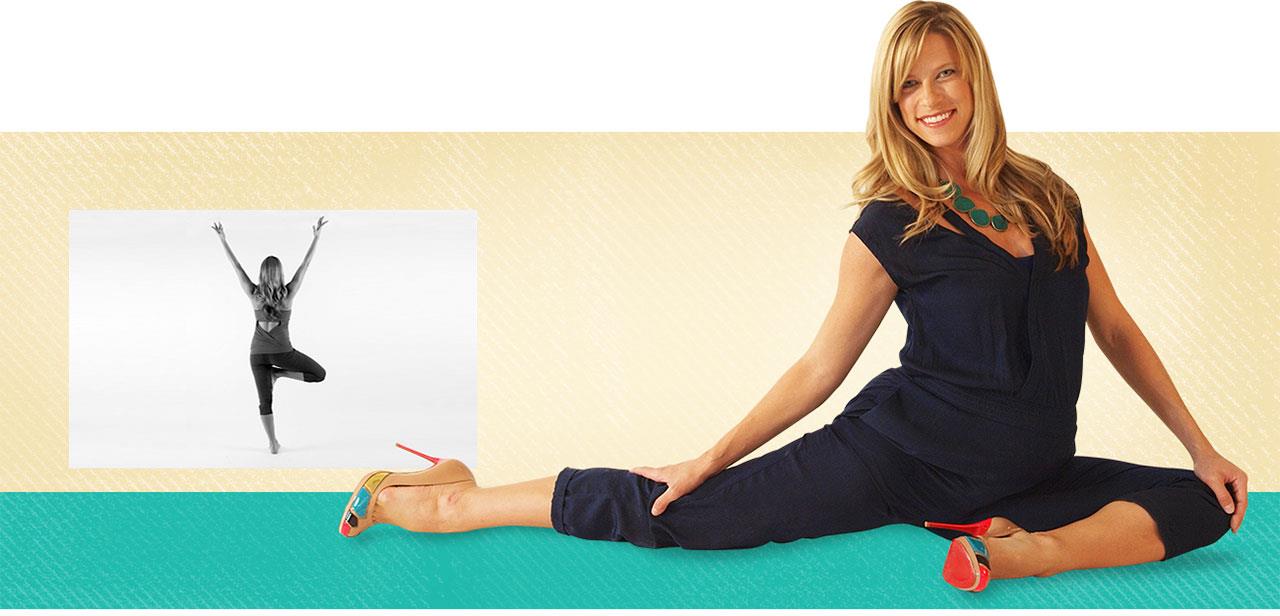 Amy has been a dancer since the age of five and has made a successful career out of it.  Eventually she transitioned over to yoga, which for her was quite easy because of her background. For Amy, yoga was an escape from the bustling city life that she lived every day. It taught her how to breathe and relax a little.
She got her certification through The Prenatal Yoga Center and since then, she has been helping others find the peace that they need in their life, especially for pregnant women. She has since been creating prenatal yoga videos for women all over the world to join in with her in these powerful yoga sessions.
Some of Amy's credentials:
Sonic Yoga – Center for Yoga Studies; 200 hour certification
Prenatal Yoga Center; 60 hour certification
Bachelor of Fine Arts in Jazz Dance Performance from The University of the Arts in Philadelphia, PA
3 years of being a Radio City Rockette
"42nd St." Broadway Cast
Mother of two precious children
Click here to watch the video -> youtube.com/watch?v=vRuzTFjE93k
Amy is not just running a business; she is creating a culture of peace for all prenatal and postnatal women can find rest from their crazy lives. Amy has partnered this passion with Uscreen and has seen a huge increase in sales and interest in her products.
How Amy is Using Uscreen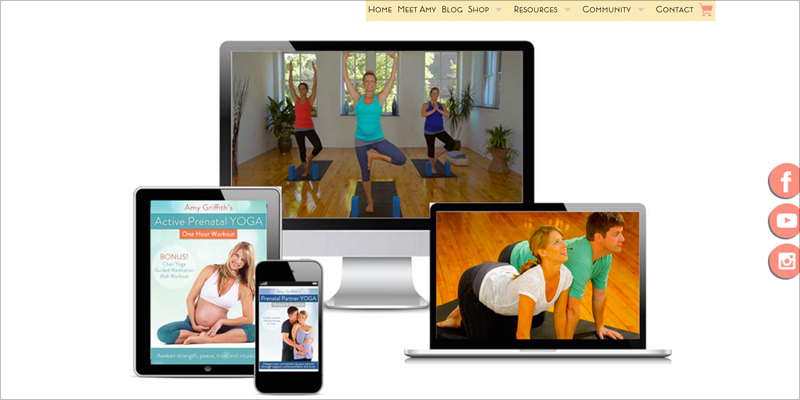 Before finding Uscreen, Amy was always looking for new distributors to distribute her DVD workouts that she put together. Then she realized she could sell all of her videos online. Since she started using Uscreen to showcase her videos, Amy has seen an increase in sales by 30%.
This has also freed her up from trying to find distributors to sell her DVDs. Now, with Uscreen, she is able to globally distribute all of her videos/DVDs from the comfort of her home. Amy can be at ease knowing that anyone can access her videos anywhere in the world while she takes care of her family and home.
The Uscreen platform has really made it easy for the end user to find Amy's Exercising Balance yoga videos with everything being available right on the front page. No need to dig through countless categories and videos to find what you want. Additionally if they are looking for a specific video, users can easily use the search option to find what they want.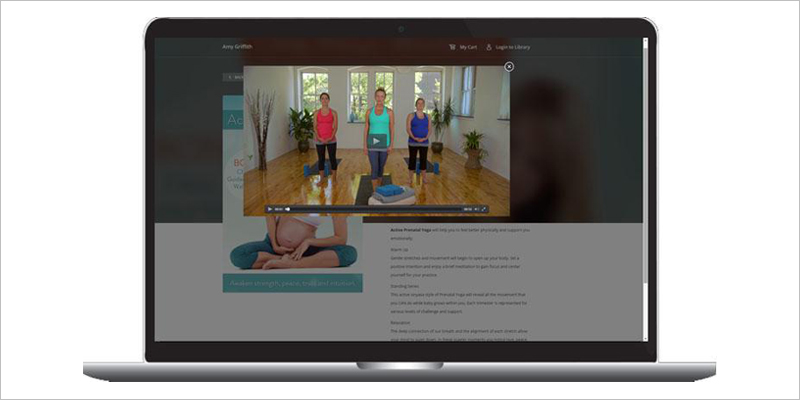 Easy Access to Workout Videos
Accessing Amy's Exercising Balance yoga videos is really simple for each end user for one simple reason – it's very user friendly. You choose the video that you are interested in and add it to your cart. Once you go to your cart you can log in via Facebook or Twitter. This makes it easy for a quick checkout without having to fill out a whole bunch of information. Once the user signs in, they will be directed to a secure checkout where they can pay via PayPal or credit card.
This can all be done at home on your PC or it can be at the hotel via laptop or mobile device, making the videos accessible from anywhere in the world. And before they buy a video, users can watch a quick preview to make sure they are making the right choice before purchasing the video. This feature has been a huge success with Amy's customers. They love that they are able to access all of her workouts through any device that they wish.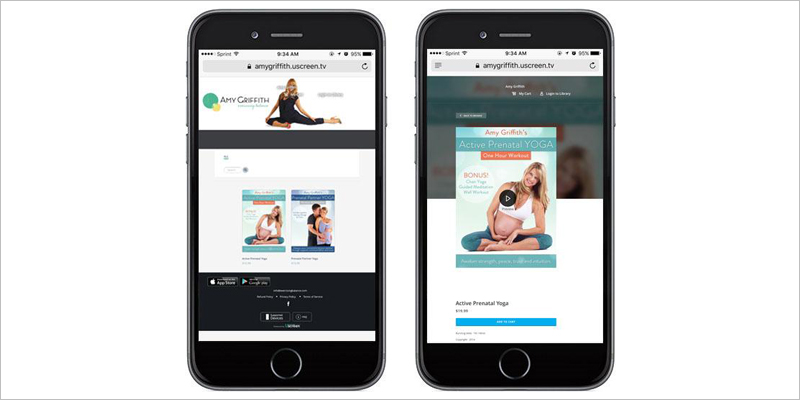 Another way that Amy's clients are able to watch the full-length workout classes is by streaming the videos on their phone and then using Apple TV to watch it on their big TV screen. This is obviously much better than watching it on a smaller screen. With all of these options, it's no wonder that Amy has seen such a big spike in sales since turning to Uscreen. Amy plans on adding more videos as time goes on, providing an entire library of yoga workouts for prenatal and postnatal moms.
What Amy's clients love about her new Uscreen store:
Easy to find all her videos
Global availability
Able to stream videos via any smart device as well as Apple TV
Previews are available to watch for each video
They can pay using PayPal or a credit card
With all of these amazing options, Amy plans to continue to build her yoga workout business and hopes to one day become a leader in the market with her videos. Using Uscreen has made her dreams possible without all of the hard work and hassle of finding distributors and getting real estate in retail stores.
Although some people still prefer a physical DVD, more and more people are adopting online video streaming and subscription services and that's why Uscreen is the perfect choice for her. We know that she will go far and we are honored to have her using our platform for all of her streaming needs.