Rags-­to-­riches stories are often heart­-warming and almost always inspiring.
Think of the popular film The Pursuit of Happyness starring Will Smith. Didn't it seem, at least for a few seconds at the end, that you, like Chris Gardner, could achieve anything if you just put your mind to it?
Click here to watch the video -> youtube.com/watch?v=x8-7mHT9edg
This is the same feeling you might get when you read these success stories of four unexpectedly successful subscription businesses that started small but grew exponentially, raking in as much as a year's worth of income in just six months.
From stories of overcoming obstacles to building a customer base, these testimonies will both inspire you and give you insight into how to build your own profitable subscription site.
1. Prospurly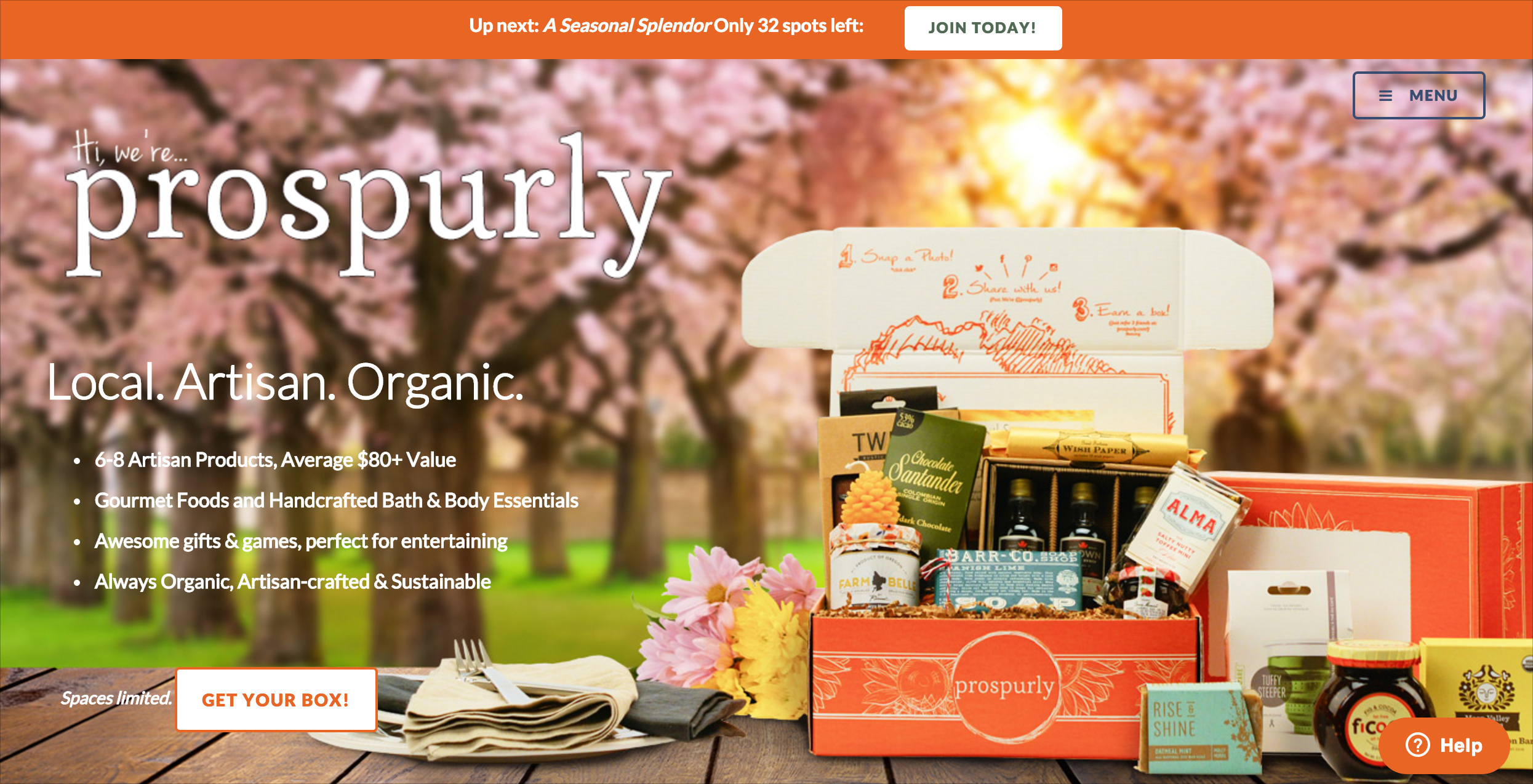 Well, the name says it all. In just half a year, this site went from having zero customers to 220 subscribers and gross revenue of $60,000.
Its founder, Jesse Richardson, admits that even though he puts in an average of 5 to 10 hours a week in running this side business, he has already attained a recurring revenue of $8,000 a month, with a 20 to 35% profit margin.
How did he do it?
Jesse recounts that he started a few other subscription businesses before he hit on the inspirational idea that would give rise to Prospurly.
Right from the start, he was sure of two things:
First, that he would provide natural products from local stores. Given that his parents had always been very environmentally conscious and big believers in leading healthy lives, he knew he would receive valuable guidance from them on his new business venture.
Second, he knew that he was not interested in providing product samples, which meant that he would have to actually purchase products.
One day, as he was reading some thoughts inspired by the Greek philosopher Epicurus, he stumbled upon his money-­making idea. He read that the thinker once said that all that was needed to be truly happy was to have good food, good friends, and lead a thoughtful life.
So, he got to thinking that he would build a subscription site around this idea of happiness and took it further to include the concept of prosperity. After brainstorming names and synonyms, he came up with Prospurly, which plays with the concept of living "prosperly."

The main message was simple: "small­-batch, artisan lifestyle products for bath, body, and home." In essence, a monthly box of ingredients for a happy life, as Epicurus once envisioned it.
His idea sounded great­­especially because there weren't many competitors with the same approach­­but he needed to test the waters first. So he decided to carry out a pre­-launch campaign to gather emails, build buzz, and test messages.
By building out his social channels­­starting with the most basic, like Facebook, Twitter, Pinterest, and Instagram­­he was able to generate some traffic to his landing page.
Although this was his first time launching a business completely on his own, he was able to secure 600 pre-subscribers in just 12 weeks.
One of the keys to his early success was that he scoured the web for guides on how to do just about everything, from reaching out to social influencers to launching a blog.
Long story short, he spent the next weeks identifying crucial business tools such as a customer support platform and accounting software, developing a website and designing custom boxes for his products.
A month after launching, he received a little over $5,600 in revenue, which then doubled over the following five months.
This sounds like an enticing figure for a first­-time solo entrepreneur, but there's also a price to pay, says Jesse:
"In all this, the first lesson I learned as a student of business remains true: trying to run a business (mostly) alone is difficult work … It's a test of your hard work and your willingness to accept failure."
2. Wrestle Crate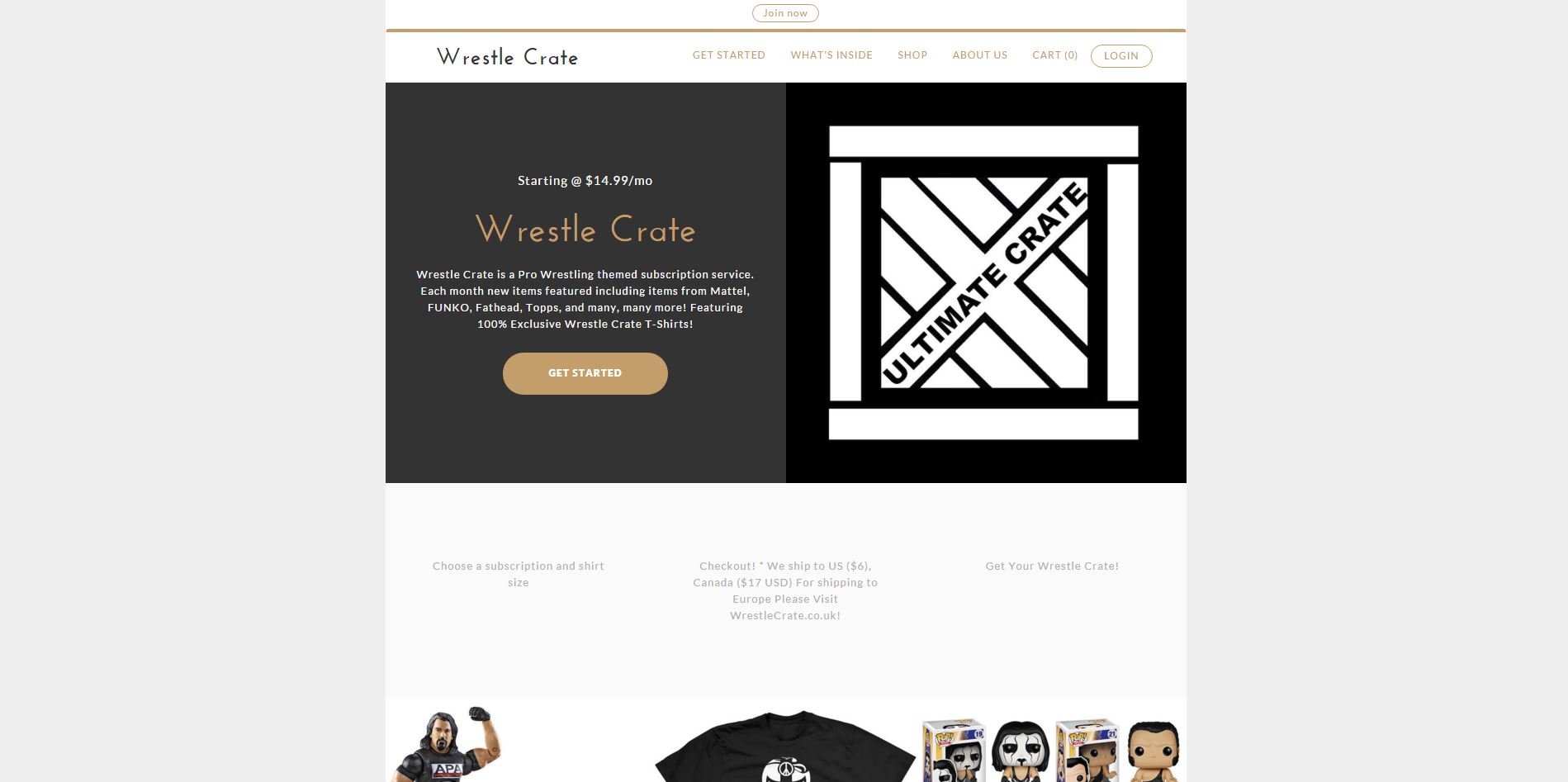 The next case is a heart-­warming story of a father-­and-­son venture that turned into a bonding experience.
Edward Allen was a family man who had dedicated 15 years of his life to a job that wasn't really his passion but at least got the bills paid. Despite feeling fortunate for being able to provide for his family, he always yearned for something that would both motivate him at a deeper level and allow him to spend more time with his son Aiden.
Since both shared a love for wrestling, Edward decided one day to embark on a fun project that would exploit this mutual interest. He never anticipated, though, that it would turn into a full­-time job.
As avid wrestling fans who knew everything there was to know about WWE superstars, both Edward and Aiden had the necessary passion and knowledge to start a subscription business to meet a great but unattended demand: vintage wrestling memorabilia.
Edward decided to take a risk and started Wrestle Crate, his own subscription business. At launch, he was already sending out more than 250 boxes. Only two months later, he was sending out 1000 boxes.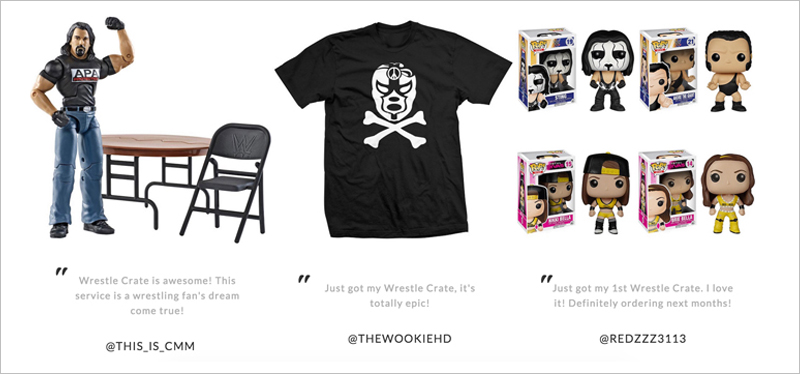 How did he do it?
For starters, Edward reached out to the biggest influencers in the wrestling community and sent them sample boxes. These members of the community gladly reviewed the product and spread the word to others.
Second, Edward also successfully leveraged the power of social media, videos, and blogs to engage wrestling fans around the world. He spent hours scouring the major social media platforms to find new potential customers and answer their questions. As a result, Edward now has 800 subscribers in the U.S., Canada, UK, Australia, and Mexico.
The fruit of Edward's efforts have truly been inspirational. Not only has he found a full­-time career he loves, he's also grown closer to his son, whom he calls his "best friend."
"I was familiar with the subscription business and knew it was a good model. It changed my life drastically from a financial standpoint, from a personal standpoint. It's the first time I've really liked going to work."
3. HD Piano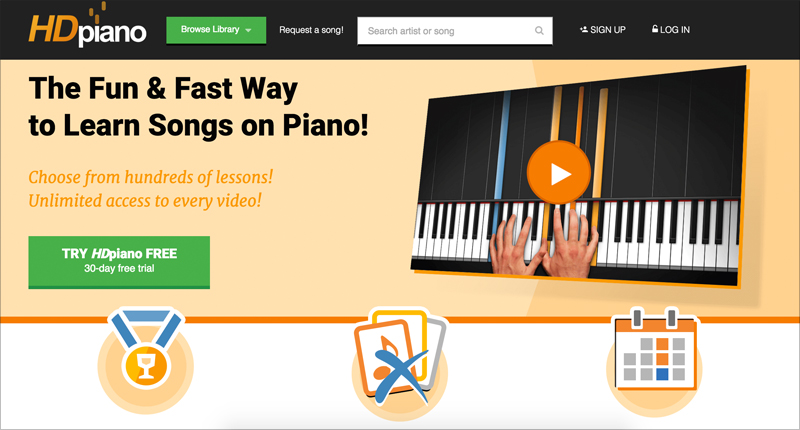 Some of the most successful subscription businesses don't offer tangible products, but rather expertise and training in the form of videos.
Take, for example, the profitable subscription service HD Piano. Started by entrepreneur Sean Lee, the site has taken off since its launch several years ago. With 240,000 subscribers and nearly 2 million views per month, Sean rakes in $1,000 every day by monetizing his videos of piano lessons­­all without having to purchase tangible products.
In the beginning, Sean tried to do everything by himself, including video editing and production. After several months, he decided to hire a video editor to produce high­-quality video that would better serve his customers and convince potential clients of the quality of his piano lessons.

One of the keys to Sean's success was his choice of a freemium pricing model. Under this strategy, he would post YouTube videos of certain tutorial videos, which could be accessed for free, and then would offer customers access to more lessons for $60-­a-­year subscription.
The results of building a subscription business based on videos could not have been better, says Sean:
"Video is one of the best ways to make a passive income in 2015."
4. Yogi Surprise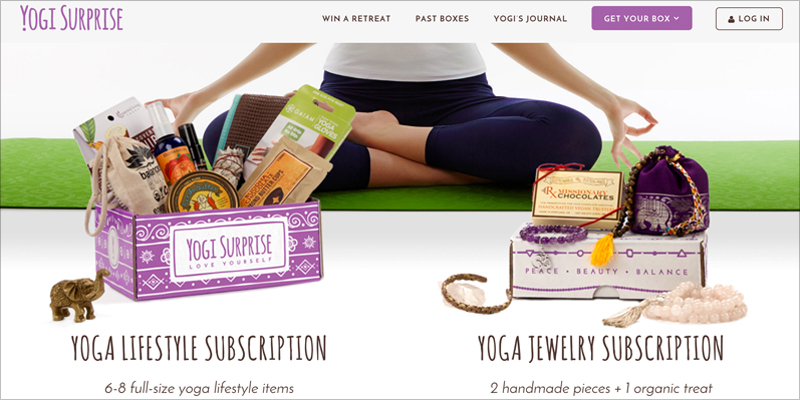 A veritable pioneer of the subscription commerce industry, Jameson Morris recounts how he started several businesses before he found his own formula for success.
After trying his hand at subscriptions for natural product samples and then a box built for cat lovers, he launched Yogi Surprise, which is advertised as a "yoga retreat in a box."
After only two months of being in business, he already has over 1,000 customers who are fully satisfied with the product.
As a result of his many successes, he shares some valuable insights for others who are on their own mission to create a sustainable and profitable business.
One of the most important is to create a sustainable pricing strategy and an adequate profit margin. Instead of copying competitors' pricing models, he says it's crucial to do the math yourself.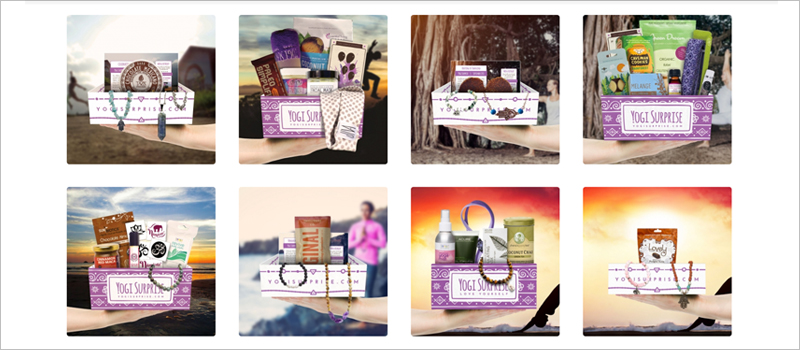 Also, he stresses paying attention to details and never skimping on product quality. It will pay off in the long run. Being obsessive about customer satisfaction is another key ingredient. He says it's possibly the best indicator of your business's health.
One of the most important pieces of advice he gives is to follow your passion: "Your passion and authenticity will show through and it's important to pick niches you feel strongly about rather than chasing what hasn't been done yet."