The technology gurus are recognizing that the era of video online streaming is coming of age. With the continuous decline of DVD sales there has been an equal and opposite uptick in online video streaming access. While some may consider using what sounds like a lucrative opportunity via the 'free' sites, such as YouTube, this is not the direction that the experienced tech retailers are taking nor have they chosen the standard marketing path; the ingenious method-to-their-madness is creating & selling How To videos that are engaging and attractive and this decision is making money for their companies.
**As you will see below, we show 2 companies that saw an immediate increase in revenue by offering an awesome user experience using Uscreen and immediately add a new line of revenue to their business by selling How to Videos.
Mobile and Tablet Streaming Moving Faster
The rise in video streaming has continued to experience an increase, quarter over quarter and year over year. The fast pace of this technology movement can only be compared to the adoption of the internet itself. Ooyala, one of the major companies that monitors video streaming showed the first quarter of 2014: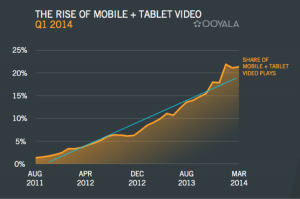 The latest Ooyala report is demonstrating that by September, 2014, the share of mobile + tablet video plays has topped over the 30% mark.
Additional stats include:
*In Q3 2013, smartphone and tablet views made up just 14% of all video views. So last quarter's views represent over 200% of what we saw just a year ago.
*Since Q3 2012, when mobile and tablet video views made up just 6% of all online video views, growth has exceeded 400%.
Phones and Tablets Are Becoming the Norm
Another study is presenting some pretty compelling statistics when it comes to the rise of tablets and phones not only for video streaming access, but the extended amount of time the viewers are being engaged.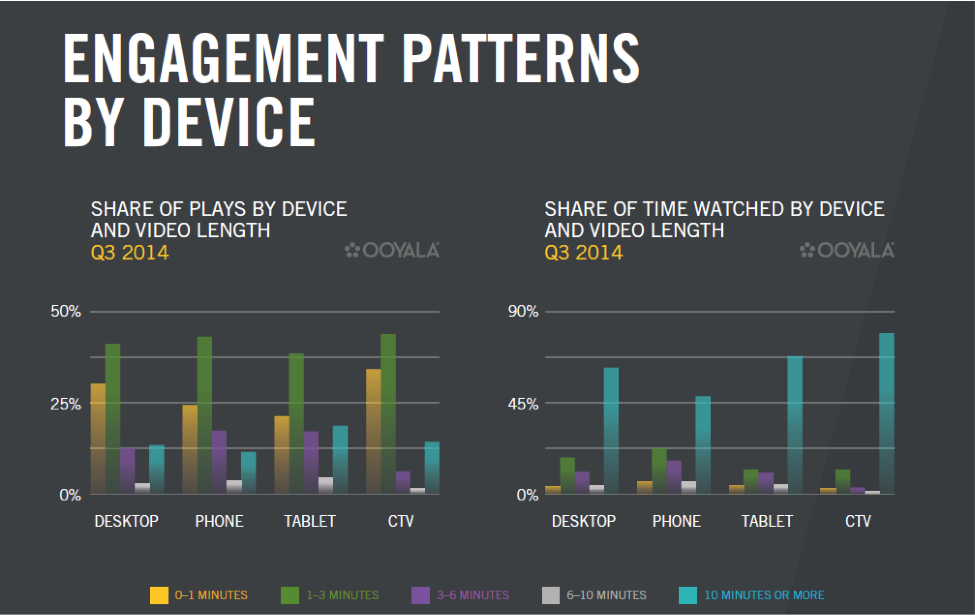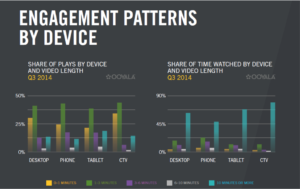 So Now That You Know the Direction, What's the Method?
As with any shift in consumer interest, there is a right way and a wrong way to address the need and see profit margins increase. Prioritizing the fact that you have a proprietary investment in your videos is the most important factor that needs to be kept in mind.
Things to Note:
**The allure of a 'free' site has entrapped many a well-intentioned entrepreneur that is seeking a cost savings. The problem with the free sites is: there is always a 'catch' and when it comes to video streaming, the 'catch' is the lack of income. Giving away your proprietary video in the 'hope' that you will have revenue is not a smart move.
**Presentation, perception and accessibility is everything when it comes to video streaming. We are in an immediate gratification society with a short attention span. If the video doesn't have the right look, attract the consumer and can be viewed at the moment, you will have lost them.
**Creation with a twist: Turn your video into a 'How To' as a method to attract and appeal and lead them to the site where they will want more. 'How To' videos of between two and ten minutes are becoming the hot viewing arena. The beauty of this is in the simplicity of the concept as it accommodates what the viewers are looking for. The old world of 'How To' has gotten a new facelift and consumers are viewing on their phones, tablets and computers.
**To ensure the security of your videos, use a platform such as Uscreen for easy uploading and e-comm processing. This may be listed last, but it is one of the most important aspects to ensure that the safety of your videos while offering the best of all worlds for the best quality and availability on all of the viewing sources the clients choose.
Proving Success – Customer Examples
Hoopnotica.com had a very excellent online business selling DVD's and yet they had the insight to see that the technology trends were changing. They began to realign their strategies, altering their video style to become 'How To' videos and making use of the easy Uscreen platform. Their videos are now demonstrating a 4 to 1 conversion and they are experiencing an upsurge in their profits.
FLXBody are creators of professional athletic and dance wear and equipment. Their decision to craft 'How To' videos, combined with the expertise at Uscreen for video streaming, has offered an additional revenue source for their popular 10 minute videos. The sale of their 'How To' videos has continued to increase and complements their product lines.
Making the Transition is Easier Then You Think
Unlike large corporations that require months, if not years to make any changes, the net offers opportunities to make alterations at your own pace. Setting up a strategy will mean examining your product strengths and adapting these into a marketing slant for 'How To' videos. You can start out more slowly, gauging the success and making innovations and additions; eventually accomplishing what 'works' for you and your viewers.
Partnering with a company such as Uscreen will also give you the type of flexibility you need in ease of uploading, security, omni-technology accessibility and customer needs. This offers the best of all worlds as you can now focus on the success and expansion of your business.