If you've found this blog post we know two things to be true:
You want to start a

video on demand

service

You want to see all of your options before you use Pivotshare
The platform you choose to run your business will have a huge impact on your future. And, you want to be sure you are getting the best deal.
Here at Uscreen, we understand investing this much money into your business can be scary.
There are few worse feelings than paying hundreds of dollars for a service, only to find there was a better option available all along. And by the time you realize this, moving services is usually a big hassle and sometimes even almost impossible to do.
You want to know you're getting quality right from the start, and that their service fits your needs.
So, we wanted to put this post together to show you a real Pivotshare alternative, and give you something to think about before you invest.
Uscreen: Who Are We And What Do We Do?
Hi, we're Uscreen.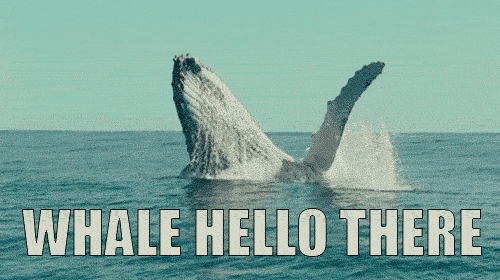 Since 2015, we have been helping video-content focused entrepreneurs, like yourself, become the Netflix of their industry.
We're a remote team of individuals, scattered around the world, who love video and seeing people succeed in their online business. (For example, this comparison was written in Germany, edited in Egypt, and approved in Washington.)
We have created a robust all-in-one solution which makes it easy to build a beautiful video website, create a community around your videos and grow a reliable subscription income.
Since launching, we've been fortunate enough to work with industry leaders like:
Wanderlust Festival

Powerplate

RIV music

Toys "R" Us
And more than 1,000 other video businesses, which serve 1.1 million happy streamers in 188 different countries.
We're proud to say the average Uscreen customer earns $5,700 per month. And, as you will see later in this post, we strive to ensure you keep every penny of it.
Okay, that's the brief introduction into who we are and what we do. Now, for the meat of the article…
The Point Of This Pivotshare Alternatives Post
Before we start comparing our service to Pivotshare's, we'd like to make something really clear:
The goal of this post is not to sell you on Uscreen.
Although we believe our service is the best on the market, we know that it isn't for everyone.
What we want to do with this post is to show you how our two services stack up against each other and help you choose the right service for your business.
Prices: How Much Will Your Business Cost To Run?
Let's start by addressing the elephant in the room, shall we?
Pivotshare offers an affordable pricing strategy. Their packages start at free and work up to $199 per month for a premium package. They will also take a 30% cut of any revenue you make.
Meaning, for every $1000 you earn Pivotshare will cost an extra $300 to use.
Uscreen's pricing is different – fair. You pick one of our pricing plans, sign up, and that's what you pay every month, regardless of how much money you make.
We will also never ask for a percentage of your revenue and only charge our flat fee.
Payments: Which Platform Lets You Keep Your Money?
As you just saw, Pivotshare let you get started on their platform for absolutely free and they'll take 30% of your revenue when you sell something.
If you're planning on keeping your business small at around $950 in monthly profit, and don't see yourself ever breaking that limit, then Pivotshare is a good option. As you'll see in a minute, that is around the limit where Pivotshare is more cost-effective than its competitors.
At Uscreen, though, our philosophy is to let you keep what you earn.
We charge a flat fee to use our services and will never ask for a percentage of your revenue. Whether you earn $10, $10,000 or $100,000, it's yours to keep.
Let's see how both of these models would play out for someone building up to $3,780 a month over the course of one year, on a $99 Uscreen plan vs Pivotshare: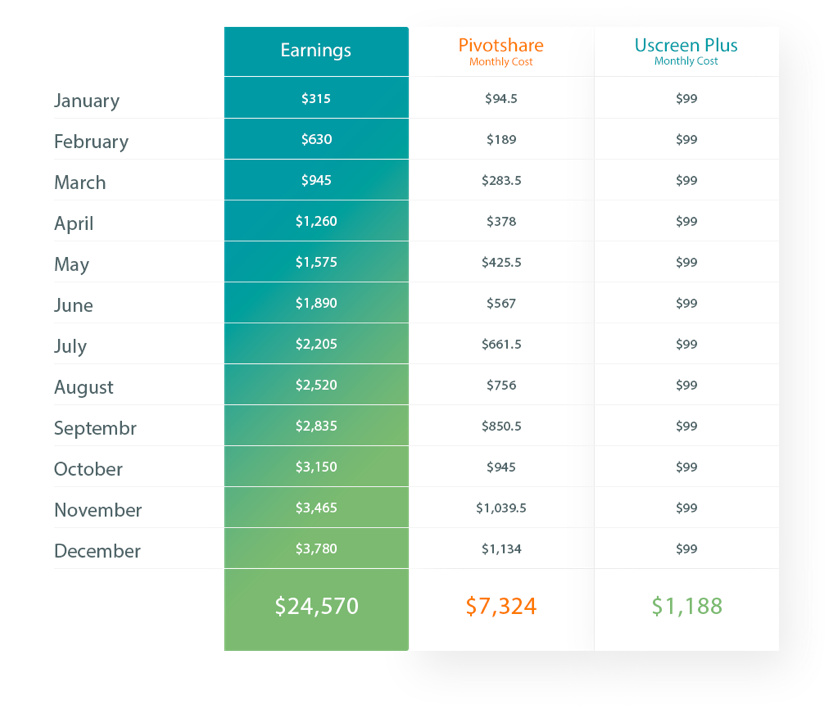 Up to $1000 a month Pivotshare provides you with a decent level of service which is cheaper than what you would pay for a monthly subscription with Uscreen
As soon as you make more than $1000 a month it can eat into your profit and leave much less for you to invest back into your business. And, if you take the Uscreen annual option which is discounted to $99 per month, you could make savings even sooner.
Design And Branding: Where Can You Leave Your Mark?
All this talk of price and payments has probably let you wonder, "What do I even get for my money?"
So, let's take a look inside each platform, starting with the design and branding.
Pivotshare's branding options are simple and easy to use, but also quite restrictive. It's closer to creating a YouTube channel than building a video website.
You can add the basics like logos, color schemes, header images, and your text. But there is little else to tell channels apart other than by their name and content.
Uscreen allows you to create and customize your website. We know how important branding and leaving your mark on the user is, and we want to give you the opportunity to do it.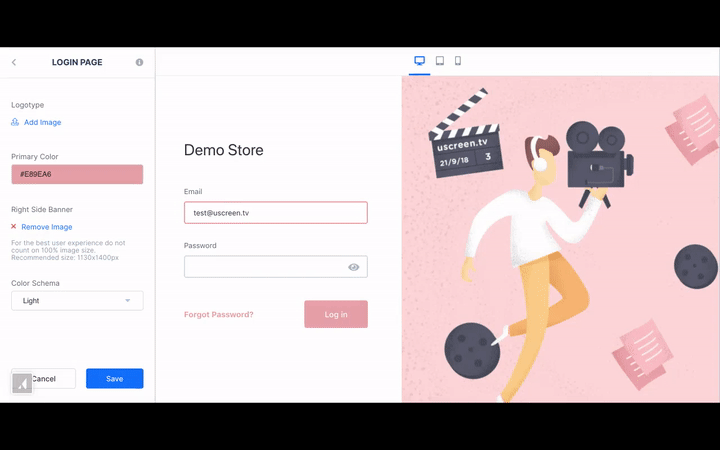 We have lots of video-focused website templates to choose from, or you can build your website from scratch. Your site will also be hosted under your domain name, so you have your unique place on the internet!
Content Management: What Can You Do With The Platform?
Content management plays a huge role in your video business.
How you interact with a platform, upload videos, and optimize pages for your audience can affect both your and your customer's experience.
Pivotshare comes with a simple which we honestly quite like. It doesn't have many bells and whistles but has enough basic functionality to do a good job.
You can upload videos in bulk, host them on your channel, and add your text descriptions and tags to make videos easy to find. There is also the option to upload some attachments, like PDFs and infographics, if you're creating educational content.
We've taken a slightly more robust approach at Uscreen because we wanted to ensure you have the complete package.
You have all of the same capabilities – like bulk uploading – but with many more expansions on top.
For example, Uscreen allows you to perform live-streams through your website, upload any content you want, and even work in multiple different languages. (Useful, seeing as video-on-demand has spread worldwide.)
The difference between our platforms is like comparing a point-and-shoot camera and a DSLR. The first one will get the job done, but the other creates a better and more professional end product.
Accessibility: Where Can More Users See Your Content?
Both Pivotshare and Uscreen both have online streaming at their core.
This means that users who are streaming from their browser – whether on their computer or another device – will have a similar experience. They log in, find their video and start streaming.
It would be hard for us to say who provides a better experience for this because it's highly subjective and will come down to many factors outside of each platform's control.
If you're looking to create a browser-only video on demand business, then the accessibility won't be much different. (If we don't count visuals and branding, at least.)
Where our paths start to diverge, however, is when you look beyond browser streaming.
Pivotshare enables you to create a partially-branded Roku app, which owners of a Roku device can download and use to stream your content natively through their TV.
Uscreen, on the other hand, allows you to create fully customized apps to be streamed on all devices, including:
Apple TV

iOS

Android

Amazon Fire Stick

Google Chromecast

Roku
We will also handle the creation of your OTT apps, so you can just tell us what you need, and our developers will do the rest.
Sales: Who Offers The Most Flexibility?
In the last section of this comparison, we want to look at how each platform allows you to make sales and accept payments.
This is the only section where we want to say that Uscreen offers far superior functionality.
Pivotshare mostly requires customers to make payments with PayPal, but will also accept some major credit cards. This reliance on PayPal can cost you an awful lot of money on the back end when you incur PayPal fees.
Uscreen, by contrast, offers a wide range of payment service.
We can accept global credit card payments, so as not to block people based on their location, and allows you to mix and match the payment options you want to use.
We also allow you to make sales from third parties, such as affiliates, so you can expand your selling potential and create back-end systems which work in your favor.

That's A Wrap, Folks…
We hope by now you have a clearer idea of your Pivotshare alternatives and feel like you can make a more informed decision.
Pivotshare offers a great starter-kit service which, if you're low on cash and customers, can be beneficial to kick-start your business.
But we consider ourselves to be the best Pivotshare alternative on the market because we offer a much more robust service, which focuses on the long-term life of your business.
If you're still not sure which service to choose, we have two options for you.
Firstly, you can contact us by clicking here (or leaving a comment) and we will help you figure out which service is right for you moving forward.
Or:
Secondly, we'd love to invite you to try a 14-day free trial of Uscreen. No commitment. No strings attached. Just play around and get a feel for what we have to offer.
You can click below to find out more…