It's finally here!
The holy grail of all membership-site features: drip content.
If you already know what drip content is, then you're probably feeling what we're feeling right now…
If you don't know what drip content is, this is the perfect opportunity to learn about it. In this blog post, we will:
What is Drip Content?
Drip content is content that is scheduled to be released in predetermined time intervals rather than all at once.
In other words, drip content allows you as a video business owner to determine when your customers have access to each piece of content after they sign up. You can set the duration between releases for each new customer who comes on, like this:
Intro: Instant access

Chapter 1: 4 days after sign up

Chapter 2: 8 days after sign up

Chapter 3: 10 days after sign up

And so on…
Drip content is most commonly used for online courses, but there's no rule to say it's exclusive to educational content. It really depends on the content type and your goals.   
Why is the drip content feature a big deal?
A drip content feature allows you to upload the content all at once and schedule their release dates so they're automatically released to each individual customer when you want them to.
And the easier it is to set up drip content for your customers, the more often you will do it which is ultimately a great thing for your business.
Here's how drip content can benefit your video business:
1. Drip content helps you retain customers and make more money month to month
If you're charging a monthly subscription for access to your video on demand service, you'd want to make sure your customers stay for a minimum amount of months before they cancel (if not forever). There is always the worry that they will consume all the content you offer in one month then leave.
There are two ways to make sure that doesn't happen:
Be committed to offering fresh new content on your platform (like Netflix–you just never seem to be done with it!). This is what we always recommend doing.  

If you can't commit to offering new content on a monthly basis, then you can somewhat cap subscribers' monthly content consumption by delaying their access to the entire library. By releasing a new batch of content every month, they consume your content at a slower pace, therefore staying on for more months.



If you don't come around to adding new content, you will eventually lose these customers because they will have finished everything there is to consume on there. But by dripping the content, you can at least keep them on for a few extra months. So now they have an incentive to continue paying a monthly fee.
2. 
Organize educational content
Most online courses and educational content need to be consumed at a specific rate. You may choose to slow down the amount they consumer per week or month so you don't overwhelm them and so they have time to digest. It also helps your online students feel a greater sense of achievement when they know they've completed the right amount of videos for the week, rather than having access to hundreds of hours worth of content with no recommended timeframe to consume it in. This feeling can definitely be overwhelming and decreases the likelihood of finishing the entire course.
Dripping specific chapters in online courses on a weekly basis creates a sense of urgency to want to finish the ones that have already been posted before a new one is up.
3. 
Online Community Challenges
We see a lot of Uscreen customers offering online community challenges within a certain time-frame, and it's a great marketing tactic to get new customers. For instance, Wanderlust often releases 21-day yoga challenges on its VOD, where their customers have access to all 21 videos once they sign up.
While it's absolutely fine to grant access to all 21 yoga videos from day one and let the customer regulate themselves daily, it's much better if Wanderlust were to drip a new yoga video from the challenge every day. It would drive home a sense of community in the challenge and are more likely to finish through with the 21 days when taken one step at a time. It also creates an element of surprise because they won't be able to peak ahead.
Learn more about using online community challenges to grow your audience.
How to use the new Drip Content Feature on Uscreen
Once your videos are uploaded and structured in a program in your Uscreen Admin Area (all of which you can learn to do here), you're only three simple steps away from setting your videos up for drip content:
1. Enable drip content
Under the structure tab in programs, hover over the video you want to set the drip feature for. Click on the blue "edit" button that will appear on the right of the video you're hovering over.
Once you're in the editing page, scroll down and click on "Drip Settings"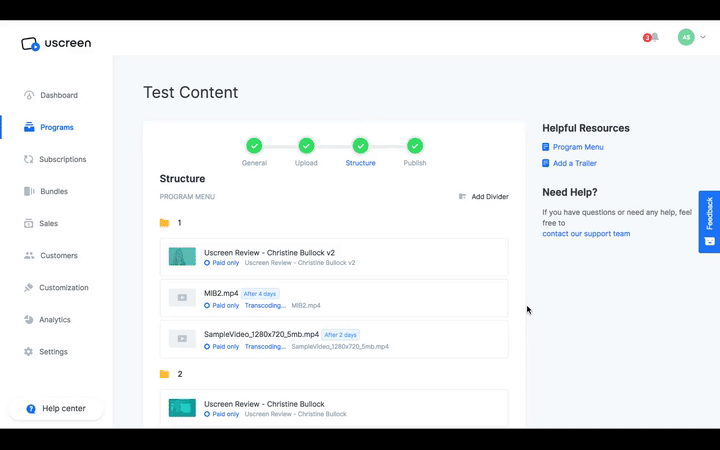 The first video in the program is always instantly accessible to your new customers just as they first sign up, so you can't set it up to drip. Starting at the second video onward, you can set them up to drip.
2. Set Drip Days
Input the number of days after a new customer sign update when you want this chapter to drip to them.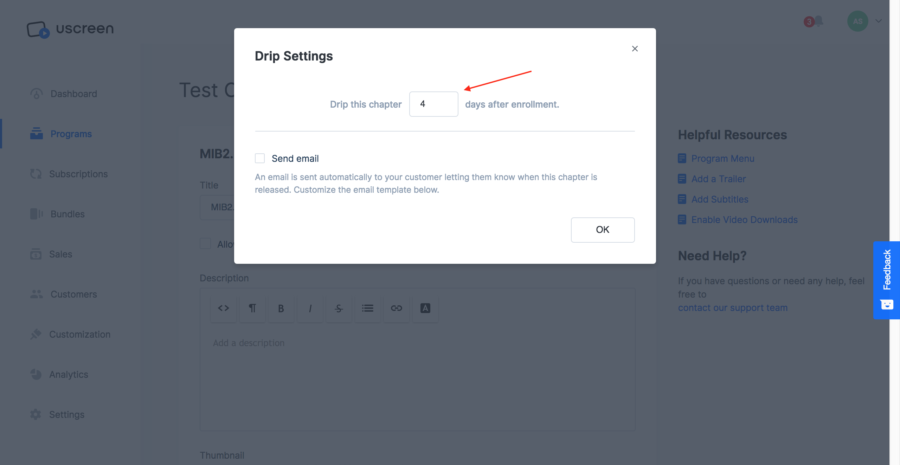 3. Set automatic email (optional)
You can enable the email feature, which automatically sends a notification email to your customers letting them know when every new chapter is released. Customize the email template you want it to be sent.
This step is optional but highly recommended.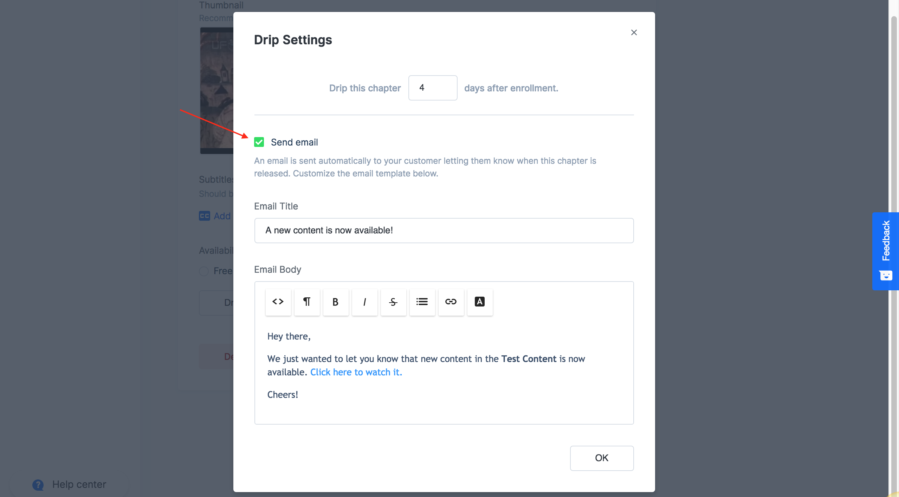 And there you have it! Now drip away.