Spoiler alert! Your Uscreen experience is about to get sooooo much better.
We've done a complete overhaul to our content management tab, improved the overall Uscreen workflow, added deeper analytics and most exciting of all — officially launched live streaming!
Starting mid-May, these, along with a few additional core upgrades will be available to all new and existing Uscreen users who have already moved to one of our 8 new themes. If you still haven't made the move and want to get started, you can find detailed step-by-step instructions in our help guides.  
For current users:
You can request to update your Uscreen in the main menu of your admin area. The update will be live for you within 72 hours of your request.

If you're still using old themes, please contact the customer support and schedule your migration.
New users will automatically get to the most updated version of Uscreen. You don't have to do anything.
Here's what's been cookin'
Woah, where did all this come from?
This wasn't a spur-of-the-moment kind of thing.
We've been at this ever since our last big update in late 2018. While we did do a lot of testing and research on all these new features and upgrades, these big changes were ultimately led by you, our awe-inspiring video creators. You gave us the building blocks and guidelines we needed to make this platform a more comfortable and functional place for you and your team, enabling you to do what's best for your business. You asked, we listened, and turned your wants and needs into reality.
Some of you already explored the beta version of some of these features, but most of you will be seeing them for the first time. If you're brand new to Uscreen, you're automatically using the latest version of the admin area. Even so, this blog post can be a good 'get-started-quickly' guide for you.
We're just amazed no one from our super-excited team spilled the beans on this one!
Without further ado, let's walk you through the awesomeness.
NEW! Beautiful dashboard to get you started
As soon as you log into your admin area, you will see that the main dashboard got a new and improved look. It's now really easy for you to do some quick actions the second you sign in.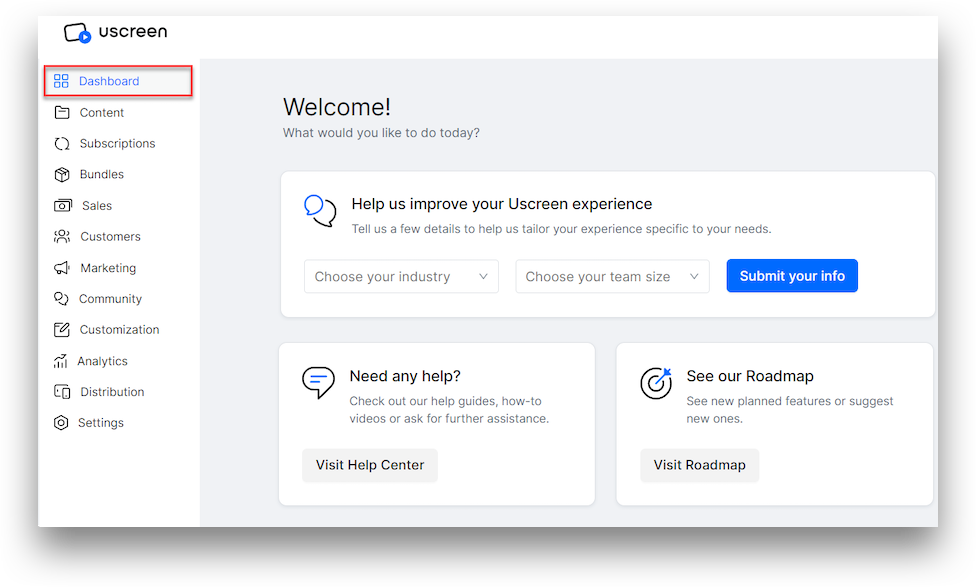 The new dashboard also gives you quick access to the help center, as well as the Uscreen Product Roadmap where you can request new features and vote on existing suggestions to get them pushed to the top of the development queue
We strongly suggest visiting the Roadmap every once in a while and get your votes in. By doing so, you're contributing to the development path of the platform and ensuring your needs are met through product updates like this one. Hey, maybe the next new feature will be your idea!
NEW! The Programs tab is now the Content tab
If you're an existing user, this is probably the first thing you noticed about the new admin area. A brand new "Content" tab replaced what used to be called "Programs".
This isn't just a case of renaming: we've completely restructured the video content management logic to make the entire process more intuitive and universal.
You can now drag and drop to upload a video, sync with a third-party provider or simply browse to upload from your computer.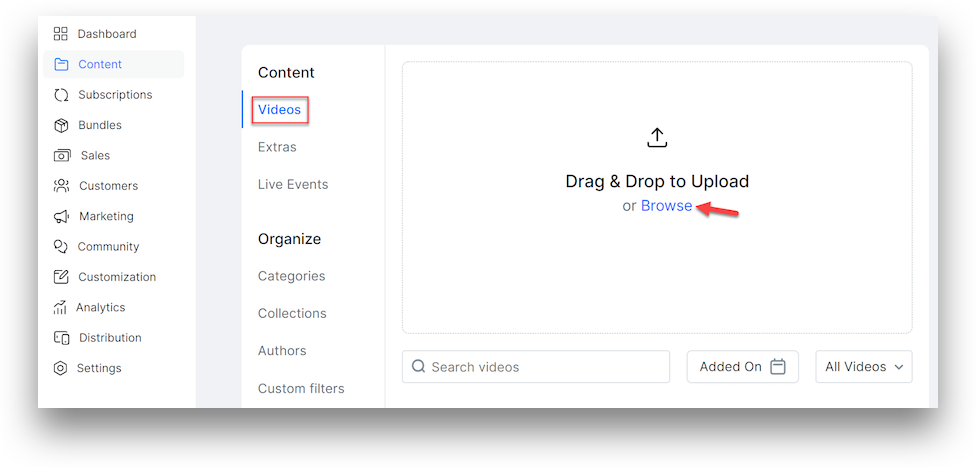 With the new logic in place, it's easy to make all necessary edits that relate to your videos right from this content area. Change the title, add extra files like workbooks or other downloadables, manage Authors and even add Custom Filters, all in just a few clicks! It's that easy.
'Hey, wait… What happened to my existing programs?'
No worries – they're all still there!
Before this update, a "Program" was a group of videos that together created a series. This is now called a "Collection", and we move it to a more logical point in your workflow. You can edit existing Collections or add a new Collection straight from your content area.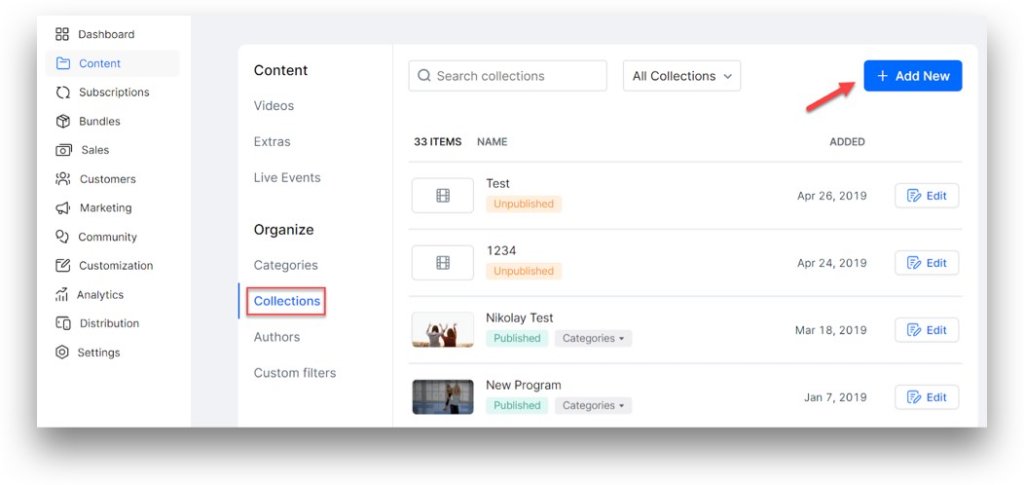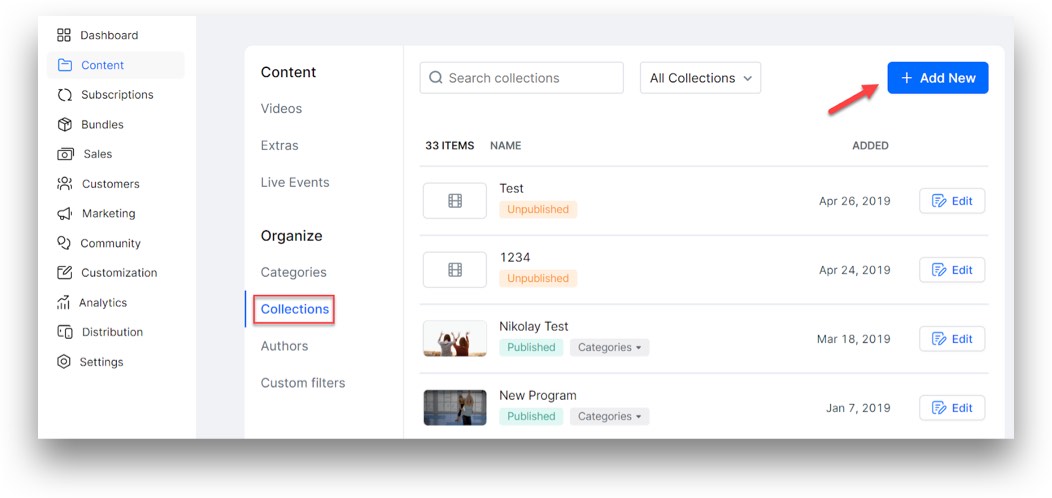 To learn more about how the new Content tab works, check out our Content step-by-step help guides to guide you through.
NEW! Live events are now… well, LIVE
Our new flagship feature is finally out of beta! We've officially added a powerful live streaming function to our platform. To set up Live Events, go to the Content tab, then Live Events and choose to add new.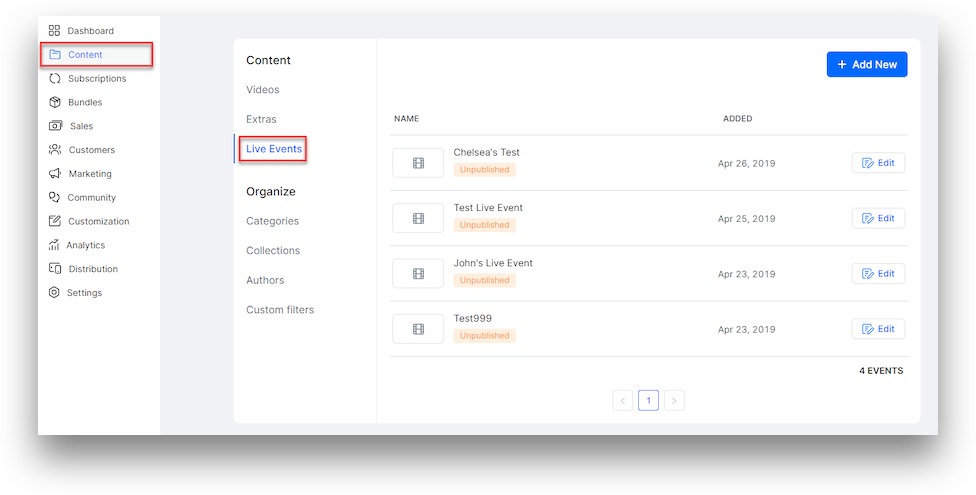 If you choose to open your Live Event for preregistration, your Live Event will be visible before the go-live date and your users will see a neat countdown to your chosen time.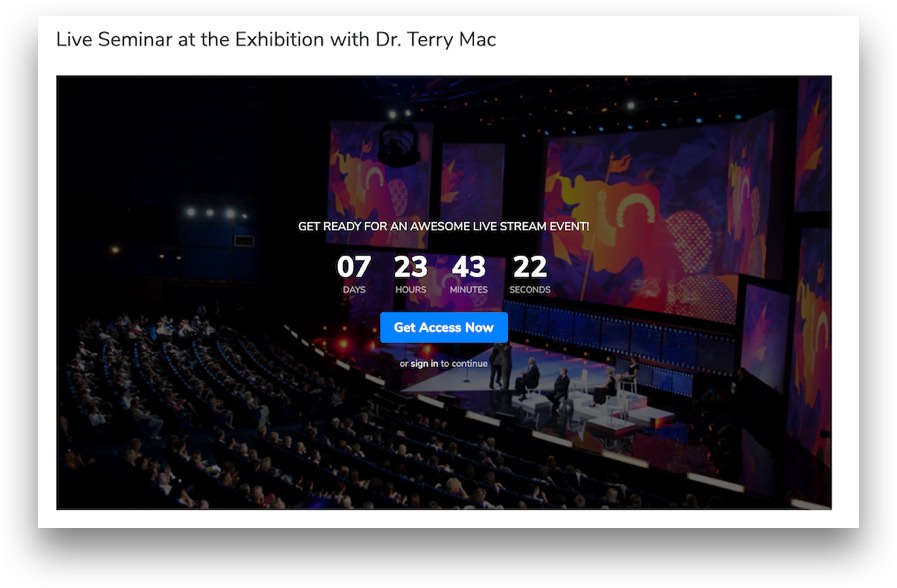 To learn more about how the new Live Events feature works, check out our Live Events step-by-step help guides to guide you through.
NEW! Custom filters
This one is by far our most requested feature, and we're happy to say it's finally here.
You can add or edit custom filters right in the Content tab. Your users will be able to use them on your Catalog page to help them narrow down their search and find exactly what they need. Custom filters will give a new layer of personalization to your service.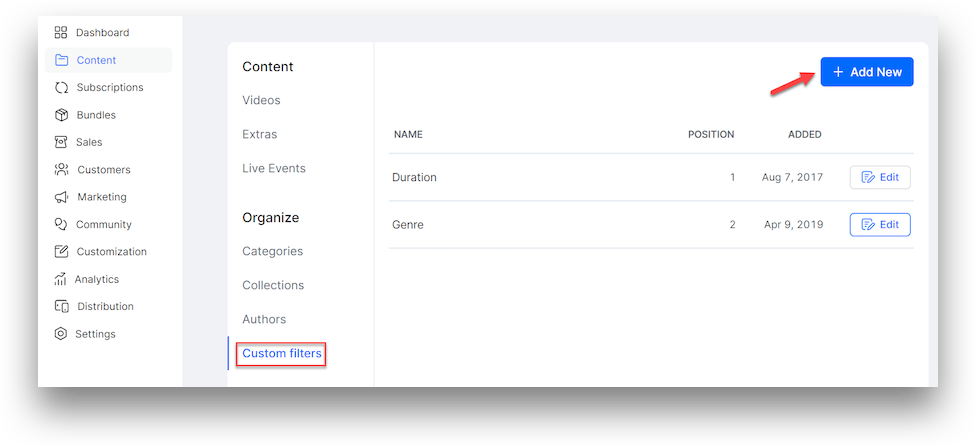 When setting up your custom filters, make sure you use the most intuitive filter names, following your users' logic. For instance, if your content is around fitness, appropriate customer filters to add would be workout duration, workout intensity, and/or workout type. If your content is entertainment, you can choose to create custom filters around content type and genre.
And keep in mind, when it comes to custom filters, less is often more!
To learn more about how the new Custom Filter feature works, check out our Custom Filter step-by-step help guides to guide you through.
NEW! Improved analytics tab
With our new and powerful OTT Analytics, you can gain a deeper insight into your users' behavior and use it to optimize your video streaming service for success.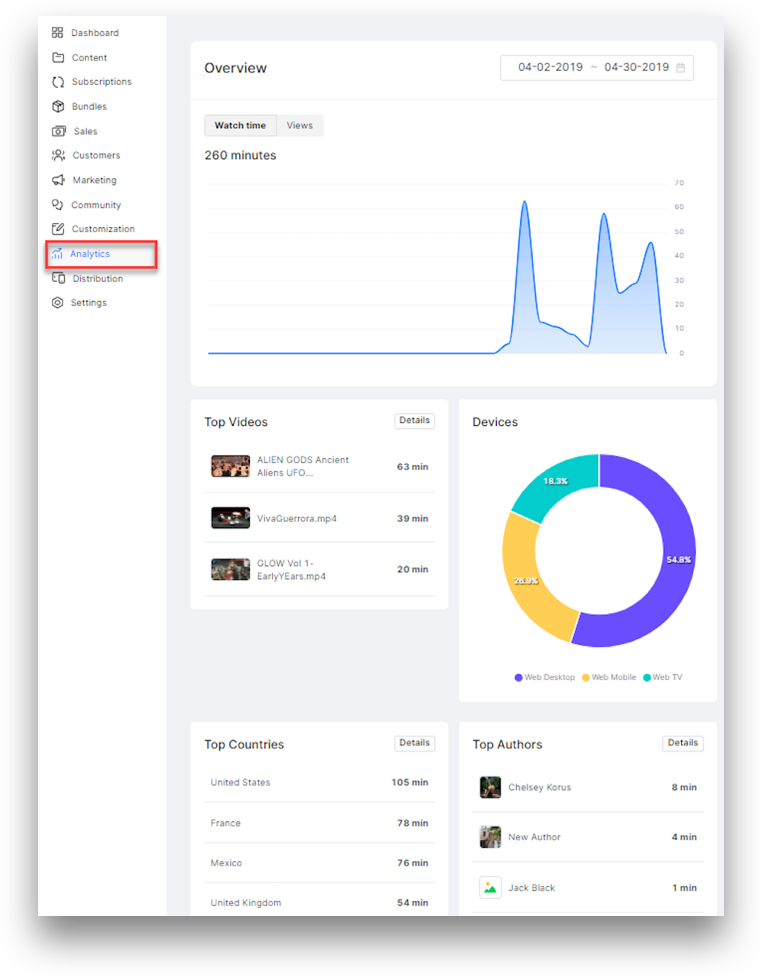 Use time filters to narrow down desired dates, and check out the video-specific analytics for extra-sweet data! You can now see the following analytics data with ease:
Watch time and views data, so you can keep track of your streaming business's overall health
Top countries and the total minutes watched, so you can better understand your audience demographic
Top authors, so you can see which authors are gaining more viewership
Top videos, so you can really know which content you should be making more of.
To learn more about the new Analytics feature, check out our Analytics and Reporting step-by-step help guides to guide you through.
NEW! Distribution tab: the quickest path to your OTT apps
Yes, it's the age of OTT. That's why we've made it much simpler for you to request your own native OTT apps right from your admin area! Go to the Distribution tab, choose to request the OTT app you want, and follow the prompts to fill out a form.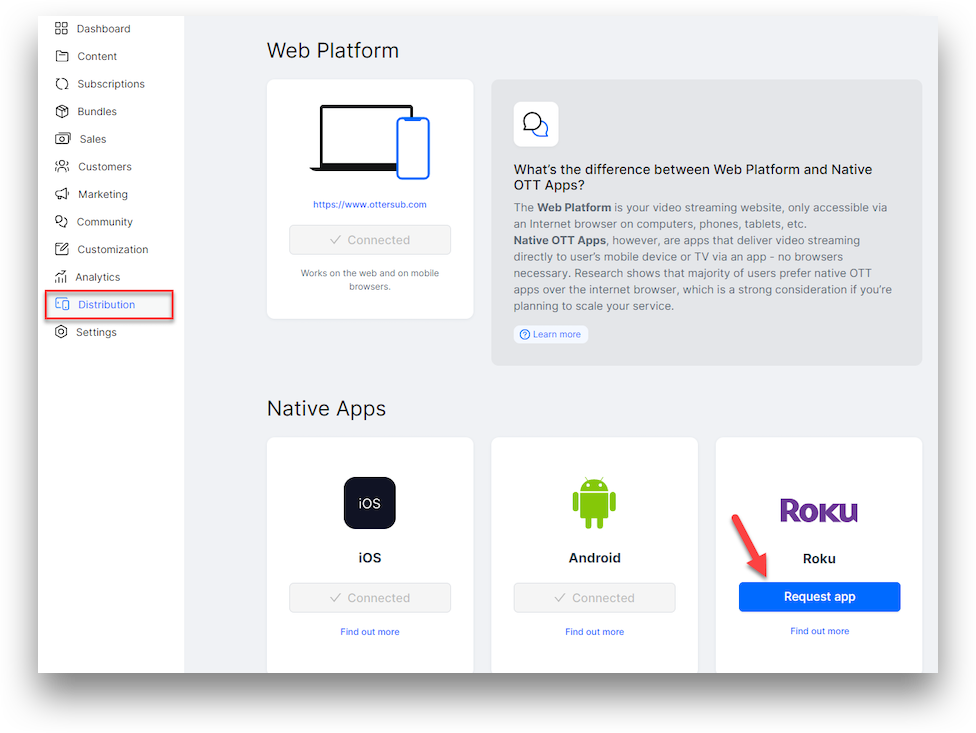 After our OTT team processes your request, someone from the team will reach out to you with details. To keep you updated with the development of your OTT apps, you'll see the status of that app change right where the "request app" button used to be.
To learn more about the new Distribution tab, check out our Distribution step-by-step help guides to guide you through.
 NEW! Your Catalog page got a facelift
With the launch of the new Content tab in the admin area comes a sharp new user-facing Catalog page that not only looks fresh and cutting-edge but also functions with ease and purpose.
When you switch to the new catalog, you will have a newly designed catalog page that showcases your content in the best light possible. The new design includes filters and a search bar, a new top slider with a video background banner and image fallback of your choice. It will also have the new Netflix-style slider with async loading for fast page loading, and the content will automatically load as you scroll down with no more need to hit the Load More button.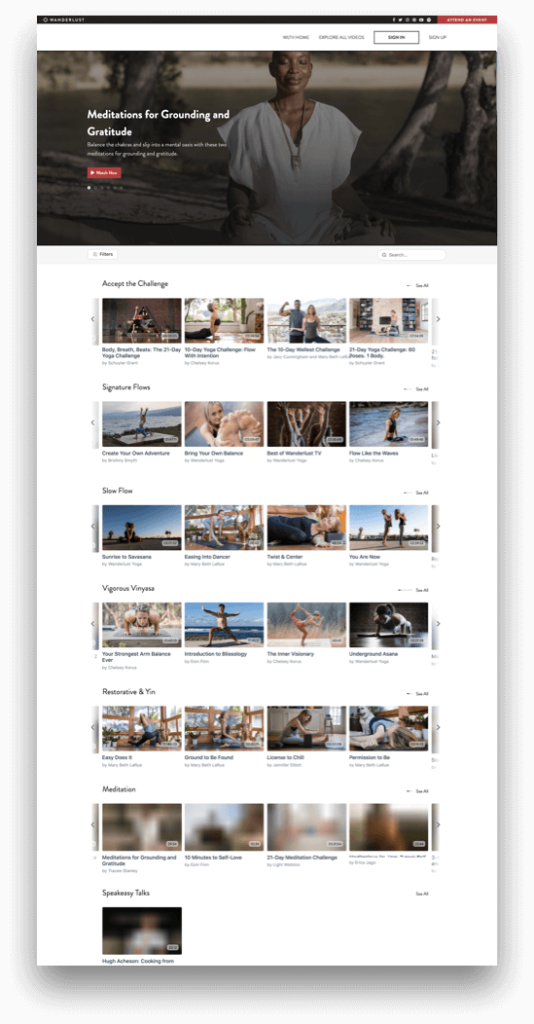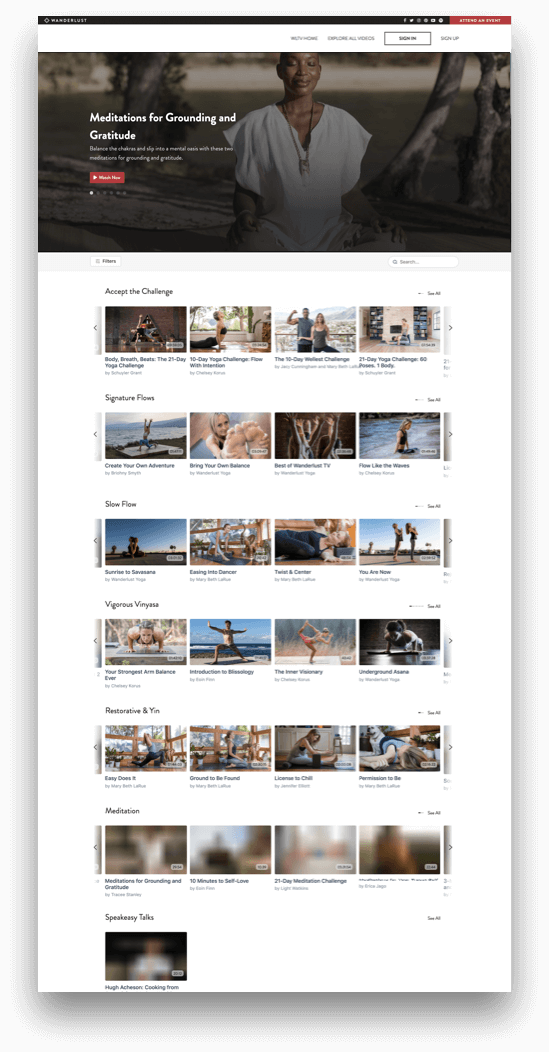 The same new design and logic applies to the author and category pages.
The video page also got a facelift. It shares the same fresh design of the catalog pages. It comes with a brand new lightweight, HTML5 video player that allows you to start watching videos 4 times faster than the old player. The new player also includes picture-in-picture mode and playback speed controls.
The new video page also has a related content section, a new side menu and button menu for video collections, a new comment section, and a resource section where all resource files will appear with their descriptions.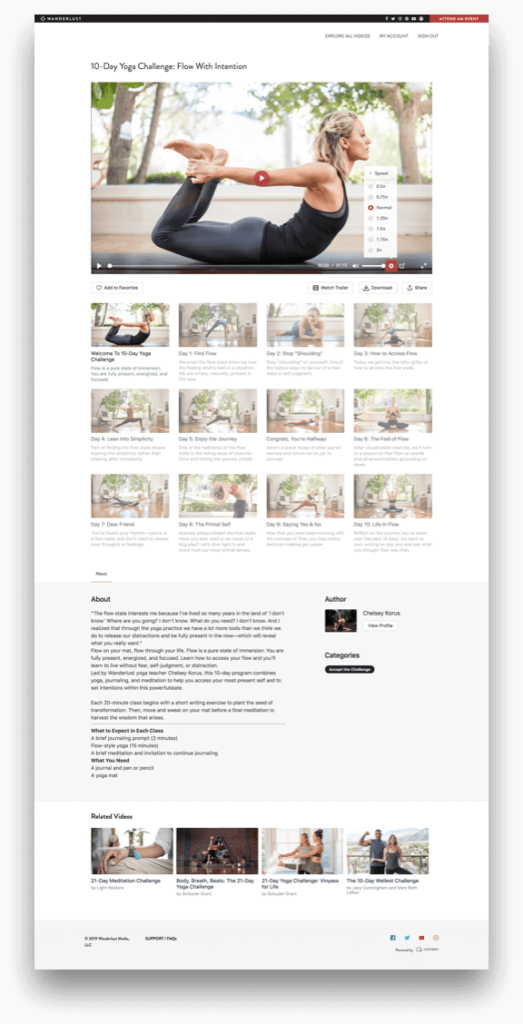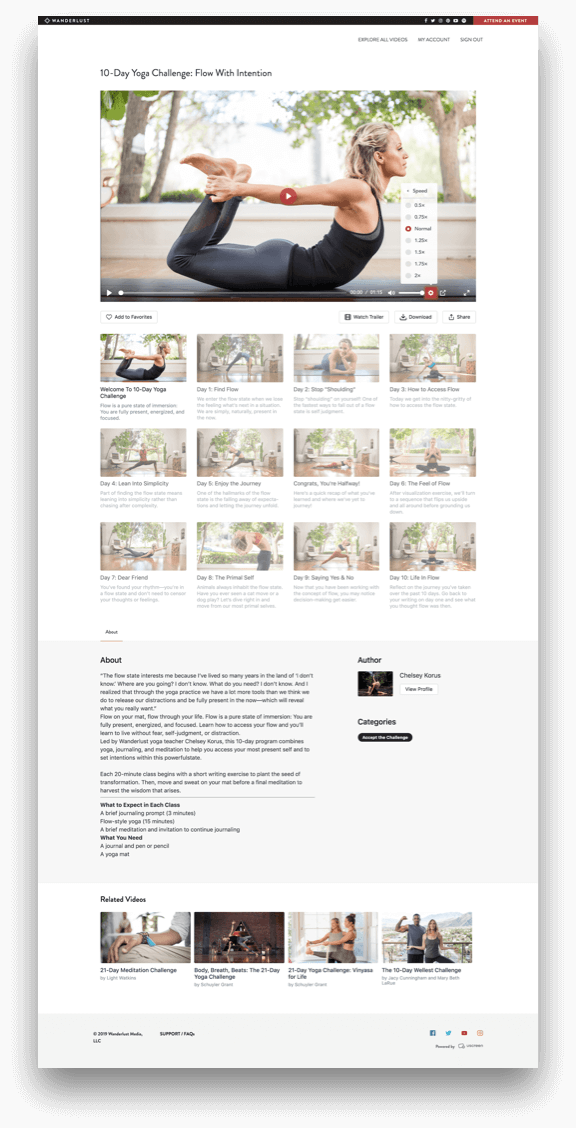 What else?
The structural changes to our system also gave us:
Faster transcoding of your videos

Safe and scalable online environment

Simplified and improved user functionalities
… all meant to help you scale your video streaming service to a new level.
'But I'm happy with the old system'
We know that change is hard. We're aware that some of you may be thrown off by the current new setup and might have to undergo a learning curve to get used to the new flow.
Let us assure you: these updates are not just cosmetic. They're systematic upgrades to the entire core of our platform, here to create a sustainable environment for future growth. Without these changes, we wouldn't be able to guarantee the level of safety we do now, and there would be a limit to the features we're able to add in the future. We would be limited by an aging system.
This is why we made a strong resolution to make these core changes and replace the old and limiting with new and limitless foundation that will grow with you for decades to come.
To quickly learn about our new platform and how it works, you can sign up for one of our weekly webinars where we take you through the entire platform and show you how to use it to its optimum potential.
Care for an on-demand demo?