As fewer and fewer people use DVDs, businesses are looking for superior ways to distribute their premium videos digitally. We're not talking about your quick and dirty YouTube here. There are options out there that are better for businesses that want to present videos in an easy, yet quality format and make money while doing it. These companies' platforms give you more control over how your video is presented. The following are examples of premium video distribution platforms and what they offer.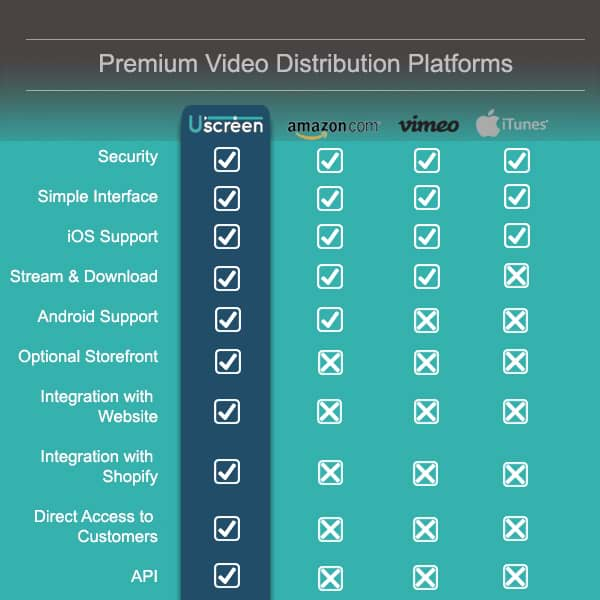 You'll notice in the chart above that all of the choices offer a level of security, a simple interface, iOS support, and most have streaming and downloading capability, but that is where the similarities between these premium video platforms end. The following is an explanation of several of services in the chart above, so you can decide which platform is right for your business.
Optional Storefront: A storefront is just how it sounds. It's a customized sales web page with your businesses branding and logos, without the confusion of dealing with the hosting platform's information.  This enables you to use this digital store to sell your videos and products, so you don't have to manage your own e-commerce site or negotiate with payment providers.
Integration with Website/Shopify:  This means customers never have to leave your site. You take the full payment on your website using Shopify and the video platform integrates directly with your Shopify Store.  You also have the option to integrate directly with your website without using Shopify. This means you take care of the sales and the premium video platform takes care of the rest.
"We launched Uscreen right before the holiday season in 2014, we were blown away as to how well our customers adopted online video, Uscreen blew us out of the water with their services and user experience.  We are looking forward to a strong 2015 using the Uscreen platform.  Our sales are consistently doing a ratio of 4 to 1 comparing DVD sales to Online Video, with 4 being online video."

-Brent from Hoopnotica
Direct Access to Customers: You know who is watching your videos and you can leverage that information to provide better service to your customers.  You can use this info to re-market to your customers and up-sell them in the future.
Application Programming Interface (API): It's a mouthful, but very useful. API is a set of programming instructions and standards that are the building blocks for developing a program. A good API makes it easier to integrate new software features like application plug-ins later on.
Feel free to ask us about these options and how the different platforms compare in the comments.