Finding the best video platform host for your company doesn't have to be hard. Knowing your different options and what each company offers is a great place to begin when you're looking to make the best decision that fits your company's needs. At Uscreen we want to help you by letting you know what we offer compared to some of our competitors so you truly receive everything you need to make your instructional videos a lasting success.
Uscreen and Docebo have both been around for a long time and are comparable when it comes to function and user ability. We've outlined both for you so you can see just what video platform will best provide you with all the features you need.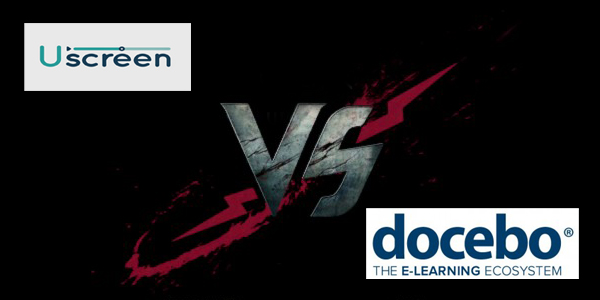 Docebo has been around since 2005 and is dedicated to helping businesses deliver and manage corporate training. They are a popular company that showcases many different features to fit your business' online training needs. These features include:
Test, Tracking & Reporting
Branding & White Labeling ($39/month extra)
Web Conferencing
Certification & Retraining
E-Commerce
Gamification ($19/month extra)
Instructor-Led Training Classroom ($199/month extra)
Sign-On Ability with Facebook, Gmail, and LinkedIn
Cloud Ready
Unlimited Storage, Courses, and Bandwidth
Security
Product Enhancements
Different Levels of Membership

Uscreen first launched in 2013 and for the last couple years has been working hard to make it easy for you to upload and distribute all your training videos whatever they may be. Initiated under its parent company, WebNet Hosting which was founded in 2002, Uscreen is run by professionals that truly know the ins and outs of what works on the web and what doesn't.
Uscreen showcases a variety of different features for all your video needs. We make it easy to create powerful educational programs that can easily be streamed online or downloaded for viewing at a more convenient time. Uscreen can be used for training videos, educational information, workout programs, online courses, and for video on demand. The many features of Uscreen include:
Full Security and DRM
Unlimited Content Uploads & Viewing
Cloud Hosted & Managed
Global Delivery
API Access
Easy to Use Platform
Outstanding Mobile Capability
Customizable Storefront
Videos are Viewable on Any Device
Ability to Brand Portal with Your Own Look and Feel
Content Scheduling
Tests and Certifications
Tracking of User Activity
Royalty Tracking
Tax Calculations
Different Subscription Levels
Affiliate Marketing
At Uscreen, as the online market evolves, we evolve right along with it. We know the importance of staying on top of a rapidly changing industry and offering our customers everything they need to make their videos a success.

We know just how important your client base is, which is why we've made the entire function of Uscreen extremely easy for both you and your users. We've made it possible for you to create different chapters for your videos (much like a DVD menu) that allow your users to easily access exactly what it is they want to see without having to scroll through a bunch of content they've already watched.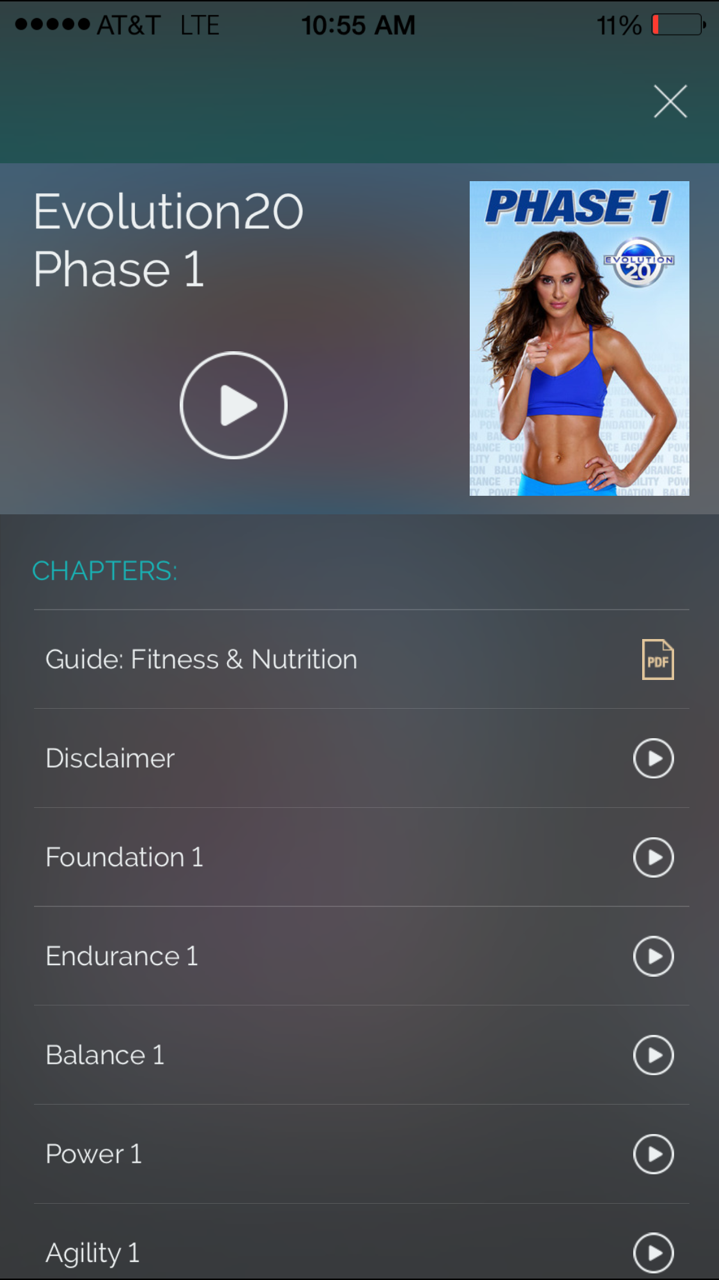 We've also made it easy for you to send emails to your clients with easy-to-use templates that you can send anytime you wish to contact them. We also know how important social media is the world and have made it easy to set up a social community around your content with social tools that are available on the Uscreen platform. Stripe integration makes setting up a Stripe account simple and allows you to take money directly from your users.
Knowing about your customers is vital if you wish to keep them around for years to come and create long-lasting business relationships. You need to be able to ensure customer satisfaction and listen to their needs. All the information on every customer you have is easily accessible through your backend portal. We all know how important it is to retarget our audience from time to time to keep around the people most interested in your product. Uscreen makes this easy by having all the information you need on your users in one place accessible only by you.


One of the best things that sets Uscreen apart from Docebo is the price. We understand that many small businesses are running on their own dime and we strive to keep things as affordable as possible. Just compare the membership prices of Uscreen and Docebo and you'll see why Uscreen might just work in favor of your pocketbook instead of against it.

100 Active Users                               $99.95/Month
101-200 Active Users                      $199.95/Month
201-300 Active Users                      $299.95/Month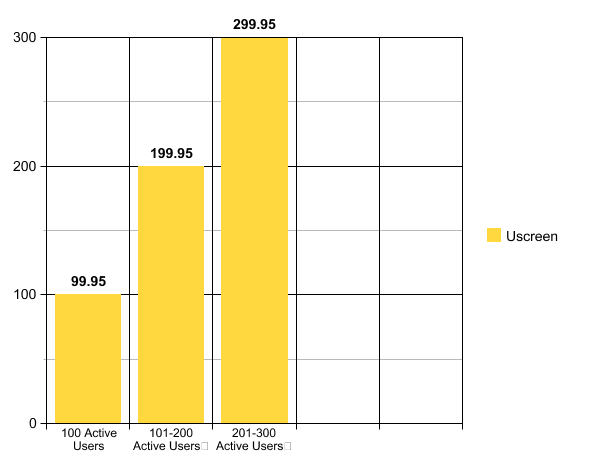 50 Active Users                                 $230/Month
100 Active Users                               $390/Month
250 Active Users                               $530/Month
350 Active Users                               $600/Month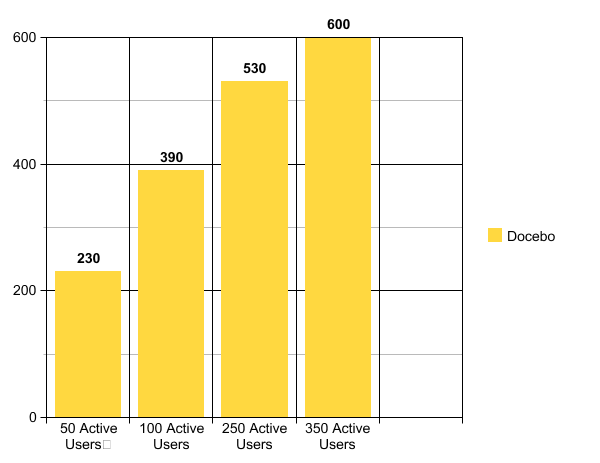 Knowing everything you can about different video hosting companies is an important part of choosing what will best fit your needs. While uploading your content and easily getting it to your intended market doesn't have to be hard, you'll find that all hosting companies are not created equal and that some can be extremely frustrating to use.
At Uscreen we've not only made it easy to get all your videos uploaded to a spot where they are easily accessible, but have done so at a price that won't break the bank. Whether you are offering training videos to your employees or instructional videos to your customers, Uscreen has what you need to do it with ease.
Please contact Uscreen with any questions you may have about online video hosting and the many options we have available. One of our representatives will be happy to guide you through the process and make things as easy as possible to get your videos out in the world and in the hands of those who need them the most.