Having a customer base is excellent, but if you really want to develop strong relationships that turn customers into loyal advocates, you need to take it a step further by building an online community. A product is just a product, which can easily be replaced by any number of competitors, but a community is much more difficult to leave.
Building an online community can seem like a daunting task when it's already hard enough just to get regular engagement on Facebook, but there are certain steps you can take to build an engaged, enthusiastic community that will help you carry your business forward.
In this post, we'll guide you through four effective tips that'll help you build an online community fast: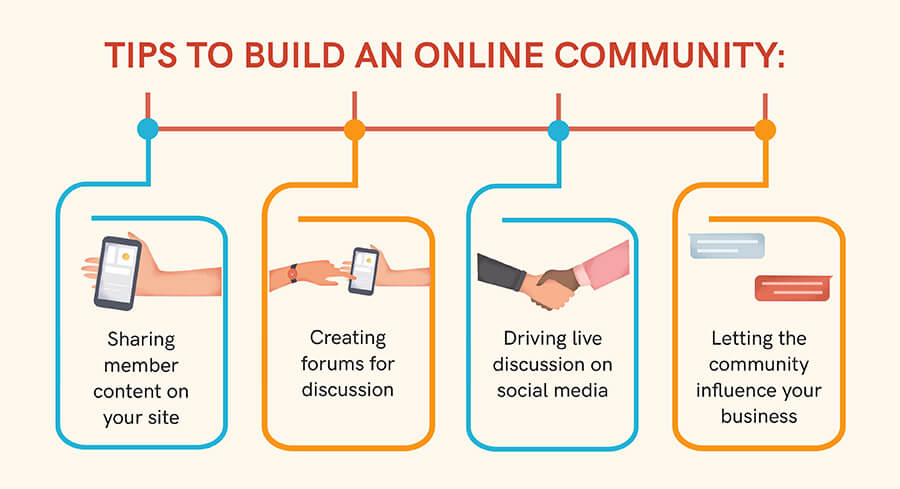 But first, let's go over why doing this even matters at all…
What an Online Community Should Do
The value of an online community can be exemplified in the difference between a boutique fitness studio where class members bound and interact, and your standard gym filled with treadmills, weights, and machines. The former will connect you with others, including the instructors and other members, along with providing a quality service that feels more personal. This becomes much more difficult to leave, even if you're paying an extra $120 a month for it.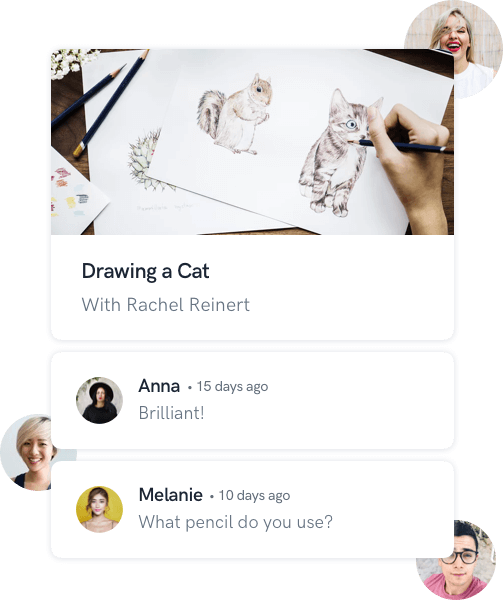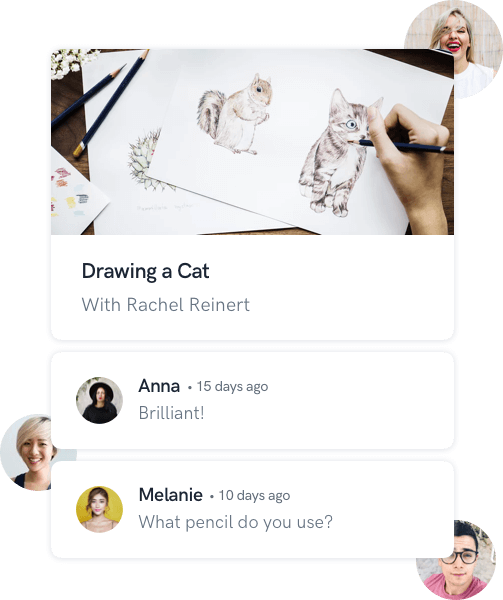 An online community should help bring people to you and act as a way for you to provide value to them even outside of your conventional products and services. Ideally, there should be a conversation that's relevant to your industry but doesn't necessarily revolve around your own products. This gives people incentive to keep coming back that feels more authentic and less self-serving to the brand, and not only will they be interacting with you, but they'll also likely be interacting with other members, too.
These communities will build loyalty and advocacy, and members will tell their friends and peers all the great things about it. It can bring in new customers, and nurture the relationships that you already have.
How to Create an Online Community for Any Business
Like most great things, building a strong, dedicated community online takes time. It isn't something that will just happen overnight, but you can use the strategies below to develop and nurture these communities over time.
1. Share Member Content On Your Site
Sharing user-generated content (UGC) on your website—not just on social media—is one of the easiest and most effective places to start when you want to build a community online. This shows that you value your customers, and it also acts as persuasive social proof that can draw other users in.
You can use tools like Pixlee to embed UGC display widgets on your site, which will help you to curate and display videos, pictures, and text that customers share about your brand on social media.
Sephora has taken this strategy a step further, encouraging people to upload the pictures and videos of themselves wearing or applying the products directly to the site. These pictures are then featured on the product pages, and potential shoppers can search for "beauty matches" to be shown how that red lipstick would look on their exact skin tone. This helps create a solid community that provides incredible value to your audience in the form of video testimonials.


Educational or tutorial sites like Magic Stream could encourage users to share content of themselves performing a new trick after they learned it, or sharing a video showing where they're getting stuck and asking for advice. Both options are valuable social proof and community building opportunities.
This strategy not only shows customers that you're invested in their opinion and grateful for their engagement, but it also gives you the benefit of letting your customers do your selling for you. People are more likely to want to join your community if it looks alive and thriving when they first see it.
2. Create Forums for Discussion
Discussion forums are essential to online community building for two main reasons: they give you a place to offer value, and they generate discussion.
Ideally, your forums will attract a mix of industry newbies and experts, which is actually beneficial for discussion that can keep the group active and valuable to everyone involved. Soon, members may soon start to recognize each other, building relationships not only with you, but amongst each other, too.
These forums can take different forms. Amazon, for example, has a member community online that happily answers questions from other users. While you'll often see an official representative weigh in, it's the answers from the rest of the community that are most valued and trusted.
Other sites will try to generate conversations in the comments section of their blog. The best way to do this is to allow Disqus and Facebook commenting on each individual video you share on your video website, creating a comments section just like you'd see on YouTube. This allows other users to ask and answer questions and build relationships.
Facebook groups are also an option if you want to create forums for discussion without spending the time or money to actually set them up on your actual site, and make them a little more public.
Utilize Facebook Groups
Facebook groups are an excellent tool that more businesses should be using to foster their communities online. Plenty of businesses have created support-styled groups to share information and knowledge with their customers, or those in the community.
If you create a Facebook group with the goal of growing an online community for your business, you need to treat the groups like it's part of a paid subscription. Think of it as a new part of your daily job responsibility, both to manage the group and to answer questions. Active groups are the most beneficial for community building, and they also take the most time.
Ellusionist's Magic Stream group is a great example. They offer a monthly video subscription teaching people new magic tricks, and their public group shares new updates and other relevant news. Members share their favorite ways to learn new tricks, or new ways to pull a slight of hand, building a valuable community.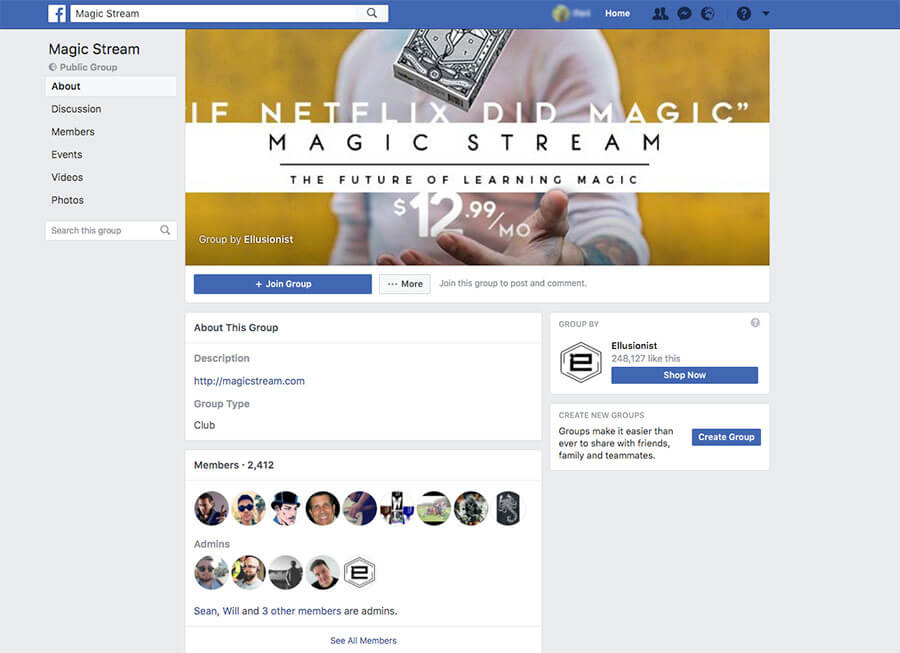 It's worth noting that you can benefit financially from running these groups, so you won't be doing it all out of the good of your heart. While you can't make people pay for entrance to the group, you can make group entrance a part of a larger package, and thus an incentive to purchase.
3. Drive Live Discussion on Social Media
You shouldn't let your online community sit in just one location online, whether that's a forum on your site or a Facebook group. Instead, you should use multiple platforms to generate discussion and build brand awareness with new members. Social media is an excellent channel for that.
Netflix hosts monthly Twitter chats using the hashtag #DVDchats, where everyone is invited to weigh in on movies in a certain genre. Audience members share their favorite movies or can ask for suggestions, and the chat hosts (which may change depending on the genre) can recommend movies currently offered on Netflix's DVD plan, promoting the subscription. Many chat participants show up regularly to the chat, and engage with the brand regularly even outside of it.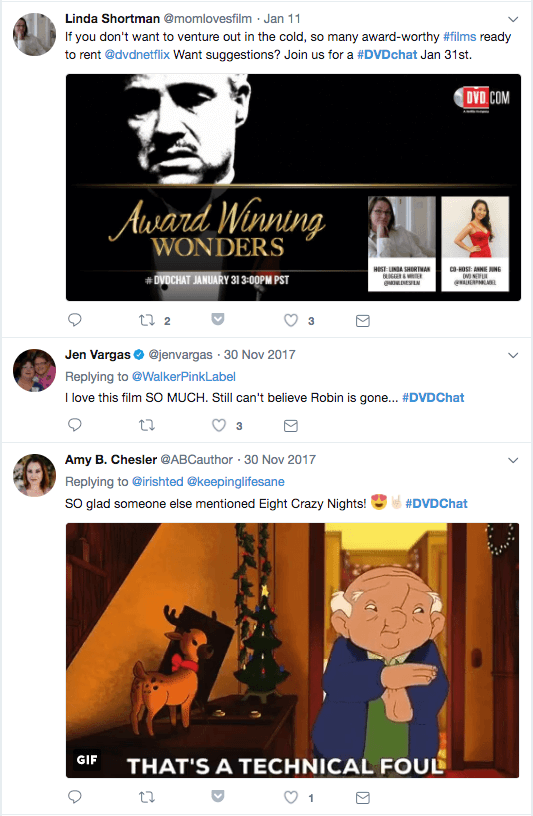 Doing Q&As on Facebook and Instagram live—with or without industry experts—is another excellent option. Ask users both ahead of time and live what questions they have about your business, and answer them in real time over a life broadcast. If you don't want to go live, you can also create short videos based on questions your users have asked instead.
4. Let The Community Influence Your Business
Members of your community can offer you a lot of insight into how they perceive your business, and even potential ways that you could improve or offer new solutions to them. Consequently, one of the best ways to build your business and your online community simultaneously is to let your community help you make decisions.
You can ask specific questions to your members, like "what new features do you want to see most," or "what's one thing you wish we did differently?" This is a great way to gauge how you can make your customers happier from the very people you're trying to please. Since these members are your most engaged and most passionate customers, you'll get good, honest answers from them, and it will be a win-win for everyone when you take the feedback to heart.
Even if you aren't asking for new ideas or for feedback outright, watch the group discussions and see what people's pain points are and what they're looking for. This can give you valuable insight, so make sure you listen carefully.
Conclusion
Building a strong, enthusiastic community online can help even e-commerce businesses make up for the fact that they may not have that face-to-face interaction with their customers on a regular basis. It increases advocacy and loyalty, and will help keep your customers around much longer while simultaneously drawing new customers in. Community building is a long-term and time-intensive effort, but it's one that will pay off many times over if you make the investment.
Launch your online video business to your community