Because of the rise in instant video streaming demands (now accounting for 74% of all online traffic), major players are offering different ways for video creators to sell their videos online. While various solutions mean healthy competition and more options for video creators to choose from, it also means more confusion when choosing the solution that works best for them.
We want to clear this confusion up for you.
This post was created to help you decide between two fundamentally different ways of selling videos online: Gumroad, a simple payment processing integration for existing platforms, Uscreen, a robust video on demand (VOD) solution and for selling videos online.
Uscreen is a video hosting platform with a plug-and-play web builder and secure payment processing system that provides you with a one-stop-shop solution for selling videos online. It allows all the flexibility and none of the hassle of hosting and building a video website.
Gumroad, on the other hand, is a payment processor widget that facilitates the selling of any product (digital or physical) by giving you a payment overlay to add to your website, and a single landing page with a library of a user's products on Gumroad. The widget can be integrated into an existing website that, when clicked, will pop a payment window to proceed with the purchase.
So wait… Uscreen is comparing itself to other ways to sell videos online? This post is going to be biased!
Well, maybe – but everything stated here is factual and can be easily verified online. This post also uses a real case study of a Uscreen customer who started off on Gumroad first. This will basically tell you what multiple hours of your own time on the internet will tell you.
We did the legwork for you, and here's what we found.
Gumroad is a lot more expensive than Uscreen.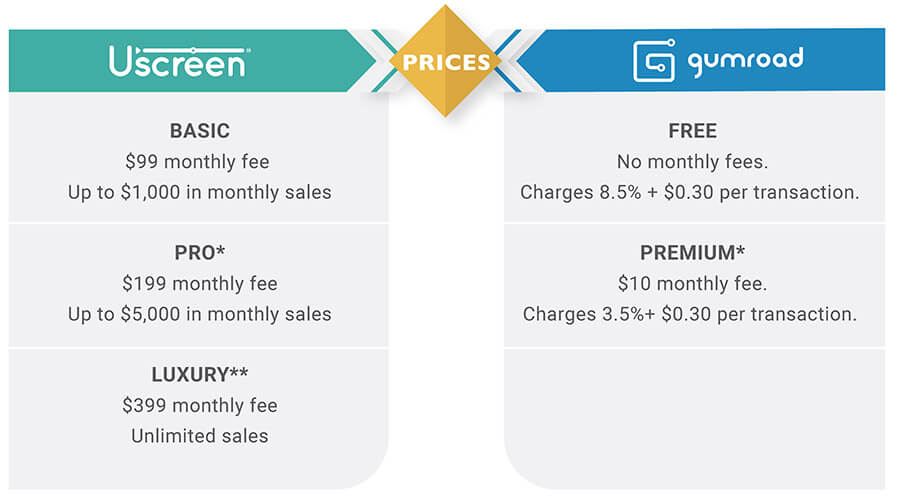 At first glance, Gumroad may seem cheaper because it charges you a small percentage per purchase. Well, that's only true if you plan on making a maximum of $2900 in 290 monthly subscription sales, which is well under the average VOD monthly revenue. A dollar over $2900 earned a month, and Uscreen instantly becomes the cheaper way to sell your videos online.
Let's look at the numbers: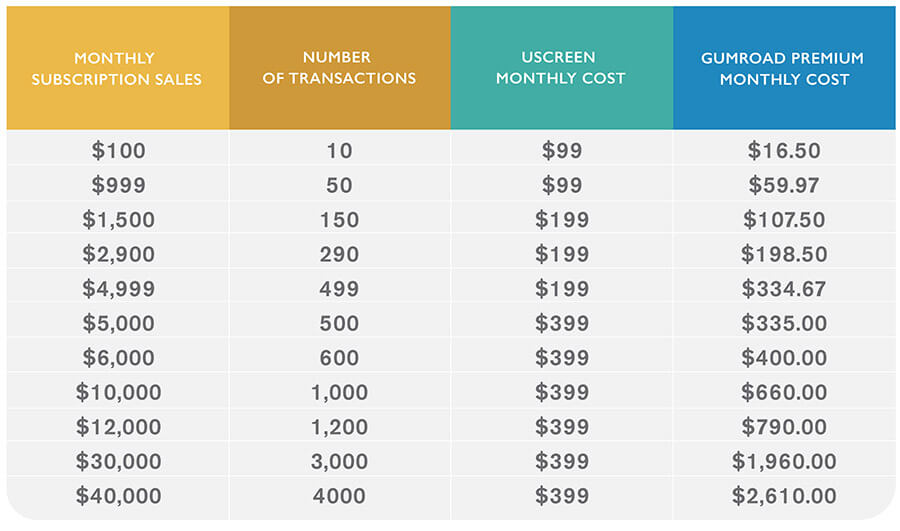 Needless to say, this is a HUGE price gap, especially if you want to plan for future growth and control your costs over time. No matter how well your content sells, Uscreen will always charge you the same rate every month.
It's also important to note that with Uscreen, your monthly fee is all the costs you need to incur to have a VOD and sell your videos online. With Gumroad, those monthly costs don't include the cost of hosting, building and maintaining your website, which you need since Gumroad is an online integration that needs a website to be integrated into.
Not to mention that Uscreen gives you more bang for your buck when it comes to the features it offers…
A comprehensive side-by-side comparison between Uscreen and Gumroad:
Granted, comparing Uscreen to Gumroad is actually like comparing apples to oranges. Uscreen is a full hosting and web builder platform that sells videos online, while Gumroad is a single integration widget that sells anything online.
The Gumroad features listed below are those specifically relevant to selling video content.

Considering all these features, how do you know which platform is right for you?
Those are a lot of features you just read through – all of which are really important to consider when deciding between online video platform solutions.
What does it all really mean to you, and which video monetization platform is right for you?
The best way to put this comparison into perspective is to study TMillly TV, one of Uscreen's most successful customers that started off on Gumroad before migrating to Uscreen. TMilly TV is a choreography tutorial membership website that teaches 1,400 subscribers how to dance. It launched on Uscreen in April of 2017 and has since generated $46,000.
Founded by Tim Milgram, Tmilly TV's video tutorials sold well on Gumroad, but the tool didn't give Tim the flexibility he was looking for in terms of cataloging, design, branding, and subscription. He also realized how Gumroad's fees started to add up fast and wondered if there was a cheaper way to do this.
He gave Uscreen a try and found it to be better and cheaper.
Before getting into what Uscreen allowed him to do with his VOD, here's how much Tim paid for Uscreen vs what he would have paid for Gumroad over the course of 5 months …

Nuff said there.
Now cutting business costs usually means making sacrifices – except in this situation, Tim actually got more out of this move.
Here are 4 main reasons why TMilly TV is selling video content exceptionally well on Uscreen:
1. Website
In the beginning, Gumroad allowed Tim to start selling his tutorials online, but it didn't give him a branded website specifically for TMilly TV since Gumroad is a tool that is only integrated into existing websites and acts more like a widget then a platform. As he confirmed the demand for his video content, he eventually needed to create an all-in-one video on demand (VOD) website specifically dedicated to selling his tutorials. Since Gumroad is not a site builder, Tim turned to Uscreen.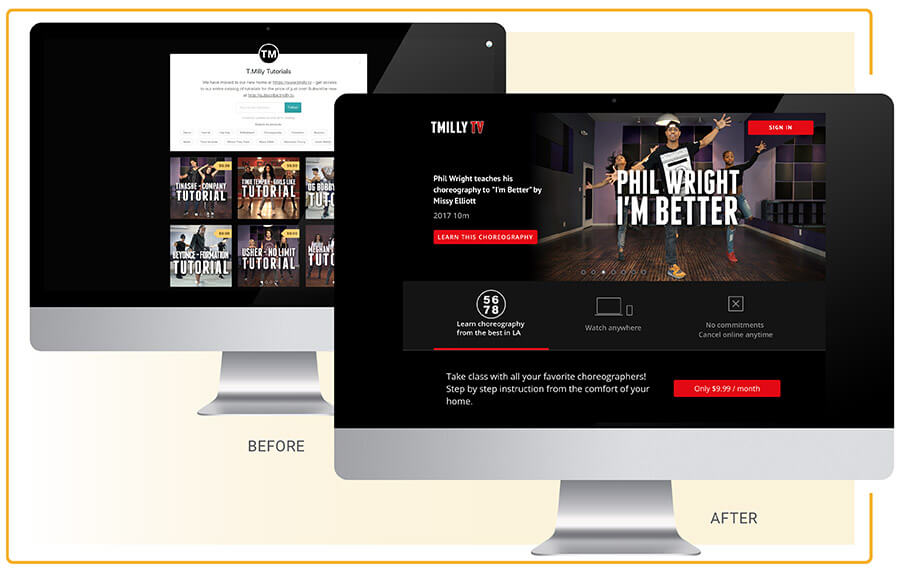 From website building to processing subscription payments, Uscreen enabled Tim to create a fully functioning VOD website and gain over 1,400 paying subscribers in 5 months. He now links to TMilly.tv on his personal website and promotes it on his social media with a white-labeled URL linking back to a fulling branded website and video library.
2. Apps
Uscreen helped TMilly TV build, launch, and maintain a fully branded native app to match its VOD website. Having a native app where subscribers could fully access the content on the go was also one of the main reasons why Tim chose Uscreen.
Launching the new app drove up the value of the membership, increased customer satisfaction and took customer experience to a whole new level. TMilly TV is now available on the iTunes store and Google Play.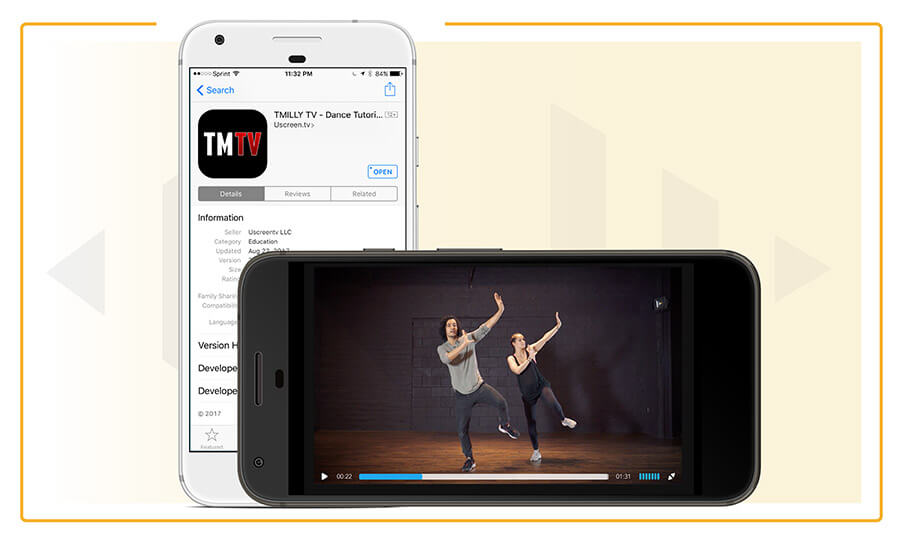 3. Branding
By the time Tim had come up with his online dance tutorial concept, he had already established a professional brand online – especially within the global dance community. Anything he created moving forward had to match that same look and feel. And with Uscreen, that was very easy to do.
Uscreen gives Tim the ultimate flexibility to build a VOD that matches his brand. He was able to choose from a number of flexible and beautiful themes to work with and integrated the styles and colors that worked best for him and perfectly matched his brand.
4. Monetization and subscription plans
When it came to designing a video monetization plan for his content on Gumroad, Tim only had two options: sending ongoing content to subscribers, or granting access to an archive of content to members.
Uscreen offers more: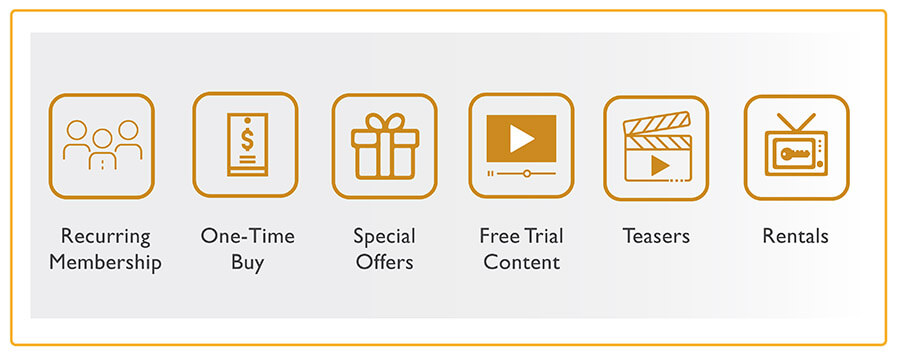 Uscreen allows its customers to design the monetization model that works best for them, their content and their customers – whether that means going with a single option or a combination of them all.
To sum it all up
Both Uscreen and Gumroad can be used for educational content, training, online courses, and film productions. However, Uscreen is much more flexible and comprehensive that consistently provides above average end-user experience. It allows you to shape the way your content will be discovered, delivered, viewed and interacted with. It also gives you a more in-depth look at how well your online business is doing through the detailed analytics it provides.
If you're looking for a quick a one-size-fits-all integration for an existing platform with average end-user experience, Gumroad can suit you well. But if you're looking to use your VOD as a solid business that you intend to market and grow indefinitely, Uscreen will suit you better.
And if you plan on growing your business into an online brand that generates more than $2,9000 a month, Uscreen is better suited to your needs. The sky's the limit with its branding, analytics, marketing and video uploads features, and it's a platform that will see you through multiple milestones of success.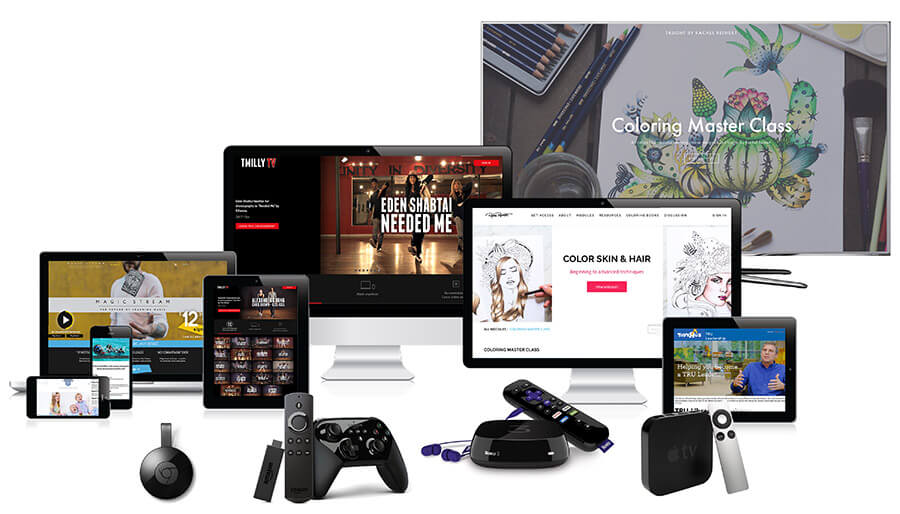 Do you have more questions? Contact us right away, we will be glad to help you with any questions that you may have. Remember, we are available by phone, contact form, chat, or even snail mail. Click here to visit our contact page.